Do you look forward to the first day of school or dread trying to get kids back into the swing of things?
The start of a new school year can be an exciting time but it can also be a little stressful as everyone adjusts to the school schedule. Having a back to school routine for the entire family can make the transition from summer break to school season easier.
These tips can help you create a daily routine for the whole family when school time rolls around.
Back to School Routine Ideas
Starting a new routine can sometimes be challenging, especially if you have young children. You may run into power struggles over simple tasks like getting kids to brush their teeth in the morning or settle down for a good night's sleep at the end of the day.
It can turn into a vicious cycle, but implementing a back to school routine can be a great way to stop it in its tracks.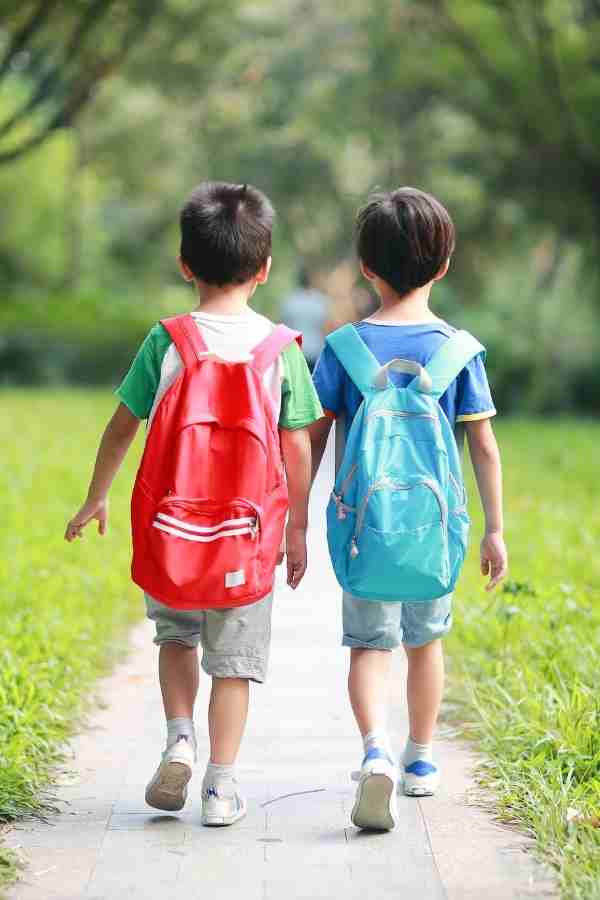 1. Start with a school morning routine
A good school routine starts with mornings that go smoothly. The end goal is to get kids out the front door on time with less stress and having a good routine is the best way to do that.
When planning a back to school morning routine, the first thing to know is how much time you have to complete tasks. For example, if school starts at 8:00 a.m. and your kids wake up at 6, you have two hours to get all of your family members ready to begin the day.
Here's what a sample back to school morning routine might look like:
You wake up at 5:30 and complete your mom morning routine
Kids wake up at 6 and make their beds, then get dressed
Breakfast as a family at 7, followed by kids brushing their teeth
While kids are busy doing their final get-ready tasks, you make their school lunches
Kids collect their lunch boxes, water bottles and backpacks, then head to the bus stop by 7:30
Your family's morning routine might look different, depending on whether you have younger kids or older children. For example, teens can make their own lunch and help with breakfast for younger children (it is the most important meal of the day 🙂 ).
Regardless of what it looks like, the start of the school day should be designed to lower stress levels, not raise them. And it should be realistic, based on how much time you have.
Related post: Morning Routine Chart (5 Amazing Printable Morning Routine Charts for Kids!)
2. Plan your after school routine
The start of school can be a struggle, especially during the first days if kids are having a hard time adjusting to a new schedule. When kids come home in the afternoons, they may be tired or cranky if they're not getting a good night's sleep.
You can make afternoons easier by having a set routine for them to follow. Here's what a sample after school routine might look like:
Kids arrive home and have a little time to decompress with a healthy snack
After some quiet time, they get started on homework
If homework is completed before dinner, kids can tackle any assigned chores they might have
Dinner together as a family, followed by the start of your evening routine
Setting up a homework station and a regular time for starting homework can help kids develop good habits when it comes to schoolwork. A homework station is a specific place in your home that's comfortable and stocked with homework supplies so kids don't have to go looking for pens, pencils or paper.
(A corner of the kitchen or living room can be a great place to keep extra supplies and dedicate a space for doing homework.)
At the end of homework time, you might offer kids a small reward like 15 minutes of screen time. Or if you have older kids, you might let them use their cell phone until it's time for dinner.
If your kids participate in extracurricular activities, you'll need to adjust your routine to account for them. For example, homework might get pushed until after dinner if your kids play sports or have band practice right after the school bells ring.
When it comes to school activities, those are important things. Playing sports, for example, is a great way for kids to get regular physical activity. But it's important to balance the number of activities your kids participate in so that they're not overwhelmed by their everyday routines.
3. Create a relaxing evening routine
Evening routines can help kids (and parents) wind down after a long day. Here are some simple ideas for following an evening routine as a family:
After dinner, kids finish any remaining homework
Kids get baths and put on pajamas
You plan out your to-do list for the next day
Kids have free time to read or play
After quiet time, kids start their bedtime routine
Having a regular sleep schedule is important for ensuring that kids get enough sleep. Over a third of kids in the U.S. don't get enough sleep, which can affect their health and cause them to do poorly in school.
Deciding on a good time to start the bedtime routine ultimately depends on your kids' ages.
For example, if you have a first-grader then 8 p.m. may be the perfect time to help kids start winding down. On the other hand, teens may want to start their own routine much later.
Experimenting with different schedules can help you find the best time to wrap up the day.
💡One thing that can really help you get organized for back to school is using a planner. Check out this beautiful back to school planner that's designed with busy moms in mind! It has everything you need to get the school year off to a great start! 
Tips for Making a Back to School Routine Work
Individual kids have unique needs and it may take some time to work out regular routines for each child. Here are a few great tips for making the start of the new school year a good one.
1. Prep the night before
Doing as much as you can the night before is a good idea if you don't have a long time to get ready for the day in the mornings. Some of the tasks you can do ahead of time include:
Setting out clothes for the next day
Packing school lunches
Having kids round up their backpacks and school supplies in one place
Knocking out a few tasks the night before can go a long way toward making sure you have enough time for everything else in your morning back to school routine.
2. Set time limits for tasks
Without time limits, it's easy for kids to get distracted which can throw off your entire routine. Once you get behind in the day, it can be hard to get caught up.
To avoid that issue, consider setting time limits on things like:
Making beds
Getting dressed
Brushing teeth and combing hair
Eating breakfast
After school snacks
Screen time or cell phone time
Time limits for screens and phones are good things. Studies have shown that too much screen time can increase kids' risk of obesity, cause cognitive issues and make it more difficult for them to develop healthy habits and behaviors.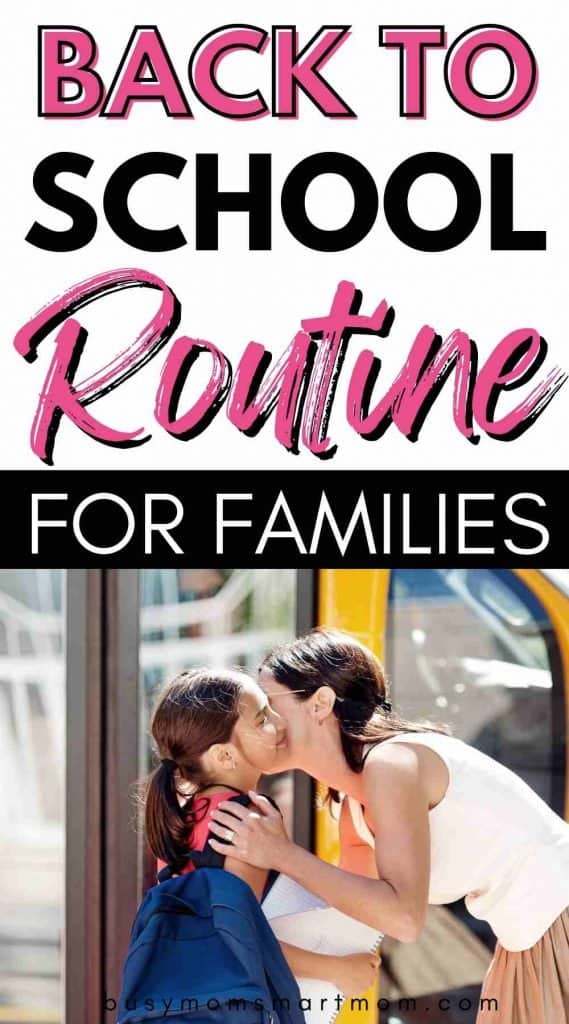 3. Stick with easy recipes
When you don't have a lot of time for breakfast or dinner as a family on busy school weeknights, easy recipes can be a lifesaver. The less time you have to spend in the kitchen, the more time you have to help with homework or just enjoy some one-on-one time with each of your kids.
If you need some easy recipe ideas, here are some great options:
4. Use a visual reminder to keep kids on track
If you have younger kids, a visual reminder like a printable routine chart or chore chart can be a great way to help them stay on schedule.
Even a simple list written down on paper can be enough to track daily routines. And you could also consider using a family time management app like Cozi.
Cozi makes it easy for everyone in the family to see what's on the agenda for each day. The Cozi app is free to download and you can also use it to track appointments and make grocery lists.
5. Try a test run of your back to school routine
You might be busy shopping for new school supplies or checking off other tasks on your back to school checklist. But it's a good idea to give your back to school routine a practice try before doing it for the first time for real.
Doing a test run can help you figure out if you have enough time to do all the things you've included in the routine or whether it makes sense to try doing it a different way.
Starting the routine a week before the start of school can also give your kids a chance to get back onto a normal sleep schedule. That's a plus if your kids have gotten into the habit of sleeping late over the summer break.
Free Back to School Routine Printable
Looking for a simple printable to help your kids keep track of their back to school routines? You can download these fun printable routine charts when you join the Busy Mom Smart Mom email list!
Head here to sign up or click on the images below to get your free back to school routine printables!
Final thoughts
Having a back to school checklist that includes morning, after school and evening routines can help you–and your kids–avoid headaches once the school season starts. You may need to do some tweaking in the first days or weeks of the school year, but that can help you to eventually find your groove as a family.
Do you have a back to school routine? Tell me what's working for your family in the comments!
And if you're struggling to get your family into a routine, be sure to take a peek at Family Routines. This online course can help you create realistic systems for your family to help you save time and stress.
Need more helpful mom hacks? Read these posts next:
Back to School Routine