Are you prepping your back to school shopping list yet?
Millions of kids are getting ready to go back to school. But for some kids, back to school means going no further than the kitchen table.
The number of families who choose to homeschool doubled in 2020–and the number keeps growing.
Doing school at home–whether you're teaching your kids yourself or signing them up for virtual learning–can come with some great benefits.
You can spend more time together as a family, making it easier to stick to a back to school routine. And learning together can be fun (coming from a veteran homeschooler here 🙂 ).
If you're planning your back to school checklist, I want to make your job easier. I've got a quick rundown of the best things to buy for a new school season to take the stress out of distance learning or homeschooling this year!
Related post: 23 Fun First Day of School Interview Questions to Ask Kids
What is Distance Learning?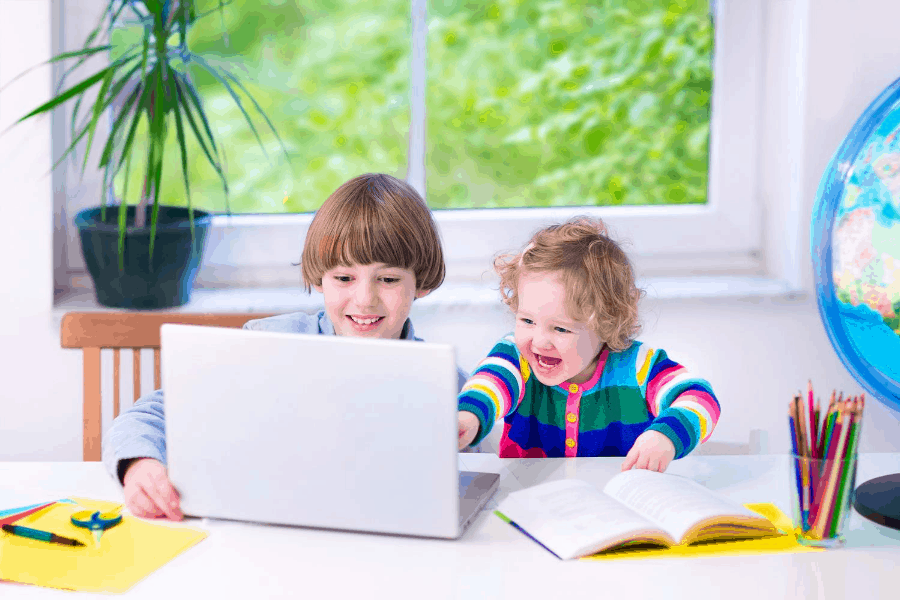 Distance learning means doing school at home. Specifically, with distance learning or remote learning, kids are still enrolled in their public or private school.
They still have classes they're assigned to that are run by their teachers.
Those teachers assign homework based on the school's approved curriculum guidelines. And those assignments have to be completed and turned in online.
Kids take tests, earn grades and do all the things they'd do in a normal classroom, academically speaking. Only they're doing those things online, without face-to-face contact.
It's a move that a lot of schools made last year to try and keep kids on track with learning. And some skills may continue to offer it for the near future.
Related post: 27 Fun and Free Educational Websites For Kids to Learn From Home
What is Homeschooling?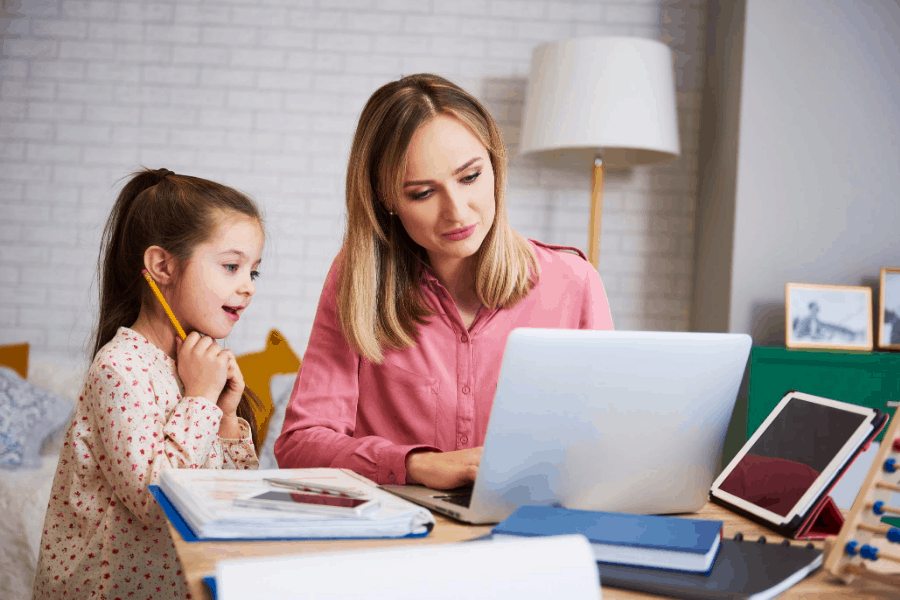 Homeschooling means doing school at home, too. the difference is That parents are the teachers and home is your full-time classroom. (Though, as a homeschooling mom I can tell you that in our family, learning happens everywhere. )
Homeschooling families choose what they want to teach and how they want to teach it.
They set the schedule and routine for their school days. So if you wake up feeling meh about teaching your kids fractions again you can do something different instead.
Every state has specific guidelines that homeschooling families have to meet. But homeschooling doesn't mean you and your kids are shut off from the rest of the world.
My kids are part of a homeschool co-op that does classes and field trips. We've done sports through parks and rec, taken art classes and done online classes with other kids through Outschool.
Homeschooling is our preferred way to learn. But distance learning is good too if you're not comfortable being fully in control of your kids' education.
So now that you know what distance learning vs. homeschooling means, let's dig into the list!
Related post: 30 Healthy Breakfast Ideas for School (Quick and Easy!)
💡One thing that can really help you get organized for back to school is using a planner. Check out this beautiful back to school planner that's designed with busy moms in mind! It has everything you need to get the school year off to a great start! 
Back to School Shopping List for Doing School at Home
All of the items on this back to school shopping list are designed for parents and kids who are learning online or at home. Some are essentials, others are "extras", but all of them can make homeschooling more enjoyable.
1. Computer or tablet
A computer or tablet is a must-have for online learning.
Depending on your school district, your school may lend out laptops for kids who are enrolled in a distance learning program. But if your school's not doing that or you homeschool, you may need to pick up a laptop or tablet for remote learning.
For instance, my daughter has an iPad Air and she loves it. It was a little pricier than a laptop but well worth the money.
If a laptop or tablet is on your back to school shopping list, here are some of my top picks:
If you're using a Chromebook or another type of laptop, your kids might also need a separate mouse if they're not used to the touchpad. Here are a few fun ones to check out!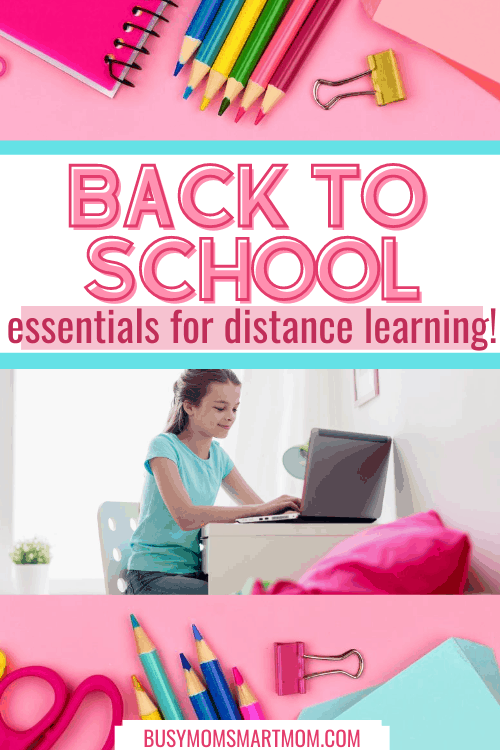 2. Earbuds or headphones
If your kids are using a laptop or tablet to learn at home, then tuning out distractions is a must.
So having some earbuds or headphones can help them stay focused on their work. This is especially great if you have younger kids who aren't learning at the same level yet.
(And if you need some ideas for keeping younger kids busy while older kids do schoolwork, here are 25 fun ideas!)
3. Blue light blocker glasses
Blue light blocker glasses are a must-have item for homeschoolers or distance learners who do their work online.
They help to minimize some of the impacts of looking at blue screens for hours on end. And that's good for protecting kids' vision.
If your kids are using a laptop or tablet for remote learning or homeschooling, definitely think about adding these to your back to school shopping list.
4. Assignment tracker and/or teacher planner
When it comes to doing remote learning with your kids or homeschooling, you've got to be organized. Otherwise, you'll lose track of what your kids are supposed to be doing.
So if your kids are distance learning right now, you'll want to snag a homework or assignment tracker.
And if you're a homeschooling parent, make sure there's a teacher planner on your back to school shopping list!
5. Basic school supplies
Your back to school shopping list, whether you're distance learning or homeschooling, isn't complete without picking up the basic stuff.
So as you make out your school shopping list, remember to add in essentials like:
You may also need to invest in a graphing calculator if you have students who are doing more advanced math.
6. Supply caddy
If you're buying pens, pencils, markers, scissors and other basic supplies, you'll need somewhere to keep them all!
Otherwise, you'll be wasting precious time you could be using to help your kids learn chasing down your supplies.
An easy solution for back to school shopping is to round it all up in a cute caddy that's also functional.
7. Printer and printer paper
If you're distance learning then you may not have as much need for a printer. But if you're homeschooling, odds are you'll need one for printing out worksheets, art projects and other fun stuff for school.
You don't need to get a really fancy printer, either. We use a basic one from Canon and it works great!
Plus, we buy the basic printer paper in bulk. Some of it we use for actual printing but some of it we use for sketching or scrap paper for working out tricky math problems.
8. Learning workbooks
Learning workbooks and study guides can be a great supplement for homeschoolers. They can also be helpful if you're doing distance learning and need a little extra guidance.
9. Dry-erase boards and markers
Dry-erase boards and markers are a great back to school shopping list addition if you'd rather not waste paper.
If you're getting dry erase boards and dry erase markers, make sure you get ones that are decent quality. I've found that the cheaper ones tend to stain easier so they have to be replaced more quickly.
10. Timer
Keeping kids on task when doing distance learning or homeschooling is important because it's so easy to waste time!
Having a timer can make it easier to keep track, especially if you're a busy mom trying to do all the mom stuff on top of school.
Back to School Shopping List Extras
What else do you need for distance learning or homeschooling?
If you've covered the basics with your back to school shopping list and you still have room in your budget, there are a few other things you might consider picking up.
Back to school supplies for your kids' workspace
Creating a comfortable workspace might be important to you for helping your kids stay focused. And being comfortable can make learning at home easier for you, too!
You don't need an entire room to homeschool or handle remote learning. We do all of our stuff at the kitchen table.
But if you have the extra space for it, you might consider creating a dedicated area for school that includes:
Desks
Or a table and chairs
Cubbies for kids to keep supplies in
A bookcase or two
Bean bag chairs
My favorite picks for a comfy homeschooling or distance learning spot:
Once you've got your space set up, there are some other things worth checking out for doing school at home.
One of my favorite resources, for example, is Outschool.
Outschool is an online learning marketplace for kids K-12. Classes are taught by professional educators as well as everyday people who have a passion for the subject they're teaching.
(And if you're looking for an easy stay at home mom job, check out my review of how to become an Outschool teacher and make $500+ a month on my other blog!)
Classes are taught live so kids can interact with other kids, which is great if your kiddos are missing the social side of regular schooling.
And there are so many interesting topics to check out!
For example, my kids have taken drawing classes, joined book club discussions and taken writing courses through Outschool.
So definitely give Outschool a peek if you're looking to expand your online learning horizons!
Try subscription boxes for distance learning and homeschool
Besides online classes, we also really like subscription boxes to incorporate in our school routine.
Subscription boxes are great because they're a nice change from doing work online or in a workbook.
The best ones give kids a chance to get hands-on with science projects, art, reading, cooking – you name it!
If you're looking for some subscription box recommendations for homeschooling or to break up the monotony of remote learning, here are some we've tried and loved!
Bonus tip: A lot of these subscription box companies are offering HUGE discounts right now when you sign up for a new subscription.
So be sure to check some of these out to see if they'll work for you and your kids!
What's on your back to school shopping list this year?
Are you ready for back to school shopping? Still thinking about what you want to buy?
Planning for the start of a new school year doesn't have to be stressful. Putting your back to school shopping list together early can help you get organized and potentially save money if you're checking the early sales.
Be sure to check out my favorite Busy Mom Resources before you go. And if you haven't joined the Busy Mom Vault yet, sign up now for tons of super helpful free printables!
Back to School Shopping List for Homeschool and Distance Learning