Best planners for moms
Learn which planners are the best for busy moms to live a more organized life!
Need more help with organization as a busy mom? Check out this course!
Finding the perfect planner can make busy mom life easier. The best planners for moms make it easy to organize your time, to-do lists and daily schedule all in one place.
Whether you're a working mom or a stay-at-home mom, having a planner can simplify the way you manage family life. But how do you find a great planner that checks off all your organized mom needs?
Look no further–I've put together a list of the best planners for moms who do it all!
Related post: 15 Best Busy Mom Gifts (That Moms Want!)
Best planners for moms 2022
Why busy moms need a planner
There are some great reasons to use a planner, whether you're a working mom, stay-at-home mom or work-at-home mom.
As a mom, a planner can help you organize your entire life, including:
Keeping track of school activities, extracurriculars and play dates for kids
Setting up your cleaning schedule
Recording your personal goals
Jotting down important dates
Tracking monthly bills and managing your budget
Managing doctor and dentist appointments for the entire family
Running a home business or side hustle
Tracking daily activities and habits
Meal planning and keeping up with grocery lists
Managing your kids' chore chart
Staying on top of holiday and Christmas planning
That's really the tip of the iceberg when it comes to what a good planner can do for you.
Related post: 30 Amazingly Thoughtful Gifts for Stay at Home Moms
How to choose a mom planner
There are so many different planners for moms to choose from that it might be a little overwhelming to find the right one. Thinking about what you need most can be the best way to find the right planner.
What do you need a planner for?
Some mom planners are designed to meet basic needs. So you might use them to keep up with appointments or special dates or write down your daily and weekly to-do lists.
Other planners included added features or extra space for things like:
Meal planning and grocery lists
Budgeting and bill lists
Habit trackers
Goal-setting
Business or work-related to-do lists
So think about the kind of daily activities you want to include in your planner when comparing options.
What's your planner aesthetic?
Planners for moms can come in lots of different shapes and sizes.
You can choose from planners that are:
Hardback
Softback
Spiral-bound
Disc-bound
Colorful and bright cover design
Monochrome and muted cover
Pocket- or purse-sized
Deluxe-sized, with lots of space to write
As you're considering which is the best mom planner for you, think about what you'd like it to look like and feel like in your hands.
What layout do you prefer?
Just like mom planners can look different on the outside, they can look different on the inside.
For example, you can choose from:
Hourly schedule planning
Daily spreads
Weekly spreads
Monthly calendars
Vertical layout
Horizontal layout
Again, it's important to think about what's most important to you when looking for the right planner.
What size planner do you prefer?
Size matters when choosing a planner to manage your family's life. So ask yourself:
Do you want a planner that you can take with you on the go? Or would you prefer a bigger planner that you'll keep on your desk or in your family command center?
When looking at planners of different sizes, consider whether you'd prefer to go with a smaller A5 size for portability or something on the larger side.
How much do you want to spend on a planner?
Some mom planners are more budget-friendly than others. So something else you need to decide is how much you want to spend.
Keep in mind that the more extra features a planner comes with (i.e. stickers, habit trackers, envelopes, etc.) the more you're likely to pay. So consider whether those things are worth the additional cost.
The good news is, there are plenty of functional–and fun–planners for moms out there that are don't cost an arm and a leg.
How much customization do you need?
Some planners offer plenty of customization when it comes to things like the look and feel of the planner, the layouts and add-ons. Others, however, come premade with very little customization.
So the next thing to consider when finding the best planner to manage your family's life is how much control you want to have over the design and layout.
Is a dated or undated planner better?
When choosing a new planner, think about whether a dated or undated version makes more sense.
If you don't mind writing in dates yourself or you're starting your planner in the middle of the year, then an undated planner could be the better fit. You'll need to write in the dates but that's a chance to get a little creative with the colors or your handwriting.
Dated calendars typically either start on the first of the year or in the middle of the year. This means if you're starting a planner at any other time, you may not use all the pages.
But a dated planner can save you time since the dates and months are already written in. Remember that whether to choose a dated or undated planner is ultimately a personal decision–one isn't necessarily better than the other.
What are the best planners for moms?
Ready to find your perfect planner? Here are the best planners for moms to organize your life!
1. Best planner for goal-setting moms: Lara Casey PowerSheets
I first heard about PowerSheets a few years ago when I found Lara Casey's Cultivate What Matters blog. What struck me right away is how beautiful everything in the PowerSheets Collection is!
Cultivate What Matters is all about approaching your time and life with purpose. PowerSheets reflect that perfectly.
This planner is designed primarily to help you be intentional when setting and reaching your goals. You can use it solo or along with one of the other planners on this list to manage your mom routine.
Why it's great for moms:
Easily track personal goals
Designed for all moms, including stay at home moms, working moms and empty nesters
Beautiful design
Dated monthly planner with quarterly refreshes
Tending List with habit trackers
High quality construction, including hard covers and rounded gold corner protectors
Interior pocket with sticker pages
Exclusive bonuses, including access to a community of 18,000+ goal-setting women
7.75″ x 10.5″
Things to consider:
This planner for moms is a bit on the pricier side, but it could be worth it if you're making the most of the exclusive bonuses
2. Best customizable planner for moms: inkWELL Press

The Inkwell Press line of planners is designed for moms and women who need more than a traditional planner.
Inkwell planners use a disc system so you can pick and choose what you want to add or more pages or entire sections around.
Why it's great for moms:
Choose from different layouts, including undated daily layout, horizontal or vertical weekly layout, or monthly calendar
Record important dates
Track yearly goals
Simple and minimalist cover design
Thick luxe 140 gsm paper (no bleed-through)
Menu planning
Add-ons include pen loops, page markers and three-pocket folders
Comes with access to free productivity coaching videos
Things to consider:
The range of customization options can be a little overwhelming if you've never created this type of planner before
3. Best planner for procrastinating moms: Panda Planner Pro
The Panda Planner is a daily planner for moms who want to boost happiness and increase productivity. This is a great option for moms who want to get things done and feel better overall.
That's a huge plus if you're struggling with mom burnout or want to improve mental health.
Why it's great for moms:
Helps you to stay focused so you can hit your goals
Boost happiness and be more productive
Undated planner with daily and weekly pages
Monthly calendar included
Simple, colorful design
Softbound, with lay flat design
Includes bonus ebooks and a productivity mini-course
Hassle-free refunds
8.5″ x 11″ inches so you have lots of room to write
Things to consider:
The Panda Planner Pro covers a six-month period but that could work well if you're starting your planner in the middle the year.
4. Beset budget planner for moms: Clever Fox Budget Planner
The Clever Fox Budget Planner is designed for busy moms who want to get their money together.
If you struggle to stay on top of bills or expenses, this is one of the best planners for organizing family finances.
Why it's great for moms:
Undated monthly planner for budgeting and expense tracking
Monthly budget worksheet and monthly review spreads
Expense tracking pages
Goal-setting and tracking pages
Budgeting stickers included
Comes with a pocket for stashing receipts and bills
A5 size (5.8″ x 8.3″)
Things to consider:
5. Best planner for creative moms: Commit30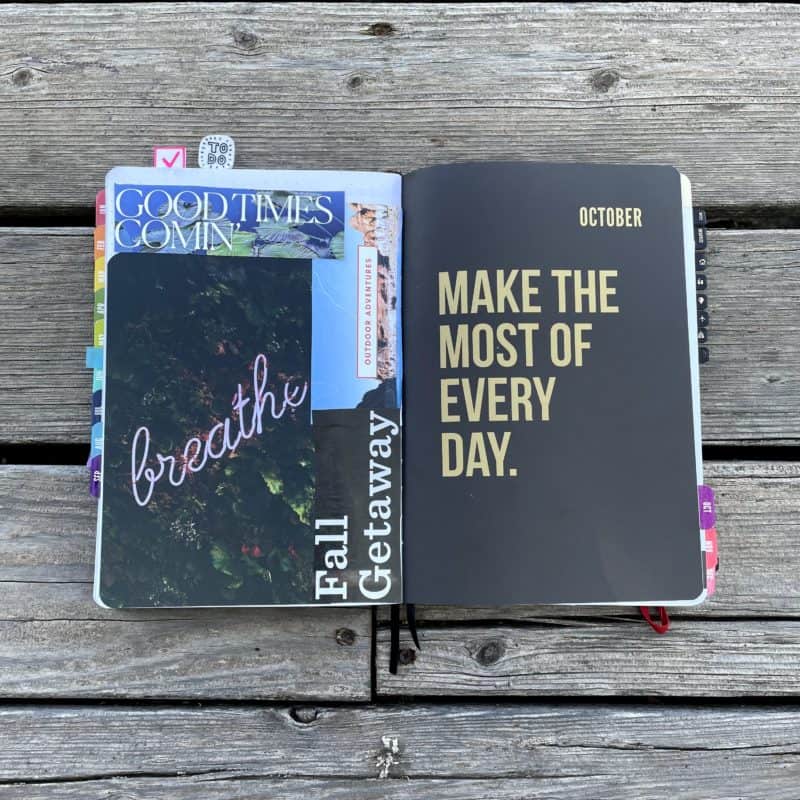 Commit30 planners are some of my favorite planners for moms because they don't look like a traditional planner.
These planners are designed to help you build positive habits and crush your goals. But because these journals encourage you to create monthly vision boards with pictures, washi tape and/or stickers, they're also an amazing creative outlet!
Why it's great for moms:
Dated yearly planner
Choose from Sunday or Monday start
Eye-popping cover design
Customize your color, size and start day options
Yearly goals and vision-setting
Vision mapping pages
Elastic band enclosure
40+ blank pages for notes
Weekly layouts
Monthly calendar layout
Motivational quotes
30-day challenge tracking tool
Choose from standard size (5.75″ x 8.25″) or deluxe (7″ x 10″)
Things to consider:
There's an extra cost for stickers, paper clips and pen holders.
6. Best larger size planner for moms
If you need a larger planner that offers plenty of space to write, the Happy Planner BIG-Sized planner could be a great option.
This planner is 10.12″ x 11.5″ so you have lots of space to fill in important dates, record your to-do lists or even jot down ideas. I've personally used the Happy Planner stationery brand for years and I just love them!
Why it's great for moms:
Larger size
Dated yearly calendar
Disc-binding makes it easy to customize your planner
Hardcover design for durability
Choose from verticial layout, horitzonal layout, dashboard layout or monthly layout options
Customize with stickers and organize with pocket folders
Things to consider:
This planner may not work as well for you if you'd prefer an undated planner option.
7. Best pocket-sized planner for moms: Bloom Daily Planner
Bloom daily planners are designed to help you live your best life every day.
These small, compact planners are an ideal size for stowing in a purse, briefcase, gym bag or diaper bag. They feature monthly spreads and spacious weekly views so you can see what's on your schedule at a glance.
Why it's great for moms:
Dated yearly calendar
24 stylish cover design options
Monthly calendar spreads with tabs to easily find what you need
100 gsm bright white bleed-resistant paper
Flat-lay metal spiral binding
Front and back inside pockets
Free sticker sheet and bookmark
Comes with life coaching worksheets including personal mission statement prompt, yearly goal-setting page, weekly scheduling templates, purpose and values pages, habit trackers, vision boar, blank pages for notes and a monthly spending log
Things to consider:
No elastic band to hold it together and no pen holder
8. Best planner for working moms: GoGirl Planner and Organizer for Women
The GoGirl Planner is an awesome planner for moms who work, whether it's a 9 to 5 job or running a business at home.
This is an undated planner, so you can start it at any time. And it comes in a smaller size so you can take your planner anywhere with ease.
Why it's great for moms:
A5 size makes it a perfect planner for working moms who need something compact (larger size is also available)
Hardcover design make from animal-friendly PU leather for durability
Easily move from weekly planning pages to a montly view
Includes an elastic band closure, pen holder an sticker sheeet
10 beautiful design options (pick the color you love best!)
Keep track of deadlines and commitments in one place
Set and track monthly goals
Money-back guarantee
Things to consider:
The smaller size means you don't have a lot of space to write on the monthly calendar view.
9. Best dated weekly planner for moms: Erin Condren Life Planner
Erin Condren planners are some of the prettiest planners for moms on the block. Each one has a seriously beautiful design and they're highly functional!
If you're looking for dated weekly, daily and monthly planning you can't go wrong with the Erin Condren Life Planner.
Why it's great for moms:
Three sizes to choose from: A5, 7″ x9″ or 8.5″ x 11″
Coil binding makes it easy to lay your planner flat
Choose your own cover design and coil cover
Four interior design options
Thick, rich #80 Mohawk paper
Three weekly layout options: Horizonatal, vertical or hourly
Includes extras like stickers and a folder
Things to consider:
With the larger size Life Planner you only get the horizontal layout option.
10. Best undated weekly planners for moms: Clever Fox Planner
The Clever Fox Undated Weekly Planner is an A5-size planner that you can start at any time.
Like other Clever Fox planners, it has both weekly and monthly spreads. It also comes with a money-back guarantee in case you decide it isn't the right planner for you.
Why it's great for moms:
Undated yearly planner
150 colorful planning stickers to help you keep tabs on important dates and track your personal goals
Awareness, self-discovery and gratitude section
Vision mapping pages
Planning for yearly goals
Break down your goals step-by-step
52 weekly spreads
Dot grid pages for taking notes, jotting down ideas or doodling
Things to consider:
This planner is designed for people who don't have a lot of hourly appointments they need to keep track of each day.
11. Best dated mom planner: PurpleTrail Planner for Moms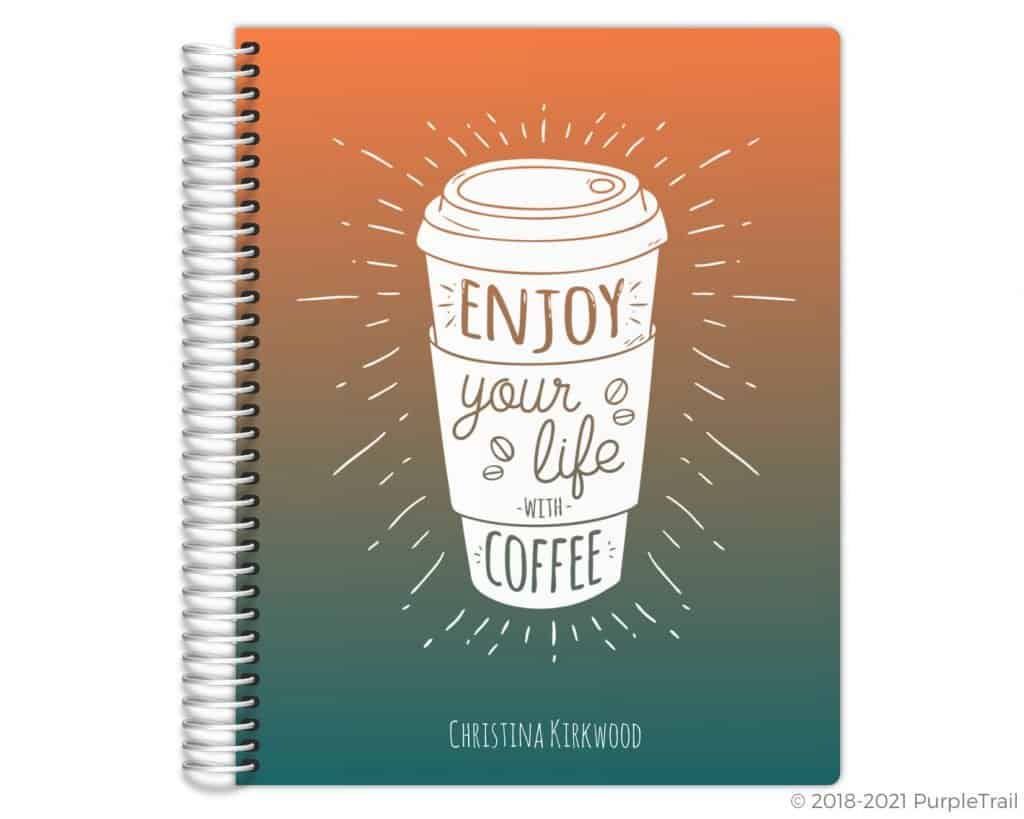 PurpleTrail offers a number of different planner options, including planners for moms.
These planners are great because you can pick and choose your design and they come in different sizes. You can choose between something with lots of color or a more neutral gray design if you prefer.
Why it's great for moms:
Tons of beautiful design options to choose from
Comes in a smaller 6″ x 8″ size or a larger 8.5″ x 11″ size
Choose up to four add-ons from over 30 options
Durable double-sided pocket folders
Calendar options from 6- to 18-months
Easy-to-label weekly planning layouts
Monthly page for birthdays and events
Full page monthly spread
Things to consider:
This planner for moms does offer a lot of customization but it comes with a higher price tag.
12. Best daily planner for busy moms: Day Designer
Day Designer offers daily and weekly planners for moms who prefer a stylish, polished look.
There are different options to choose from including daily flagship planners, deluxe weekly planners and today & to-do planners. You can choose from standard size or mini size, based on your personal preference.
Why it's great for moms:
Hardcover planner with a sturdy coil binding for durability
Day Designer planners lay flat so you can easily see your days, weeks or months at a glance
Includes bonus pages for planning on those extra busy days
Pick the planner size that works best for your lifestyle
Select a daily or weekly planner, based on your needs
Sleek and elegant design
Things to consider:
Undated planners feature a simpler design and layout while busier moms may prefer the dated daily or weekly planners.
13. Best planner for managing family life: Amy Knapp Family Organizer
Amy Knapp's Family Organizer is a best-selling planner for moms and it's easy to see why.
This is a comprehensive planner that's parenting tested and mom-approved. It's got everything you need to manage your busy family's life and daily routines!
Why it's great for moms
Weekly view and monthly calendar grids for planning out your days
Room to record your grocery lists and meal plans
Pages to track your to-do list
Pockets for storage
Goal-planning sheets for all family members
Inspirational quotes
Two planner sticker sheets with 200+ stickers
Blank pages for notes
6″ x 8″ size with wire-o double spiral binding to lay flat easily
Things to consider:
Only available in one size option
14. Best planner for boss moms: Best Planner Ever
Best Planner Ever is THE best planner for moms who want to set themselves up to win every day.
This planner is great for entrepreneurial-minded moms who run their own businesses. But it could also work well for the stay-at-home mom who needs a better handle on time management.
Why it's great it for moms:
Designed to help you build daily routines for success
Create a Vision Statement and Vision Board for getting things done
Access free online success planning workshops
Learn how to manage your time and pace yourself to prioritize tasks
Use brain dump pages to eliminate overwhelm
Daily physical and mental health tracking
Multiple beuatifully designed covers to choose from
Choose between 90-day, 6-month or 12-month formats
Things to consider:
Dated planner means you can't write in dates yourself if you'd prefer.
15. Best self care planner for busy moms: momAgenda
Self-care is something busy moms need but often fail to make time for.
It's hard to find planners for moms that are focused just on helping you improve your physical, emotional and mental health. The Self Care Planner from momAgenda is the perfect planner option for making sure you're taking care of yourself while taking care of everyone else.
Why it's great for moms:
Undated 90-day planner
Create healthy daily routines and habits to promote self care
Daily spreads featuring a wellness tracker and daily planner with space for mom and up to four kids
Monthly view spreads
Lined note pages
Heavy stock 120 gsm paper
Suede-feel cover with gold foil stamp
6.5″ x 9″
Things to consider:
This is only a 90-day planner but it's undated which means you can skip a day or two if needed.
16. Best planner for ADD/ADHD moms: Reminder Binder
Reminder Binder is one of my favorite planners for moms who want to be more intentional with their time without letting anything slip through the cracks.
The Reminder Binder system is bright and colorful and is packed with stickers, checklists and other tools to help you stay on top of busy mom life!
Why it's great for moms:
Two super cute cover designs to choose from
Weekly, monthly and yearly views
Horizontal weekly layouts with lots of white space
Elastic band closure
Hard cover so it's made to last
300+ reminder and highlight stickers
Holidays overview
Two pockets
3 full pages of dates to remember
Snap-in bookmark
Weekly pages for listing details with three-month thumbnails
Monthly bills tracker
8.5″ x 7.25″
Things to consider:
Dated planner could make this one better for getting started at the beginning of the year.
17. Best planner for Christan families: Amy Knapp Christian Family Organizer
Amy Knapp's planners for moms get a second nod here with the Christian Family Organizer. This planner includes all the same great features as the regular Family Organizer but it also has weekly inspirational Bible verses sprinkled throughout.
In addition to jotting down your must-do tasks, grocery list and assorted notes, there's also room to write down your prayers or praise reports for the week.
Why it's great for moms:
Two planner sticker sheets with over 225 stickers and reminders
6″ x 8″ trim size with wire-o double spiral binding for easy, lay-flat writing
Environmentally responsible, FSC certified and smudge-free paper
Sturdy jacket for durability with internal storage pocket perfect for notes and receipts
Monthly and weekly calendar spreads
Tear-off grocery lists for easy weekly shopping, meal planning, and menus
Notes and goal-setting pages for both mom and the family
Fresh, new design with removable cover band
Weekly prayer prompts and Bible verses
Find important phone, school, and emergency numbers quickly
Holidays, moon phases, and observances
Year at a glance
Things to consider:
Doesn't include a bookmark or placeholder to keep track of where you are each week or month.
18. Best planner for homeschooling moms: Bloom Teacher Planner
If you're a homeschooling mom, the Bloom Academic Year Teacher Planner can be a lifesaver for staying organized.
Unlike other teacher planners which follow a typical school year schedule, this planner is undated. It's one of the best planners for moms who homeschool but don't follow the traditional public school calendar.
Why it's great for moms:
Undated planner that's customizable to your homeschool schedule
60 weeks worth of column-style planning blocks with five weeks per block
14 sturdy colored tabs with over 160 full cover printed pages
Personal info page with yearly mission statement
Student information pages
Website login pages
Fieldtrip planning
Gradebook planning
Pages for important dates and reminders
9″ x 11″ with plenty of space to write
Things to consider:
If you want to use stickers with this teacher planner you'll need to buy them separately.
19. Best planner for creative moms: Burde Doodle Planner
The Burde Doodle Planner is designed for moms who have a creative streak.
This planner is designed for moms who've always wanted to try bullet journaling–but don't have the time or patience for what that involves.
Why it's great for moms:
Weekly spreads with planning sections and space for notes or doodles
Thick, bleed-proof paper
Lots of space to write and create lists
A5 planner size
Dated planner so you don't have to write in dates
Comes with stickers so you can have fun decorating as you plan your busy life
Climate-friendly product
Things to consider:
This planner offers bullet journaling lite so you might consider buying a regular bujo if you like drawing the boxes or grids yourself.
20. Honorable mention: Living Well Planner
The Living Well Planner is an all-in-one planner from Ruth Soukup of Living Well, Spending Less.
This planner is designed to help you manage your family's life while being intentional with goal-setting and planning. It's one of the best planners for moms who want to manage their time, money and goals in one place.
Why it's great for moms:
Weekly calendar with a Monday start
Goal-setting and planning pages
Four stylish cover designs to choose from
Stickers for customizing monthly calendars
Free access to the Crushing It Bootcamp email series
7.5″ x 9.5″
Things to consider:
Undated planner means you can start any time but you'll have to keep up with adding new dates yourself.
21. Honorable mention: Passion Planner
Passion Planners come in lots of different layouts and formats. These planners are designed for moms who think and dream big and need help keeping up with daily activities and goals.
Why it's great for moms:
Choose between paper or digital planner
Weekly or daily undated planner available (digital and paper versions)
Multiple cover design options
Spiral and non-spiral bound versions are available
Monthly layout with monthly review and reflection
Passion layout to help you visualize your goals
Time blocking with hourly planning
Comes in small (A5), medium (B5) and large (A4) sizes
Things to consider:
Compare to some of the other planners for moms included here, the Passion Planner has a more subdued look.
22. Honorable mention: Cozi
I love my paper planner but if you're more of a techie mom, you might prefer to use a digital planning app to manage your family's routine. In that case, I recommend Cozi.
Cozi is a free app (there's a paid version, too) that you can use to coordinate your family's busy schedule. It's one of the handiest planners for moms to use on the go.
Why it's great for moms:
All family members have easy access to the app
Track your grocery lists and recipes
See upcoming events with the tap of a button
Set reminders so you never forget a thing
Use the app from any mobile device or computer
Free to use app for organizing your time and household
Things to consider:
A digital planner app probably won't work for you if you prefer to keep track of important dates, to-do lists or daily activities by hand.
Best accessories to buy with planners for moms
Picking out a mom planner is only half the fun — the other part is making your planner yours.
If you're looking for some extra goodies to personalize your planner, here are a few things I just love:
If you're planning to shop Amazon for the best planners for moms, don't pay full price!
Download the Honey browser extension to save money. Honey is free to use and it automatically scans Amazon to help you find the best price on everything you buy.
You can also use Honey to shop anywhere else online to get coupons and promo codes applied automatically. It's a simple way to save so join Honey now if you haven't yet!
Which of these planners for moms are your favorites?
I hope I've given you some great ideas for the best planners for moms if you're ready to organize your life!
Using a planner has been a game-changer for me and I only wish I'd jumped on the mom planner bandwagon years ago.
Before you go, be sure to check out my favorite Busy Mom Resources for saving time, money and stress!
And don't get to grab your free printables in the Busy Mom Vault!
Best Planners for Moms to Get Organized