Frugal Easter Basket Stuffers to Help You Save Money
Check out this list of the best frugal Easter basket stuffers to keep your kids happy without breaking the bank!
Are you looking for some cheap Easter basket ideas to save money this spring?
Easter is a special holiday but if you're a one-income family, then you celebrating on a smaller scale might be just what your budget needs.
As a single parent, I understand how important it is to make every dollar count.
Birthdays and holidays like Easter can easily stretch your financial limits, especially if you have multiple children.
The good news is, there are plenty of things you can include in your kids' Easter baskets that don't cost a fortune!
If you're looking for some inspiration, I have a list of 25 inexpensive and cute Easter items you can include that won't break the bank.
28 Fun and Cheap Easter Basket Ideas for Kids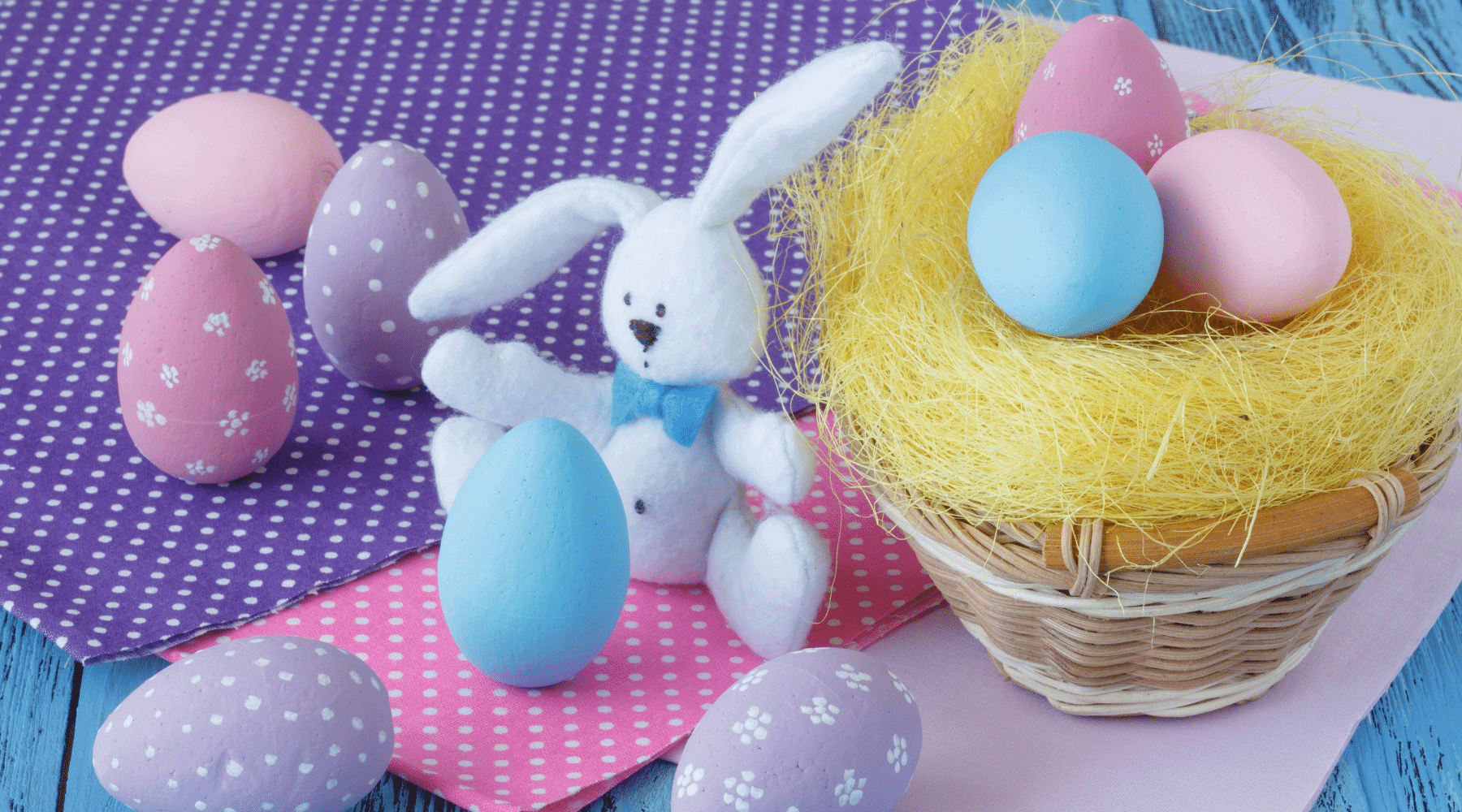 A note about this list of Easter basket fillers: everything on it costs around $10 (or less!)
And many of these items can be found at your local dollar store, which can help you save even more money!
1. Stickers
Stickers are a simple way to go when you need cheap Easter basket ideas.
The dollar store is a great place to get stickers for a buck. If you want to spend a little more, try some Melissa & Doug stickers. These were always a hit with my kids when they were little.
2. Play-Doh
Play-Doh is a fun sensory item to include in a frugal Easter basket and again, you can get it at the dollar store.
If you're buying for multiple kids, you can save money by purchasing the two-ounce tubs in a case and divvying up the colors.
3. Sidewalk chalk
Sidewalk chalk is a great choice for putting together an Easter basket on the cheap. It doesn't cost much and it's a good way to encourage kids to get outside and enjoy the spring weather.
And if you're a crafty mom, you can always make some DIY sidewalk chalk as an Easter gift!
4. Bubbles
Blowing bubbles is an easy way to keep kids busy and it's another item that's perfect if you're looking for cheap Easter basket ideas.
You can pick some up at the dollar store or make your own bubble solution with ingredients you have around the house.
5. Craft kits
If you'd rather not load up your kids' Easter baskets with toys, inexpensive craft kids are another option.
I used to buy my kids these Melissa and Doug ones but Dollar Tree usually has a good selection of $1 crafts that are Easter-themed.
6. Flashcards
Flashcards might not be an obvious choice for cheap Easter basket ideas but they're great for sneaking in some learning.
You could choose ones with letters or numbers but you can also try ones with dinosaurs or animals instead.
7. Stamp sets
A stamp set is another fun gift idea for Easter that doesn't have to cost a lot of money.
My kids had the Melissa and Doug versions but you can also find these at the dollar store. (And yes, I was a bit of a Melissa and Doug fanatic when I had littles. 😊)
8. Coloring books
Coloring books are a great cheap item you can snag at the dollar store or Walmart.
Toss in some inexpensive crayons or markers (my kids love these scented markers!) and you've got a simple and fun Easter gift kids will love.
9. Puzzles
Puzzles encourage motor skill development and logical thinking.
This is another item you can pick up at the dollar store, Walmart or Target for just a few bucks. Or check out these cute ones from Amazon!
10. Slinky
I'll admit, I'll still play with a Slinky if you hand me one. There's just something about them that's a little mesmerizing.
If you're buying these for Easter, I recommend the plastic versions over the metal ones since they're less likely to end up in a tangled, twisted knot.
11. Nail polish
If you have a tween or teen, nail polish, lip gloss and other girly beauty items are likely to be a hit. If your daughter already has plenty of nail polish, she might like a mini mani-pedi set instead.
12. Mini Lego sets
Lego sets are always a kid favorite but it's crazy how expensive they can be.
If you have a Lego fanatic at your house, consider sticking with one of the inexpensive mini sets to save your Easter budget.
13. Journals or sketchbooks
If you have an aspiring writer or artist, then journals and sketchbooks are an easy and frugal Easter basket pick.
You can find a variety of journals and sketchbooks at the dollar store. Tuesday Morning and Ross are also good places to find bargain buys.
14. Gel pens
When you're buying journals or notebooks as Easter gifts, you need to give kids something to write in them with.
Washable gel pens are a great frugal Easter basket addition!
15. Silly putty
Silly putty is kind of old-school but it deserves a mention as one of the best cheap Easter basket ideas.
The old Silly Putty newspaper trick doesn't work anymore but it's still a fun option. And you can make it yourself to save money.
16. Glow sticks
Glow sticks are great because they don't cost a lot and again, they're another way to get kids outdoors.
You can encourage them to play glow stick tag in the backyard once the sun goes down if Easter is accompanied by some warmer weather where you live.
17. Magnets
Magnet sets are fun for playing on the fridge or off it. Plus, you can find them cheap and they can encourage early learning and creativity!
18. Books
Books are always a favorite buy for any holiday or special occasion at our house and they're great for Easter baskets.
Check out the dollar store for board books and picture books for younger kids. Used book stores can turn up bargain finds for older kids.
19. Bath bombs
If your kids love bath bombs, they could be a perfect frugal Easter gift.
And if you want to spend some hands-on time with kids over the Easter weekend, you can also make some together.
20. Jump rope
Jump ropes can encourage kids to be active and like everything else on this list of cheap Easter basket ideas, they don't have to cost a ton of money!
You can splurge on fancier ones with wooden handles but these old school versions are budget-friendly and they might even remind you of elementary school gym class.
21. Sunglasses
Sunglasses are another great dollar store find for kids' Easter baskets. You can get them in all sorts of colors and designs without spending a lot!
22. Beach pails and shovels
For many years, I packed my kids' Easter items in an oversized beach bucket since we live a few miles from the ocean.
But a beach pail and shovel can still be a great gift even if the only sand your kids play in is at the park.
23. Card games
Card games can keep kids entertained and they can also be a great option for family game nights.
My kids love the Top Trumps card games–the rules are easy to follow and they come in lots of different themes!
24. Travel-size board games
Fitting a full-size board game into an Easter basket might not be realistic.
But travel-size board games are great because kids can play with them at home or when you're on the go.
25. Stuffed animals
A frugal Easter basket wouldn't be complete without a stuffed animal. Walmart and Target usually have plenty to choose from, including ones you can get for $5 or less.
26. Washable paint
Do you have artsy, creative kids at home?
Washable paint, some posterboard and an inexpensive pack of paintbrushes could be the perfect Easter gift for your budding artist!
27. Bath toys
Bath toys can be a great way to keep smaller kids entertained while helping them get clean.
Check out some of these fun bath toys for kids from Amazon!
28. Sensory toys
Sensory toys could make a great Easter basket addition for kids who need help focusing.
These bubble pop sensory toys could be a perfect choice for kids (or adults) who could use a stress reliever.
Tips for Saving Money on Easter Shopping
If you're worried about making your dollars and cents stretch this Easter, use these tips to save big on Easter shopping!
Set an Easter basket budget for each child
If you want to save money on Easter, start by setting a budget for each child.
Decide how much you can afford to spend (or want to spend) for each child in the family. Then commit to sticking to it!
Check out the dollar bin at Target
Target can be a budget-killer because you go in for one thing and come out with 20.
But if you're looking for cheap Easter basket ideas, be sure to browse the dollar bin for deals. (And of course, develop tunnel vision for the rest of the store. 😁)
Don't go overboard on a fancy basket
A quick look at Pinterest will show you some really gorgeous Easter basket ideas.
But don't feel like you need to make your kids' basket Pinterest-perfect, since that could mean spending even more money.
Instead, stick with a simple basket that you can reuse year to year. And choose inexpensive paper grass to line the bottom.
Go light on Easter candy
Easter candy seems like a must-have. I mean, it's not an Easter basket without a giant chocolate bunny, right?
But if you want to save money, consider going light on the candy or skipping it altogether. Or, spend time making fun (and sweet) Easter treats at home with kids instead.
Use Rakuten to earn cash back when shopping online
If you're doing any of your Easter shopping online, then it makes sense to try and get back some of what you spend.
With Rakuten, you can earn cashback just for shopping deals through the site. If you're not using Rakuten to save money yet, sign up now to get up to $20 in bonus cash!
Save money on Easter dinner with Ibotta
If you're planning a big family dinner for Easter, don't pay full price for the items on your shopping list. Download the Ibotta app to earn cashback when you shop.
You can snap a picture of your receipts and upload them after you shop to earn cash back. Or link your store loyalty program card to get instant cashback savings.
Do you have some cheap Easter basket ideas to share?
I hope you've gotten some inspiration for things to include in a frugal Easter basket this year. And if you have an idea for saving money this Easter, I'd love to hear it!
Head to the comments and share it, then don't forget to pin and share this post!
Cute and Cheap Easter Basket Ideas for Frugal Families