Free Christmas Wish List Printable for Kids
The holiday season is near and your kids may already be thinking about what they'd like for Christmas. A Christmas wish list printable is a fun and simple way for them to share gift ideas.
Gift-giving during the winter months is actually tied to pagan rituals. The concept of giving gifts was later linked to Christian traditions and the story of the Magi.
When the first Christmas list was made, no one knows. But it's now common for kids around the world to make a Christmas wish list each year.
And what could make it easier to write a wish list for Christmas than a free Christmas list template?
That's what I'm sharing with you today, along with some fun Christmas gift ideas for kids!
Related post: Christmas Bucket List Ideas (50 Fun Ways to Enjoy the Holidays!)
How Do You Make a Good Christmas Wish List?
If your kids are small they might need a little help making their wishing list for Christmas.
And sometimes, coming up with the perfect Christmas gift idea for older kids (or adults) is tough, too!
If you're sitting down with your kids to complete their Christmas wish list printable, here are some questions that can get them thinking about what gifts to add:
What are you most interested in right now?
Is there something new you'd like to learn?
Can you think of something you really need?
Are there any books you'd like to read (or have read to you?)
Is there something special you'd like to have to wear?
If you could ask for one big "want" gift, what would it be?
Asking these kinds of questions can also help you come up with your own Christmas wish list. That way, when someone asks you "What do you want for Christmas?" you'll have an answer ready to go!
Related post: Best Stay at Home Mom Gifts (That Moms Really Want!)
Printable Christmas List Template
These free Christmas wish list printables are designed to get kids thinking about what they really want for Christmas this year.
And having a printable Christmas list to follow can make Christmas shopping easier for moms and dads, too.
These printable Christmas wish lists can work for kids of all ages. (And adults, too!)
There are lots of styles to choose from, so you can print all of the wish lists out or just one, depending on what catches your eye.
And you can match up the Christmas gift list printable with a free letter to Santa template to mail off to the North Pole. (If your kids still believe, of course.)
To download these free Christmas wish list printable templates, just click on any of the images below.
You'll be taken to the Busy Mom Vault sign-up page. Enter your name and email address to get the super-secret link and password to the Vault!
From there, you can download any or all of the Christmas wish lists, plus lots of other super useful busy mom printables!
Free printable Christmas wish list templates
Free printable Christmas wish list for adults and kids
Download your Christmas list printable free!
Get your Santa Wish List printable template
Grab this cute wish list printable now!
Fun Ideas for a Kids Christmas Wish List
Not sure what gifts to give your kids this year?
Or maybe you're looking for some gift ideas to donate to Toys for Tots, your local Angel Tree or another organization that helps kids in need over the holidays?
Here are some of the best gift ideas for kids!
Crafts
Crafts are always a fun Christmas list addition
They encourage kids to get in touch with their creative side. And they're great for encouraging hands-on play.
You can find plenty of craft kits for kids on Amazon.
But if you want to keep the fun going all year long, check out some of these monthly craft kits:
Art supplies
Art supplies are another awesome gift idea for kids.
Crayola is always a kid-friendly favorite. You can buy individual sets of markers, crayons or paints, or get an all-in-one art kit that has a little of everything.
If you have younger kids, you might want to try these natural beeswax crayons.
And if you have teens or tweens who are serious about their art, check out Prismacolor.
My daughter takes an advanced watercolor drawing class that requires these colored pencils and she absolutely loves them!
And if you're looking for monthly art boxes, here are some great gift ideas!
Science kits
Science kits a fun and educational gift idea for kids who love STEM.
You can find lots of science kits for kids on Amazon. And if you homeschool you might decide to incorporate one of these monthly STEM subscription boxes into your learning:
Books
Books are the one thing that we have an unlimited budget for in my house.
If you're looking for some books to add to a Christmas list for kids, here are a few favorites we've enjoyed over the years:
(And if you're planning a summer reading challenge for next year, don't forget to grab your free summer reading log printable!)
Want books delivered to your kids each month? Then sign up for one of these monthly book subscription boxes, guaranteed to get your kids reading in no time!
Baking supplies
Learning how to bake or cook is a valuable life skill.
If you have a kid that's curious about what goes on in the kitchen, putting together a baking or cooking starter set could be the perfect gift!
You can scout Amazon for baking supplies for kids. And you can turn up the fun a degree with one of these fun monthly kids cooking subscription boxes!
From there, you can get to work whipping up some Christmas cookies or other fun holiday recipes!
Other Christmas wish list ideas for kids
Need a few more ideas for the best gifts for kids?
Here are some tried-and-true favorites virtually any kid will love!
And if you have older kids who prefer to shop for themselves, you can always give them an Amazon gift card! 
Related post: 101 Amazing Acts of Kindness for Kids (Free Printable!)
Get the Free Christmas Wish List Printable and Start Planning!
The holiday season always seems to fly by. So getting a head start on getting organized for Christmas can help relieve some of the stress!
Having your kids fill out a free printable Christmas wish list template can help you to plan your Christmas budget.
And it can make Christmas shopping less of a hassle since you have a Christmas list to follow.
Before you go, be sure to check out my favorite Busy Mom Resources for saving time and money!
And of course, grab your free Christmas wish list templates in the Busy Mom Vault!
Need some ideas for holiday gifts for moms? Check out this list of fun, thoughtful and practical busy mom gifts!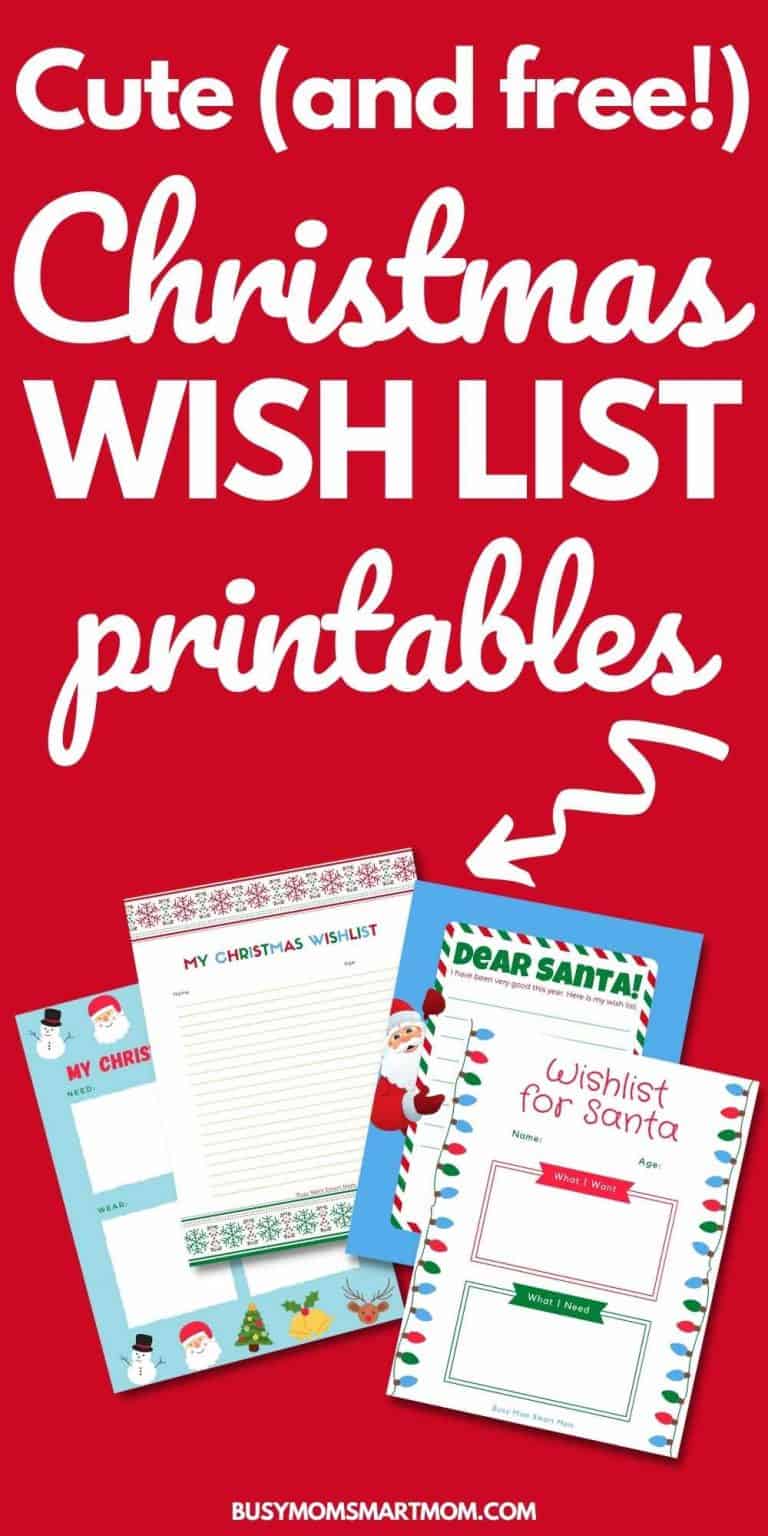 Christmas Wish List Printable Templates