You want a clean and organized home but you don't want to spend hours keeping it that way, amirite?
I love the feeling of a clean and tidy house and you probably do too. Only, being a busy mom means cleaning up is just one of many things on your to-do list.
So here's the solution: finding ways to clean house quickly so you can turn your attention to the rest of mom life.
Because I don't know about you but there are plenty of other things I'd rather be doing besides dusting or scrubbing toilets.
So implementing a few daily cleaning hacks you can do in minutes is the perfect way to keep a clean house, even when you've got messy kids, pets or a spouse who's not great at picking up.
Ready to get your house clean fast? Then it's time to put these cleaning tips to work.
How to Clean House Quickly and Save Time
1. Do one load of laundry daily
I hate laundry. It's right at the top of my least favorite chores list.
And even though there are just three of us, I still dread it.
If you feel the same way, mama, then here's how you can make it less of a time suck: do one load a day.
Running one load of laundry a day means you're not fighting your way out from under a pile of clothes, bedding and towels on Sunday afternoon when you'd much rather be relaxing and indulging in some self care.
Related post:
11 Time-Saving Laundry Hacks for Moms Who Hate Doing Laundry
2. Only vacuum high-traffic areas
If you have carpeting instead of hardwood or tile, don't stress vacuuming the entire house every day.
Instead, just hit the high-traffic areas of your home once a day.
Depending on how big your house is, you may be able to knock this out in 15 minutes or less, which is great when you're trying to clean house quickly.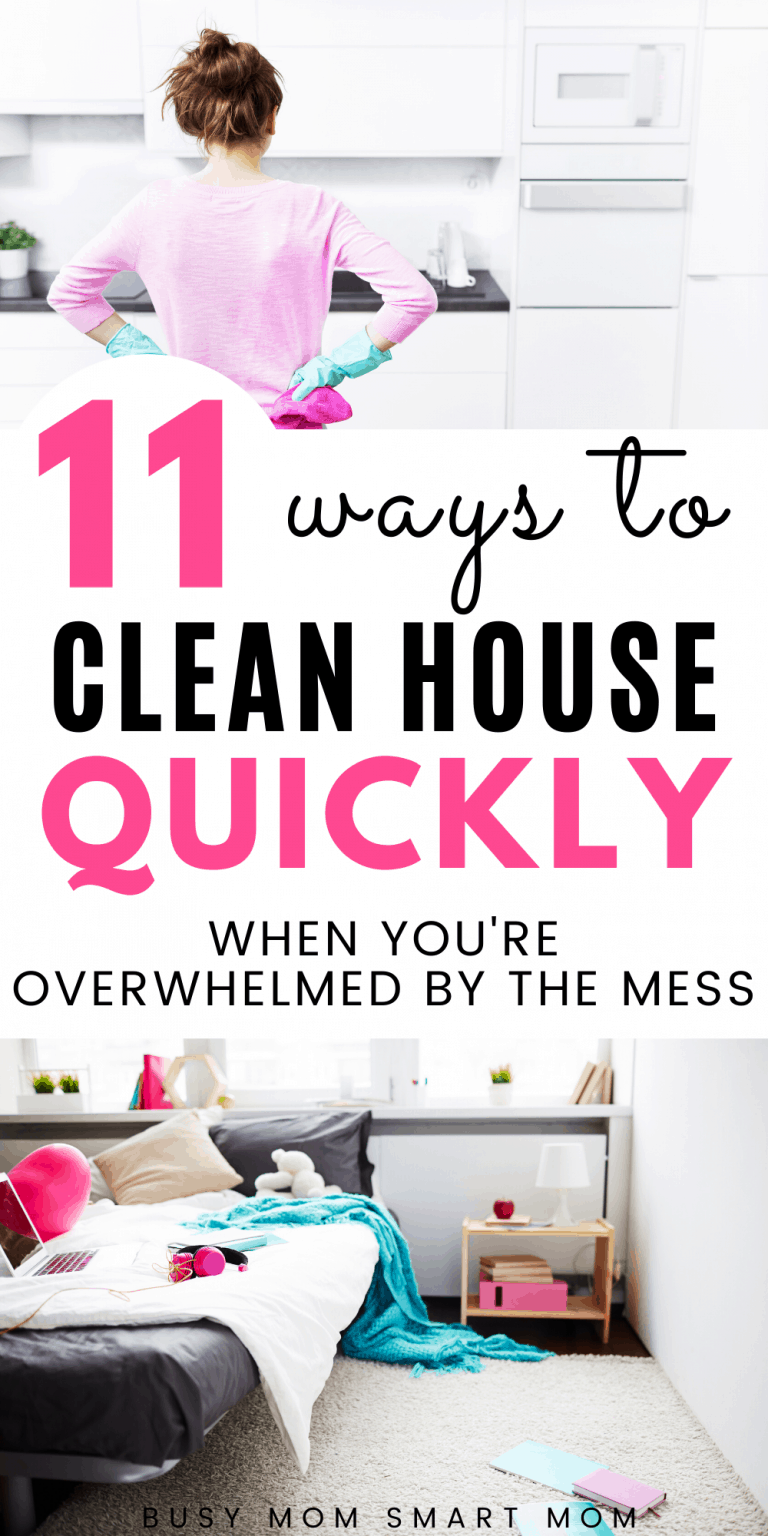 3. Clean as you cook
Cleaning the kitchen as you cook can be a huge time-saver.
Rinse dishes, pots and pans once you're done with them and pop them in the dishwasher. Or fill up the sink with warm soapy water before you start cooking so you can wash as you go.
Wipe down counters and surfaces once you're done working in a particular space.
Throw away packaging (or add it to your recycling bin) right away. Toss out scraps as you go (or add them to the compost bin).
Those are simple ways to clean house in less time and you'll appreciate being able to sit down to dinner without a mess waiting for you once you're done.
Related post:
10 Simple Meal Planning Tips for the Total Beginner
4. Sort mail as soon as it comes in
Paper clutter can quickly overwhelm your home if you let it.
Instead of letting mail pile up, sort it right away into different piles: toss, open right now and open later.
Creating a family command center can help. Pick a spot in your kitchen or entryway where you can file mail, keep the family calendar and organize phone chargers all in one place.
My Amazon Picks for Family Organization
5. Sweep daily
Sweeping takes less than 10 minutes to do and it's an easy way to clean up your house quickly.
I like to do this first thing in the morning and again at the end of the day.
That way, you're starting off the day with clean floors. (At my house, pet hair seems to magically congregate while we're all sleeping.) And right before bed, you can pick up all the crap that's accumulated.
6. Use gadgets to clean faster or skip certain chores
Certain cleaning gadgets can just make your life easier and save you time when you need to clean house quickly.
If you hate to sweep, for example, investing in a Roomba means you never have to push a broom again.
Don't like scrubbing the toilets? Get an automatic toilet bowl cleaner.
Hate cleaning up your kids' food messes in the microwave? (Seriously, how hard is it put a paper towel over that bowl?) Get an Angry Mama steam cleaner.
Gadgets can cost a little money but you can save so much time by letting them handle cleaning tasks for you.
7. Set a timer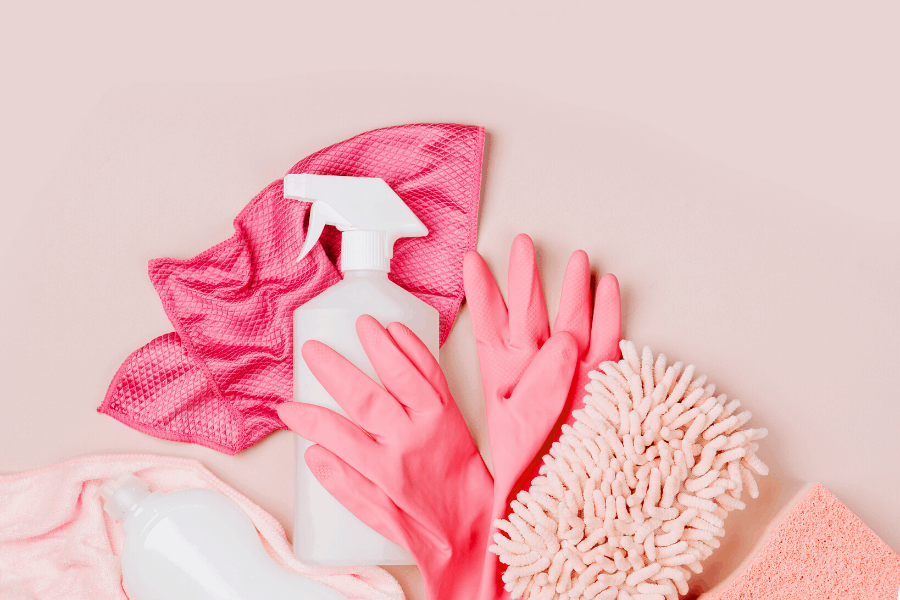 When you feel overwhelmed by mess you may be paralyzed and not even know where to start.
So, here's what you do.
Get a timer and set it for 15 minutes. Then pick one room in your home to tidy up until the timer dings.
Doing this once a day is an easy way to clean house quickly and keep stuff from piling up everywhere.
8. Keep cleaning wipes handy
Cleaning wipes are an essential cleaning tool in our house. We keep them in the kitchen and all the bathrooms.
First thing in the morning and last thing at night you can go through and quickly wipe down your counters.
It takes less than 5 minutes to do this and you'll appreciate having clean counters and sparkling sinks.
Bonus tip: Hit the toilets with a wipe once a day.
This is super helpful if you're a boy mom and want to keep the stinky bathroom smells at bay.
9. Give your kids daily age-appropriate chores
Kids can be super helpful if you're trying to keep your house clean and save time.
The key is assigning them chores they can handle so you can focus on other things.
So for example, at my house, my kids are responsible for making their beds each day and picking up their rooms. Then once a week, they have to deep clean their bathrooms and vacuum their bedrooms.
If you need some ideas for daily cleaning tasks you can assign, give these a try:
Wiping down counters
Picking up trash
Straightening up couch pillows and cushions
Folding laundry
Tidying up bedrooms
Doing the daily bathroom wipe down
Organizing shoes in your entryway
Hanging up coats
Those aren't major things but they're all cleaning tasks kids can handle. And having them help with cleaning teaches responsibility while giving you a break from having to do it all.
10. Organize your cleaning supplies
Want to know what one of the biggest time-wasters is when you're trying to clean house quickly?
Having to hunt down your cleaning supplies.
So the solution is simple: get them organized and ready to go when you need them.
There are three ways you can do this, all of which I think are genius.
First, you can use a tote to organize them. You can load up a cleaning caddy with everything you need and carry it from room to room.
Second, you can wear your cleaning supplies. Grab an apron, stick your cleaning supplies in your pocket and you can carry them hands-free as you go room to room.
Third, keep your cleaning supplies in each room. Stash cleaning wipes and other supplies under kitchen or bathroom counters. Keep furniture dust wipes in the living room and bedrooms so it's just grab and go.
If you're not sure which option is most efficient, give all three a try to see what works. What matters is finding a system that fits you so you're not chasing down cleaning supplies every day.
11. Open your blinds (or windows)
Want an easy way to de-germ your house? Open your blinds every morning (or your windows if the weather is nice enough).
According to at least one study, sunlight can be a natural germ killer. And letting in fresh air can help improve air quality while helping to disperse yucky smells.
Not to mention, getting a little sunlight can help boost your immune system and your mood.
More Tips to Clean House Quickly
These cleaning tasks are things you can do every day to clean your house faster. But if you're looking for other ideas for how to clean house in less time, try these tips:
Create a cleaning routine
Cleaning house can go a lot faster when you have a routine.
For example, if you like to deep clean once a week or once a month, set a pattern for how you do it.
Start with the same room, do the same cleaning tasks, then move on to the next room.
Clean from high to low, top to bottom. Find simple ways to multitask, like starting a load of laundry first so clothes can be cleaning while you're tackling something else.
Declutter so you have less to clean
Having too much stuff can make cleaning house take a lot longer than it needs to.
Decluttering your home is the answer.
When you have less stuff, there's less to keep up with and less to clean. And that can make your mom life so much easier.
Related post:
21 Painless Ways to Declutter Your Home When You're Tired of the Mess
Get really good at organization
Sometimes, the best way to clean house quickly is to just stash your stuff until you can come back to it later.
I mean, you don't have time to clean the whole house top to bottom if your mother-in-law calls to tell you she's coming over 15 minutes before she gets there, right? (That used to happen to me, a lot.)
So instead of frantically trying to clean it all, you can just fake it 'til you can get back to it.
Baskets, boxes and bins are great for hiding the clutter when you need to clean in a hurry.
Plus, you can find some that are super cute for just about every room in your home.
My Amazon Picks for Organizing a Messy Home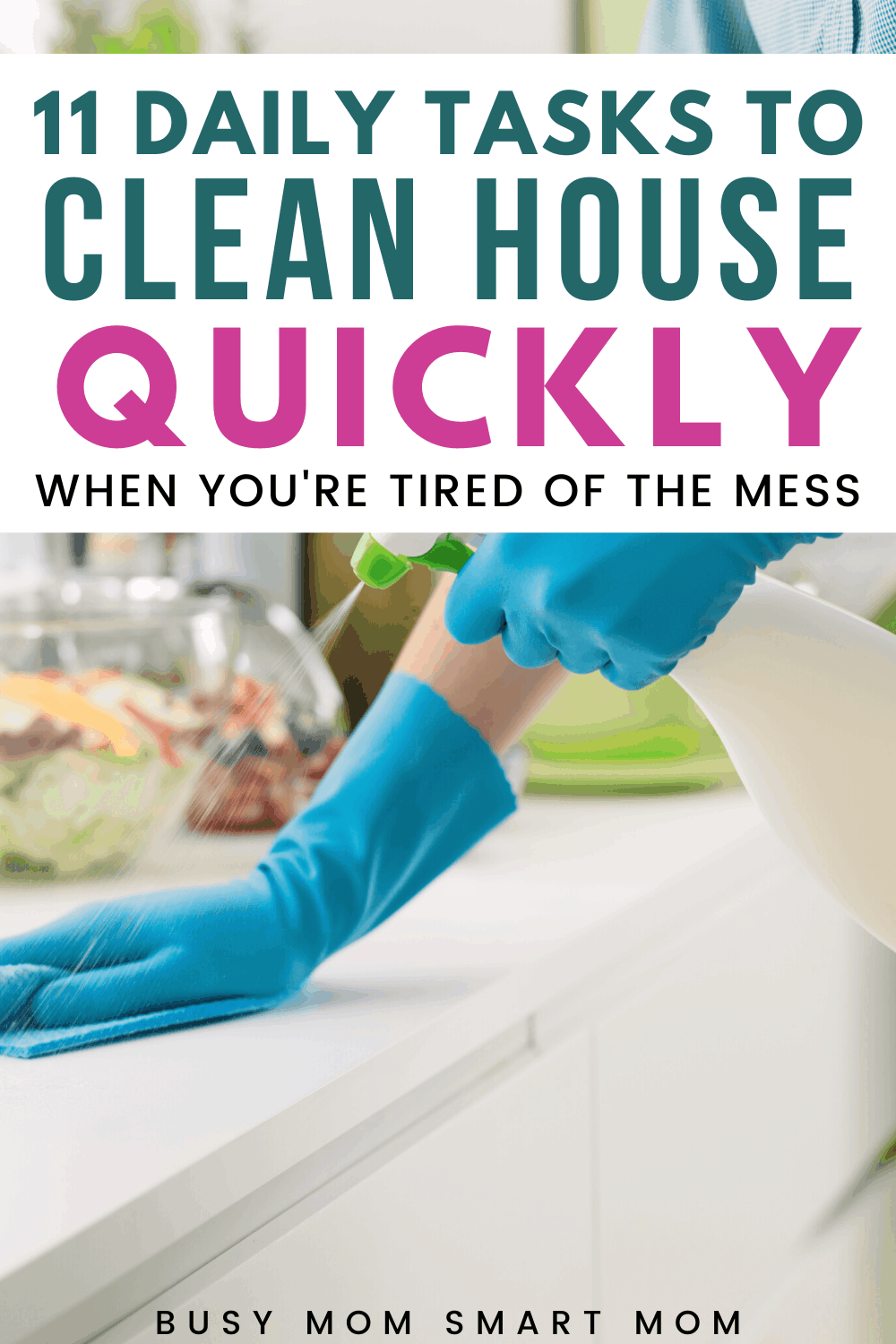 What's your best tip to clean house quickly?
Cleaning your house is something you can't avoid but it doesn't have to eat up all your time either.
If you've got a killer tip for how to clean your house fast, I'd love to hear it!
Head to the comments and tell me about, then don't forget to pin and share this post!