Fall Bucket List (Fun and Frugal!)
Have you planned your fall bucket list yet?
With fall around the corner and kids heading back to school, it's the perfect time to create your autumn bucket list. Late September to late December offers plenty of opportunities to enjoy some fun fall activities as a family.
Fall is my favorite season. The cooler weather is a perfect time to knock out my fall cleaning checklist and spend more time outdoors as a family.
Planning your ultimate autumn bucket list as a family is a fun way to get ready for the changing seasons. And when you're trying to save money, you might be looking for some frugal autumn activities you can enjoy on a budget.
If so, this post is just for you. Today, I'm sharing:
What are some good fall activities
How to plan a fall bucket list that lets you have fun on a budget
What to include in your list of fall activities for maximum fun!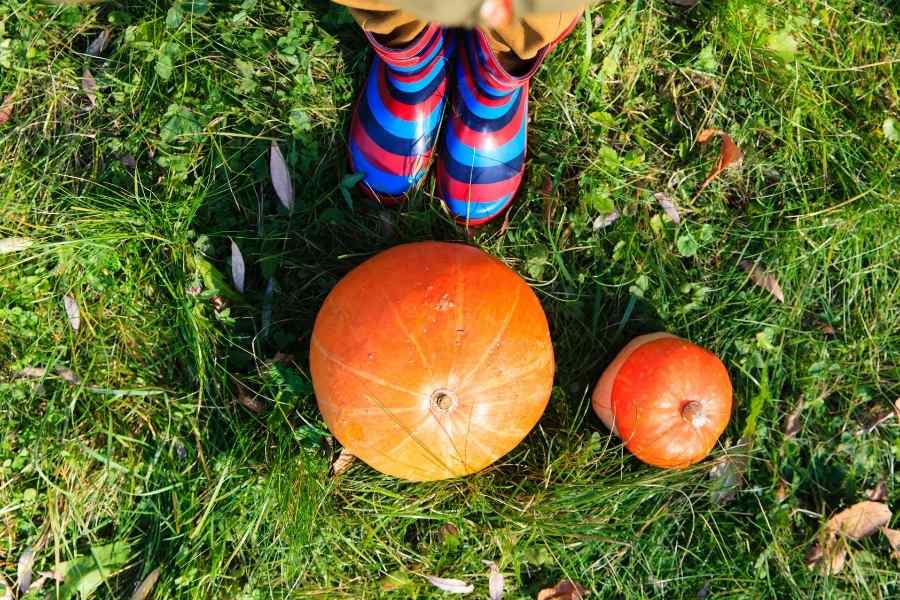 Related post: Christmas Bucket List (50 Fun Holiday Activities for Kids!)
What Is a Fall Bucket List?
A fall bucket list is simply a list of fun autumn activities you want to try as a family during the fall months.
Making a bucket list for fall is the same as making any other type of bucket list. The only difference is that you're focusing on finding fun things to do in the autumn season.
If you've ever made a summer bucket list for kids, then you already know how to make a fall-themed bucket list. You just need some fun fall activities to go on it!
What should I put on my fall bucket list?
What you choose for fall bucket list ideas can depend on several things, including:
How many kids you have
Your kids' ages and interest
When you can plan fall bucket list ideas as a family (i.e. fall break, weekends, etc.)
How much you can afford to budget for an autumn bucket list
You might want to break down your fall bucket list by month to keep things organized. For example, you might make a September bucket list, an October bucket list and a November bucket list.
This could be a good tip to try if you're not sure you can fit everything in time-wise or budget-wise. You can look at your monthly fall bucket list breakdown and prioritize the most important autumn activities.
Taking all of those things into account can help you decide what to include and how many fall activities you can realistically do.
And of course, you also have to decide what sounds FUN to you and your kids!
What are some good fall activities?
Since the fall months bring cooler weather and shorter days, you might have to be creative when thinking about what to include in your fall bucket list ideas.
Some of the best fall activities for kids include:
Nature-themed fall bucket list ideas
Doing autumn crafts as a family
Baking fall treats
Doing things you can only do in the fall (i.e. heading to a pumpkin patch or collecting fall leaves)
Making fall-themed art
Reading books about fall
These are all examples of fun fall activities I did with my kids when they were smaller. So I know firsthand that these are: A) things kids might enjoy doing in fall and B) fall activities that don't cost a lot of money.
Related post: 101 Amazing Acts of Kindness for Kids (Free Printable!)
How do you make the most out of fall?
Making the most out of fall as a family isn't just about checking off items on an autumn bucket list.
It's also about spending quality time together as a family and creating fun memories. And you don't need to spend money to do that.
Creating the fall mood at home could be as simple as diffusing some autumn-scented essential oils or making homemade pumpkin bread.
Taking nature walks after the kids are done with school for the day or just sharing what you love best about the autumn season are some of the best (and most frugal) ways to enjoy fall as a family.
Related post: Ultimate Winter Bucket List: 50 Fun Things to Do This Winter!
50 Fun Fall Bucket List Ideas
Ready to start making the most of fall? Here are some of the best and most fun fall activities to enjoy as a family!
1. Rake leaf piles
…then jump in them!
2. Make apple stamp prints
I used to love this when my kids were smaller. You just slice an apple in half, dip it in a little washable paint and let them stamp away.
This is a simple and fun fall activity for toddlers but older kids will enjoy it too!
3. Try leaf rubbings or paintings
Leaf rubbings and paintings are another fun fall craft for kids.
For the rubbings, you just need some leaves, white paper and crayons or pastels. You can also use the leaves as paintbrushes to make fall art.
4. Paint a pumpkin
Some years we carve pumpkins but other years we paint them. We drag all out the odds and ends from our craft closet–googly eyes, pom-pom balls, glitter, you name it–and let the creativity fly.
The great thing about painting instead of carving is that the pumpkins seem don't spoil as quickly so we can enjoy them longer.
5. Create a nature journal
A nature journal is really simple to make.
You can use a notebook, sketchbook or construction paper. Kids can explore the backyard and fill up the pages with leaf rubbings or nature drawings.
6. Bake apple and pumpkin treats
One of the best fall bucket list ideas for families is baking lots of delicious autumn treats.
If you need some ideas, here are 50 yummy pumpkin and apple recipes to get you baking!
7. Roast hot dogs and marshmallows in the backyard
This is a simple way to spend an evening and make some memories as a family when the nights get cooler.
Hot dogs and marshmallows don't cost much but the time you spend together around a backyard bonfire is priceless.
8. Star-gaze and look for fall constellations
While you're roasting marshmallows and hot dogs, check out the night skies and see if you can spot some fall constellations.
9. Make popcorn on the cob
Popcorn on the cob? Say whaaaat?
Yes, you can and here's how to make it.
10. Plan a fall-themed scavenger hunt
Setting up a scavenger hunt is a great way to keep kids busy and have some fall fun.
Here are some autumn-themed scavenger hunt ideas to try!
11. Make homemade fall decorations
Instead of buying fall decorations, why not make them? You don't have to go any further than the front yard to find leaves, pine cones and acorns, all of which can be turned into fall decor.
And if there's just something you have to buy, my go-to choice for saving money is Dollar Tree–they even offer free shipping to your local store!
12. Plant flowers to get ready for spring
Spring is still months off but you can get a jump on gardening by planting some spring-blooming bulbs with the kids.
Here's a rundown of which bulbs to plant in the fall.
13. Make fair food at home
I love going to the fair each year just for the food. But I hate how much they charge for it. $8 for a corn dog? No thanks.
If you love fair food, too but you don't love the costs you can always try making your own fair treats at home.
14. Make fall or Halloween cards
Making fall or Halloween cards is another fun fall bucket list idea for families.
Kids can use cardstock, construction paper, markers and whatever stickers you have. And if you're running low on fall cardmaking supplies, you can pick them up at Dollar Tree for a buck.
15. Play hide and seek after dark
Glow sticks are another great Dollar Tree find for having fall fun.
We use them during hurricane season for lights when the power goes out. (Sounds silly, but it works!) And they're also great for playing tag or hide and seek in the backyard once the sun goes down.
16. Bob for apples
Apple-bobbing is one of those fun fall activities that everyone should try at least once.
Until you've done it, you don't realize just how hard it is (or how much your kids will laugh at you while watching you try it.)
17. Host a Halloween-themed movie night
One of my favorite things about fall is watching Halloween and fall movies. Having a fall movie night at home is a great addition to a frugal autumn bucket list.
Need some fall movie ideas? Try these family favorites:
Hocus Pocus
It's the Great Pumpkin, Charlie Brown!
Coraline
The Nightmare Before Christmas
18. Schedule a fall-themed storytime
Reading fall books is just as much fun as watching fall movies.
If you have smaller kids, you might try "Ten Apples Up on Top" or "Leaf Man" to kick off. Older kids might like "The Legend of Sleepy Hollow" if they want something more spookifying.
19. Make soup
Soup is great for cold days and there are plenty of options that are easy to make with kids. You could try soup-making a change from fall baking.
Getting kids to eat soup might be the hard part so take a look at these kid-friendly soup recipes.
20. Toast pumpkin seeds
Toasted pumpkin seeds are tasty and easy to make. You can pop them in the oven, then read a fall book aloud or work on a fun craft while they toast.
21. Dip caramel apples
Making caramel apples belongs on your list of fun fall activities to try if you've got a sweet tooth.
We've made standard caramel apples and mini caramel apple pops and you can trick out yours by adding fun toppings.
22. Try pumpkin bowling
Pumpkin bowling is more or less what it sounds like.
You line up your pins, then let the pumpkins roll to see who can knock the most down. (And if you don't have any plastic bowling pins lying around, you can always use toilet paper rolls.)
23. Make fall-themed slime
My son loves making slime. Every time we go to the store he wants to get a bottle of glue to mix some up.
If your kids love slime too, you'll want to give some of these fall slime ideas a try!
24. Visit a farm
If you live in a rural area where farms abound you might be able to schedule a free tour during the fall. You can see some animals, get outdoors and let the kids get a little dirty for a grand total of $0.
25. Start planning DIY Halloween costumes
If you want to save a few bucks on Halloween, look around the house to see what cool costumes you can make for the kids what supplies you already have on hand.
You'd be surprised at what kind of homemade costumes you can come up with for little to no money.
26. Make placemats for Thanksgiving
Whether you plan to have company at Thanksgiving or not, having kids make placemats is a fun autumn bucket list idea.
They can use the same materials from their fall cardmaking efforts. And once they're done with the placemats, you can explore other Thanksgiving crafts kids can make.
27. Make a thankful tree
The thankful tree is something we made up but I've seen other variations of it online. Here's how we do it.
I cut out a bunch of leaf shapes from red, green, orange and yellow construction paper. Then starting November 1st, we each pick a leaf and write something we're thankful for. Then we tape it to our pantry door where we can see it.
It's a cheap and easy autumn activity for kids and a great reminder to count up all the good things in our lives.
28. Mix up fall-themed oobleck
Oobleck isn't slime and it isn't playdoh. It's somewhere in-between.
But it's a quick and cheap craft kids can make, then make a mess with. We've made cranberry oobleck before with cranberry sauce but you can also try it out with applesauce.
29. Make a cornhusk doll
Cornhusk dolls are a part of Native American history.
If you're looking for a fall bucket list idea that will get kids making something–and learning something–give this one a try. You can learn how to make cornhusk dolls and more about their history here.
30. Make popcorn balls or kettle corn
Popcorn balls are great at Christmas and through the fall months. Kettle corn is great too if you like your popcorn with a little sweetness.
The best thing about having popcorn in the fall is that it doesn't cost much and you can change it up with different seasonings.
31. Make bird-feeders
While you're enjoying fall with kids, birds and squirrels are getting ready for winter. So give them a hand by making some DIY bird and squirrel feeders as a family.
32. Volunteer
If you're able to volunteer as a family, this is a good thing to consider adding to your bucket list for fall.
You don't necessarily have to do something super hands-on either.
For example, if you and your kids have been busy baking fall muffins you could drop off a batch at your local police department. Or you could go through your kids' books and donate the ones they don't read to your local library along with a fall-scented candle or another small gift for the librarian.
These are small things but they can go a long way toward teaching kids the value of good works.
33. Go trunk-or-treating
If your kids trick or treat but you don't want to (or can't) go door to door, there's another option. You can do a drive-thru trunk or treat instead.
Where we live, local churches and the sheriff's department offer trunk or treats at Halloween. So those are a couple of options for finding them where you live as well.
34. Take a family bike ride
Fall is a great time for a family bike ride.
Even if it's just to the end of your street and back, you can get your kids outdoors and enjoy the fall sunshine.
35. Go for a scenic drive
If all else fails and you're looking for something to do on a weekend afternoon, you could pile in the car for a family drive.
You can check out the changing leaves as you go or play a game of fall-themed I Spy.
36. Try a simple fall science experiment
A genius fall bucket list idea for kids involves doing simple experiments at home, like making a pumpkin-cano.
You can also check out the fall and seasonal videos from Mystery Science. Doug and his weekly mini-lessons can be a perfect addition to your homeschool routine or just a fun way to keep kids occupied while indoors.
37. Visit an arboretum or botanical garden
An arboretum or botanical garden visit could be frugal addition to your fall activities list if you have one nearby.
My kids and I have one locally and our last fall visit yielded lots of fun facts about native plants and how they change with the season. And depending on who runs yours, admission may be free.
38. Make homemade hot chocolate or apple cider
Hot chocolate and apple cider are go-to drinks when the weather gets cool.
Hate all the mess of making hot cocoa? Here's a simple hack for how to make it in a crockpot from scratch. It's the perfect thing to have on hand for chilly days!
39. Make pumpkin spice play-doh
Some moms love playdoh, others hate it. If you're the "love it" type, then take a look at this pumpkin spice playdoh recipe that's just in time for fall.
40. Fly a kite
Where we live, the first week of November is always earmarked for our local kite festival. If you don't have a festival nearby, you can improvise by flying a kite at home or the park.
41. Check out a holiday craft fair
Our local farmer's market does a holiday craft fair in November and it's a great way to spend a Saturday outdoors.
The trick is setting a budget first, or better yet, committing to window shopping only.
42. Finger paint Indian corn
This is a simple but fun craft you can add to your autumn bucket list for kids. All you need is construction paper, a little finger paint and a dash of creativity!
This is another great fun fall activity for toddlers or littles!
43. Start putting together blessing bags to hand out at the holidays
Blessing bags are another way to volunteer as a family in the fall.
For example, you might be able to make blessing bags for your local hospital if they're accepting them. Or you might simply make a few to keep in your car to give to people who appear to be in need.
If you're looking for some great low-cost blessing bag ideas, check out these posts:
How to Pack a Blessing Bag – Thrifty Northwest Mom
Blessing Bags – I Can Teach My Child!
Blessing Bag Ideas for Random Acts of Kindness – Wonder Mom Wannabe
44. Learn to knit
Knitting can be a relaxing way to spend chilly fall afternoons at home.
If you have smaller kids, you can start them off with finger-knitting. And older kids can follow along with a YouTube tutorial on how to knit.
45. Make your favorite fall comfort foods
Some foods just taste better in fall. So if you've got a lazy weekend ahead with the kids, you could try making some of your favorite autumn comfort meals.
If you need some inspiration, check out this list of 120+ delicious holiday recipes!
46. Head to a corn maze
If you've never been to a corn maze with your kids, this is one of the best autumn activities to try!
We've been to our local corn maze the last few years in a row and it's always fun trying to find our way through. And they also have other fun fall activities plus lots of farm animals for kids to meet!
47. Check out the farmer's market
If you have a local farmer's market, it may be winding down in the fall. But you still have time to take the kids out for a farmer's market trip.
Even if you don't buy anything, it's a great way for kids to learn more about where food comes from and what role farming plays in your local community.
48. Try a fall festival
Fall festivals are always a fun time for families and some of them don't cost much to visit.
Look for fall festivals near you, then load up the kids for a day of fall fun!
49. Go to a football game (or watch one on TV)
Watching a high school football game together as a family can be a fun way to enjoy fall.
If you can't get to a local game, you can always enjoy one at home. Have the kids make a blanket fort and whip up some fall gameday snacks, then cheer on your favorite team together!
50. Visit the library
Your local library can be a treasure trove of fall fun if they have a kids' reading program.
For example, they might sponsor a fall-themed storytime, a fall crafts meet up or even fall reading challenges.
Check out your local library to see what kind of free autumn activities for kids they have scheduled!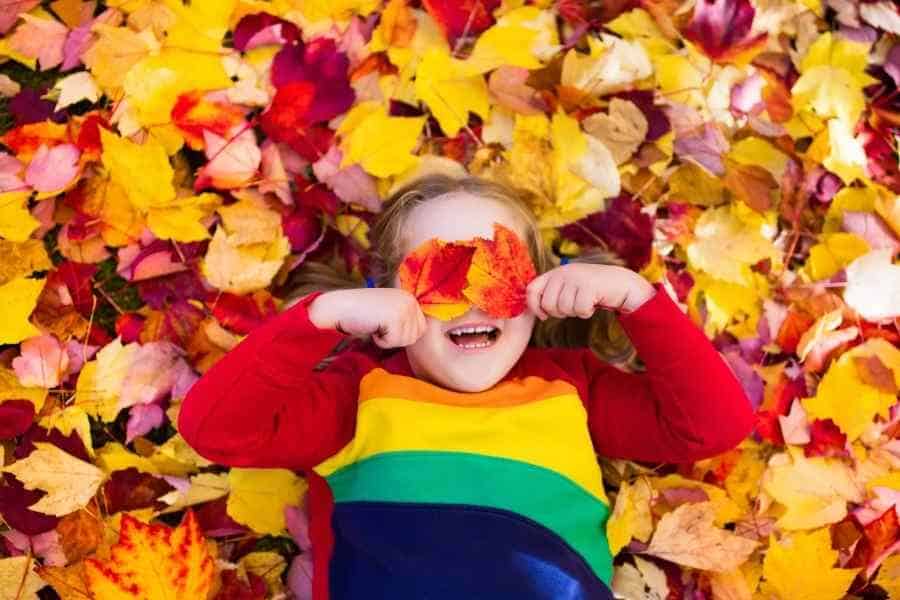 Free Fall Bucket List Printable
Want a simple way to help your kids keep track of their favorite autumn activities?
Download this free Fall Bucket List Printable now!
Kids can write down 10 fall bucket list ideas they want to try. And if you complete all 10, you can print out another copy to keep adding to the list!
Click the image to get your free fall bucket list printable!
What's on your family's fall bucket list?
Coming up with frugal autumn bucket list ideas that are also fun can be a little challenging. Because you have to be creative about how you spend both your time and your money.
But it's possible to plan an autumn bucket list on a budget and still make the most of the fall months.
What's on your fall bucket list this year? Do you have some special fall activities planned as a family that won't break the bank?
Head to the comments and tell me about it! And don't forget to share this post!
Before you go be sure to check out my favorite Busy Mom Resources.
And remember to sign up for the Busy Mom Vault to get access to lots of free printables!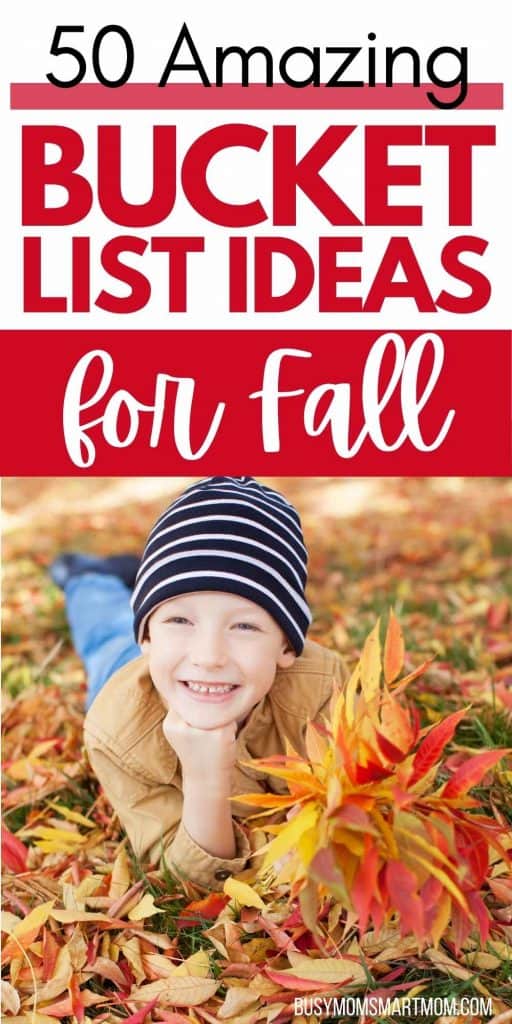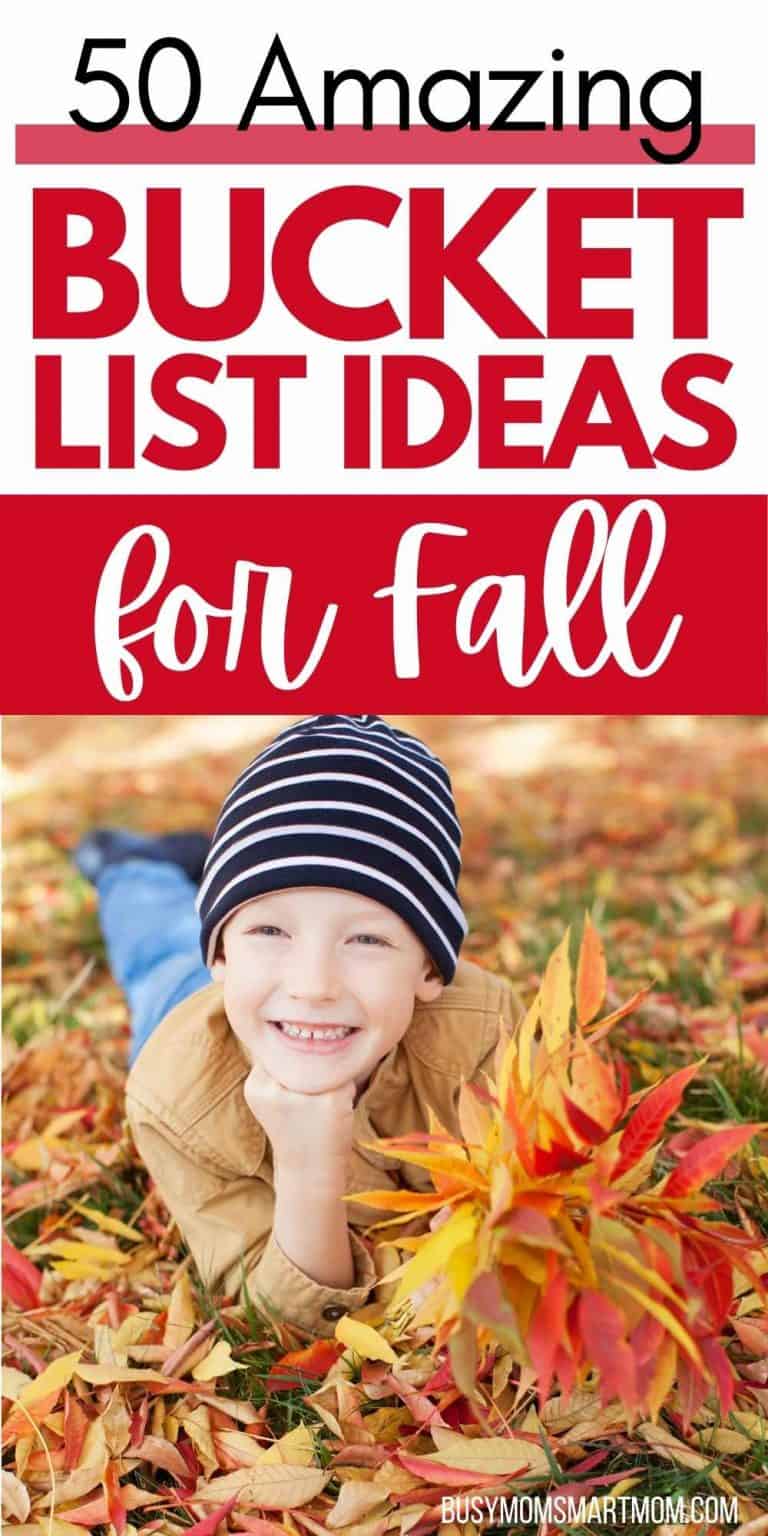 Frugal Fall Bucket List Ideas