Free Letter to Santa Template
As the holidays approach, your kids may be gearing up to write their letters to Santa Claus. Using a free letter to Santa template can make writing a Christmas wish list more fun!
Did you know that 23,000 Dear Santa letters made their way to U.S. post offices in 2020? And thousands more kids from around the world dash off Dear Santa letters to send to the North Pole.
My kids are a little older now so they don't write a Dear Santa letter anymore. But if you have younger kids who still believe, then writing a letter to Santa can be a fun holiday bucket list activity to enjoy together.
You can write a Dear Santa letter, make a Christmas wish list and do some Christmas printable coloring pages. Throw in some hot cocoa, a little holiday baking and some Christmas crafts and you've got the perfect recipe for a cozy winter afternoon!
Today, I've got some free printable letter to Santa templates you can use to kick off the holiday fun and get ready for Christmas as a family.
Related post: 15 Best Gifts for Busy Moms This Holiday Season
Why Writing Letters to Santa Is a Great Idea
Getting kids to write a letter to Santa is a good idea for a few reasons:
It's a great way to teach kids the basics of letter-writing (a lost art, if you ask me)
Kids can practice their spelling, grammar and handwriting skills (which makes it a fun homeschool activity!)
They'll learn how to address and envelope and you can even teach them a little about how the Postal Service
You can support the Postal Service, which is still an important institution even if more of our mail is delivered digitally these days
Best of all, having kids complete a letter to Santa template means you get a peek at their Christmas wish list. This can make it easier for you to get your holiday shopping done!
Related post: Christmas Wish List Printable (Free Printable Christmas List for Kids)
Free Letter to Santa Template Printables
Ready to get your kids started writing their Dear Santa letters?
All you'll need to do is download and print out these free letter to Santa templates!
There are a few different designs to choose from. But they're all super-cute!
You can click on any of the images below to be taken to the Busy Mom Vault sign-up page. Once you drop your email to register, your free Santa printables will be on their way to your inbox!
(And you'll have access to all the other great free printables in the Vault too!)
Letter to Santa Template for Military Families
If you or your spouse is a member of the military and you're stationed in Europe, there's a special program for military kids who want to write letters to Santa.
The Stars and Stripes Letters to Santa program lets kids write a letter to Santa, mail it off to the North Pole and get an answer back.
The program offers a free Dear Santa letter template you can download and print. (Get it here!)
When your kids have filled out their letter and you're ready to mail it, you can address it to:
Santa Clause
C/O Stars and Stripes
North Pole
How to Get a Reply for a Letter to Santa
Want to keep the holiday magic going and have kids get a reply back to their Dear Santa letters? If so, you won't want to miss out on a special service offered by the U.S. Postal Service
It's called "Greetings From the North Pole Post Office" and this program lets kids write a letter to Santa Claus, then get back a reply with a postmark from the North Pole.
What could be more fun for a kid than getting mail addressed to you from Santa?
Here's how it works:
Your child writes a letter to Santa, then puts it in an envelope addressed to: Santa Claus, North Pole.
You write a personalized response on the back of the letter and sign it "From Santa" (when your child isn't looking, of course)
Both letters go into an envelope addressed to your child, with a return address of SANTA, NORTH POLE
You apply a First-Class stamp to the envelope
Put this envelope into a larger envelope with appropriate postage that's addressed to: North Pole Postmark, Postmaster, 4141 Postmark Dr, Anchorage AK 99530-9998
The letter then gets mailed back to your child so that it looks as if Santa himself has sent a reply from the North Pole.
If your kids still believe and Santa is part of your holiday celebrations, this is a fun way to get them excited for the holidays and share the magic of the season!
How to Answer Letters to Santa Claus
Want to play Santa yourself this year (or at least be one of his elves)? The USPS has another program that can help you deliver Christmas joy to kids in need.
This program is called Operation Santa. Operation Santa also involves kids writing letters to Santa. But the purpose is a little different.
This program is designed for kids in need who may not be able to count on any Christmas gifts. Here's how it works:
Parents can print out a free printable letter to Santa template (get it here!)
Kids fill out the letter, sharing what's on their Christmas wish list with Santa
The USPS collects the letters then publishes them online, with each letter writer's personal information redacted
People can read the letters and "adopt" a child for the season
The adopter purchases an item from the child's Santa wish list, then takes it to the post office for mailing
This could be a great project to do as a family if you're looking for ways to give back over the holidays. You can adopt up to 15 letter writers altogether.
Or if your budget is tight this year and you're worried about having enough money for gifts, this is a great way to help your child get some of their Christmas wishes granted while maintaining absolute privacy.
Registration for this year's project starts mid-November. You can learn more about Operation Santa on the USPS website.
Related post: 101 Amazing Acts of Kindness for Kids (Free Printable!)
Email a Letter to Santa
If your kids know their way around a computer, you could have them email their letter to Santa instead.
On the Email Santa website, kids can write custom letters to Santa, hit send and get a reply back!
This is a fun way to make sure that a Dear Santa letter doesn't get lost in the mail and younger kids will enjoy seeing Santa show up in your inbox.
You can also have Santa send kids a video message!
I used to do this for my kids when they were little and it was always fun to see their reactions when Santa showed up "live".
Final thoughts on using a letter to Santa template
I really love the holiday season and one of the things I miss most is watching my kids have fun writing their Dear Santa Claus letters.
If Santa is a big deal at your house, these free letter to Santa templates can be the perfect way to get your kiddos excited for the holidays.
Before you go, be sure to check out my favorite Busy Mom Resources for saving time and money!
Need some ideas on how to get prepped for the holidays? Try these tips to get organized for Christmas now!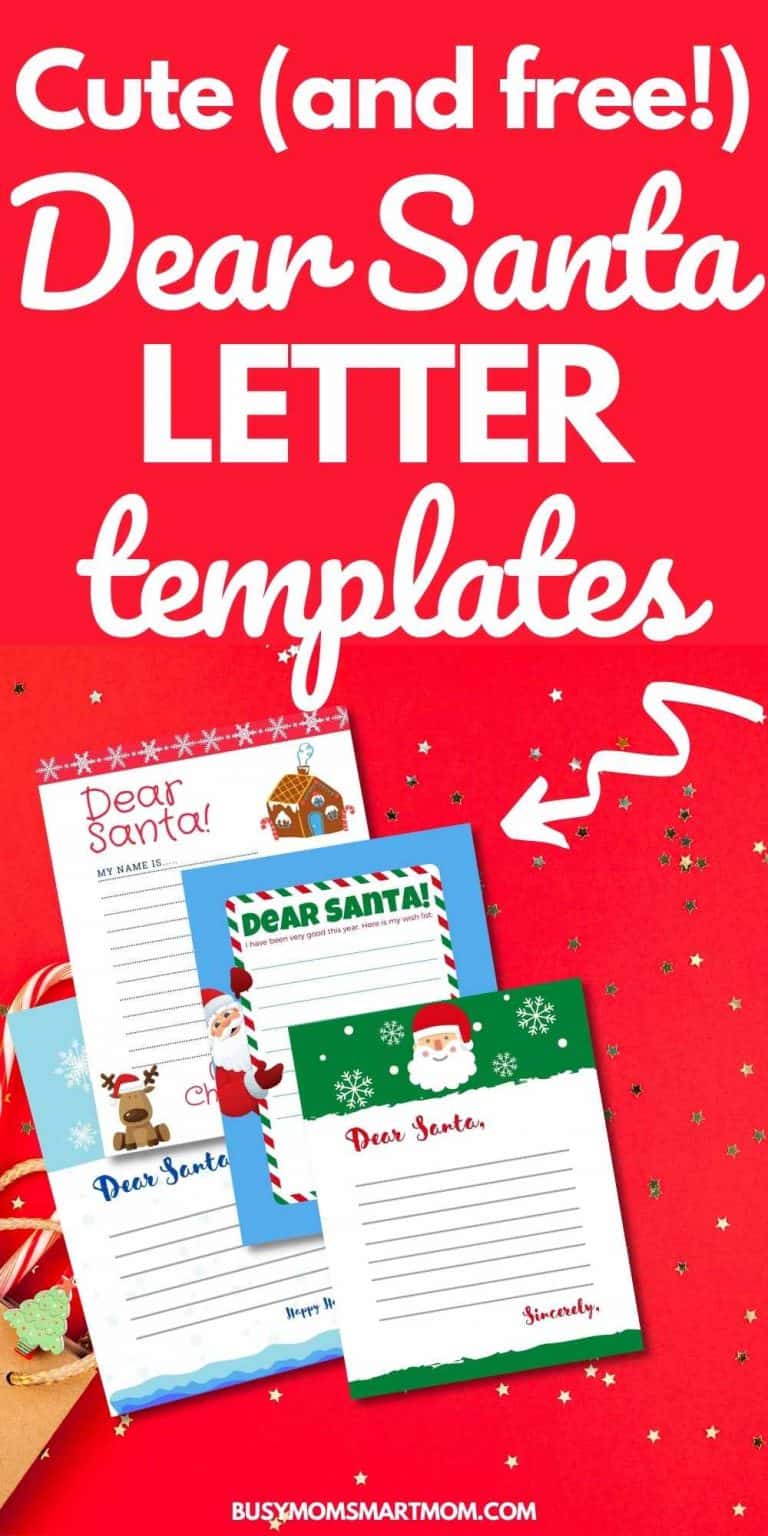 Free Printable Letter to Santa Template