Home management tips can make managing household tasks easier as a busy mom. The best home management tips can help you save time, get organized and be more productive every day.
Learn the best home management tips to keep your home organized and running smoothly as a busy mom!

And if you need a little extra help creating family routines and staying organized, check out this amazing course!
But running a home isn't always easy.
You've got the laundry to keep up with, bills to pay, meals to plan and of course, staying on top of cleaning. Home management can get pretty overwhelming, pretty quick!
And it can be even more challenging if you're a working mom or a stay at home mom who's chasing littles around all day. I know, I've done both and trying to keep up with all the household chores is no easy feat.
That's where having systems and routines for running your home can be a lifesaver!
So today, I'm walking you through some of the best home management tips for getting organized.
Related post: 25 Borderline Genius Mom Hacks to Help You Save Time, Money and Stress
What Is Home Management?
Broadly speaking, home management includes all the things that go into running a household.
So that can mean:
Doing laundry
Planning and preparing meals
Keeping your home, life and money organized
Paying bills
Managing important paperwork
Cleaning
Taking care of minor maintenance and repairs
Tackling yardwork
Think about all the things you do each day as a busy mom. Most of them probably fall under the home management tips umbrella.
Related post: 16 Simple Ways to Completely Organize Your Life as a Busy Mom
Why Are Home Management Skills Important?
Good question! Home management skills are a good thing to have because they can:
Save you time, energy and money
Help you get organized (and stay that way!)
Stop the stress and mess in your home
Those are all good things, right?
As a busy mom, I need to be as efficient as possible when it comes to how I use my time, where I put my energy and how I spend my money.
And I wouldn't be able to do that without having some home management systems in place.
Bottom line, managing your home effectively means tying all the things you do each day together in a way that best meets your family's needs.
Once you master certain home management skills and start putting home management systems in place, you'll be amazed at what a difference they make!
Home Management Tips to Make Mom Life Less Stressful
Polishing your home management skills can take time. So don't worry if the pieces aren't all coming together right away.
Instead, you can focus on improving one area at a time. As you perfect each link in the chain, you'll get one step closer to a home that practically runs itself!
Here are the best home management tips to get you started.
1. Create home management routines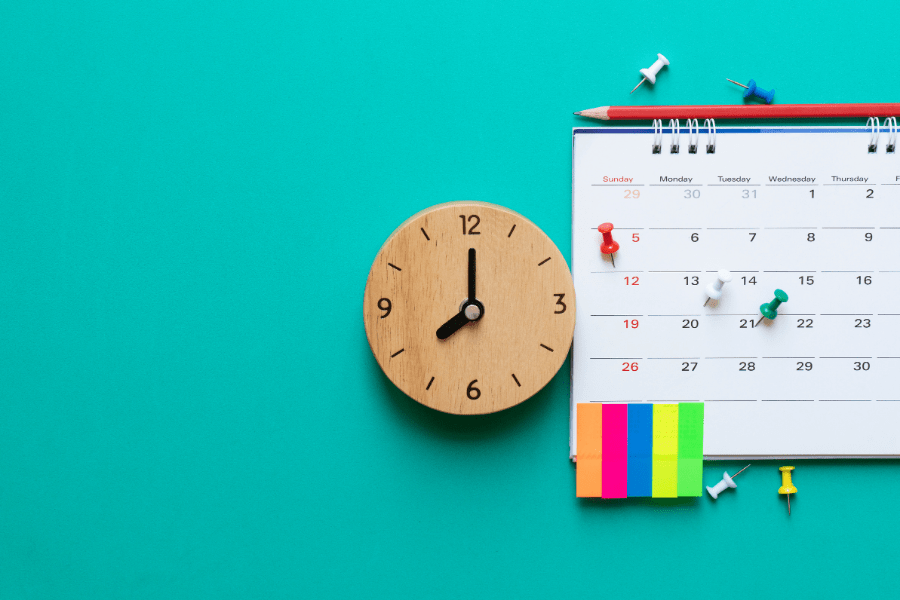 Routines are an absolute game-changer if you're struggling to get home management systems in place.
What's great about routines is that they give you a map to follow each day. For example, you can set up:
Morning routines for yourself
Nighttime routines
Routines for budgeting and paying bills
Grocery shopping routines
I could go on and on but you get the idea.
When you have routines in place, your days start to run on autopilot. And that is one of the keys to making home management easier.
If you're struggling with getting routines in place, be sure to check out the Family Routines course from Pulling Curls. It's a step by step guide that walks you through how to set up routines for your family that you can stick to.
Related post: How to Create a Simple Stay at Home Mom Schedule for Stress-Free Days
2. Get on a cleaning schedule
Do you love having a clean house but hate to do any of the actual cleaning?
Me too. So one of the ways I make it easier on myself is to follow a regular cleaning schedule.
My cleaning schedule has three parts:
Small cleaning tasks I tackle daily
Bigger cleaning tasks I handle once a week
Cleaning tasks I do monthly or quarterly (think organizing the pantry and cleaning out closets)
Breaking cleaning chores down and putting them on a schedule is a simple home management secret that you might be overlooking. But it can make keeping your house clean so much less time-consuming.
For example, here's how you might approach your cleaning routine.
Daily cleaning chores
Sweeping floors
Wiping down kitchen and bathroom counters
Doing dishes
Running a load of laundry
Making beds
Tidying up your entryway (a must if your kids dump all their stuff by the front door)
Weekly cleaning tasks
Vacuuming
Mopping
Finishing up any laundry that hasn't been done yet
Dusting
Cleaning the bathrooms
Changing sheets
Monthly/quarterly cleaning chores
Cleaning out closets
Cleaning out the refrigerator
Organizing the pantry and tossing any expired foods
Tidying up the garage
Changing air filters
Now, if you're completely overwhelmed by the mess in your home, I suggest starting small. Tackle one room at a time with your cleanup efforts and keep going until you've reached a baseline level of clean.
From there, you can start following daily, weekly and monthly cleaning schedules to keep things neat and tidy.
Related post: How to Create a Simple Weekly Cleaning Schedule
Time-saving cleaning resources
3. Use lists for home management
I love making lists because they're a simple and powerful way to stay organized each day.
For example, you can make lists of:
Daily to-dos
Errands you need to run
Bills that need to be paid
Side hustle ideas you're interested in trying
Cleaning tasks you've been putting off
Personal goals you're trying to reach
Birthdays and special occasions you want to keep track of
Home repairs to make
All you need is a cute notebook, a pen and a few minutes to get it all down on paper.
Once you can see all your different lists at a glance, you can go back through and start prioritizing which items you want to tackle first.
Related post: 31 Lists to Make to Completely Organize Your Busy Mom Life
4. Keep track of your days in a planner
Whether you use a paper planner or a digital planner, it's a must-have for applying home management tips.
You can use a planner to:
Keep track of important dates
Jot down bill payment due dates
Track activities for each member of your family
Schedule appointments
Make time for monthly or quarterly cleaning rituals
Set reminders for important errands like getting an oil change or a dental checkup
Keeping track of work deadlines if you're a working mom
A planner is a key part of our home management system and without mine, I'd be totally lost.
Pro tip: If you're using a digital planner or organizing app, set up alerts and reminders so nothing slips through the cracks.
Related post: 12 Best Planners for Moms to Help You Get Organized
5. Declutter and organize
Clutter can be a major source of stress, not to mention super annoying. I don't know about you, but I can't relax when I'm surrounded by stuff everywhere.
Adding decluttering routines into your home management systems can help keep the "stuff" from taking over.
Once you clean out the clutter, you can start organizing your home to make it more livable.
I've written about decluttering here before and the 100 things you should get rid of first. But if you're overwhelmed at the thought of trying to declutter and organize, here are a few tips:
Don't try to do it all in one day
Focus on one room at a time and if you can't do a whole room in one sitting, start with one area or zone
Declutter at least one thing each day
Separate clutter into piles (to keep, to donate, to trash)
Use a timer and try to declutter as much as you can in that time limit
Pick one room or space at a time to organize
Wait until after you're done decluttering to start organizing (otherwise you could end up stuck in one spot!)
Use the right storage options to keep clutter at bay
Rome wasn't built in a day and you probably won't be able to declutter your entire home in a day. But the most important thing is getting started and sticking with the plan.
Related posts:
21 Painless Ways to Declutter Your Home When You're Tired of the Mess
11 Simple Toy Rotation Tips for Tackling the Mess in Your Kids' Rooms
Helpful decluttering + organizing resources
6. Create a budgeting and bill payment system
Part of home management means getting systems and routines in place. And while you might be focused on cleaning or decluttering you can't afford to neglect your finances.
Coming up with a system for budgeting and paying bills can help you:
Avoid late payments (and late payment fees!)
Cut out unnecessary expenses
Save more money
Prioritize your financial goals
Pay off debt
Be better prepared for financial emergencies
Feel more confident and in control where your money is concerned
As a single mom who values financial security, I can tell you all of those are good things.
So if you don't have a budget in place yet (and don't feel bad if you don't–65% of Americans don't have a clue where their money goes) it's time to make one.
There are different ways to approach making a budget.
One of the easiest is to use a budget planner. This is a great system if you prefer writing down your budgeting details on paper versus using an app to track spending.
While you're working on perfecting your budget, add learning about money to your list of financial to-dos. This book was a huge help to me years ago when I was struggling to get out of debt and save.
7. Use meal planning to make feeding your family easier
Meal planning is a time-saving home management skill you should master if you haven't already.
By planning out meals, you can cut down the amount of time you spend in the kitchen. And it's also easier to make up your grocery list each week.
Best of all, you don't have to listen to your kids asking you what's for dinner 100 times a day. You can simply point them to your weekly meal plan.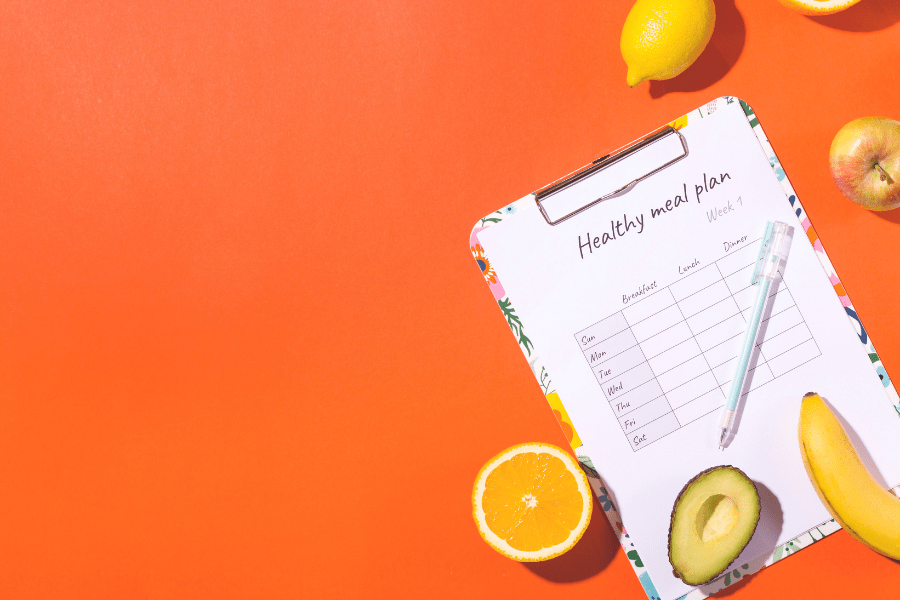 Meal planning also saves money since you can decide what to do with leftovers in advance. That means less food waste (and less money you're throwing away!)
If you're new to meal planning, check out these super simple meal planning tips for beginners.
Or head to $5 Meal Plan to get custom meal plans made easy!
Favorite meal-planning resources
8. Create a family command center
A family command center is a useful home management tool if you're tired of constantly chasing down chargers, schedules, bills and other odds and ends.
The idea behind a family command center is simple. It's a central place in your home to organize things like:
Keys
Phone and device chargers
Weekly meal plans and recipes
Grocery lists
Mail and bills
Schedules
To-do lists
Reminders and notes
Chore charts
Decluttering checklists
Family calendar
The kitchen is a great place for a family command center because you're likely spending a good chunk of time there each day.
But really, you could put it anywhere. The key is making sure your family knows what goes there and getting them into the habit of using it.
Again, it can take a little time to get into the habit. But once everyone is on board, you'll wonder how you ever lived without this home management hack.
Must-have command center resources
9. Delegate and ask for help
If you have kids at home, there's no reason why you can't delegate some of your home management tasks to them.
Even small kids can help with things like sorting laundry or picking up their toys.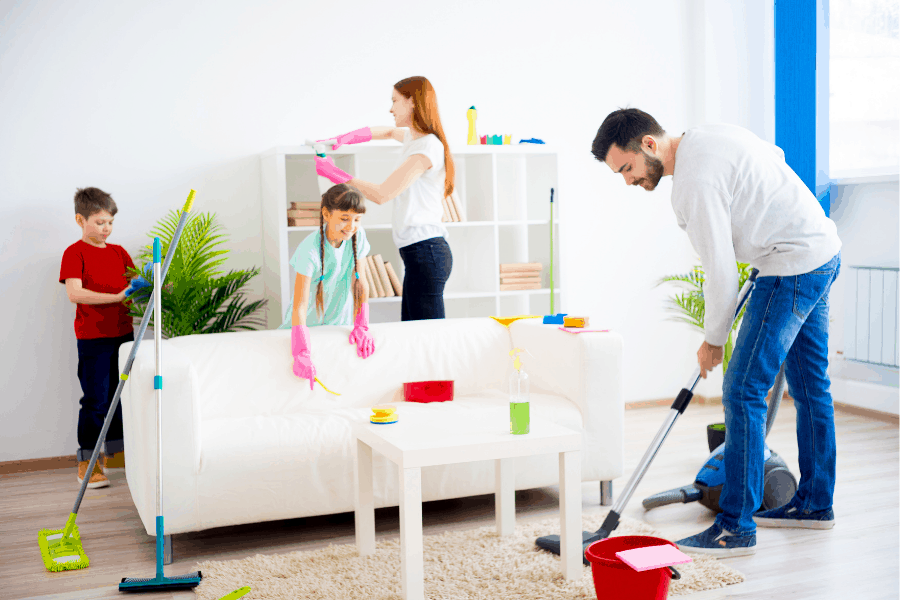 By delegating, you can take some of the pressure off yourself to get everything done. And you can make home management a family effort.
One thing to remember about delegating: it's okay if it's not done perfectly.
Your kids are never going to do laundry or wash dishes the exact way you would, trust me. And that's okay.
The more important thing to keep in mind is that the necessary things that keep your household going are getting done.
10. Make time for yourself
Home management skills can only take you so far. If you're burned out or exhausted as a busy mom, you may not have the energy to keep up with all you have to do.
Making time for self-care as part of your home management routine can give you the physical and mental energy boost you need to not just survive each day, but thrive in it.
Self-care for moms doesn't have to be complicated.
It can be as simple as:
Lying down for a 15-minute power nap
Scribbling your thoughts in a self-care journal
Reading a few pages of that book you've yet to finish
Watching a 10-minute TED talk for inspiration
Calling a friend for a brief chat
Writing a short gratitude list
The goal is to give yourself a little time each day to recharge. That can go a long way toward keeping home life running smoothly.
Related post: 15 Brilliant Ways to Practice Self-Care in 15 Minutes or Less
Final thoughts on home management tips for moms
Managing a home isn't always easy but it is possible to get organized so that it doesn't seem like such a daunting task.
If you're still struggling after putting these home management tips to work, definitely check out the Organized Home course. It could be exactly what you need to start calming the daily chaos!
Now, over to you.
Do you have a killer tip for keeping your home running smoothly? If so, head to the comments and tell me about it.
And of course, don't forget to pin and share this post!
Home Management Tips for Incredibly Busy Moms