Want to make staying home with your kids work financially? Learn how to afford to be a stay at home mom and live well on just one income!
Being a one-income family isn't easy.
I've been raising two kids on one income as a single parent for years now and I can tell you that it takes effort to make it work.
But it's not impossible, even though it might seem that way at times.
If you want to be a stay at home mom full-time, then figuring out how to afford it may be your number one goal.
So today I'm sharing a few of the best tips and strategies I've learned over the years about how to afford being a stay at home mom.
How I Became a Stay at Home Mom
I've been a stay at home mom, work at home mom for almost a decade now. But before that, I worked a full-time job in sales.
I did that for almost the first two years of my daughter's life. My mother-in-law watched her for me while I worked 8, 10 and sometimes 12-hour days.
And it sucked.
I can still remember the day I went to pick her up after working 12 hours and my own child wouldn't come to me. She only wanted her Nana because that's who she'd been used to seeing all day, every day since she was six weeks old.
So when my son was born, I decided that was it. I was not going back to work and letting other people raise my babies anymore.
Which meant I had to figure out how to afford to be a stay at home mom and make it work.
Benefits of Being a Stay at Home Mom
There are so many benefits to being a stay at home mom. Obviously, it means you get to be hands-on in taking care of your kids.
But did you know that being a stay at home mom could actually SAVE you money?
Here are a few ways staying home with your kids can pay off financially:
You won't be spending hundreds or thousands of dollars a month on daycare.
You can spare your car wear and tear and save on gas since you're not driving back and forth to work.
There's no need to spend money on lunches out with coworkers or fancy work clothes.
Less household income could mean less your family has to pay in taxes each year.
Those are just some of the financial benefits I can think of off the top of my head.
Does staying home with your kids mean some of your household expenses might go up?
Sure. For example, if you aren't able to get covered on your spouse's health insurance then that's an expense you might have to work into your stay at home mom budget.
But in the long run, staying home could still be a better use of your time and money if the payoff is being there for your kids.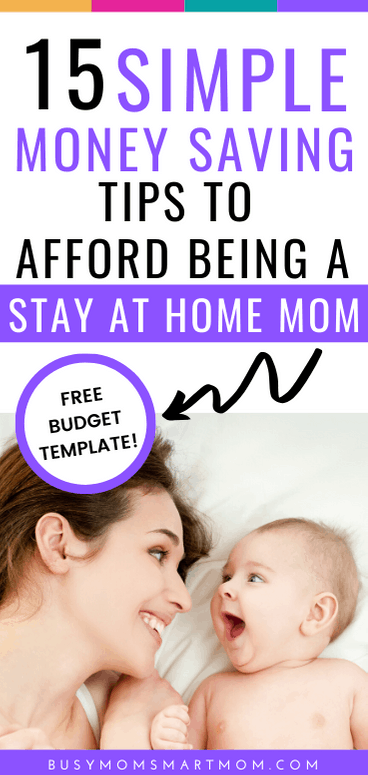 How to Afford to Be a Stay at Home Mom
From my experience as a stay at home, work at home mom I can tell you that there are two ways to make staying home with your kids work financially:
Finding ways to save money
Finding ways to make money
Doing just one of those things can be a huge help; doing both can make stay at home mom life even easier.
So here are some of my best tips for how to afford to be a stay at home mom, even when you think you can't.
1. Organize and simplify your financial life
If you want to afford being a stay at home mom, you need to be financially organized.
So that means:
Having a budget
Knowing what bills you have and when they're due
Cutting out any expenses that are just wasting money
If you don't have a budget yet, here's a step by step tutorial that explains how to make one. And you can snag a free printable budget worksheet in the Busy Mom Vault!
2. Cut out unnecessary expenses
Once you've got a rough budget, take a good look at it to see what expenses you can cut out. The Trim Financial Manager is great for this.
Trim is a financial tool that reviews your spending to see where you might be wasting money. If you want to make budgeting as a one-income family as simple as possible, let Trim save money for you!
Some of the things you may be able to reduce or eliminate from your budget include:
Streaming subscriptions you don't use
Subscriptions to magazines or newspapers you don't read
Pricey cell phone plans (I love Tello for cell phone service — family plans start at just $5/month!)
Expensive car insurance — save money by bundling instead!
3. Pay off your debt
Getting rid of debt is something else to work on if you're trying to afford to be a stay at home mom.
I used Dave Ramsey's debt snowball method to pay off around $80,000 in debt so I know it works. He explains how it works in his book, "The Total Money Makeover", which is a great read for frugal families.
(And if you want to read more Dave Ramsey money tips, check out this post!)
4. Become a master meal planner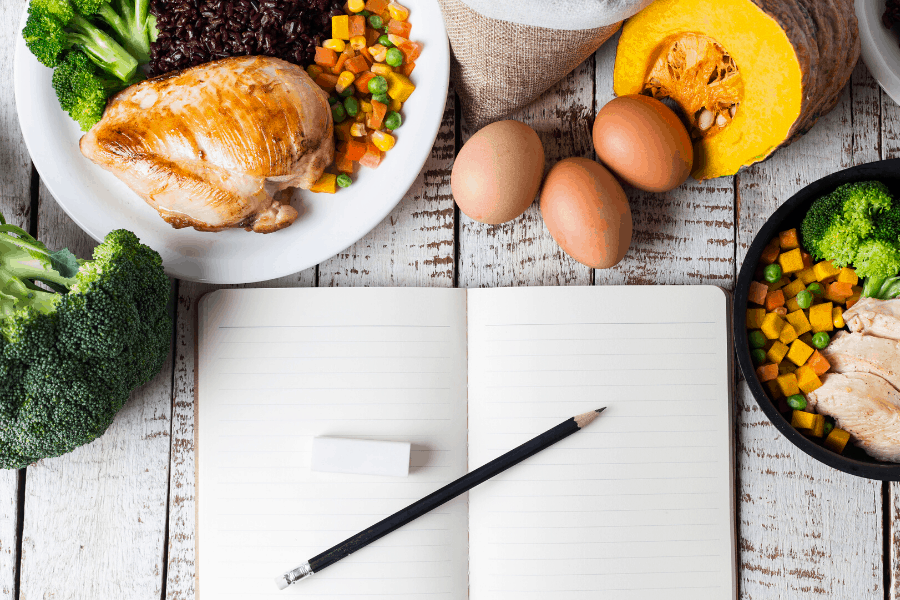 Meal planning can save you time and money, both of which are important when you're trying to figure out how to afford to be a stay at home mom.
Having a list of go-to meals you can make takes the stress out of dinnertime. And it can help you maximize savings when planning out your grocery shopping trips.
If you don't have the first clue where to start with meal planning, $5 Meal Plan is exactly what you need. You can get a complete family meal plan for $5 a month, which makes the super frugal mom in me happy.
And don't forget to check out the free meal planning printables on tap in the Busy Mom Vault!
You might also like:
10 Simple Meal Planning Tips for the Total Beginner
23 Simple Three-Ingredient Recipes You Can Make In No Time
5. Get your grocery budget under control
Aside from my mortgage, food is hands-down my biggest expense.
I have two kids, one who eats nothing and one who eats everything, so grocery shopping is a challenge to say the least.
Here's exactly what I do to save money on grocery shopping as one income family:
Meal plan, meal plan, meal plan
Build meals around what's on sale for that week
Comparison shop prices online
Plan meatless meals for one or two nights a week
Repurpose leftovers as much as possible
Those tactics help me save money. But my real secret weapons for cutting grocery costs are shopping for groceries online and using Ibotta. 
6. Buy groceries online
Online grocery shopping is a game-changer in more ways than one.
It saves you time.
You don't have to go in the store (Which means no more pushing around a cart with a broken wheel or being exposed to germs — yay!)
It can save you money since you can stick to only buying what's on your list.
I use Walmart Grocery pickup when I have time to go out and Instacart when I'd rather have my groceries delivered.
Both of them make buying groceries easier and save me a ton of money since I don't have to worry about my son tossing things in the cart when I'm not looking. And when you use Walmart Grocery pickup or Instacart for the first time you get $10 off your order!
And better yet, you can save even more money when you link your Ibotta account to your Walmart Grocery and Instacart accounts. If you don't know, Ibotta is a money-saving app that lets you earn cashback on groceries.
Bottom line, if you're not using Ibotta to shop, you're leaving money on the table. 
Sign up for Ibotta now to get $20 in cashback welcome bonuses!
7. Earn cashback when you shop online
Online shopping is convenient. And if you're struggling with how to afford to be a stay at home mom, you need to make every penny count.
So why not use Rakuten to shop and earn cashback?
Rakuten (formerly Ebates) literally pays you cash to shop. How sweet is that?
And when you sign up using this link, you can get $10 back automatically after your first qualifying purchase.
8. Buy gently used as much as possible
Thrift stores and consignment stores can be some of your best friends when trying to afford to be a stay at home mom.
Over the years I've bought kids' clothes, toys, home decor items, furniture — you name it — from thrift stores, consignment stores, flea markets, etc.
Buying used saves money since you can get almost anything for less than what you'd pay for it new. And it's also eco-friendly since you're recycling someone else's unwanted things and turning them into treasure for your family.
Bonus tip: Sell your extra stuff for cash using the Decluttr app. It's an easy way to get rid of things you don't need and make some easy money at the same time.
You might also like:
100 Things to Declutter Right Now to Make Your Home More Livable
21 Painless Ways to Declutter Your Home When You're Tired of the Mess
9. Get rid of cable and stream instead
We haven't had cable for many years now and I don't miss it at all.
Not only did cable suck up a big hole in our budget but honestly, there never seemed to be anything worth watching anyhow.
These days, we stick to streaming services and YouTube for TV entertainment. Our personal faves include:
Hulu
Netflix
CuriosityStream (great for watching documentaries!)
YouTube ('cause duh, it's free!)
Amazon Prime has been a great investment because there are so many shows and movies to watch. But not only that, I've saved a ton of money with free two-day shipping.
If you're not using Prime to stream or save on shipping yet, head here to sign up for a 30-day free trial!
10. Find free + cheap family fun
I'm all about doing fun things with my kids, especially when they cost me zero money.
When my kids were small, we only did fun things if they were free. So that meant lots of trips to the park, outings to free events in our community, storytime at the library, that kind of thing.
And you know what? My kids always had a blast doing those things.
It was one of the keys to my success in learning how to afford to be a stay at home mom. If you need some inspiration for low-cost ways to have fun as a family, check out these posts:
Ultimate Summer Bucket List for Kids: 100+ Ways to Beat the Heat
101 Frugal and Fun Things to Do With Kids at Home
25 Fun Ideas for Keeping Kids Busy So You Can Get Things Done
11. Grow your own
Growing your own vegetables at home is easier than you might think. Even if you have a black thumb instead of a green one.
Container gardening, for example, is an easy way to get started. It's a simple way to grow healthy foods at home in a small space while saving big money on groceries.
If you can't wrap your head around the idea of a full-scale garden yet, try easing into it with an indoor herb garden.
12. Buy in bulk and skip the things you don't need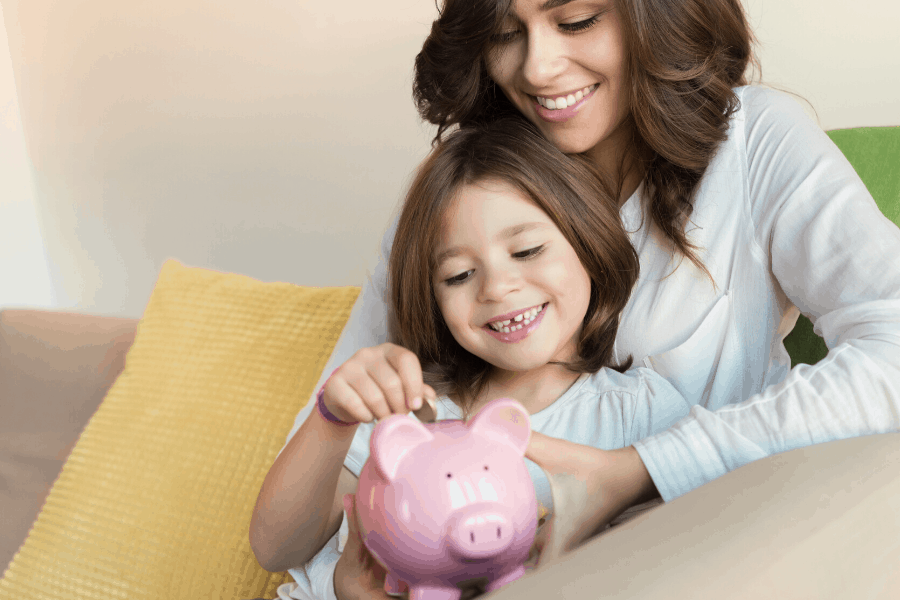 Buying in bulk can save you money if it means getting a lower unit price. You can try bulk buying at Costco or use Amazon Prime if you'd rather skip the store. And Amazon Family can save you 20% when buying diapers online.
The other money-saving tip to know about how to afford to be a stay at home mom is what NOT to buy.
For example, the list of things I don't pay money for includes:
Haircuts for my son (I bought a trimmer and do them myself at home)
Paper towels (we use cloth dishtowels instead)
Brand name anything
Sodas and sugary kids' drinks (invest in a quality filter and drink water instead)
You might be surprised at things you're wasting money on that you don't really need. Check out this list for even more things you can stop buying to save money!
13. Buy less "stuff" period
Stuff can be fun to buy but all it does is clutter up your home and drain your wallet. So buying less of it is a simple money-saver.
For example, instead of throwing away money on toys you can start a toy rotation instead.
Instead of spending money on dryer sheets, try reusable dryer balls.
Rather than spending money on coffee out, learn how to make it at home.
When the latest phone model comes out, resist the temptation to buy it.
Because here's the truth, stuff is just stuff. And part of the secret to how to afford to be a stay at home mom is learning what you can live without.
14. Do date nights at home
Regular date nights can help you build a healthier marriage. And when you're a stay at home mom, it goes without saying that you need some kid-free time every once in a while.
But going out to eat or the movies can cost big bucks. So if you want to save money, you can plan some stay at home date nights instead.
Need some ideas on what to do? Check out this list of crazy fun stay at home date night ideas from Lucy at Cheers to Life!
15. Find ways to grow your household income
I saved this tip for last because it's my favorite.
There are so many ways to make money for moms these days, many of which you can do from home.
For example, you could:
If you're not sure how to make money as a stay at home mom, think about your skills and interests.
What are you good at? What skills do you have? What's something you'd enjoy doing to make money?
Also, think about how much money you need to bring in to make your budget work. You might need to bring in a few hundred dollars or a few thousand, depending on your household income and expenses.
Getting a target number you want to make in mind can help you narrow down what kind of stay at home mom side hustles you want to try.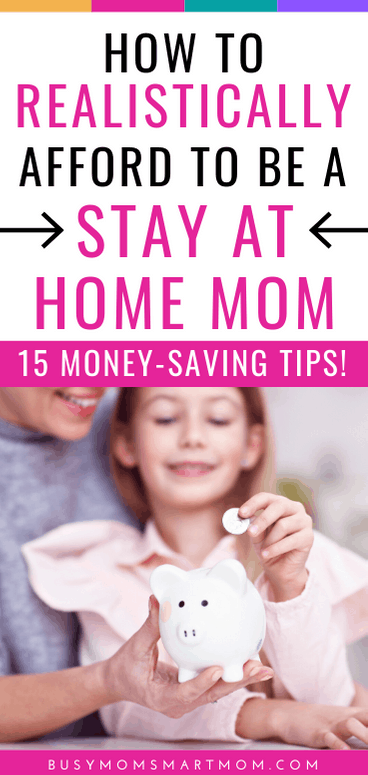 How to afford being a stay at home mom for good
Staying at home with your kids is all about getting in tune with your finances and figuring out ways to save and make money.
It may not always be easy but it's well worth it if you want to be home with your kids every day.
Do you have a great tip to share for how to afford to be a stay at home mom? Drop it in the comments!
And of course, don't forget to pin and share this post!