Regular kitchen decluttering can help you to stay organized and keep the mess at bay.
The kitchen is often a catch-all space.
At our house, for example, it's where we plan meals, eat dinner and do our homeschool work. And the kitchen may be the focal point of your family's daily routine as well.
So undertaking a kitchen declutter can be essential for keeping it organized.
A clutter-free kitchen makes it easier to enjoy this part of your home. And decluttering your kitchen can make it easy to keep it neat and tidy as part of your regular cleaning routine.
If you're ready to get started with kitchen decluttering I've got some tips that can help!
Related post: 21 Painless Ways to Declutter Your Home When You're Tired of the Mess
Table of Contents
Why you should declutter your kitchen
Decluttering a kitchen can take up the better part of an afternoon or even a weekend. But there are some real benefits for tackling a kitchen declutter.
Here are some good things that happen when you declutter your kitchen:
It's easier to organize kitchen cabinets and your pantry, which means you're not scrambling to find things or letting food expire.
Meal planning and prep is less stressful because you don't have clutter taking up room on countertops.
Cleaning up the kitchen takes less time since there's less mess to wade through.
Once you get your kitchen nice and tidy it's more likely to stay that way.
You can feel less stressed, which can help you relax.
Kitchen decluttering can make life as a busy mom easier. And that's a good thing when you're trying to keep your home organized and make the most of your time.
Related post: How to Organize Your Pantry in 5 Easy Steps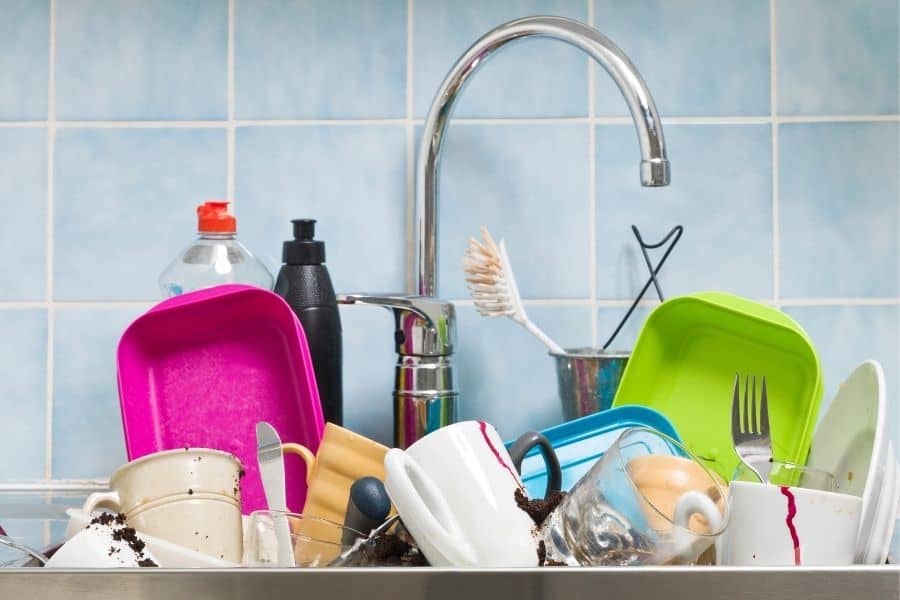 How long does it take to declutter a kitchen?
The amount of time you'll need to declutter your kitchen depends on your starting point.
If you can't see your kitchen countertops because of clutter or your kitchen cabinets are stuffed to the brim, it's probably going to take more than a few hours to get organized.
When decluttering your kitchen, decide how you want to pace yourself.
For example, if you want to block off one day to kitchen declutter, then make sure you can get everything done in that day.
But it's fine to space out kitchen decluttering over a weekend, a week or even longer if you need it.
The most important thing is to have a plan for decluttering a kitchen, then sticking to it.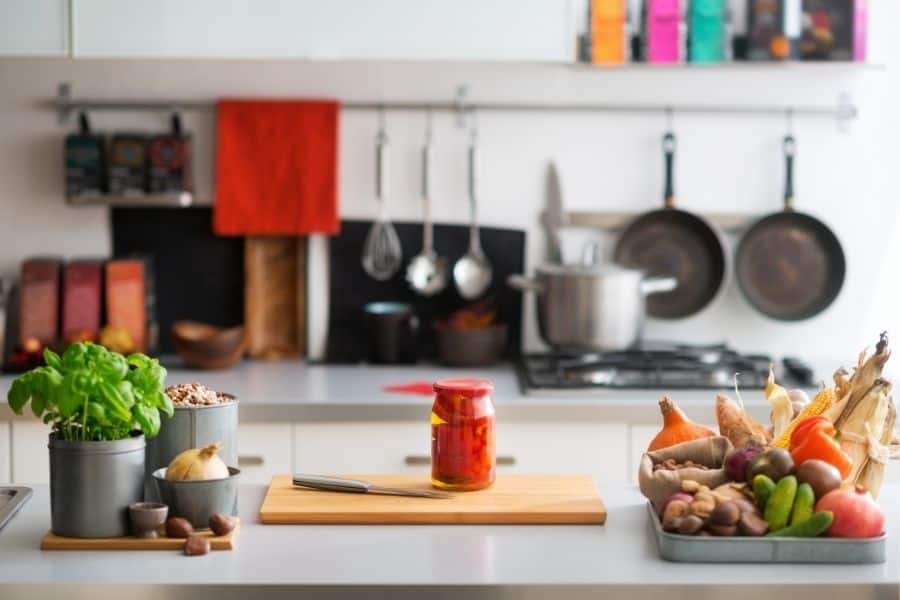 Where do I start decluttering my kitchen?
Kitchen decluttering can be overwhelming. It may be time-consuming as well.
And you may not know exactly where to start. So it helps to have a kitchen declutter checklist to follow.
How do I declutter my kitchen checklist
If you need a simple kitchen declutter list, here's what I recommend:
Decide when to declutter your kitchen. The first step for decluttering a kitchen is deciding when to do it. So look at your calendar or mom planner and choose a day (or series of days) when you can work on your kitchen declutter list.
Block off the time for kitchen decluttering. Once you've chosen one or more days to declutter your kitchen, block off time to do it on those days. And let your family know this time is reserved for decluttering so you don't get distracted with something else.
Get in the right mindset for a kitchen declutter. Decluttering a kitchen can be physically and mentally draining. So before you get started, think about why you want to declutter your kitchen and what you hope to achieve at the end of it.
Organize your decluttering supplies in one place. Having certain supplies can make decluttering a kitchen easier. So before you start, organize garbage bags, storage containers and bins or boxes you plan to use to sort out the clutter.
Declutter your kitchen in zones. Where do you start with decluttering a kitchen? If you're working in zones, it's a lot easier to get going. So consider dividing your kitchen into specific areas, then decluttering them one at a time.
Sort kitchen clutter as you go. If you're decluttering your kitchen one of your goals is probably getting rid of some things. So as you declutter the kitchen, sort out what you want to keep, what you want to donate, what can be recycled and what you can throw away.
This is a simple kitchen declutter checklist you can use as a guide for kitchen decluttering. And it can also work for organizing other rooms of your house too!
Related post: 100 Things to Declutter Now for a Clutter-Free Home
Simple kitchen decluttering tips
If you still need some simple ways to declutter your kitchen, I've got a few more tips that can help.
1. Decluttering kitchen countertops
Want to know how to declutter your kitchen countertops?
First, start by taking everything off the kitchen counters. Remember, you can sort and declutter as you go into these piles:
Keep
Donate
Recycle
Throw away
Once your kitchen countertops are bare, give them a good scrubbing. It's so much more satisfying to start putting things back on kitchen counters when they're clean first.
As you organize and declutter kitchen countertops, consider which things are essential to keep out and what can be put away.
For example, you may want to keep the bread box and the toaster handy. But your containers for flour and sugar or your stack of cookbooks may be better off stashed in the pantry.
Here's another tip for decluttering kitchen countertops: Get creative with space.
For example, using a magnetic knife holder can save you counter space.
Corner shelves or overhead racks are perfect for storing pots and pans. And rolling shelves can be an ideal fit for that tight space between the fridge and your counters.
2. Decluttering kitchen cabinets
If your kitchen cabinets are full of clutter, you might be tempted to close the door and walk away.
But that only leaves you with a mess to tackle later. So consider these tips for how to declutter kitchen cabinets instead.
Choose one cabinet to work on at a time
Take everything out of the cabinet
Throw away anything that's broken or otherwise not usable
Toss expired food
Wipe down the inside and outside of the cabinets
Only put back items that you use
If you're tempted to hold onto things while decluttering kitchen cabinets, here's a simple test.
Ask yourself if you've used the item at least once in the last year.
If the answer is no, toss it or donate it. Don't feel like you need to hold onto things because you might use them someday or because someone gifted them to you.
Remember, the goal is decluttering kitchen cabinets, not letting the mess stick around.
3. Declutter the refrigerator and pantry
Cleaning out the kitchen can be one of the most time-consuming parts of decluttering a kitchen. But it's definitely a step you can't skip.
So, go through your fridge and throw away any expired food first.
Clear out leftovers that you don't plan to eat and put the containers in the sink so you can wash them later.
Pull out the drawers and empty them out. Wipe them down and replace them.
Wipe down fridge shelves and doors next.
Then, start putting things back. But be smart about it!
For example, you can use clear plastic bins to keep things organized. And if you have younger kids, you might consider dedicating one of your produce drawers to holding juice, string cheese and other refrigerated snacks.
Related post: Declutter Your Home Checklist (10 Free Decluttering Printables!)
Best kitchen decluttering and organizing tools
Looking for some tools to help you declutter and organize your kitchen? Here are some of my top picks from Amazon!
4. Organizing paper clutter
Organizing paper clutter is a great idea if your kitchen is a dumping ground for bills, school papers, magazines or other paper items.
Here are some simple ideas for organizing paper clutter:
Switch to digital statements for bills or bank accounts
Sort paper mail as soon as it comes in
Toss junk mail (or recycle it if you can)
Organize paper clutter in one place
Setting up a family command center is one way to organize paper clutter.
You can stash meal plans, bills, calendars and mail so you can go through it and organize it later. But even something as simple as some hanging baskets for envelopes can help you keep paper clutter under control.
If you plan to use baskets to organize paper clutter, here's one more tip: Schedule one day a week to go through it.
Sort through everything that's been tossed in the basket, then file, throw away or shred as needed. Sunday is a great day to do this so you can start the week with an empty basket.
It's a simple and good way to keep paper clutter from junking up the kitchen.
5. Decluttering your kitchen's overlooked areas
When you're working through a kitchen declutter, it's easy to develop tunnel vision.
You might be focused on cleaning out the fridge or organizing the pantry and overlook some less cluttered areas.
For example, the top of the fridge is a sneaky place where clutter can pile up. (Not to mention dust!)
Under the kitchen sink is another spot that's easy to overlook. And of course, there's the junk drawer that can be found in almost every kitchen.
As you work through your kitchen declutter list, don't forget about these less obvious spots that are targets for clutter.
Related post: Declutter Your Home Checklist (10 Free Decluttering Printables!)
Need more help with kitchen decluttering hacks?
These tips can help with decluttering your kitchen. But if you're completely overwhelmed by the mess, there's another resource you might want to try.
It's called The Organized Home and it's a complete guide to getting your home in order.
This course could be just what you need if:
You're in desperate need of a plan for decluttering
You struggle with keeping your home organized
You're ready to create systems for keeping your home neat and tidy
You can learn more about The Organized Home (and it's awesome creator!) here.
And you can also take the free Five Words to Organized challenge to pinpoint your biggest struggles with organizing and decluttering!
Final thoughts on how to declutter a kitchen
Decluttering your kitchen can be a satisfying feeling, especially if you've completely forgotten what your kitchen counters look like.
A clutter-free kitchen is easier to move around in and enjoy. And that's really what you want your home to be–a comfortable space for you and your family.
Do you have any amazing kitchen decluttering tips or hacks to share?
If so, head to the comments and tell me about it!
Be sure to check out my favorite Busy Mom Resources before you go!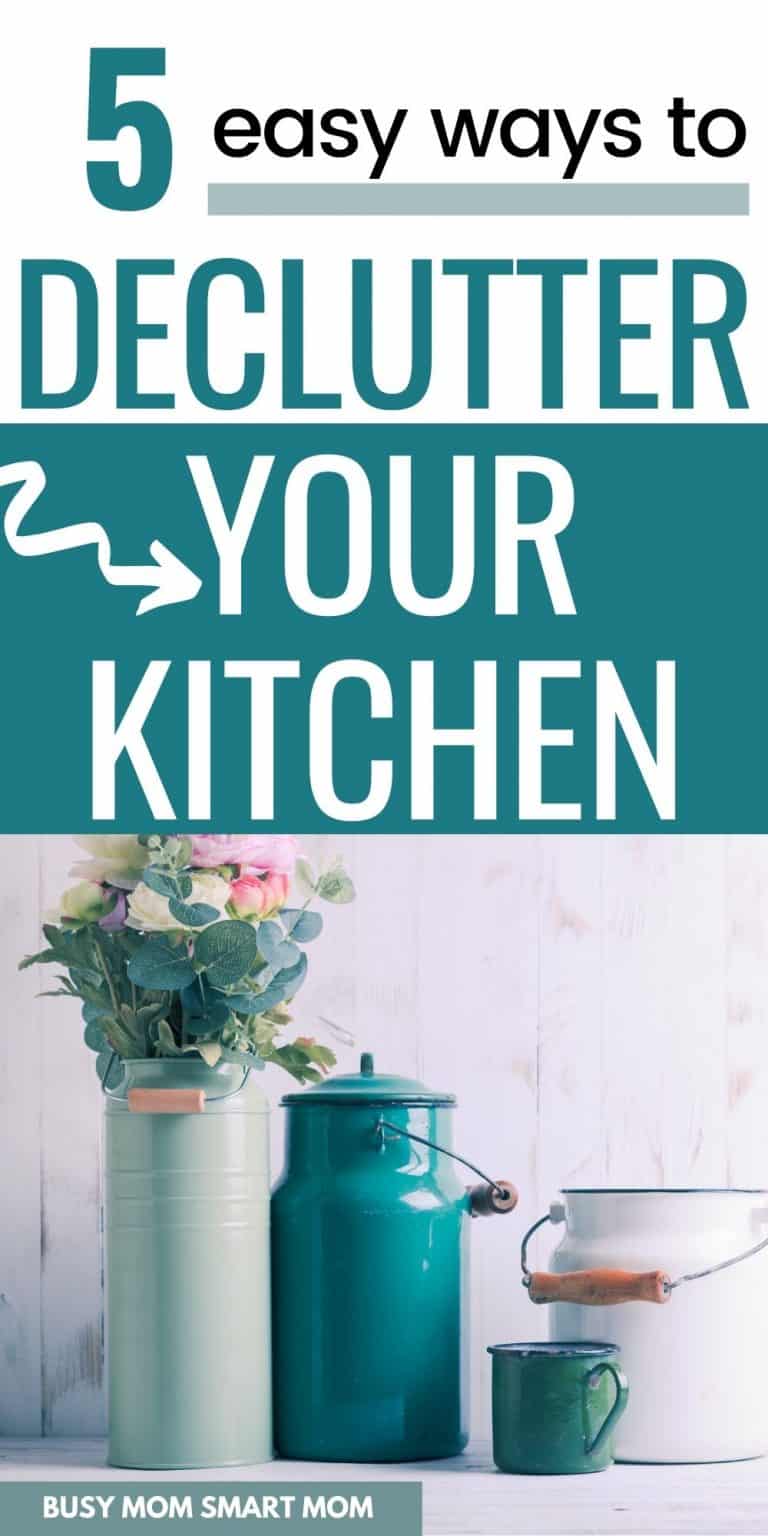 What are your best kitchen decluttering hacks?