What do mornings look like at your house?
Are they calm and peaceful? Or crazy and chaotic?
If you chose "B", then a morning routine checklist can be your secret weapon.
Because your mornings set the tone for the rest of the day. When they go smoothly, then everything else just seems to click into place.
And when they don't, you might spend the entire day wishing for a do-over.
I've been there. It took me years to fine-tune our morning routine, first as a stay at home mom, then as a work at home mom.
But now that I have my morning routine down, I couldn't do without. On days when I'm not able to follow a routine, I feel completely lost.
If that sounds similar to how all of your days feel right now, then it's time to change it. So whether you're a stay at home mom, a work at home mom or a mom who works outside the home, here are my best tips for navigating mornings with less stress.
You might also like:
How to Be Productive: 3 Secrets for Stay-at-Home Moms
Morning Routine Checklist for Busy Moms
1. Get better sleep
Easier said than done as a busy mom, right?
But really, prioritizing sleep is something you can't skip if you want your morning routine to work. And it's just good for you, too.
Getting better sleep can:
Boost your immune system so you don't get sick as often
Help you maintain a healthy weight
Reduce your stress levels and improve your mood
Help you focus and feel less distracted
Reduce your risk of developing serious problems like heart disease
That sounds good, doesn't it?
If you're not sleeping as well as you'd like, here are some things that could help:
Try experimenting with different things to see what helps and what doesn't. The goal is starting every day feeling as rested as possible.
2. Wake up before your kids
When I was a mom to a toddler and a newborn and I was exhausted all the time my kids were my alarm clock. I would sleep until the baby cried or my two-year-old came in and poked me in the eye.
Needless to say, neither one was the best way to start the day. So I eventually learned that if I wanted to get things done I was going to have to start getting up before they did.
If you're in the habit of sleeping later, then you may want to take a hard pass on waking up earlier. But it can have some surprising health benefits and make you a happier mom.
I don't mean you have to suddenly start waking up three hours earlier each day either. The best way to start a habit of waking up earlier is to ease into it.
So invest in a good alarm clock if you don't have one. Then try waking up 10 minutes earlier for one week. The next week, bump it up to 15 minutes.
Keep going until you're getting up 30 minutes to an hour before your kids each day. Commit to making this a regular part of your morning routine checklist, even on the weekends.
You'll be surprised at how much you can do in that time to make a difference for the rest of your day.
3. Get showered and dressed
Raise your hand if yoga pants and dry shampoo are your standard stay at home mom uniform?
I feel ya.
For a long time when my kids were small, I felt like I just didn't have time to take a shower, do my hair or put on makeup. And why get dressed if someone was just going to throw up on me or spill their sippy cup all over me anyway, right?
But not including those things in my morning routine checklist made me feel grubby.
And even though my kids might have been the only person who saw me all day, I wanted to feel like a pulled-together mom instead of a hot mess.
So once I started getting up earlier, I made sure that I kicked off each day feeling clean and refreshed.
If you've managed to add an extra window of time in your day by getting up earlier, use some of it to treat yourself to uninterrupted bathroom time.
Take a shower, wash your hair, put on makeup. Swap out yoga pants or pajamas for an outfit that's comfortable and makes you feel good. (I use a capsule wardrobe to keep this part simple.)
It's a small thing but it's one of the best ways to practice self care as a busy mom.
You might also like:
How to Create the Perfect Self Care Routine as a Busy Mom
4. Plan out your priorities for the day
To-do lists are such an important part of your morning routine checklist. When you have a to-do list to follow, mom life gets so much easier.
Here's how I organize my daily to-do list:
Must-do work-related tasks
Need-to-do work-related tasks
Must-do mom/housework tasks
Need-to-do mom/housework tasks
Things that can wait
I focus on the must-dos first and I try to limit myself to just three things in each category. Any more than three to-do items and I'm overwhelmed.
If you aren't using to-do lists to manage mom life, you're missing out!
I have a useful morning routine checklist you can download in the Busy Mom Vault.
But you can just as easily use an app like Cozi or grab a notebook or planner to write down what needs to be done each day. (I love the options from Erin Condren!)
Once you're showered and dressed, spend 10 minutes or so jotting down your to-do items for the day. Or better yet, do this the night before.
That way, you can hit the ground running knowing exactly what you need to tackle for the day.
You might also like:
11 Best Planners for Moms to Get Seriously Organized
5. Eat a healthy breakfast
I used to never eat breakfast. Which was a huge mistake when I was trying to chase after two little ones all day and needed the energy to do it.
If you don't eat a healthy breakfast each day, this is a must to add to your morning routine.
Keep it simple if you feel like you don't have a lot of time to make something. My go-to breakfast is a sunny side up egg on grilled bread with a slice of turkey bacon. I put it all in the skillet together and it takes about five minutes to make.
If you need some inspo for what to make, here are some healthy breakfast recipes for busy moms to try. While you're at it, don't forget to make some healthy breakfast foods for the kiddos, too.
6. Do a mini cleanup and declutter session
Cleaning is not my favorite thing to do at all, but I do love having a neat and tidy home.
Adding a few simple cleaning and decluttering tasks into my morning routine checklist helps me keep it that way without tying up hours of my time.
Here's a quick rundown of things I do in the morning to keep the house clean:
Start one load of laundry
Wipe down the kitchen counters
Sweep the floors
Straighten up throw pillows and blankets on the sofa
Wipe down the counter in my bathroom (my kids are responsible for their bathrooms)
These are simple things that take me 10 to 15 minutes to do max altogether. If you're not doing simple cleaning tasks daily, consider picking 5 or 6 things you can knock out quickly to keep the house neat.
You might also like:
11 Daily Tasks to Clean House Quickly When You Don't Have Time for the Mess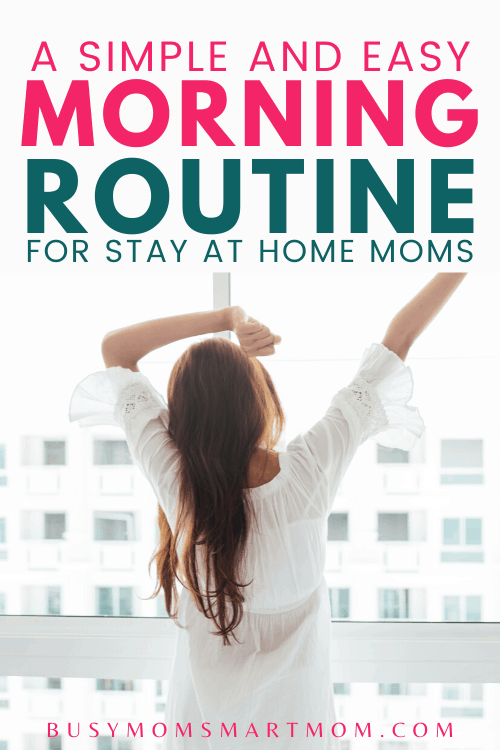 7. Block off a few minutes of quiet time
There is no better feeling than waking up to a quiet house, at least for me. Before my kids get up and start banging around, I like to enjoy the silence even if it only lasts for a little while.
If you can find 10 to 15 minutes to work into your busy mom morning routine, here are some of my favorite ways to use it:
Read one chapter of that book you haven't had time to finish
Listen to a quick podcast or inspiring TED talk
Do some yoga or meditate
Write some morning pages in your journal
Read a devotional for moms
Add three items to your gratitude list
Savor a cup of coffee in a cozy spot
Having a few minutes to yourself doesn't seem like a big deal. But if your kids are home with you all day then this is a can't skip part of your morning routine.
You might also like:
How to Create a Daily Routine for Kids When School Is Out
Bonus tip: Skip the screens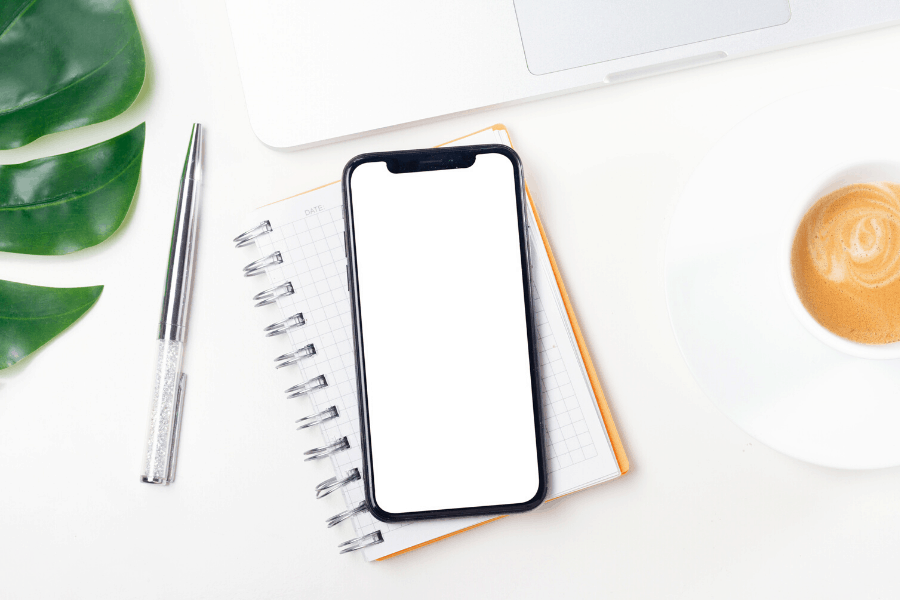 It may be tempting to reach for your phone first thing in the morning but that can throw off your entire morning routine.
Why? Because it's so easy to get into scroll mode on Facebook or Pinterest. You think to yourself, I'll only take a quick look and 45 minutes later you realize how much time you've wasted.
I'm not against screen time (for moms or kids) but if you want to get your day going right, then hold off on checking social media or reading the news until you've completed the rest of your morning routine checklist.
What's on your morning routine to-do list?
Having a morning routine to follow can make your days as a busy mom so much easier. And you can feel happier and more organized as a result.
Do you have a morning routine or schedule that you can't live without? Share your best tip for calmer mornings in the comments.
Grab your morning routine checklist in the Busy Mom Vault if you haven't already. And don't forget to pin and share this post!