Looking for the ultimate summer bucket list for kids? Bookmark this list of 100+ fun things to do with kids this summer without leaving home!
Have you got big plans as a family included on your summer schedule?
I love taking trips with my kids each summer. We love going to the mountains, hitting a few amusement parks, going to comic cons and of course, visiting the water park.
But sometimes, having summer fun means staying closer to home. And if you've got younger kids you may be scrambling for ways to keep them busy so they're not climbing the walls all summer long.
If that sounds like you, don't panic. I've got exactly what you need to make it through the summer without going crazy from the heat!
I've rounded up the best kids' summer bucket list ideas to try now!
And be sure to grab your free summer reading log printable if reading more as a family is one of your summer goals!
Related post: 50 Fun Fall Bucket List Ideas for Kids
Table of Contents
Fun Summer Activities to Do With Kids at Home
I've put together the ultimate summer bucket list that's packed with ideas for keeping kids busy and having fun at home as a family. And the best part?
They're all things you can do at home!
If you can't get to the park, go on a family vacay or schedule play dates with friends, this is exactly what you need to keep your cool.
And if you don't have time to read through this entire post, you can grab your free Ultimate Summer Bucket List for Kids printable in the Busy Mom Vault!
Click the image to download now!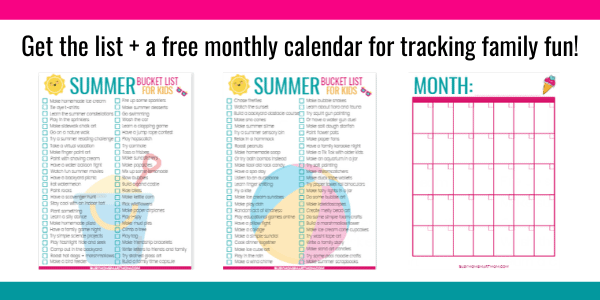 Related post: Christmas Bucket List (50 Fun Holiday Activities for Kids!)
100+ Ideas for a Summer Bucket List for Kids
Ready to have some summer fun as a family? Here you go!
1. Make homemade ice cream
If you haven't made homemade vanilla ice cream, you're missing out! Try this simple recipe to make homemade ice cream with ingredients you probably already have on hand.
2. Tie-dye t-shirts
Making tie-dye is messy but fun and a must for any summer bucket list for kids. We use this tie-dye kit and some plain white T's for our colorful creations.
3. Learn the summer constellations
Looking at the stars is a fun and free way to spend time outdoors in the summer. Check out this video series to help with navigating the summer skies.
4. Play in the sprinkler
What kid doesn't like playing in the sprinkler? It's a simple and fun way to cool off when the weather gets hot.
5. Make sidewalk chalk art
Sidewalk chalk is an easy way for kids to get creative with zero clean-up. All it takes is a good rain shower to clean up the sidewalk or driveway so they have a fresh canvas for next time.
6. Go on a nature walk
Nature walks are a great way to get exercise and spend time outside, even if you're only cruising around your neighborhood or backyard.
7. Try a summer reading challenge
When my kids were smaller, we always participated in our library's summer reading challenge. Set up your own summer reading challenge complete with fun prizes to encourage kids to get reading.
Some of my favorite summer reading picks
8. Take a virtual vacation
Can't take a trip away from home? Try these awesome virtual vacations instead!
9. Make finger paint art
Break out the finger paint and some paper and you've got all you need for an arty party.
10. Paint with shaving cream or cool whip
Shaving cream paint is messy and fun, plus it makes some beautiful art. Here are some shaving cream art projects for inspiration.
11. Have a water balloon fight
Water balloons are a fun way to cool off if you can't get to the pool. Tip: get the self-tying ones so you're not wearing your fingers out tying knots.
12. Watch fun summer movies
We love going to see summer movies but trips to the theater can be pricey. Save money on your summer bucket list for kids by having a movie night at home instead with Hulu or Netflix.
13. Have a backyard picnic
Break out the blankets and take your lunch outside for a simple summer picnic.
14. Eat watermelon
No summer is complete without watermelon, right? And after you're done, try some of these easy watermelon crafts.
15. Paint rocks
Rock painting is all the rage so if you haven't jumped on the bandwagon yet, add this to your summer bucket list for kids. Try this cute rock painting kit to get started.
16. Have a scavenger hunt
A scavenger hunt is a fun way to spend an afternoon at home. Head here for a list of scavenger hunt ideas for summer.
17. Stay cool with an indoor fort
Too hot to go outside? Stay in and build a pillow fort instead.
18. Plant something
Starting a summer garden is a great way to spend time together as a family. And it's also a chance for kids to learn more about where food comes from.
19. Learn a silly dance
A dance party is a good way to get the wiggles out, especially if you and your kids are going stir-crazy from being at home.
20. Make homemade pizza
Who doesn't love homemade pizza? This simple recipe is one kids can lend a hand with.
21. Have a family game night
Family game nights are a nice way to take a break from watching TV. So break out the board games, cards or puzzles and let the games begin!
Some of my favorite family board games
22. Try simple science projects
If you're looking to introduce some STEM learning to your summer bucket list for kids, try some simple science experiments you can do with things you have at home.
23. Play flashlight hide and seek
When the sun goes down, head outside for hide and seek by flashlight.
24. Camp out in the backyard
Can't leave home for a camping trip? Pitch a tent in the backyard instead or try one of these fun summer camp ideas!
25. Roast hot dogs and marshmallows
While you're having your backyard campout, don't forget the hot dogs and marshmallows.
26. Make a bird feeder
Building a bird feeder is a great hands-on activity for kids of all ages. You can buy a bird feeder kit or scope out YouTube for tips on building one from recycled items.
27. Fire up some sparklers
July 4th isn't complete without sparklers. And don't forget to make some fun 4th crafts while you're at it.
28. Make summer desserts
Summer is perfect for sweets and these easy dessert recipes are ones kids can help with.
29. Go swimming
We have a pool at our house so we don't need to leave home to swim. If you don't have access to a pool, a slip n slide is the next best thing.
30. Wash the car
Washing the car can be the perfect summer bucket list item for kids — as long as you finish things off with a few sponge water toss games.
31. Learn a clapping game
I loved playing clapping games with my friends when I was little. No childhood is complete without learning Miss Mary Mack, right?
But if you don't want your kids to roll their eyes at how old you are, try some up to date clapping games instead.
32. Have a jump rope contest
How long has it been since you jumped rope? Round up the kids and the jump ropes to see who can last the longest.
33. Play hopscotch
If you've got sidewalk chalk or masking tape, you've got everything you need to create a hopscotch board on your sidewalk or driveway.
34. Try cornhole
Cornhole is super popular here in the south but if you've never heard of it, it's basically a bean bag tossing game. You can buy cornhole boards online or if you're feeling really ambitious, build one yourself out of plywood.
35. Toss a frisbee
Grab a frisbee and practice playing catch with the kiddos while enjoying the sunshine.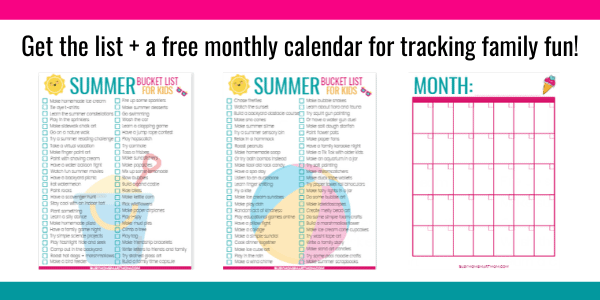 36. Make suncatchers
Suncatchers are a simple craft to make with kids. You can try the kits with plastic suncatchers or make them from tissue paper instead.
37. Make popsicles
Homemade popsicles are fun to make and they can be healthier than the store-bought kind. All you need are some popsicle molds and a few easy recipes to get started.
38. Mix up some lemonade
Lemonade is the perfect drink for hot summer days. Get the perfect lemonade recipe here.
39. Blow bubbles
What kid doesn't like blowing bubbles and chasing them around? Check out this video for tips on making a cool DIY bubble blower.
40. Build a sandcastle
Playing with sand is a great sensory activity for younger kids. Can't get to the beach to build a sandcastle? Try kinetic sand instead.
41. Ride bikes
My cousins and I would ride our bikes all day long during the summer. If you did the same, round up the kiddos and recreate those memories.
42. Make kettle corn
Kettle corn is a simple summer treat that reminds me of going to our town's summer carnival as a kid. Whip some up at home with this easy recipe.
43. Pick wildflowers
Take the kids out to the backyard and let them pick wildflowers. Make wishes on dandelions, do the buttercup test and of course, don't forget the daisy chains.
44. Make paper airplanes
Got some printer paper or cardstock you're not using? Teach kids how to make the perfect paper airplane.
45. Play I-spy
I-spy is a simple game to play indoors or out. If you're looking for some extra I-spy fun, my son loved these I Spy books when he was little.
46. Make mud pies
Just like sand, squishing around in the mud is great sensory play. And once you get kids cleaned up, you can treat them to some worms in dirt for a snack.
47. Climb a tree
When was the last time you climbed a tree? If it's been too long, it's time to dust off your skills and teach your kids how it's done.
48. Play tag
Freeze tag is a fun game for kids of all ages. If you want to mix things up, try one of these silly alternative versions.
49. Make friendship bracelets
I loved making friendship bracelets as a kid and it's a skill worth passing on. If you don't have any embroidery floss around the house this friendship bracelet kit is great for getting started.
50. Write letters to friends and family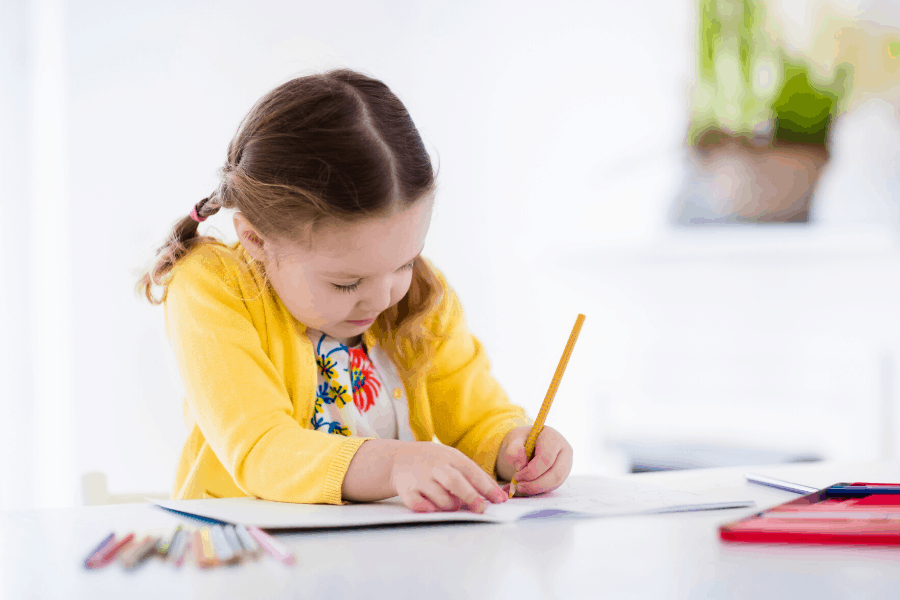 Letter writing is a dying art these days. But you can help your kids revive it by encouraging them to write (or draw pictures for younger kids) to friends and family.
51. Try stained glass art
Stained glass is pretty to look at and an outside-the-box art project for kids. Here are some ideas for stained glass art projects to include on your summer bucket list for kids.
52. Build a family time capsule
Putting together a family time capsule can help you capture your favorite memories. Getting kids in on the act adds to the fun when it's time to open it.
53. Chase fireflies
Chasing fireflies is a rite of passage. Wait until the stars come out then let kids loose in the backyard to see how many glow bugs they can spot. Then fill them in on some interesting firefly facts.
54. Watch the sunset
Watching the sunset together as a family is a great way to slow down and enjoy summer. If your kids are early risers, you can add watching the sunrise to your summer bucket list as well.
55. Build a backyard obstacle course
Got pool noodles, duct tape and some hula hoops? Then you've got the makings of an easy and fun backyard obstacle course for kids.
56. Make sno cones
My kids like to break out the sno cone maker whenever it starts to get hot. If you don't want to use the corn syrupy store-bought flavorings, try this simple recipe to make your own.
57. Make summer slime
Making slime is messy fun for kids when it's too hot to go out. Try these summer slime recipes if you're tired of the same old options.
58. Or try a summer sensory bin
Sensory bins are great at any time of year and with a few inexpensive additions, you can make them summer-themed.
59. Relax in a hammock
The home we just bought came with a hammock tucked away in the trees. I haven't tried it yet, mostly out of fear of breaking my neck, but relaxing in it is on our summer bucket list.
60. Roast peanuts
Going to baseball games is one of our favorite summer pastimes. But since the baseball season is a question mark for now, we'll be roasting peanuts at home instead.
61. Make homemade soap
Making soap is a good way to spend a rainy summer afternoon indoors. You can try making soap from a kit or try this easy recipe for rainbow soap.
62. Or try bath bombs instead
My son loves bath bombs, though we haven't tried making them yet. I've bookmarked this recipe so we can test it out over the summer.
63. Make Kool-aid rock candy
Making rock candy is part fun, part science experiment. And who knew you could make it with Kool-aid? This recipe explains how.
64. Have a spa day
Treating kids to a spa day at home is fun and inexpensive. You can take turns painting fingernails or trying on mud masks. And even though it might get a little messy, it still counts as self-care, right?
65. Listen to an audiobook
I still read aloud to my kids even though they're tweens. (We've switched to novels instead of picture books, of course.)
If you're not the read-aloud type, you can let someone else do the work and listen to audiobooks as a family. And you can gift tweens and teens an Audible membership so they can check out books on their own.
66. Learn finger knitting
Finger knitting is an easy way to introduce younger kids to knitting. This video can help you get started.
67. Fly a kite
Here at the beach where we live, flying kites through the spring and summer months is a regular thing. It's the perfect addition to a summer bucket list for kids!
Plus, you can make it even more fun with these DIY kite design kits.
68. Make ice cream sundaes
Grab ice cream, chocolate syrup, whipped cream, cherries — whatever toppings your family loves most — and set up a sundae bar. Then let the kids come up with the best sundae combination.
69. Make Playdoh
If you don't want to spend money on Playdoh, you can always make it with the kids instead. Check out these recipes for summer-scented Playdoh.
70. Perform a random act of kindness
Doing something nice for someone else doesn't cost anything and it's a good way to instill the habit of giving in kids.
Possible ideas: help clean up an elderly neighbor's yard or offer to walk their dog, bake cookies for the mailman or write a sidewalk chalk note in the driveway thanking your local first responders for the work they do.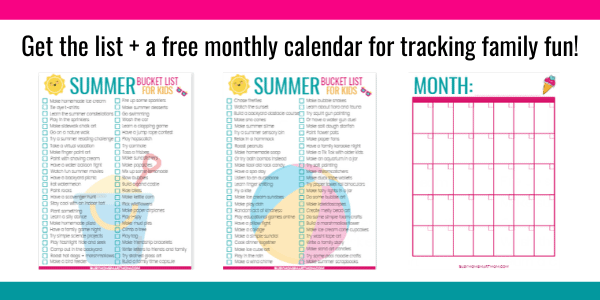 71. Play educational games online
Including screen time on a summer bucket list for kids might not make sense. But at some point, you may want a break.
And when you do, you can let kids check out some of the best free educational websites so they get their screen time with a dose of learning mixed in.
72. Have a pillow fight
Round up the pillows and have a free-for-all in the living room. Just remember to put away any breakables first.
73. Make a collage
Collage art is a creative way for kids to express themselves. Gather up magazines, old picture books, catalogs — anything with interesting pictures — and let the kids cut or tear out images to make summer collages.
74. Make a simple sundial
Sundials combine arts and crafts with science. Have kids watch this video to learn how they work, then make one together.
75. Cook dinner together
Cooking dinner together is a way to bond while passing on valuable skills. Check out some of these simple three-ingredient recipes kids can help with.
76. Make ice cube art
Fun fact: If you Google "ice cube art" you'll be barraged with various artistic renderings of the rapper Ice Cube.
But if you want to try some ice cube painting for kids instead, head here for a simple tutorial.
77. Play in the rain
Rainy days don't mean you have to stay in. Splashing in the rain is a must-have addition to your summer bucket list for kids. (When there's no lightning, of course.)
78. Make a wind chime
Need some ideas? Try these eight wind chime options kids can make at home.
79. Make bubble snakes
Bubble snakes are something I had never heard of until my son showed me a YouTube video on how to make them. Go figure. Here's the video if you want to try this fun summer craft with your kids.
80. Become backyard biologists
We're lucky enough to live in a rural area surrounded by trees with lots of creepy crawlies. (I've already seen my first snake of the summer and more lizards than I can count.)
If you've got a backyard, spend some time exploring and checking out the plants and animals you find. Encourage kids to keep a nature journal, sketching the things they see. Then use this book to make some fun backyard biologist crafts.
81. Try squirt gun painting
Water gun painting is the perfect summer activity if your kids like messy fun. Check out this post for tips on how to get set up.
82. Or have a water gun duel
If you'd rather skip the paint (and the cleanup) give your kids water guns loaded with water instead and let them have it.
83. Make salt dough starfish
Starfish are plentiful on the beaches here but if you can't get to the shore, you can make this fun salt dough starfish craft with kids instead.
84. Paint flower pots
Terra cotta flower pots + craft paint are an easy craft for kids. Bonus points for planting flowers together once the pots are ready.
85. Make paper fans
Paper fans can help kids stay cool and they're fun to make. Get instructions here.
86. Have a family karaoke night
I cannot sing but it's still fun to do. And it embarrasses my kids no end — score!
If you don't have a karaoke machine lying around, you can turn on YouTube or the radio and find some songs to sing along to with the kids.
87. Make a TikTok with older kids
If you don't know what TikTok is you probably don't have tweens or teens yet. But if you do, then try making your own silly TikTok together. Here's some inspiration from one of my son's favorite YouTube families.
88. Make an aquarium in a jar
Want to give your kids a pet fish without the actual work of having a pet fish? Try a Mason jar aquarium craft instead.
89. Try salt painting
Salt painting is a cool way for kids to create 3-D works of art. If you've never tried salt painting before, here's a great tutorial from Simply Outrageous Youth.
90. Make dreamcatchers
You could buy dreamcatchers to encourage sweet dreams. But if you've got nothing but time on your hands with the kids this summer why not make them instead?
91. Make duct tape wallets
Or purses. Or phone cases. Or even ties. It's sticky, crafty fun for kids. Check out these amazing duct tape craft ideas.
92. Try paper towel roll binoculars
Got paper towel or toilet paper rolls in abundance? Use them to make binoculars for backyard bird watching or try these other fun crafts.
93. Make fairy lights in a jar
This is a whimsical summer craft that's cute and easy to make. Check out the tutorial here.
94. Do some bubble art
Got bubbles? Paper? Paint? Straws? Then you've got everything you need for kids to make bubble art.
95. Make kaleidoscopes
Kaleidoscopes are easy to make with craft items you probably already have. And they can provide hours of summer fun for smaller kids.
96. Create melty bead art
We call them melty beads at our house but technically, they're Perler beads. And they're a great craft for kids because you can make them into so many different things. (With mom or dad supervising the iron, of course.)
97. Do some simple foam crafts
Foam crafts are easy and good for kids of almost any age. I like to get craft foam from Dollar Tree because it's cheap and comes in lots of colors.
98. Build a marshmallow tower
Building marshmallow towers is a STEM project we did in our homeschool coop last year in preparation for Science Olympiad. Here are some more fun ways to combine marshmallows with basic building materials for STEM fun.
99. Make ice cream cone cupcakes
Have you ever tried these? A fun and kid-friendly way to serve up "ice cream" cones.
100. Try washi tape art
Washi tape is good for more than just scrapbooking. Kids can use it to make original works of art and easy crafts.
101. Write a family story
If you and your kids like reading together, why not write your own story? You can each take turns adding to the store and the sillier it ends up being, the better.
102. Make sand art candles
Sand art is way messy. But you can contain the mess by helping kids use it to make candles instead.
103. Try some pool noodle crafts
If you don't know where to start, check out these amazing pool noodle craft ideas!
104. Make a summer scrapbook
Did you make it to the end of summer with your sanity intact? And did you make some fun memories going through this summer bucket list for kids in the process? Then commemorate it by putting together a summer scrapbook together.
Related post: Ultimate Winter Bucket List: 50 Fun Things to Do This Winter!
Tips for Managing a Summer Bucket List for Kids
Making a summer bucket list for kids can help with fighting off boredom. But it shouldn't be overwhelming!
These tips can help you and your family enjoy the summer with less stress!
Plan ahead
The sooner you get started planning your summer bucket list adventures, the better!
Getting an early start gives you time to make adjustments if you need to. And you can help guide your kids through their summer bucket list without feeling rushed or overwhelmed.
Don't feel like you have to do it all
Having a summer bucket list to follow can be great for keeping kids busy. But you don't need to try and check off everything on the list.
Your time might not allow it (or your budget either). So go through this summer bucket list with your kids and pick out the things that sound most interesting or most fun.
Then focus on checking off those items first–you can always go back to the list if you finish them up before summer ends!
Keep track of what you've done
Using the free summer bucket list for kids printable I've included here can help you keep track of your progress. By focusing on what you've done you can feel less pressure about completing the entire list.
And you can also document the fun things your kids are doing with pictures, videos or an end of summer scrapbook!
Have fun!
This has to be the most important rule for following this summer bucket list for kids. After all, if you're not having fun as a family, why bother?
So as you dive into this list of summer activities for kids, keep the focus on fun and enjoying the time you spend together.
Final thoughts on planning a summer bucket list for kids
As you get ready for the long hot days of summer, be sure to pencil in some of these ideas on your calendar. And if you need one more idea, try asking kids some funny questions to get to know them better!
And don't forget to download your free Summer Bucket List for kids printable in the Busy Mom Vault!
Got a great idea for fun things to do with kids this summer? Tell me about it in the comments, then remember to pin and share this post!
What's on your summer bucket list for kids?