Do you need some ideas for things to declutter because you're completely overwhelmed by the stuff in your house?
Too much stuff can make your house feel cramped and suffocating instead of clean and comfortable. If you feel like your home is more crowded than it needs to be, finding things to declutter that you no longer need is the answer.
But what belongs on the list of things to declutter? What should you donate or throw away? And what do you keep?
Don't worry, I've got the answers to all those questions. So if you're ready to declutter your home for good, let's dig in!
Related post: Declutter Your Home Checklist (10 Free Decluttering Printables!)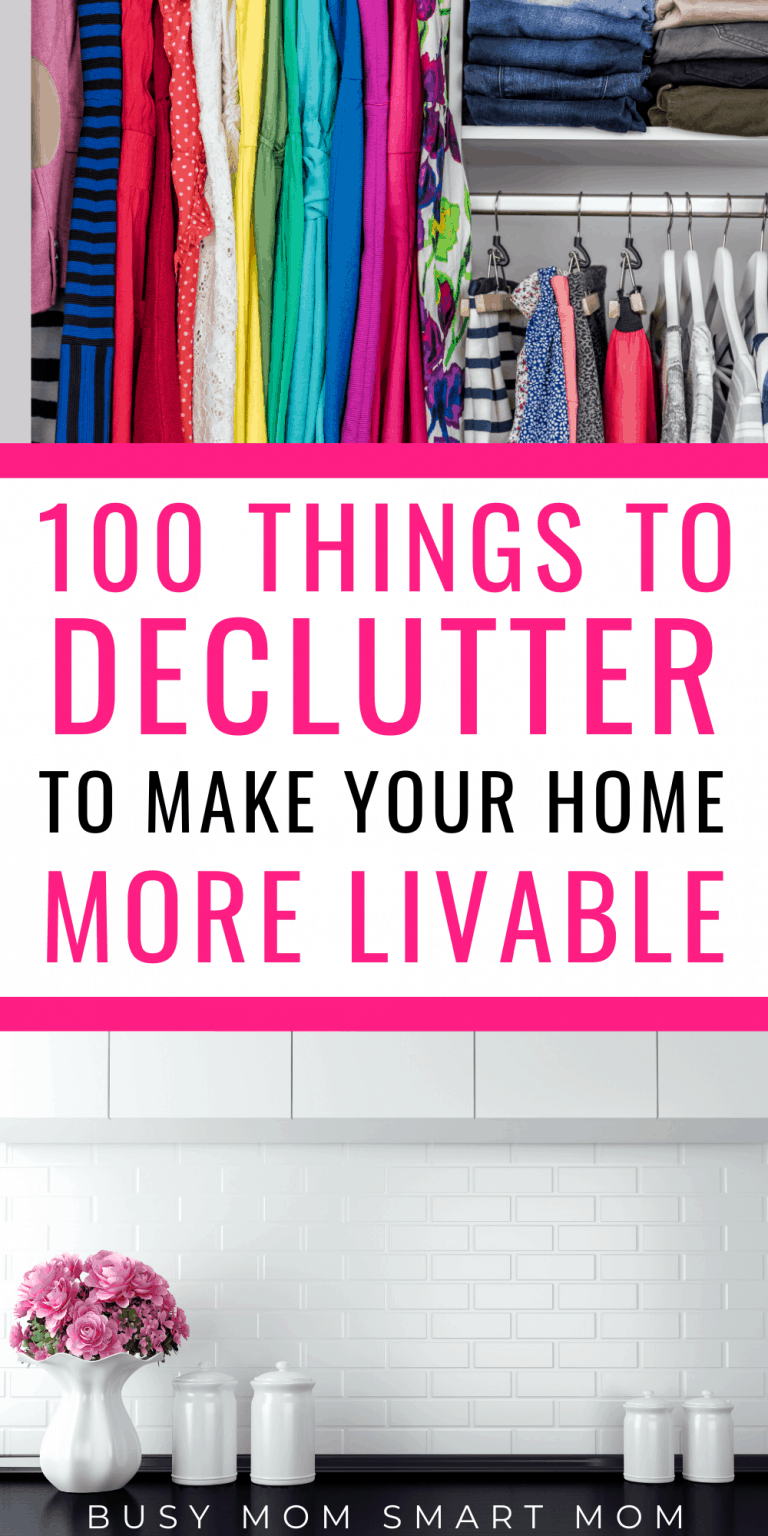 100 Things to Declutter for a Neat and Tidy Home
Trying to choose 100 things to throw away or donate all at once can be a little intimidating. So to keep things simple, I've broken this list into categories so you have a map to follow as you declutter different areas of your home.
Things to declutter in the kitchen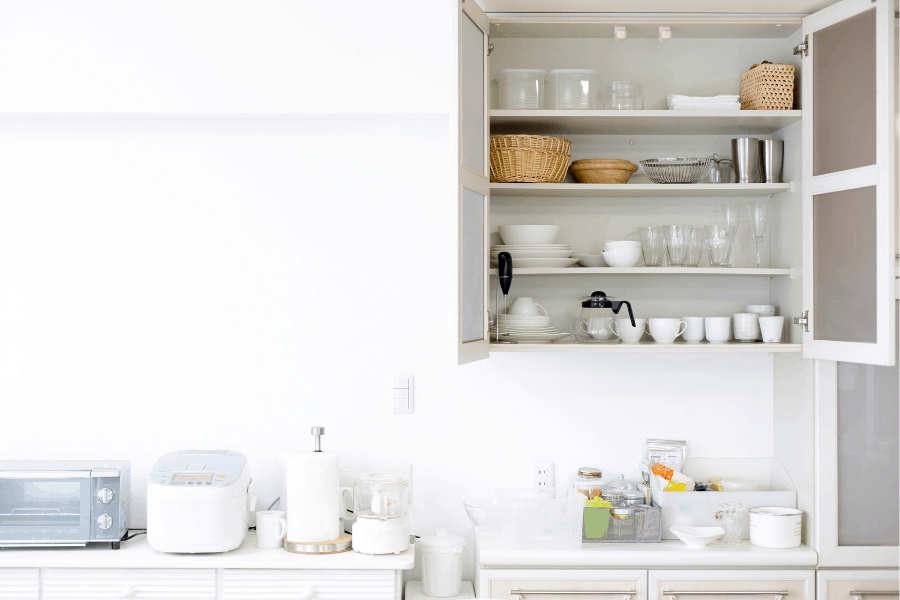 1. Cookbooks you don't read or use
2. Utensils you have duplicates of
3. Cracked or chipped baking dishes
4. Pots and pans that are scratched or scorched and can't be revived
5. Fridge magnets
6. Kitchen gadgets and small appliances you rarely use
7. Threadbare oven mitts and towels (Or if you're like me, toss out all the oven mitts you scorched by leaving them on top of the stove.)
8. Old spices and out-of-date food items
9. Chipped mugs, glasses and dishware
10. Mismatched Tupperware and plastic food storage
11. Out-of-date single-serving condiments
12. Sippy cups, plates, bowls and silverware your kids have outgrown
13. Measuring cups and spoons you have duplicates of
14. Outdated appliance instruction manuals
15. Junk drawer items, such as dead batteries, notepads and pens you never use or empty rolls of tape
16. Baking sheets, cake pans and cupcake tins that are greased-over or rusted and can't be deep cleaned
17. Paperwork and junk mail that's cluttering up your family command center
18. Paper phone books (We still get these where I live, do you?)
19. Plastic grocery bags that can be dropped off at the grocery store for recycling
20. Empty containers that you always plan to reuse but never do
Related post: Easy Kitchen Decluttering Hacks to Organize Your Kitchen
Things to declutter in the bathroom
21. Expired medications and vitamins
22. Old makeup and makeup brushes
23. Expired skincare products
24. Sample-size health and beauty products you never used
25. Old towels and face cloths you don't use
26. Beauty gadgets or tools you don't use
27. Old sunscreen and lotions
28. Expired feminine hygiene products
29. Dried up nail polish
30. Combs and brushes that are missing bristles/teeth
31. Empty perfume or cologne bottles
32. Bath toys your kids have outgrown
33. Extra shower curtains and bath mats you don't need (I have 3 extra shower curtains right now in my closet I need to declutter)
34. Expired or unused shaving products
35. Empty or near-empty cleaning products
36. Expired contact lens solution
Things to declutter in the living room
37. Magazines you aren't reading
38. Home decor items you don't need
39. DVDs and video games
40. Books you don't need or read
41. Throw pillows that have lost their shape or no longer match your decor
42. Extra throw blankets you don't need
43. Side tables, coffee tables or other furniture you're not using
44. Board games you no longer play
45. Throw rugs that are threadbare, stained or no longer match your decor
46. Extra candles and candle holders
47. Dead houseplants that are collecting dust
48. Pet toys your dog or cat doesn't play with
49. Baskets or bins that don't serve a purpose
Things to declutter in the bedroom
50. Clothes that don't fit or you no longer wear
51. Shoes
52. Purses and accessories you don't use or wear
53. Bed linens and unused comforters
54. Pillows that have lost their shape
55. Extra curtains
56. Throw rugs
57. Jewelry you don't wear
58. Exercise equipment you don't use
59. Loose change and other pocket items that end up on your dresser-top
Things to declutter in kids' rooms
60. Toys that aren't part of your toy rotation
61. Clothes and shoes your kids have outgrown
62. Board games and puzzles that are missing pieces
63. Books your kids don't read
64. Extra sheets and bedding you don't use
65. Wall hangings and decor items they've outgrown
66. Socks with holes (My son has about a million and a half of these)
67. Dried up Playdoh
68. Pajama sets that are missing tops or bottoms
69. Extra clothes hangers
70. Backpacks that have holes or tears that can't be patched
71. Fast food kids' meal toys
Things to declutter in the garage
72. Broken holiday lights
73. Holiday decorations you don't use
74. Rusted nails and screws
75. Power tools that no longer work
76. Broken rakes and hand tools
77. Dried out paint and paintbrushes
78. Damaged extension cords
79. Kids' bicycles they've outgrown
80. Outdoor toys your kids no longer play with
81. Cardboard boxes
82. Broken or rusted patio furniture
83. Grills or barbecue utensils that are rusted or broken
Things to declutter in the closet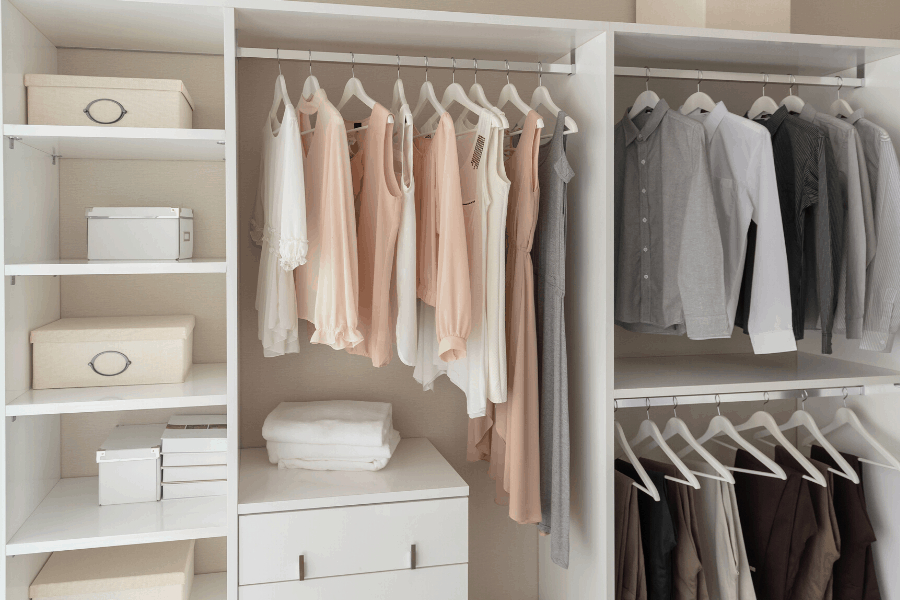 84. Winter coats and accessories you no longer wear
85. Old greeting cards you don't want to keep
86. Suitcases or luggage that's broken or you don't use
87. Gift wrap and tissue paper you don't need
88. Broken umbrellas or unused raincoats
89. Extra reusable shopping bags that you don't need
90. Extra flashlights you don't need
Other miscellaneous things to declutter
91. Any packaging that can be recycled
92. Food wrappers that pile up in your car
93. Arts and craft supplies you don't use
94. School supplies you don't need
95. Expired gift cards
96. Old receipts and paperwork you no longer need
97. Coupons for stores you never shop at
98. Take-out menus for restaurants you don't eat at
99. Extra office supplies, like empty pens or broken pencils
100. Old electronics and chargers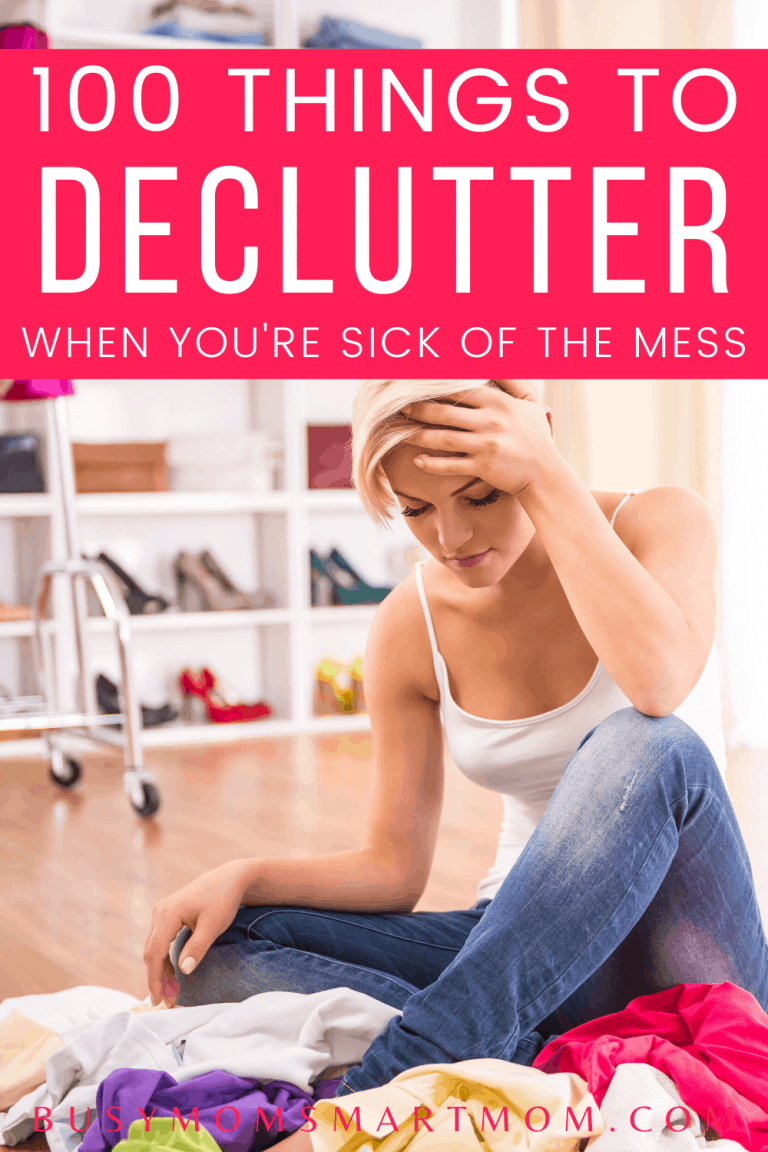 Tips for Decluttering Your Home
Before you start digging through your stuff, I thought it would help to give you a few decluttering hacks you can use to make this process as smooth as possible.
Use a timer
Decluttering your house can eat up hours of your time if you let it. A simple way to avoid the time-suck is using a timer to limit how long you declutter in any one area.
For example, you might give yourself 20 minutes to go through your bathroom cabinets or an hour to declutter your bedroom closet. Whatever time frame you decide on, stick with it. Otherwise, you'll end up falling down the decluttering rabbit hole.
Keep the items you're decluttering organized
As you start to declutter, you'll need to decide what you want to keep, what things to throw away and what to donate or recycle. You can run into a problem if you're not keeping track of what's what.
Before you get down to business, set up some bins or boxes for each category to help keep things separate. And remember to grab your decluttering checklist so you can mark items off as you declutter them!
Ask the right questions
As you're going through your things, ask yourself these questions:
Do I use this?
Do I need this?
Is this a duplicate of something I already have? (I confess, I'm guilty of buying things twice because I forgot about the first one.)
Would I buy this again if I didn't already own it?
Does this make my life easier in some way?
You can also go the Marie Kondo route and ask yourself whether an item sparks joy.
Although I think you still need to consider something's function before tossing it out. I've held on to plenty of stuff that doesn't fill me with rainbows and sunshine because it still serves a purpose.
What to Do With Your Unwanted Stuff
If you've gone through this list and decluttered all these items, you should have several piles of stuff at this point.
Some of if you'll just throw away. Anything expired or broken can go right in the trash.
Some of it you might be able to recycle. Cardboard boxes and plastic bags go in this category.
Then there's the stuff you might want to donate. But if you're short on cash, let me make one little suggestion. Why not sell your clutter instead?
There are so many places you can sell your extra stuff for cash, including decluttering apps, Facebook Marketplace, eBay and local bargain groups. Selling things online is my personal favorite because you can get rid of your stuff and make money without leaving home!
If you're looking for some ideas on where to sell extra stuff, check out these apps:
Decluttr. Decluttr is great for selling electronics, CDs, DVDs and even Legos.
Second Sale. If you have books you want to get rid of, you can list them on Second Sale.
Gazelle. Gazelle is great for selling electronics. You can box up your items, ship them to Gazelle and get paid!
You can also sell your clutter in-person using apps like Letgo and OfferUp but I prefer apps that let you stay close to home.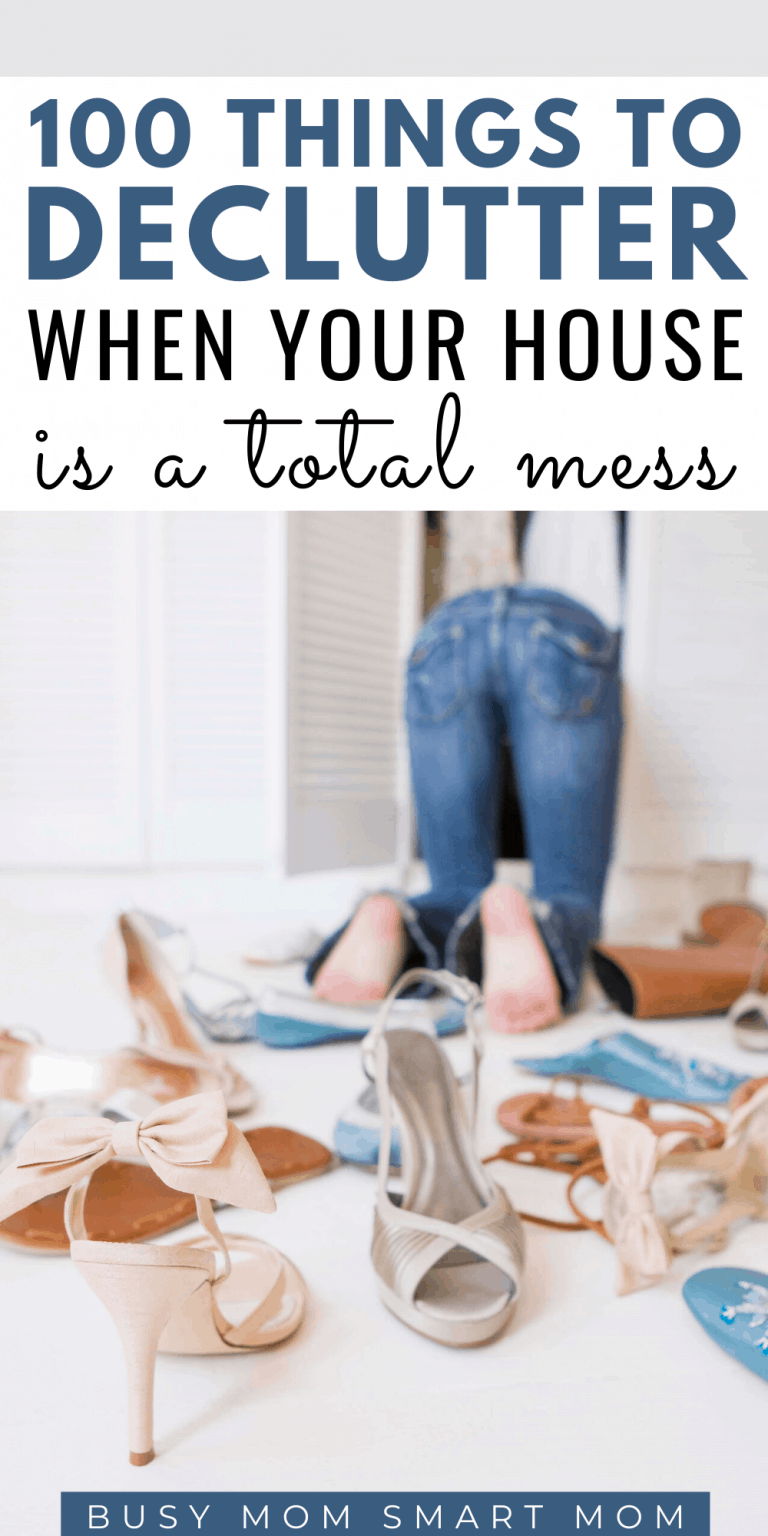 Final thoughts on things to declutter
If you've been wanting to declutter but felt like you had no clue where to start, this list can get you going.
And if you're already a decluttering pro, I'd love to hear your best tips for keeping a clean and organized home!
Need more help getting organized? Read these posts next:
100 Things to Declutter