Need a simple fall cleaning checklist to get your home ready for the autumn season?
One of the best ways to get ready for fall is decluttering the house and getting organized. And a fall cleaning checklist can make tidying up your home easier and less stressful.
Even if you have a spring cleaning checklist you follow, things may tend to pile up over the summer when your routine is more relaxed.
So fall is a great time to get the house back in shape and clear out the mess!
If you're ready to have a neat and tidy home just in time for fall, this post is a must-read.
I've got the ultimate fall cleaning checklist to follow to get your home organized so you can spend your time relaxing and enjoying pumpkin spice everything!
It's a complete room-by-room guide of things to clean and declutter for a more livable home.
Sound good? Then let the fall cleaning begin!
Related post: How to Create a Simple Weekly Cleaning Schedule
Why Do We Clean for Fall?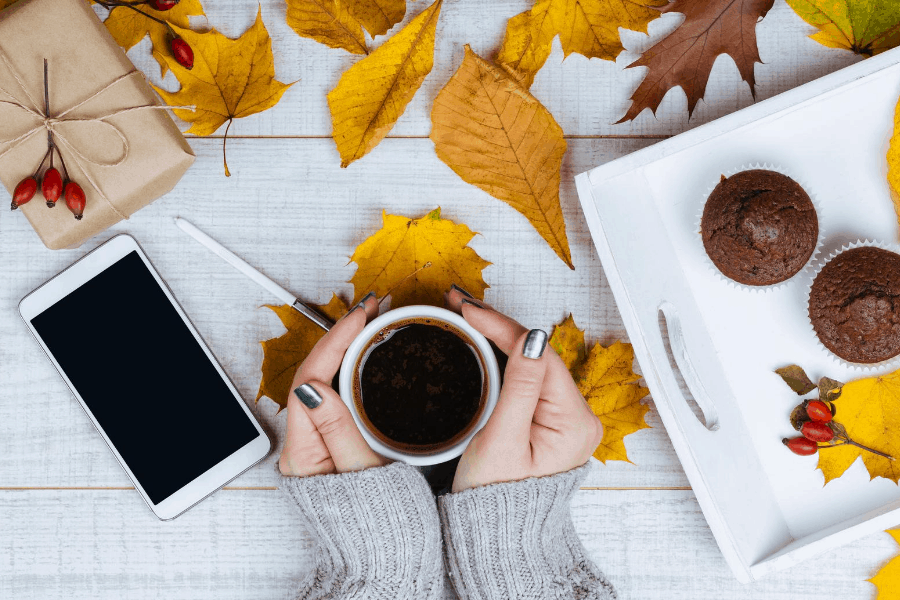 That's a great question!
There are some good reasons why following a fall cleaning schedule is important.
For one thing, your house might be a junked-up mess if your kids have been home all summer. So a fall clean-up is a great time to clear out the clutter.
And for another, fall cleaning can help get your home clean and ready for the winter cold and flu season. A clean home could help you cut down on germs and stay healthy!
So how do you clean in fall and get your home ready for autumn?
And the answer is different for everyone but typically, it means doing things like:
Deep cleaning
Decluttering and getting rid of things you no longer want or need
Breaking out the fall decor and doing some seasonal decorating
Making sure that your home is safe and everything's working properly
Fall is a great time to do these kinds of things if you want to keep your home well-maintained.
You might do regular spring cleaning but cleaning up in fall means your home will be cozy and comfortable once you're stuck inside during the cooler months!
Related post: 10 Simple Spring Cleaning Tips to Try If You Hate to Clean
When Should You Start Fall Cleaning?
The best time to start fall cleaning is when you're able to fit it into your schedule and you're ready to start getting ready for cooler weather.
For example, you might decide to start your fall cleaning checklist:
Once your kids go back to school
On the first day of fall
Whenever the weather starts to turn from warm to cool where you live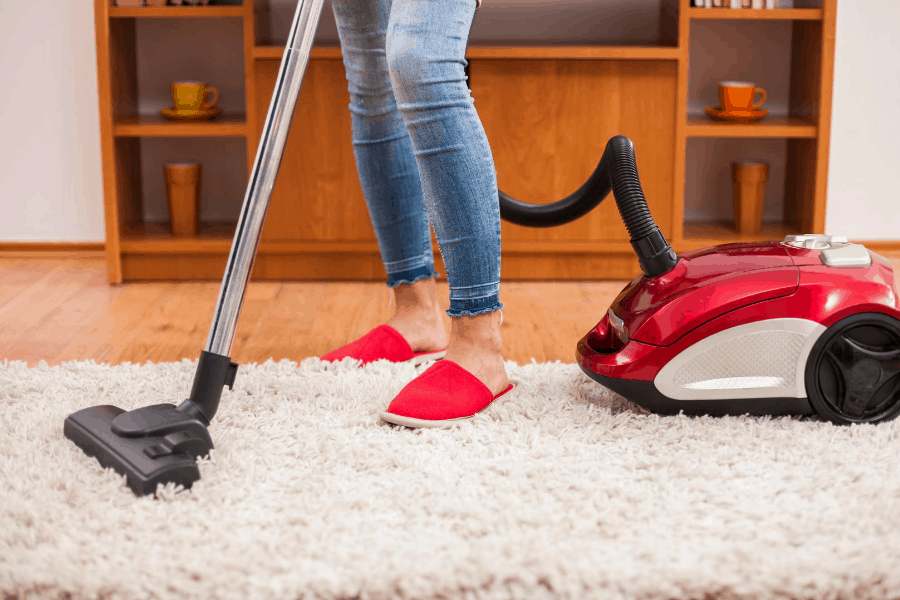 I like to start getting ready for fall around the end of August/first of September.
Even though I live at the beach, I much prefer the cooler weather to the hot. So getting my house clean, organized and decorated for fall is always something I look forward to.
Fall starts in late September but you don't have to wait until then to start cleaning and organizing. And if you're closer to Halloween than September when you get started, don't panic.
It doesn't matter so much when you get started unless you live someplace where it snows in November. Then you'll want to be the early bird.
Whenever you choose to start tackling your fall cleaning schedule, try to do it at the same time each year. This can make it easier to get into the fall cleaning habit.
Related post: How Often Should You Clean Your House?
Ultimate Fall Cleaning Checklist
Ready to whip your home into shape so you can relax and enjoy the change of seasons?
Here are the most important things to include in a fall deep cleaning checklist!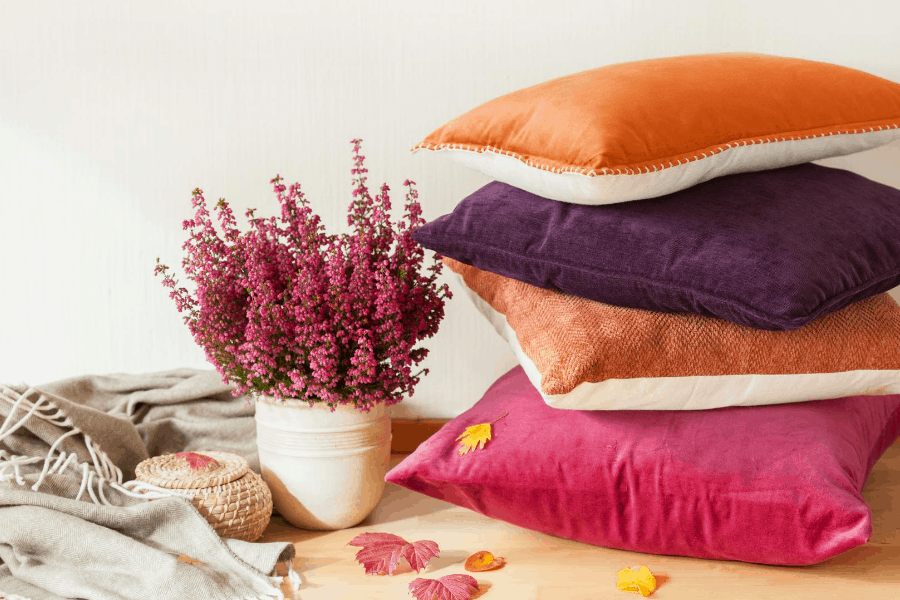 Fall cleaning checklist for the kitchen
1. Dust your refrigerator coils. (This helps your fridge run more efficiently!)
2. Dust the tops of your kitchen cabinets and the baseboards.
3. Clean out the clutter under your sink and replace it with a handy organizer.
4. Deep clean the inside of your dishwasher.
5. Degunk around your faucet and clean up your kitchen grout.
6. Organize your kitchen pantry. (Try these cute baskets to add some fall harvest touches!)
7. Deep clean your microwave inside and out.
8. Wash and disinfect your garbage cans.
9. Deep clean your oven and vent hood.
10. Clean up your fridge and get rid of clutter with these space savers!
11. Toss out expired food.
12. Wipe down kitchen cabinets inside and out.
Related post: Simple Ideas for Creating an Organized Pantry (and Keeping It That Way)
Fall cleaning checklist for the bathroom
13. Wash your shower curtain and liner (or replace it if necessary!)
14. Declutter any expired cosmetics or toiletries, including prescriptions or medications.
15. Dust molding, baseboards and light fixtures.
16. Deep clean your shower head.
17. Scrub your shower tile and grout.
18. Replace your toothbrushes.
19. Wash your bath mats.
20. Clean out under your cabinets and use baskets to organize vanity drawers.
21. Delint your hairdryer and clean out hair from your brushes.
22. Round up loose toothbrushes, toothpaste and soap in a handy holder.
23. Deep clean around your toilet (especially if you have little boys!)
Related post: How to Clean a Messy House When You Don't Know Where to Start
Fall cleaning checklist for the bedroom
24. Wash all bedding, including sheets, blankets and comforters.
25. Swap out pillows that have lost their shape for new ones.
26. Dust your blinds.
27. Wash the curtains.
28. Invest in a sturdy hamper if you're tired of dirty clothes being left on the floor.
29. Store warm weather clothing away for next season.
30. Flip your mattress or invest in a gel topper for a more comfortable sleep.
31. Declutter nightstands and dresser tops.
32. Switch out summer bedding for warmer blankets.
33. Dust ceiling molding and baseboards.
Related post: 17 Simple Dusting Hacks That Actually Work to Keep Your Dusty House Clean
🌟NEED A SIMPLE WAY TO ORGANIZE CLEANING TASKS?🌟
The Busy Mom's Cleaning Planner includes everything you need to create a realistic cleaning schedule and banish the mess for good!
It's a must-have for any busy mom who's overwhelmed by cleaning tasks!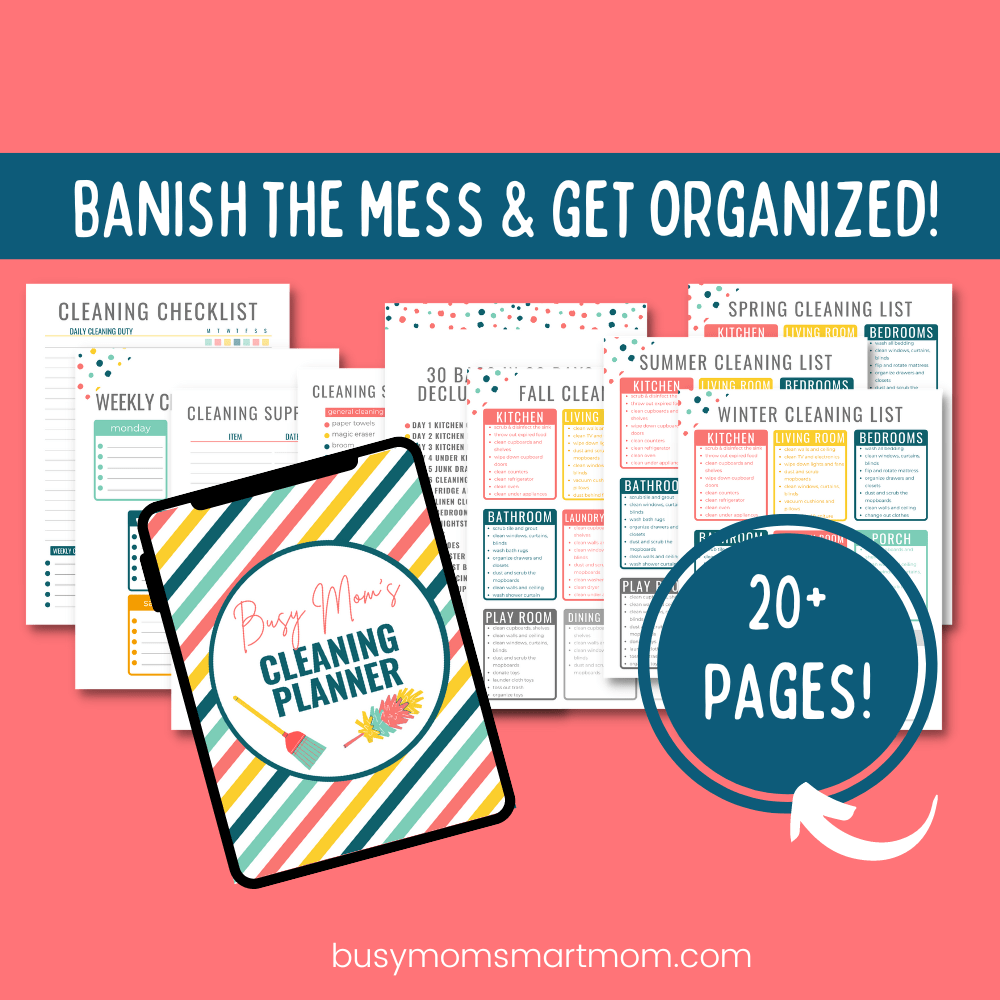 Fall cleaning checklist for kids' rooms
34. Declutter kids' toys and consider starting a toy rotation.
35. Launder bedding and switch it out for warmer blankets.
36. Use a cute bookshelf to stash books, magazines and DVDs.
37. Sort through your kids' fall wardrobe and pull out anything they've outgrown.
38. Spot clean rugs and carpets.
Fall cleaning checklist for the living room
39. Toss, donate or recycle old magazines.
40. Round up stray toys with baskets or bins.
41. Dust walls, furniture and baseboards.
42. Vacuum carpets or rugs and spot clean as needed.
43. Spot clean upholstery and use your vacuum attachments to clean up the cracks.
44. Vacuum or sweep under furniture.
45. Switch out old lightbulbs for energy-efficient ones.
46. Dust your plants.
47. Dust the blinds and ceiling fans.
48. Wipe down TV screens and computer screens.
49. Clean out your fireplace if you have one.
50. Wipe down remote controls.
51. Wash blankets and throw pillows.
Related post: 11 Daily Tasks to Clean House Quickly When You Don't Have Time for the Mess
Fall cleaning checklist for outside the home
52. Clear out the gutters.
53. Sweep or blow walkways clear of leaves and debris.
54. Trim back overhanging branches or hedges that have grown over the summer.
55. Put away summer furniture or kids' toys.
56. Clean and disinfect garbage cans.
57. Check outdoor lighting fixtures and replace bulbs as needed.
58. Clean your chimney (or hire someone to do this for you.)
59. Rake up leaves and pine straw.
60. Power wash your walkways, porch or driveway.
61. Cut the grass one last time.
62. Clean your grill and store it away if you don't use it in winter.
Related post: 21 Painless Ways to Declutter Your Home When You're Tired of the Mess
General fall cleaning list to-dos
63. Check and replace the batteries in your smoke detectors.
64. Test your carbon monoxide detectors if you have them.
65. Check fire extinguishers and refill or replace them as needed.
66. Wipe down walls.
67. Wipe down light switch plates in every room.
68. Replace your air filters and consider getting your HVAC system professionally serviced.
69. Wipe down doors and doorknobs.
70. Turn your ceiling fans so air circulates upward.
71. Check for air leaks around windows and doors and replace the weather stripping if necessary.
72. Declutter and organize the garage if you have one.
73. Launder or replace pets' bedding.
74. Open the windows to air out your home.
75. Clean and declutter your car.
Related post: 100 Things to Declutter Right Now to Make Your Home More Livable
Fall Cleaning Checklist PDF
Need a simple way to keep track of your fall cleaning list?
This free downloadable fall cleaning schedule printable is available in the Busy Mom Vault!
Just click the image below to be taken to the sign-up page where you can plug in your email address. Once you're signed up, the fall cleaning checklist will be on its way to you. PLUS, you'll get access to all of my other free home management printables!
What to do if you're overwhelmed by fall cleaning
This checklist is designed to give you some ideas on how to get your house clean and ready for fall.
But what do you do if you're completely overwhelmed by the mess?
If the clutter in your home is more than you can deal with, then you may need more than just a simple checklist to get it together.
That's where The Organized Home course from Hilary at Pulling Curls comes in.
It's a must-have for busy moms who want to get their home organized and keep it that way! And doesn't that sound good?
This course could be just what you need if you:
Are tired of feeling overwhelmed by the mess in your home
Need help creating routines and systems to stay organized
Want to have calmer, stress-free days as a stay at home mom or working mom
Head here to learn more about The Organized Home now!
What's on your fall cleaning checklist?
This post is meant to give you a guide for getting your home clean and organized as summer winds down.
Do you follow a regular fall cleaning schedule to get your home ready for autumn?
If so, I'd love to hear what's on it!
Head to the comments and tell me about it. Then don't forget to pin and share this post!
Grab your free printable fall cleaning checklist in the Busy Mom Vault. And be sure to check out some of my favorite Busy Mom Resources before you go!
Fall Cleaning Checklist + Free Printable!