Need some help getting your spring cleaning plans underway?
Maybe you love having a clean home but don't like the actual work of cleaning. Or you just don't have time to spend all day cleaning up the mess.
What you need are some time-saving spring cleaning tips so you can get your home organized faster.
Having a clean house can bring some calm to the chaos and help you feel less stressed.
And it's easier to enjoy your family when you're not overwhelmed by the mess.
If you don't have a spring cleaning routine or plan, then it's time to change that!
And that's what I want to help you with today. Because I love the feeling of a clean home but like you, I don't exactly adore the work that goes into it.
So here are my best spring cleaning tips to help you get the job done in less time!
Related post: Printable Spring Cleaning Checklist (Easy Free Download!)
---
---
Spring Cleaning Tips for Busy Moms
1. Organize your spring cleaning supplies
Getting your spring cleaning done quickly is a lot easier when you've got all your cleaning supplies in one place. If you're trying to get things done faster, the last thing you need is to be hunting around for toilet cleaner or furniture polish.
At our house, I've reserved a shelf in the laundry room that's right by the door. Cleaning products are lined up and grouped together based on which room they're used in so I can just reach in, grab something and go.
You can try that system but if you really want to save time on spring cleaning, you could carry your supplies with you.
Organizing everything in a cleaning caddy means you don't have to make trips back and forth so there's less time wasted. You can stock it up with all the basics so you have everything you need to clean at your fingertips.
And if you need more ideas for organizing your laundry space, check out some of the tips at Easy Closets.
2. Prioritize your spring cleaning routine
Spring cleaning your entire house top to bottom in a weekend is a great goal to shoot for, but it may not be realistic. Especially when the kids are home from school and you don't have time to clean.
Instead of trying to do it all (and maybe driving yourself crazy in the process), prioritize what needs some deep cleaning attention and what you can spend less time on.
If you're not sure what to prioritize, focus on what's going to have the most impact on making life easier for your family.
For example, cleaning out your kitchen cabinets and organizing your pantry could make meal planning easier and save you time making dinner.
Or organizing your kids' closets and setting up a toy rotation could help you stay on top of the mess. Plus, a toy rotation can keep kids from getting bored as easily.
Things like that can be more impactful than cleaning out a hallway closet or dusting all your light fixtures. Not that those things aren't important but if you've got limited time and energy for spring cleaning, you need to be smart about where you use it.
Related post: How to Create a Realistic Working Mom Cleaning Schedule
3. Tackle dreaded spring cleaning chores first
If you have a spring cleaning chore that bugs you more than others, here's my best spring cleaning tip: do it first.
This is known as eating the frog in productivity circles.
By getting the thing you're dreading most out of the way, it's not hanging over your head all day. You're not mentally weighed down by it and you end up being more productive because that one thing is done.
So look at your spring cleaning priority list. Which chore do you hate with the white-hot intensity of a thousand suns?
Do that one first so you can get it off your spring cleaning to-do list. Once it's out of the way, the rest of your spring cleaning routine will feel like a breeze.
Related post: How to Be Productive: 3 Secrets for Stay-at-Home Moms
4. Spring clean smarter, not harder
Normally, I'm not a big fan of multitasking. Study after study shows that trying to do all the things at one time makes you less productive.
But when it comes to spring cleaning tips I'm okay with bending that rule.
Because there are lots of smaller things you can do while tackling the bigger items on your spring cleaning list.
For example, you could:
These are simple mom cleaning hacks that can make a big difference in how much time you save. The idea is to let the smaller things on your cleaning list handle themselves!
Related post: 11 Daily Tasks to Clean House Quickly When You Don't Have Time for the Mess
5. Spring clean in blocks and set a timer
Spring cleaning your house will eat your life if you let it. So one of my favorite spring cleaning tips for busy moms is using time blocking to get it done.
Time blocking just means blocking off set periods of time for certain tasks. It's a strategy you might already use if you're a work at home mom.
So here's how you can apply it to spring cleaning.
Cleaning in short blocks like this forces you to focus on the task in front of you.
And by giving yourself small breaks in between tasks or rooms, you're less likely to get overwhelmed.
---
🌟NEED A SIMPLE WAY TO ORGANIZE CLEANING TASKS?🌟
The Busy Mom's Cleaning Planner includes everything you need to create a realistic cleaning schedule and banish the mess for good!
It's a must-have for any busy mom who's overwhelmed by cleaning tasks!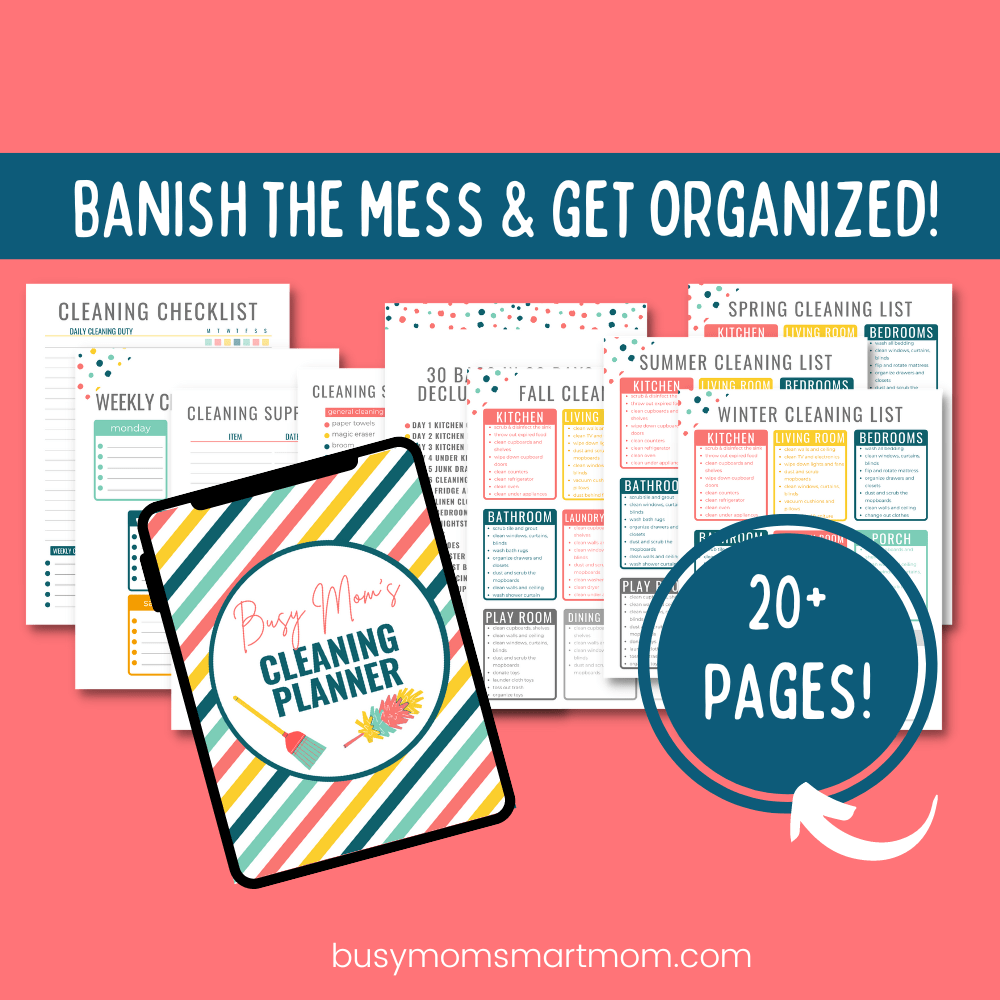 ---
6. Break down big spring cleaning chores into smaller ones
Sometimes spring cleaning means doing the thing you've been putting off for months because it just feels like too big of a chore.
For me, it's cleaning up my walk-in closet. When we bought the home we now own, I tossed anything we didn't need for everyday living into that closet. And it's just been sitting there glaring at me every time I go in there for something.
So if you have a big spring cleaning task you're dreading, make it easier by breaking it down.
Cleaning out your garage, for example, can be especially daunting. But you can make it less stressful by dividing the garage up into zones.
Say you split it up into four zones and you want to get the garage cleaned up in a weekend.
On Saturday, you could spend the morning working in zone 1 and the afternoon in zone 2. Then on Sunday, you split up the day between zone 3 and zone 4.
The more you can break it down, the less daunting spring cleaning can feel. And you can also ease the burden by following the next tip on the list.
7. Make spring cleaning a family effort
You're not the only one who lives in your home so you shouldn't be the only one who helps to keep it clean. Or at least, that's how I feel about it.
So when you're ready to start putting spring cleaning tips to work, get the whole family on board.
Start with assigning age-appropriate cleaning chores to kids.
If you've got kids under 5, for example, they can do simple things like sorting laundry by color, dusting baseboards or putting away toys.
Big kids can help with organizing the pantry, cleaning out their closets or dresser drawers, wiping down kitchen cabinets and sweeping.
If you have tweens or teens, they can vacuum, mop, clean bathrooms, clean windows and help with cleaning up the garage or doing yard work.
Whatever the kids can't do, you can divvy up the remaining spring cleaning chores with your spouse.
And if you're a single parent like me, then you go back to the priority list you made earlier and pick the most important things. Then just work on getting those items done.
8. Find ways to make spring cleaning fun
Cleaning and fun don't seem like they belong in the same sentence, do they?
But if you can find ways to make spring cleaning fun then it can make the time go by faster.
Try these spring cleaning tips for adding a little fun into the mix:
The more fun you can make spring cleaning, the easier it is to feel motivated about getting it done.
9. Declutter as you spring clean
One of the best ways to make spring cleaning less of a hassle is to have less stuff to clean.
For example, when we moved into our new home I decided to keep decorating to a minimum.
Less stuff on the walls or tabletops = less stuff to dust. And honestly, I kind of like the minimalist vibe our home gives off. It's easier to appreciate just how beautiful the home is structurally without a bunch of junk in the way.
So as you go about your spring cleaning, consider doing double duty and decluttering your house at the same time.
Books, board games, toys, movies, video games, clothes, kitchen gadgets — that's all stuff you may not need anymore that you can get rid of.
Bonus points if you can make some money by selling your clutter. That's an easy way to make extra cash, which is great if you're a one-income family living on a tight budget.
And there are so many places you can sell your stuff online, including:
Related post: 100 Things to Declutter Right Now to Make Your Home More Livable
10. Aim for done instead of spring cleaning perfection
The reality for us busy moms is that we can't do it all. So as you approach spring cleaning, try to avoid the perfection mindset.
Would it be nice to have a house that's sparkly clean and scrubbed from top to bottom?
Absolutely. But sometimes, just getting the job done is better than having it be perfect.
Because really, what good is an immaculately clean home if you're tired or stressed out at the end of the day to enjoy it?
This is where sticking to your priority list for spring cleaning can help. Even if you only get to the things on that list, you'll have done the things that are going to benefit your family the most.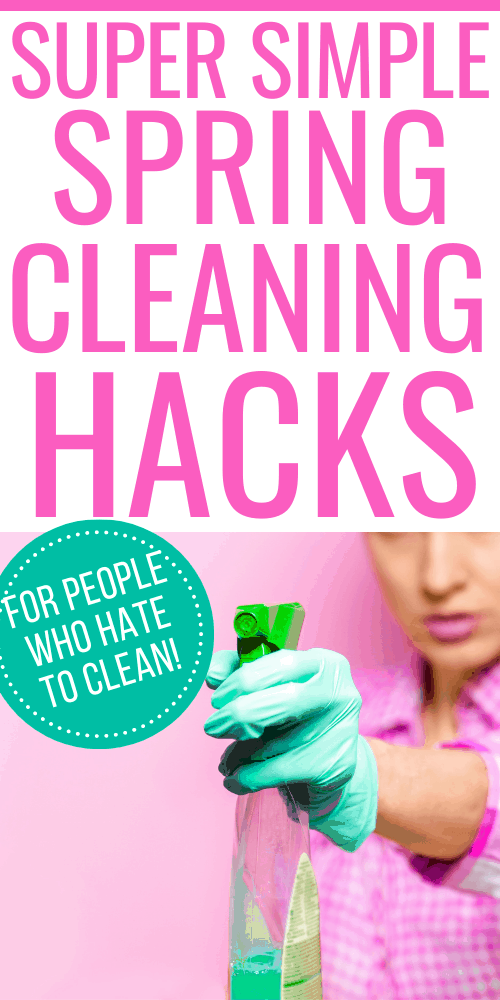 Final thoughts on spring cleaning tips for busy moms
Spring is here and having a clean home can you and your family can relax in can make it more enjoyable. (Especially if you're cooped up at home and can't get out!)
Do you have any spring cleaning hacks or tips to share that can make mom life easier?
If so, head to the comments and tell me about it, then please pin and share this post!
What are your favorite spring cleaning tips?