Struggling to come up with ideas for the best gifts for busy moms?
Finding the best busy mom gifts–whether it's for a birthday, Mother's Day, Christmas or another special occasion–starts with knowing what busy moms want and need. The best gift ideas for busy moms are ones that make the gift recipient feel appreciated.
But what do you buy for a busy mom?
Not surprisingly, the number one gift busy moms want most is a good night's sleep.
That's not always an easy gift to give. But there are plenty of other practical and fun gift ideas for busy moms you can try.
If you need help putting together a busy mom gift wish list, here are some of the best gifts that moms really want!
Related post: 30 Brilliant Gifts for Stay at Home Moms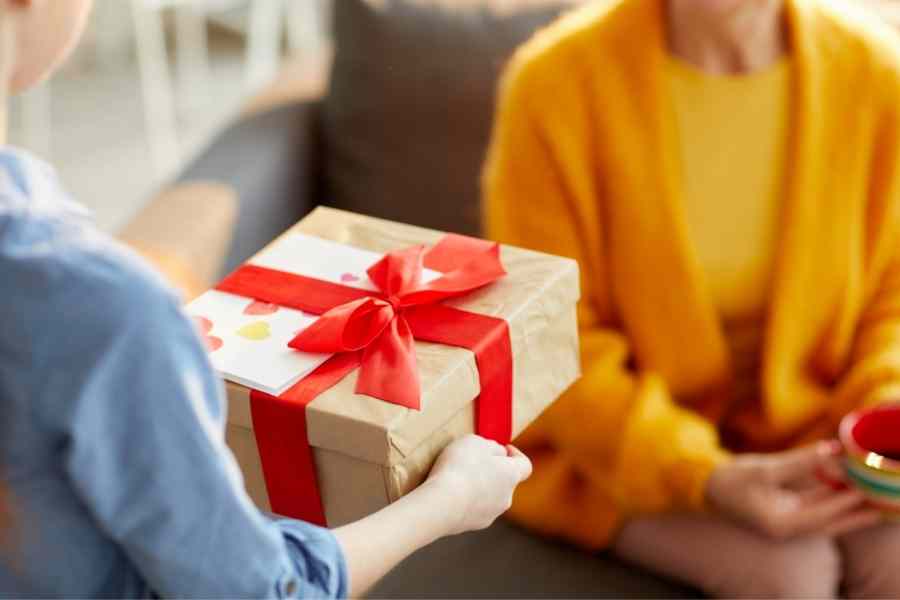 Table of Contents
Best Busy Mom Gifts (Unique Gifts Moms Want!)
1. Instant Pot
Every busy and organized mom knows no kitchen is complete without an Instant Pot. Whoever invented this thing is seriously a genius.
I was really skeptical about using one since I've always been a crockpot girl. But if you want to save time in the kitchen, you need an Instant Pot in your life.
You can whip up dinner (or breakfast if you're making yogurt) in no time, making planning family meals a breeze. And there are so many amazing Instant Pot recipes out there to try!
2. Happy Planner
I'm a paper planner kind of mom–no digital calendars for me. And my favorite brand of planners are the ones from Happy Planner.
I love Happy Planner's products because they're easy to use, give you plenty of space to jot down important dates and reminders and they're just pretty to look at!
3. Cultivate a Healthy Gratitude Journal
Being a busy mom means you've got a lot going on. And maybe you don't always have time to slow down and count your many blessings.
Keeping a gratitude journal each day can be a great way to practice self-care for your mental and emotional health. And it can be a great reminder of all that's good in life.
This beautiful 52-week gratitude journal is perfect for starting a daily gratitude practice. You can jot down three things you're grateful for every day and record your big wins for the week. There's also a different gratitude challenge you can try each week.
It's a perfect gift for any busy mom who wants to catch their breath while learning to love life.
4. Michael Kors Tote
I don't know about you but I love a big purse. My current bag is a bit catch-all for a little bit of everything.
If you know a busy mom who could use a bag with plenty of room to hold a planner, phone, wallet or anything else, this one from Michael Kors is perfect. And it's just plain pretty, too!
5. Quility Weighted Blanket
Know a busy mom who could use a stress reliever?
A weighted blanket can help soothe frayed nerves. This one from Quility is a calming gift for busy moms who want to relax and unwind.
6. Pure Daily Care Aromatherapy and Essential Oil Diffuser Set
For the longest time, I was a total skeptic when it came to essentials oils. Then I tried them and I was hooked!
If you're looking for the best busy mom gifts for mamas who need help unwinding (or you are one), this aromatherapy and essential oil diffuser set can do the trick.
7. Fitbit Inspire HR Heart Rate & Fitness Tracker
This Fitbit Inspire HR Heart Rate & Fitness tracker gets a mention as one of the best busy mom gifts because my mom swears by hers. She works on her feet all day and loves being able to keep track of her steps and how many calories she burns.
If you're looking to get into shape this Mother's Day or you know a mom who is, this is the perfect gift!
8. Revlon One-Step Hair Dryer & Volumizer
We busy moms sometimes need to get out the door quickly but we still want to look good, right?
This one-step hair dryer and volumizer from Revlon is a must-have tool for any mom who needs to get ready in a flash and wants to avoid a case of the dreaded flat hair.
9. Breathe, Mama, Breathe: 5-Minute Mindfulness for Busy Moms
I can't be the only mom who's ever hidden in the bathroom just to get five minutes of peace, right? Being a busy mom is tough sometimes but this book can help with finding the quiet in the storm.
10. Mama's Turn to Wine Tumbler
Drinking a glass of wine can be a nice way to relax at the end of a hard week. If you know a busy mom who looks forward to wine o'clock every so often, they'll appreciate this cute wine tumbler.
11. Echo Dot
There's not a whole lot that Echo Dot can't do and it can be a time-saving gift for busy moms. You can use Echo Dot to play music, make calls, lock the doors–and it's super affordable, too.
12. Anker PowerCore 10000 portable charger
I bought one of these Anker portable chargers right before Hurricane Dorian came through because I wasn't sure if we'd lose power.
It came in handy then but it's also been a life-saver when we've been traveling or stuck in the car all day and need a quick way to charge phones and tablets. And it's easily one of the best busy mom gifts for moms who are always running errands and need to stay powered up.
13. Origin Best BPA-Free Glass Water Bottle
Water is the drink of choice for many a mom on the go. This BPA-free glass water bottle is great for staying hydrated while being kind to the planet. (Plus, I just love the way it looks!)
14. Drunk Elephant NightBright Duo
Taking care of your skin is important and this NightBright Duo skincare kit from Drunk Elephant is the perfect addition to a busy mom's nighttime routine.
There's also a morning routine skincare set for moms who need a little help getting their glow on at the crack of dawn.
15. Amazon Gifts for Busy Moms
Amazon can be a great place to shop for busy mom gifts!
But what do you buy for a busy mom from Amazon? Here are some of the best Amazon gift ideas:
You can't go wrong with an Amazon gift card. Busy moms can shop for things they want or need!
Amazon Prime is another gift busy moms are sure to love. Moms can stream movies, TV and enjoy free two-day shipping with Prime!
Books are a great busy mom gift. But if the busy mom on your gift list doesn't have time to sit down with a book, you can gift them a subscription to Audible instead!
Bonus Busy Mom Gift Idea: A Helping Hand!
Last but not least on the list of best gifts for busy moms this Mother's Day is the one that costs you nothing: a little of your time.
If you're a mom, you know how valuable a gift this can be. Because we can't do it all, no matter how hard we try.
So if you know a mom who could use a break, ask her how you can help.
Whip up a simple three-ingredient meal so she doesn't have to cook dinner one night. Help out with running errands or chores. Ask her what she needs, even if it's just someone to vent to for 5 minutes.
As moms, we may not always ask for help but we still need it. So if you have time to spare, then this could be the perfect thing to give.
How to Save Money on Busy Mom Gifts
If you're shopping for Mother's Day on a tight budget this year, use these tips to save money!
1. Sign up for Amazon Prime
I love Amazon Prime and use it for almost everything we buy online. If you're not a Prime Member, sign up to get the best prices for online shopping, plus free two-day shipping when available!
Become an Amazon Prime member!
2. Use Rakuten to earn cash back
Rakuten (formerly Ebates) is an online shopping portal that lets you earn cashback on purchases. Plus, you can snag special discounts and deals when shopping online or in-store.
It's free to sign up for Rakuten and earn cashback when you shop. Plus, if you sign up now and spend $25, you'll get a $30 bonus!
3. Earn free gift cards to your favorite stores
If you have time to spare, you can earn free gift cards to Amazon and other retailers when you shop, take surveys or watch videos online.
Sign up with these sites for free to earn gift cards to your favorite stores!
Final thoughts on the best busy mom gifts
This wish list is packed with lots of great ideas for busy moms. Hopefully, I've given you some ideas on what to buy for the busy mom in your life!
If you need more options, here are some of the best self care gifts for moms! And you can also check out my favorite gardening gifts for moms.
Before you go, be sure to check out my favorite Busy Mom Tools for saving time, money and stress. And don't forget to grab your free printables in the Busy Mom Vault!
Looking for a free letter to Santa template for your kids? Download these 6 cute + free Dear Santa letter printables next!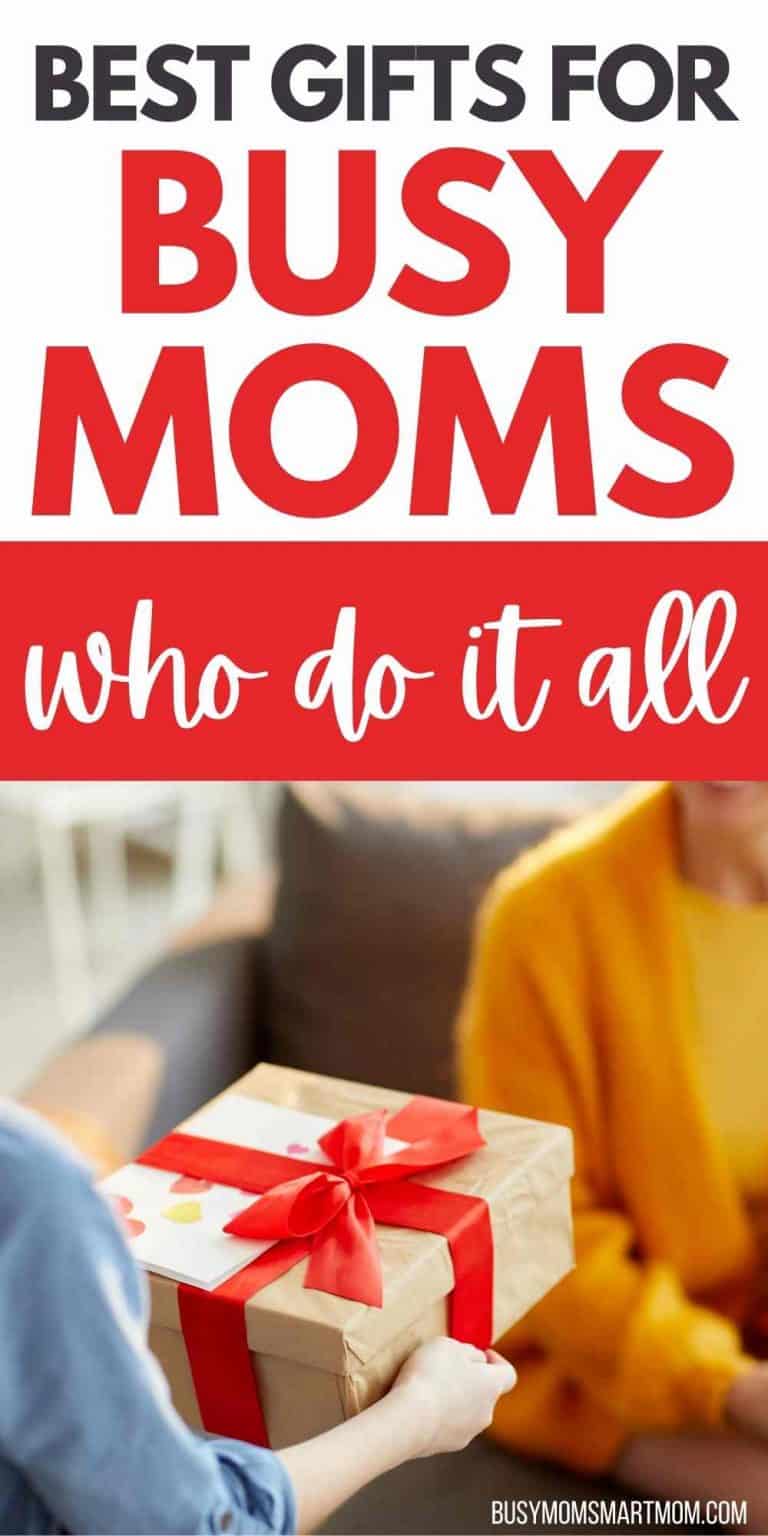 What are your favorite busy mom gifts?