Keeping a clean house with kids is no easy feat. Creating a weekly cleaning schedule can help keep the mess from taking over.
Having a weekly cleaning routine to follow means you're not scrambling to keep your home neat and tidy.
And coming up with a realistic weekly house cleaning schedule isn't as hard as you might think.
If you want to…
Spend less time cleaning
Always have a clean house
…these house cleaning tips for busy moms are just what you need! Plus, I've got a free printable weekly cleaning schedule checklist you can download!
Related post: Ultimate List of Mom Routines to Keep Your Home Organized
Why Follow a Weekly Cleaning Schedule?
Cleaning the house isn't my favorite thing to do. But it's an unavoidable chore, unless I want my home looking like a hoarder house.
Following a weekly cleaning routine makes it easier to tackle the mess.
When you assign specific cleaning tasks to specific days, there's no guessing about what needs to be done or when.
And if you have a schedule for cleaning weekly, you can make time for day to day cleaning tasks and deep cleaning chores.
Plus, following a weekly cleaning checklist can keep you from feeling overwhelmed.
When you're bogged down by the mess, it can be that much harder to get started cleaning up. Putting yourself on a schedule for cleaning weekly can make it easier to dive in.
Related post: How to Start Cleaning When You're Overwhelmed by the Mess
What Is a Good House Cleaning Schedule?
The short answer is that the best house cleaning schedule is one that:
Allows you to get everything done that you need/want to
Fits into your regular daily routine
Breaking up cleaning tasks daily is good because you can decide when to have a lighter vs. heavier cleaning day, depending on what needs to be done.
For example, if Monday is your designated day for running errands then you might choose this today to knock out some of your simplest cleaning tasks.
Another way to think about house cleaning weekly is in terms of your end goal.
Specifically, how clean does your home need to be, day to day?
If you have a regular playdate with another mom on Thursdays, for instance, then Wednesdays might be a pick-up and tidy-up day so your house is company-ready.
The goal is to achieve a level of cleanliness each day that's livable and comfortable for you and your family.
Related post: 10 Simple Home Management Tips for Incredibly Busy Moms
How to Create a Weekly Cleaning Routine
Ready to make your weekly cleaning schedule?
Awesome!
I've got some specific steps to follow for creating a weekly cleaning checklist. And don't worry, it's super easy.
Actually, it involves just three steps.
Step 1: Declutter
A weekly cleaning schedule can help you keep the mess at bay. But that assumes your home isn't buried under clutter.
If your house has a cluttered feel, getting rid of things you don't need can give you a blank canvas, so to speak, for planning a weekly cleaning routine.
Not sure where to start decluttering?
Pick one room and find 10 things to toss, donate or recycle. Then go to the next room and repeat.
That's it.
Doing a little simple decluttering first can get your home prepped and ready for a weekly cleaning groove.
Related post: 100 Things to Declutter When You're Tired of the Mess
Step 2: Make a list of your weekly cleaning chores
Before you can get into a weekly cleaning routine, it helps to know what actually needs to be done.
So grab a notebook or bullet journal and make a list of all your daily and weekly cleaning chores. For example, your weekly cleaning checklist might include:
Doing laundry
Vacuuming
Sweeping and mopping
Scrubbing showers/bathtubs
Wiping down bathroom counters and cabinets
Scrubbing/cleaning the toilet
Dusting
Cleaning windows/mirrors
Wiping down kitchen counters/cabinets
Cleaning the fridge inside and out
Tidying up the pantry
Sorting through the mail
Taking out trash/recycling
Your weekly cleaning list might include all of these things, some of them or a few things I didn't mention.
A good way to go about making your cleaning checklist for the week is deciding what the must-dos are. In other words, what do you need to do for your house to feel clean?
Once you've got your list together, you're ready to move on to the next and final step. 
Related post: Ultimate Fall Cleaning Checklist
Step 3: Assign cleaning tasks to different days
Got your weekly cleaning list?
Great! Now grab your calendar and figure out which days work best for taking care of different cleaning tasks.
Again, think about your daily schedule in general to decide what's realistic.
If you know that you'll have more time to clean on some days than others, then you can assign more cleaning chores to those days.
Also, think about how long individual cleaning tasks take.
For example, how long does it take you to clean the bathrooms? What about dusting or vacuuming?
Setting a timer is a simple trick you can try to clean the house faster if you don't want to get bogged down in chores.
You can pick a room or a task and set a timer for 15 minutes. Once the 15 minutes is up, you move on to something else.
On average, the typical person spends just under 6 hours a week cleaning the house. So it's important to make sure that time is well-spent.
The goal here is to keep your weekly house cleaning schedule simple and workable for you.
In other words, don't feel like you need to cram everything into an afternoon if that doesn't work for your lifestyle.
Pro busy mom tip: Get your kids/spouse to pitch in
If your list of weekly cleaning seems like too much for you to handle alone, get help!
As a single parent, I don't have a spouse to help out around the house. But I can count on my kids to clean their own bathrooms, do their own laundry, pick up their rooms and vacuum.
So think about the cleaning tasks your kids can handle.
At 3 and 4, my kids were able to sort laundry and pick up their toys. So even smaller kids can pitch in to help keep your home clean.
Sample Weekly Cleaning Schedule
If you're still struggling to come up with a weekly cleaning routine, don't panic.
Here's an example of what a weekly house cleaning schedule might look like.
Monday: Kitchen
Having a clean kitchen can make meal prep less stressful and more enjoyable. And if you normally do grocery shopping on Mondays (or get Instacart to deliver them), it makes sense to have the fridge and cabinets cleaned out and tidied up.
Here are some things to include on a weekly kitchen cleaning checklist:
Wipe down counters, including behind small appliances
Dust/wipe down cabinet doors and knobs
Tidy up the pantry and cabinets
Clean out the fridge and wipe down inside and out
Deep clean the dishwasher
Clean the sink and garbage disposal
Wash out the garbage can
Tuesday: Bathrooms
Cleaning up the bathrooms is probably one of my last favorite cleaning tasks. That's why I have my kids clean their own. Whether you're doing the cleaning or your kids are, here are some of the chores to include in a weekly bathroom cleaning checklist:
Wipe down countertops and faucets
Scrub shower doors/walls
Clean the mirrors
Scrub and wipe down the toilet
Mop the floors
Empty trash
Wash bath mats/rugs
You can also tidy up the linen closet if you have one. And I like to wipe down toothbrush holders because these things get seriously gross.
Wednesday: Bedrooms
Surprisingly, the most popular room in the house these days is the master bedroom. If that's true for you, then it makes sense to include a day for bedrooms in your weekly cleaning routine.
Here are some of the main cleaning tasks to include on your weekly checklist:
Change the sheets
Vacuum or sweep and mop if you have hardwood
Pick up and put away clothes, shoes, accessories, etc.
Tidy up dressers and nightstands
Dust surfaces, including ceiling fans and blinds
Thursday: Laundry
Laundry day is one of my least favorite cleaning days. But like everything else, it has to be done.
So as you create your weekly cleaning schedule for laundry, include these tasks:
Do the laundry (and have kids do their own!)
Wipe down your washer and dryer
Organize and tidy up your laundry room if you have a separate space for this
Drop off items that need to be dry-cleaned
Set aside items that need to be mended
Friday: Living room/family room
At my house, the living room is where we spend most of our time. So it makes sense to have this area picked up and tidy. On Fridays, some of the cleaning tasks I handle for the living room include:
Dusting surfaces, including blinds and ceiling fans
Sweeping and mopping (or vacuuming if you have carpet)
Washing pillowcases and throw blankets
Vacuuming the sofa
Cleaning windows
Picking up and putting away
Saturday: Outdoor areas
If you normally spend Saturdays at home as a family this might be the day you earmark for outdoor cleaning. For example, your weekly cleaning schedule might include:
Sweeping your porch or deck
Sweeping sidewalks (or using a leaf blower)
Cleaning windows
Tidying up around the pool or patio if you have one
Cleaning out or organizing the garage
Cleaning out your car
Sunday: Rest/planning
I don't like to clean on Sundays; I'd rather enjoy the fruits of my weekly cleaning routine and rest instead. But Sunday is a good day to prepare for the week ahead. That includes things like:
Printable weekly cleaning schedule
Want a simple weekly cleaning checklist as a visual reminder of what needs to be done?
Download this FREE printable cleaning checklist to organize your weekly cleaning routine!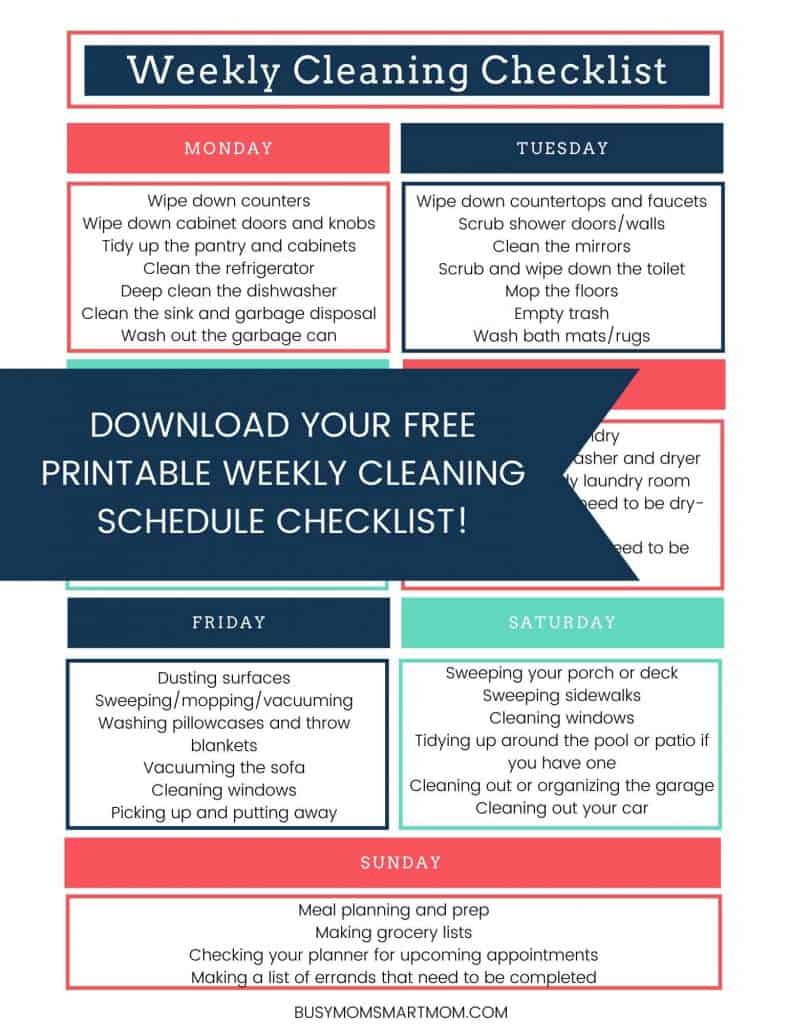 What to Include in a Daily House Cleaning Schedule
I've given you an outline of what to include in a weekly house cleaning schedule.
But you might be wondering what cleaning tasks to do every day.
For me, the things I do daily to keep my home clean include:
Sweeping the floors (a must since we have pets)
Tidying up throw pillows/blankets in the living room
Clearing off kitchen countertops
Wiping down the stovetop and counters
Cleaning the litter box
And I know some moms who swear by doing one load of laundry daily so they don't have to spend an entire day washing and drying and folding.
If you're doing small things every day to clean the house, stick to ones you can do in just a few minutes. Otherwise, you won't have time for the bigger cleaning chores on your list.
How to Stick to a Weekly Cleaning Schedule
Making a weekly house cleaning list only works if you're committed to doing it.
It's so easy to make excuses about why you can't clean and sometimes, they're legit.
One of your kids gets sick or you have to take your cat to the vet because they swallowed a shoelace. Life happens, I totally get it.
But if you're just not motivated to clean at all, ask yourself why that is. Then remind yourself how much you enjoy having a clean, livable home.
Giving yourself a treat or incentive to look forward to for getting your cleaning tasks done can be a huge help.
And if not feeling motivated to clean happens because you don't have a daily routine, there's a simple fix for that.
It's called The Organized Home and it's a must-have program for busy moms who struggle with routines and planning.
If you need help with…
Creating routines and systems
Keeping your home clean and organized
Managing your time
…then The Organized Home can help with all of those things.
Head here to learn more about The Organized Home and how you can use it to transform your mom life!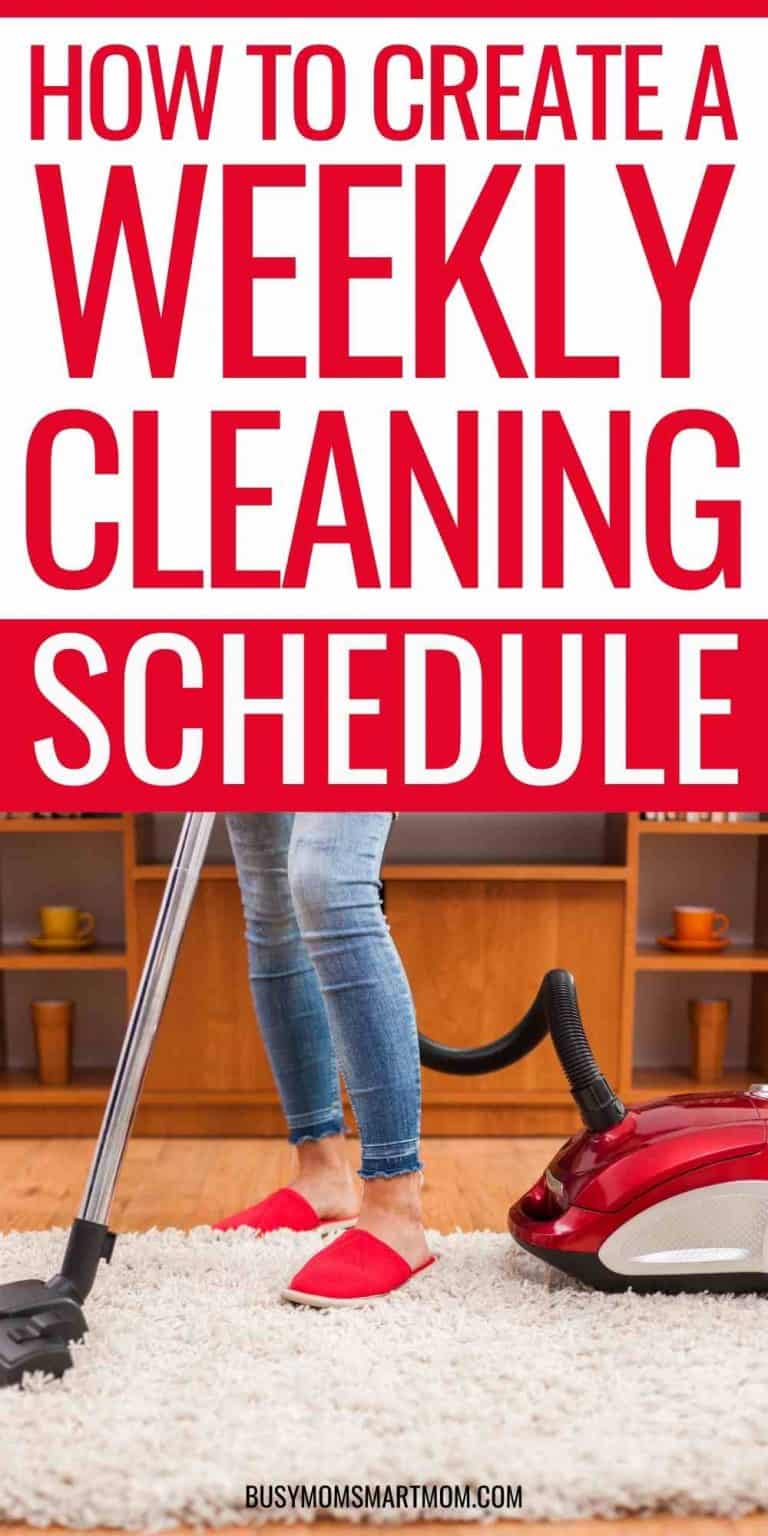 Final thoughts on creating a weekly cleaning schedule
Having a weekly cleaning routine to follow can make your life as a busy mom infinitely easier. And creating one is really easy, as I've shown you.
If you've been telling yourself that you can't keep up with all your home management duties, I'm here to tell you that yes, you can. It just takes a little planning and organization to get there.
Do you have a tip to share for making a weekly cleaning plan? Head to the comments and tell me about it!
And don't forget to grab your FREE printable weekly cleaning checklist!
Weekly Cleaning Schedule for Busy Moms