Weekly Cleaning Schedule
Maintaining a clean home with messy kids is no easy task. And as a busy mom, there's a good chance your home isn't quite as clean as you'd like it to be.
Creating a weekly cleaning schedule can help keep the mess from taking over. Having a weekly cleaning routine to follow is a good idea since it can make handling household chores easier. You can assign different cleaning tasks to each day of the week and keep your entire house clean in less time.
Coming up with a realistic weekly house cleaning schedule that includes cleaning routines for individual family members can also be a great way to get kids into the habit of doing daily chores. Even young kids can do simple tasks when pitching in with household chores.
Today I'm sharing tips on how to:
Spend less time cleaning
Create a simple cleaning routine
Always have a clean house (even with kids in tow)
Use your weekly cleaning schedule to plan daily cleaning and monthly cleaning tasks
I'll also share some printable cleaning checklists you can use to keep track of different cleaning tasks as you move through the days of the week.
Related post: Ultimate List of Mom Routines to Keep Your Home Organized
Simple Weekly Cleaning Schedule for Moms
A weekly cleaning routine breaks down the weekly tasks you can do to keep a clean home. But the last thing you may want to do is spend hours every day cleaning.
The best weekly cleaning schedule saves you time and energy.
The good news is, creating a weekly cleaning routine is easy to do and it involves three specific steps. You can also use these tips to create a daily cleaning schedule or a monthly cleaning schedule.
Step 1: Declutter your home
A weekly cleaning schedule can help you keep the mess at bay. But that assumes your home isn't buried under clutter.
If your house has a cluttered feel, getting rid of things you don't need can give you a blank canvas to work with when creating a weekly cleaning routine.
Pick one room and find 10 things to toss, donate or recycle. Then go to the next room and repeat.
That's it.
Doing a little simple decluttering first can get your home prepped and ready for a weekly cleaning plan.
Related post: 100 Things to Declutter When You're Tired of the Mess
Step 2: Make a list of your weekly cleaning chores
The first step in making a weekly cleaning schedule is decluttering. The next step is determining the different tasks that need to be done weekly to keep your whole house clean.
Grab a notebook or bullet journal and make a list of all the housekeeping chores that need to be done for you to feel that your home is clean. This can include daily cleaning tasks, weekly cleaning tasks and monthly task.
For example, maintaining a cleaner home might include:
Doing laundry
Vacuuming
Shampooing carpets
Sweeping and mopping
Scrubbing showers/bathtubs to get rid of hard water stains
Wiping down bathroom counters and cabinets
Scrubbing/cleaning the toilet
Dusting
Cleaning windows/mirrors
Wiping down kitchen counters/cabinets
Cleaning the fridge inside and out
Tidying up the pantry
Sorting through the mail
Taking out trash/recycling
Your weekly cleaning list should include all the things that are necessary for having a tidy home, according to what that means to you.
Once you've got your list together, you're ready to move on to the next and final step of creating a weekly cleaning schedule.
Related post: Ultimate Fall Cleaning Checklist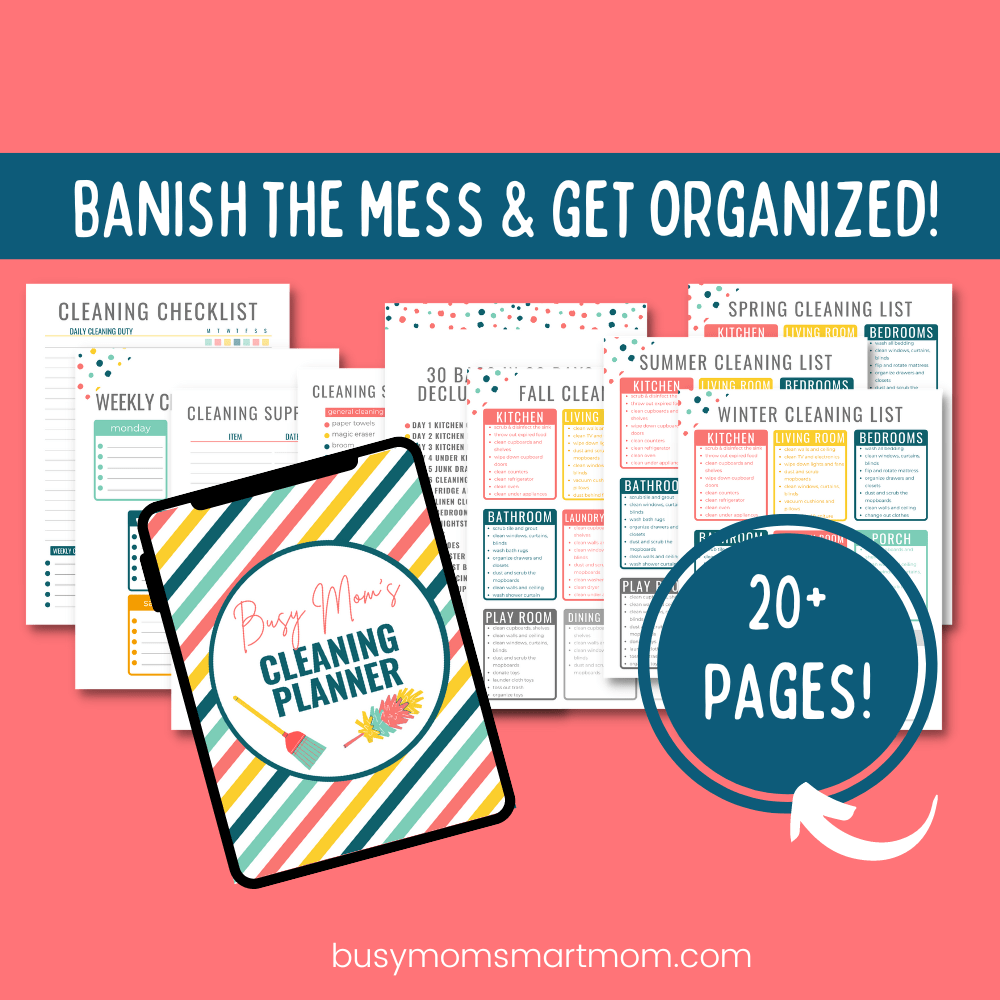 🌟NEED A SIMPLE WAY TO ORGANIZE CLEANING TASKS?🌟
The Busy Mom's Cleaning Planner includes everything you need to create a realistic cleaning schedule and banish the mess for good!
It's a must-have for any busy mom who's overwhelmed by cleaning tasks!
Step 3: Assign cleaning tasks to different days
If you've made a list of different tasks that need to be done to have a clean home, you can start breaking that up into daily cleaning tasks.
Think about your daily schedule to decide what's realistic.
If you know that you'll have more time to clean on some days than others, then you can assign more cleaning chores to those days.
Also, think about how long individual cleaning tasks take and the difference between larger and smaller tasks.
For example, how long does it take you to clean the bathrooms? What about dusting or vacuuming?
Setting a timer is a simple trick you can try to clean the house faster if you don't want to get bogged down in housekeeping chores.
You can pick a room or a task and set a timer for 15 minutes. Once the 15 minutes is up, you move on to something else.
On average, the typical person spends just under 6 hours a week cleaning the house. So it's important to make sure that time is well-spent.
The goal here is to keep your weekly house cleaning schedule simple and workable for you.
In other words, don't feel like you need to cram everything into an afternoon if that doesn't work for your lifestyle.
Pro busy mom tip: Get your kids/spouse to pitch in
If your list of weekly cleaning seems like too much for you to handle alone, get help!
As a single parent, I don't have a spouse to help out around the house. But I can count on my kids to clean their own bathrooms, do their own laundry, pick up their rooms and vacuum.
So think about the cleaning tasks your kids can handle.
At 3 and 4, my kids were able to sort laundry and pick up their toys. So even smaller kids can pitch in to help keep your home clean.
Related post: Printable Spring Cleaning Checklist 2022 (Easy Free Download!)
Example Weekly Cleaning Schedule
If you're still struggling to come up with a weekly cleaning routine, don't panic.
Here's an example of what a basic cleaning schedule might look like.
Monday: Kitchen
Having a clean kitchen can make meal prep less stressful and more enjoyable. And if you normally do grocery shopping on Mondays (or get Instacart to deliver them), it makes sense to have the fridge and cabinets cleaned out and tidied up.
Here are some things to include on a weekly kitchen cleaning checklist:
Wipe down kitchen counters, including behind small appliances to get rid of crumbs
Dust/wipe down cabinet doors and knobs
Tidy up the pantry and cabinets
Clean out the fridge and wipe down inside and out
Deep clean dishwasher (if you have one you use regularly)
Soak and wash dirty dishes
Put away clean dishes that may have piled up in the drying rack or dishwasher
Clean the sink and garbage disposal
Wash out the garbage can
Wipe down the backsplash above the sink and the space between your stove and cabinets
Sweep and mop the kitchen floor
Tidy up the dining room (if you have one), dust the furniture and fixtures and wash the tablecloth if needed
Tuesday: Bathrooms
Cleaning up the bathrooms may be one of your least favorite cleaning tasks but it has to be done, especially when you have kids. Here are some of the chores to include on a weekly schedule when it's time to clean bathrooms:
Wipe down countertops and faucets
Scrub shower doors/walls
Clean mirrors and other glass surfaces
Scrub and wipe down the toilet
Mop the floors
Empty trash
Wash bath mats/rugs
You can also tidy up the linen closet if you have one. And I like to wipe down toothbrush holders since they can get pretty funky if your kids are careless about rinsing their toothbrushes after using them.
Wednesday: Bedrooms
Surprisingly, the most popular room in the house these days is the master bedroom. If that's true for you, then it makes sense to include a day for bedrooms in your weekly cleaning routine.
Here are some of the main cleaning tasks to include on your weekly checklist:
Change the sheets
Vacuum or sweep and mop if you have hardwood
Pick up and put away clothes, shoes, accessories, etc. in closets or dressers
Round up dirty clothes that may have escaped the laundry hamper
Tidy up dressers and nightstands
Dust surfaces, including ceiling fans, dresser tops and blinds (a simple feather duster works great)
Thursday: Laundry
Laundry day is one of my least favorite cleaning days. But like everything else, it has to be done.
So as you create your weekly cleaning schedule for doing laundry, include these tasks:
Do each load of laundry (or have kids do their own laundry to save time)
Wipe down your washer and dryer
Sanitize the washing machine
Organize and tidy up your laundry room if you have a separate space for this
Drop off items that need to be dry-cleaned
Set aside items that need to be mended
Friday: Living room/family room
The living room and family room tend to be high-traffic areas, which means dirt and mess can pile up on a daily basis that much faster. So it makes sense to include a day in your weekly cleaning schedule to manage the living room and family room.
Here are some of the ways to keep these rooms much cleaner every week:
Dust surfaces, including blinds and ceiling fans
Sweep and mop if you have hardwood floors or tile
Weekly vacuuming (or daily if you have multiple pets that shed frequently)
Wash pillowcases and throw blankets
Vacuum the sofa
Clean windows
Pick up and put away the various things that accumulate through the week (i.e. kids' toys, shoes, coats, backpacks, books, etc.)
If you have a home office, you can also pencil in time to clean this room on Fridays. Depending on how organized you are already, it may not take much time to tidy up your desk, throw away trash or paper clutter and give the room a quick hit with a feather duster.
Saturday: Outdoor areas
If you normally spend Saturdays at home as a family this might be the day you earmark for outdoor cleaning. Some of the outdoor cleaning tasks you might reserve for weekends include:
Sweeping your porch or deck
Sweeping sidewalks (or using a leaf blower)
Cleaning windows
Tidying up around the pool or patio if you have one
Cleaning out or organizing the garage
Cleaning out your car
Sunday: Rest/planning
Sunday is a good day to prepare for the week ahead. You can use the end of the week to tackle:
Meal planning and prep
Making grocery lists
Checking your planner for upcoming appointments
Making a list of errands that need to be completed
Making a phone calls that need to be made or emails that need to be sent
This is just one example of a weekly cleaning schedule. Depending on how many daily tasks you have or weekly tasks you want to check off your list, you might use a rotating system instead.
So you might do one set of cleaning tasks in week one and another the next week. Then you could rotate back to the first set of household chores the following week and repeat the process.
The great thing about creating a weekly cleaning schedule is that you can tailor it to fit your needs. and what you want to get done.
Related post: Spring Cleaning Checklist for Moms Who Hate to Clean
Printable Weekly Cleaning Schedule
Want a simple weekly cleaning checklist as a visual reminder of what needs to be done?
Download this FREE printable cleaning checklist to organize your weekly cleaning routine!
Simply click the image to be taken to the Busy Mom Vault sign-up page. Plug in your email to gain access to printable weekly cleaning checklists along with lots of other helpful free printables!
What to include in a daily house cleaning schedule
These cleaning tips can help you to keep a clean home on a weekly basis. But you might be wondering what cleaning tasks are worth doing every day.
Some of the easiest ways to keep your home tidy each day include:
Sweeping the floors (a must if you have have pets or kids who like to leave crumb trails wherever they go)
Tidying up throw pillows/blankets in the living room
Wiping kitchen counters
Wiping down the stovetop after cooking
Cleaning the sink and putting away clean dishes
Putting dirty clothes and towels in the laundry hamper
Doing smaller tasks every day to clean the house can be the best way to avoid being overwhelmed by bigger weekly tasks.
What to include in a monthly cleaning schedule
A monthly cleaning checklist can include housekeeping chores that only need to be done once a month or once every other.
You can make a monthly house cleaning schedule the same way that you do a weekly cleaning schedule: Make a list of different tasks, then assign them specific days for the month.
This can include different tasks you might do for each month of the year, such as:
Cleaning out the garage
Decluttering the attic
Cleaning gutters
Power washing the house or sidewalks
Clean windows (from the outside)
Scrubbing out and disinfecting trash cans and recycling bins
Any deep cleaning task, like emptying out the freezer or fridge or cleaning out the inside of your oven
Monthly tasks serve an important purpose. Being able to see your cleaning plan for an entire month at a time can help you avoid feeling overwhelmed.
How to Stick to a Weekly Cleaning Schedule
Making a weekly house cleaning list only works if you're committed to doing it.
It's so easy to make excuses about why you can't clean and sometimes, they're legit.
One of your kids gets sick or you have to take your cat to the vet because they swallowed a shoelace. Life happens, I totally get it.
But if you're just not motivated to clean at all, ask yourself why that is. Then remind yourself how much you enjoy having a clean, livable home.
Giving yourself a treat or incentive to look forward to for getting your cleaning tasks done can be a huge help.
And if not feeling motivated to clean happens because you don't have a daily routine, there's a simple fix for that.
It's called The Organized Home and it's a must-have program for busy moms who struggle with routines and planning.
If you need help with…
Creating routines and systems
Keeping your home clean and organized
Managing your time
…then The Organized Home can help with all of those things. The best part is that you'll have a home that feels comfortable, welcoming and best of all, clean, at the end of the course.
Head here to learn more about The Organized Home and how you can use it to transform your mom life!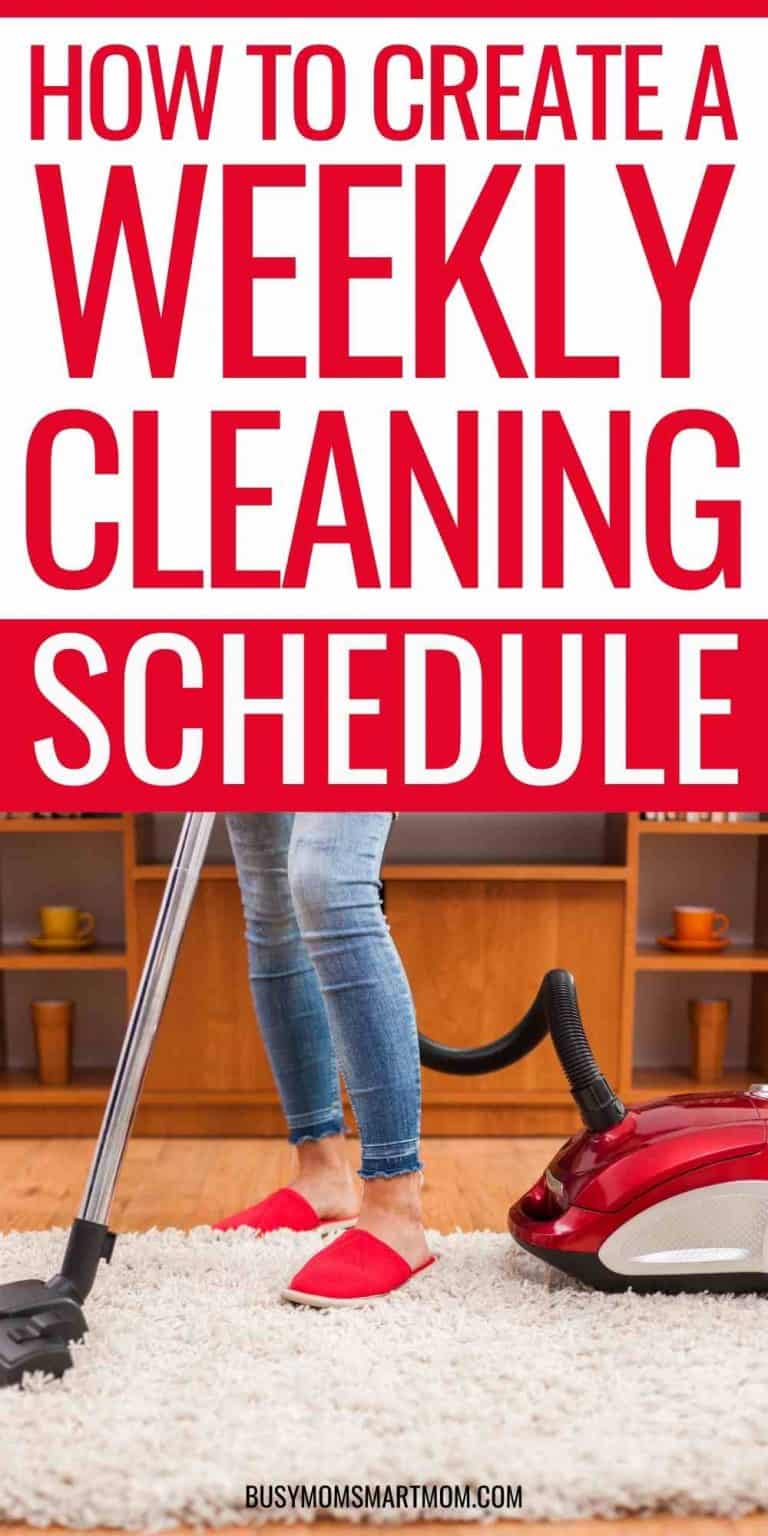 Final thoughts on creating a weekly cleaning schedule
Having a weekly cleaning routine to follow can make your life as a busy mom infinitely easier. The first time you try a weekly cleaning schedule can be a little bit daunting but it doesn't take much to get used to it.
And making weekly cleaning lists can help stay organized and be more efficient. That can leave you with more spare time for other things.
If you've been telling yourself that you can't keep up with all your home management duties, creating a weekly cleaning routine is an easy way to get on track. Now is a great time to get into a weekly cleaning plan if you haven't yet.
Before you go, be sure to check out my favorite Busy Mom Tools for saving a whole lot of time, money and stress.
And don't forget to grab your FREE printable weekly cleaning checklist!
Need more tips on how to stay organized? Here's how to create a realistic working mom cleaning schedule for your entire home!
Weekly Cleaning Schedule for Busy Moms