Learn how to create a stay at home mom schedule to make every day less hectic! 
And if you need help getting your family organized, check out this amazing course!
How do your days as a stay at home usually mom go?
Smooth like buttah or a seemingly nonstop ride on the crazy train?
If you chose the crazy train, I'm right there with you!
Some days, it feels like there just isn't enough time to do all the things that need to be done.
And being a work at home mom on top of a stay at home mom just makes things that much harder.
As my kids have gotten older, I've come to learn just how important things like routines and schedules can be for making it all work.
And if you're struggling to keep the days on an even keel, this post will show you exactly how to do it.
Why Having a Stay at Home Mom Schedule Matters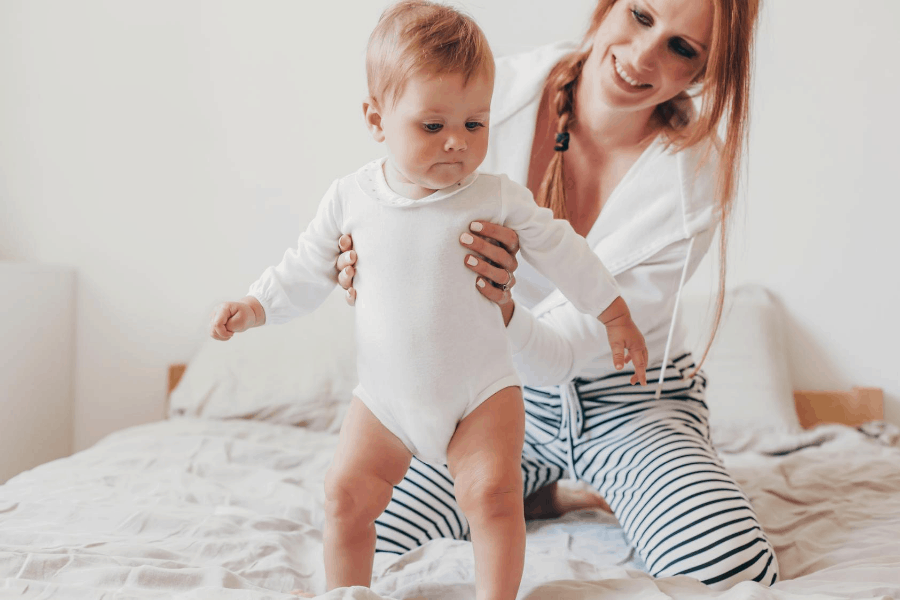 One of the most often-repeated pieces of parenting advice is to give kids routines.
Routines = familiarity = fewer tantrums for you.
Or in theory, at least.
And you know what? Routines are just as important for us as moms, too!
Here's what your life can be like when you have a stay at home schedule:
Instead of feeling like you're caught in a hot mess hurricane, your days are calmer and so are you.
It's easier to keep up with the cleaning and tidying up instead of constantly feeling overwhelmed by the mess.
You go from wasting time to saving time because you've got a plan and a pattern to follow.
Less stress for you means less stress for your kids and fewer behavioral issues.
Having a schedule and routine can help you stay organized instead of overwhelmed.
All of that sounds pretty sweet, right?
But how do you get that perfect stay at home mom schedule in place and stop the crazy?
That's exactly what I want to help you with!
How to Plan a Perfect Stay at Home Mom Schedule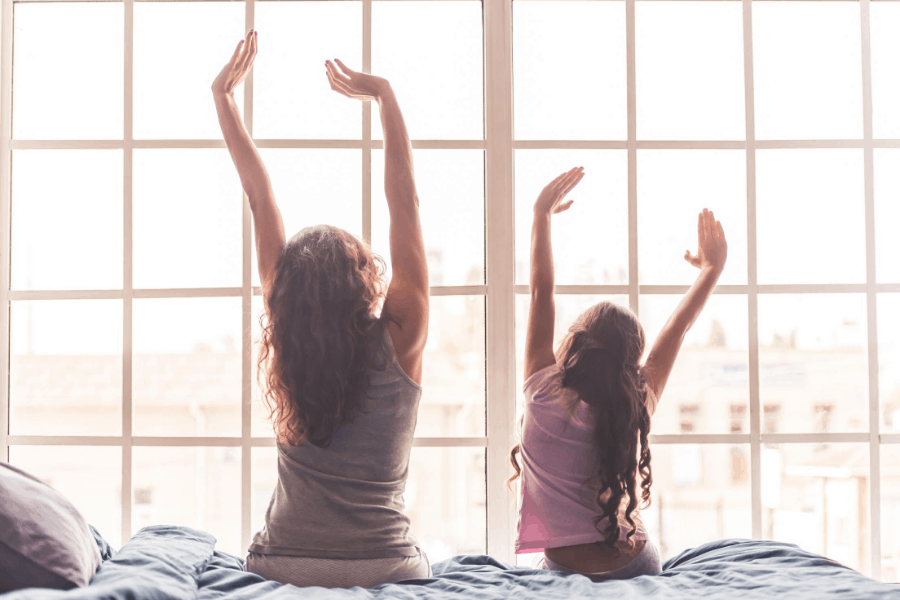 Are you ready to get a schedule and routine in place so you can stop the struggle?
The tips I've rounded up here are ones I've learned through trial and error.
I've gone from stay at home mom with an infant and a toddler to work at home mom with tweens so I've learned what works and what doesn't when it comes to making the days easier.
You can try one of these stay at home mom tips or all of them. But I guarantee that there's at least one thing on this list that can help be a happier, calmer mom.
Ready? Let's dive in!
1. Wake up before your kids
I've talked about the importance of waking up before your kids before but it's worth repeating.
Waking up before your kids do may be the only chance you have in your entire busy mom day to get a few minutes to yourself.
So take it, mama!
Seriously. I'm not saying you have to get up at 5 a.m. I never have and never will be able to do that.
But if you can get up 15 minutes, 30 minutes, an hour before your kids, it can make such a difference in your days.
You can use that time to:
Meditate
Do your daily devotions
Journal
Enjoy the silence (my personal favorite)
Read
Exercise
Stretch or do yoga
Floss
I could go on but you get the idea.
If you're having trouble getting up before your kids, invest in a good alarm clock if you don't have one.
Then try setting it five minutes earlier each day until you've created a little cushion of time you can have just to yourself.
And most importantly, DON'T HIT THE SNOOZE BUTTON!
It's so tempting but if you want to get your stay at home mom day started on the right foot then you have to commit to getting up on time.
And another tip, don't use this time for things that will take longer than you've allowed for. 
For example, if you're a work at home mom don't use the 30 minutes before your kids get up to try and get caught up on emails.
Because here's what happens: the kids wake up, then you can't focus on your emails anymore and suddenly, you're in grumpy mom mode.
And that's not how you want your day or your kids' day to start.
So savor your little pocket of time and leave the big stuff for later.
You might also like:
9 Effective Ways to Deal With Mom Burnout When You're Feeling Stressed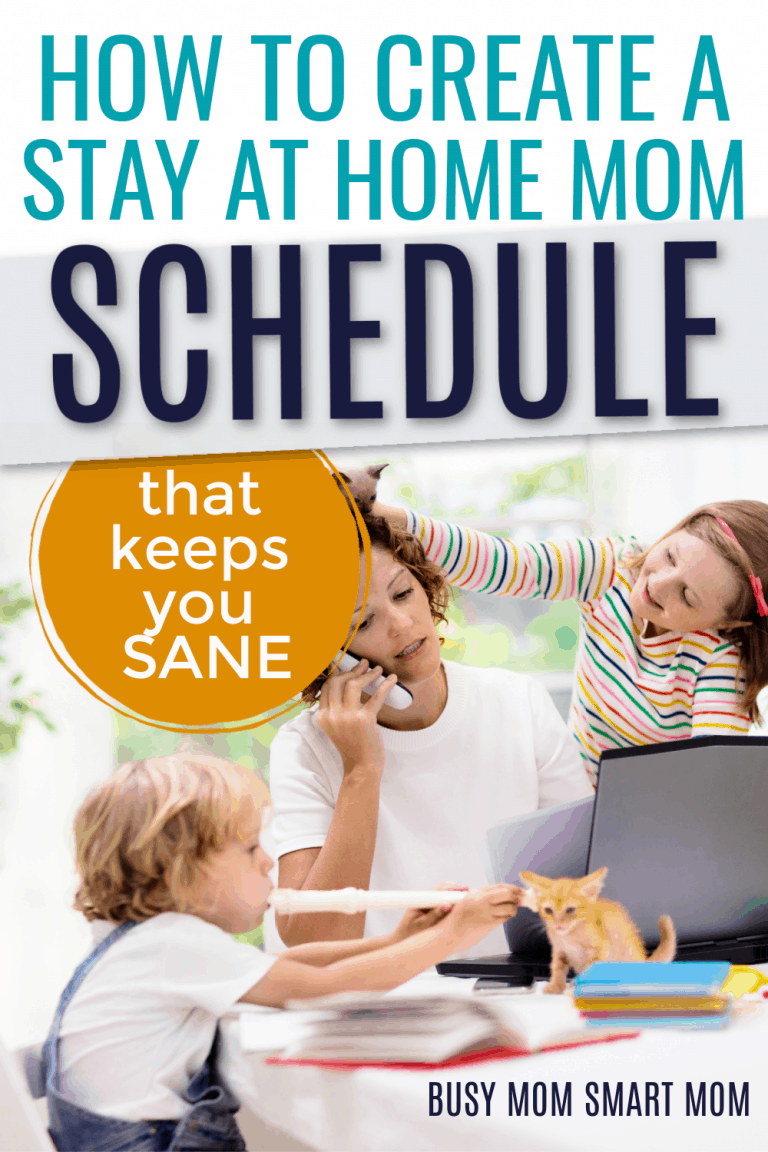 2. Have a morning routine or ritual in place
Depending on how old your kids are, your mornings might involve getting them ready for school.
Though with so many kids doing distance learning or homeschooling, the school day might look a little different than what you're used to.
Either way, it helps to start your stay at home mom schedule with a morning routine that works for your family.
So here's an example of what that might look like:
Wake up
Shower and get dressed
Make breakfast for yourself
Feed the kids once they're up
Tidy up the kitchen
Start a load of laundry
Sweep the floor
Make your daily to-do list if you didn't do it the night before
What you add to your morning routine is up to you and yours might look different. But I've found one thing that works, no matter what your routine looks like:
Do the same things in the same order.
This is how I make my work at home mom schedule and routine work.
I get up, get showered and dressed, feed the dogs, turn off the porch light, make breakfast, clean up and by the time I've done all that, I'm ready to get to work.
I don't follow this exact routine on the weekends and while I benefit from the break, I'm never as productive as I am during the week.
Doing the same things in the same order trains your brain so you can knock out your routine without even thinking about it.
And once the morning rituals wrap up, you can tackle the rest of your day.
You might also like:
The Perfect Morning Routine Checklist for Busy Moms
3. Plan out your day in blocks or chunks
If you're a mom, you've heard the old saying that the days are long but the years are short.
And that's so true because I've definitely had days where I've been so exhausted that I'm ready for bed at 10 a.m.
When you're taking care of kids and house and maybe a pet or two the days can feel soooo long.
So what I do to manage it is carve the day up into blocks.
Here's a rough idea of what that looks like:
8 a.m. – Noon: Office hours (this is when I work on my freelance writing business)
Noon to 1 p.m.: Lunch
1 p.m. to 4 p.m.: Homeschool time
4 p.m. to 7 p.m.: Dinner, dishes, tidying up
7 p.m. to 10 p.m.: Family time
10 p.m. to 11:30ish p.m.: Mom time
This is what the days look like during the week. On the weekends it's similar, though the day might include yard work for me or pool time for the kids.
Sectioning the days off this way helps me stay focused because I can concentrate on whatever needs to be done, a few hours at a time.
If you don't work at home, your mornings are probably going to be very different.
So you might use the hours between waking and lunchtime to:
Do laundry
Run errands or grocery shop online
Play with your kids or read to them
Work on distance learning or homeschooling with older kids
When you have younger kids, you might have to work around their needs and moods to make your stay at home mom schedule work.
So when my kids were little our mornings were for preschool at home. In the afternoons, we'd play or read and they'd take naps.
Then I'd tidy up the house, check my meal plan and get dinner going. At night we did baths and more playtime. Then when they went to bed, I would work for a couple of hours.
I found that if we strayed from the formula then the day could very easily turn into a disaster. I don't know if you've ever tried to take on two grouchy toddlerzillas at once but let me tell you, it's not pretty.
So as you plan your daily stay at home mom schedule, think about what works for everyone. And build your days around that.
You might also like:
How to Be Productive: 3 Secrets for Stay-at-Home Moms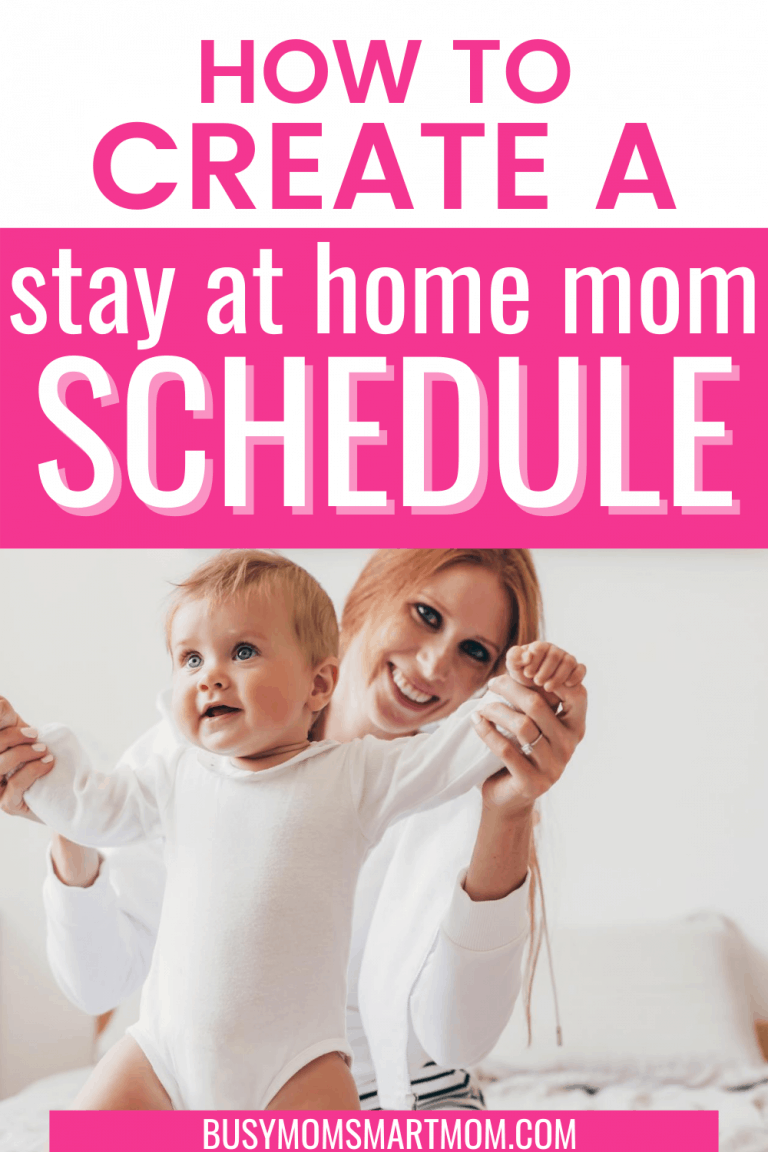 4. Take advantage of tools that will make your life easier
Listen, being a stay at home mom is tough.
I've been home with my kids since they were 20 months old and newborn. And I've been doing it solo since 2014 so I know all the mom struggles.
And since I don't have a person I can call on for help, I use tools that help me instead.
For example, I use:
Meal planning so that I don't have to think about what to make for dinner every night.
An Instant Pot so I can make dinner in less time.
A planner for managing appointments, meetings with our homeschool group and freelance assignments.
Notebooks for tracking my daily to-do lists.
A big purse so I can just dump things in it and sort them out later.
Dryer balls so the laundry gets done faster.
Financial apps for automating bills and savings.
These are just a few things that can help you save time as a busy stay at home mom and simplify your life. And that's what you want, right?
Here are a few more of my favorite time-saving tools for stay at home moms!
5. End your days the right way
Your daily stay at home mom schedule wouldn't be complete without an evening routine.
Think about what your evenings look like.
Do your kids have a bathtime routine? A bedtime routine?
What do you do with the time between your kids' bedtime and your own?
If you're spending the last hour or two before bed scurrying around trying to do all the things you didn't get done during the day, just stop.
I mean it. If you're constantly trying to play catch up then you're going to end up lying in bed wide awake at 2 a.m. fretting over all the things you didn't do.
And that is no fun.
So here are some things you can do instead to make the day's end a peaceful one:
Block off 15 minutes for self-care
Plan your to-do list for the next day
Create a "done" list for the day that's just passed and congratulate yourself on what you were able to accomplish, no matter how small
Commit to getting off the screens at least an hour before bed
Go to bed at the same time
I don't know about you but that sounds much better than trying to do laundry at midnight. (And yes, I've been there and done that.)
And remember, do the same things in the same order.
Having a relaxing bedtime routine to follow can help get your brain and body ready for sleep.
And getting good sleep is essential if you don't want to feel like a zombie in the morning.
What to Do When Your Stay at Home Mom Schedule Isn't Working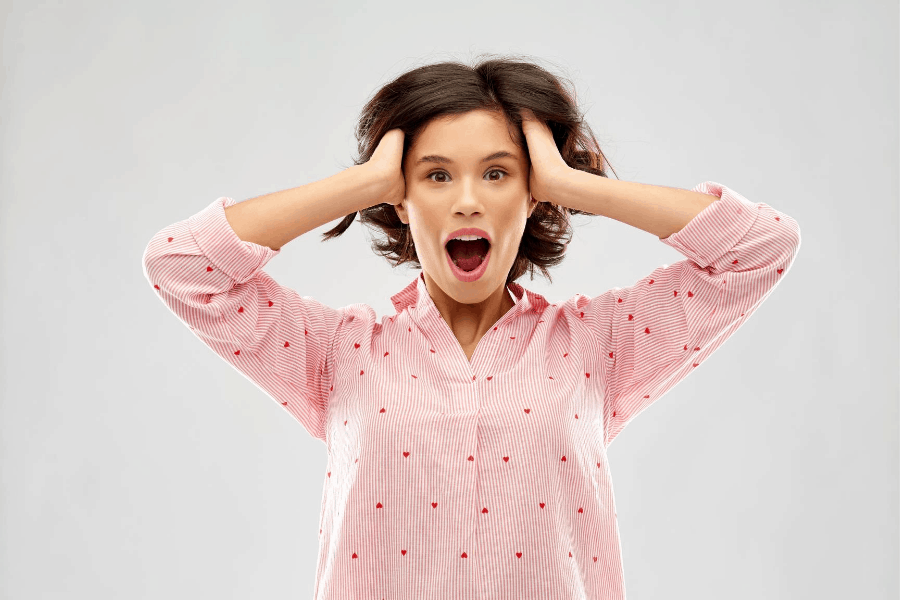 If you've tried all the tips I've included here and your days are still wearing you out, you may need to take a different approach.
And I've got something to recommend that can help. It's a course called Family Routines by Hilary Erickson and it'll teach you everything you need to know to get your house in order.
Family Routines could be just what you need if:
You're struggling to get yourself and your family into a routine
You constantly find yourself wondering where all your time went
You're ready to adopt some smart habits so you can be organized and productive
We all want to be the best moms possible but sometimes, we need a little help to get there. And that's what Family Routines can help with.
So be sure to check it out!
Do you have a daily stay at home mom schedule?
These tips can help you craft a stay at home mom routine and help you stay sane. And if you've got a stay at home mom schedule tip or hack to share, I'd love to hear about it!
Head to the comments and drop your tip. Then don't forget to pin and share this post!