On a scale of "I know exactly where everything is" to "Wow, how did we end up with so many cans of creamed corn" how organized is your kitchen pantry right now?
Mine is admittedly somewhere in between.
I organized my pantry just last weekend and ended up throwing away quite a few things that had been lingering on the shelves for a questionably long time.
Since that's money going right in the garbage, I decided it was time to come up with a better system for pantry organization.
And maybe you could some pantry organization ideas and tips too if your pantry is a chaotic mess.
Sound good?
Then let's dive into the different ways to organize your pantry and clean up the clutter!
Why bother with organizing your pantry?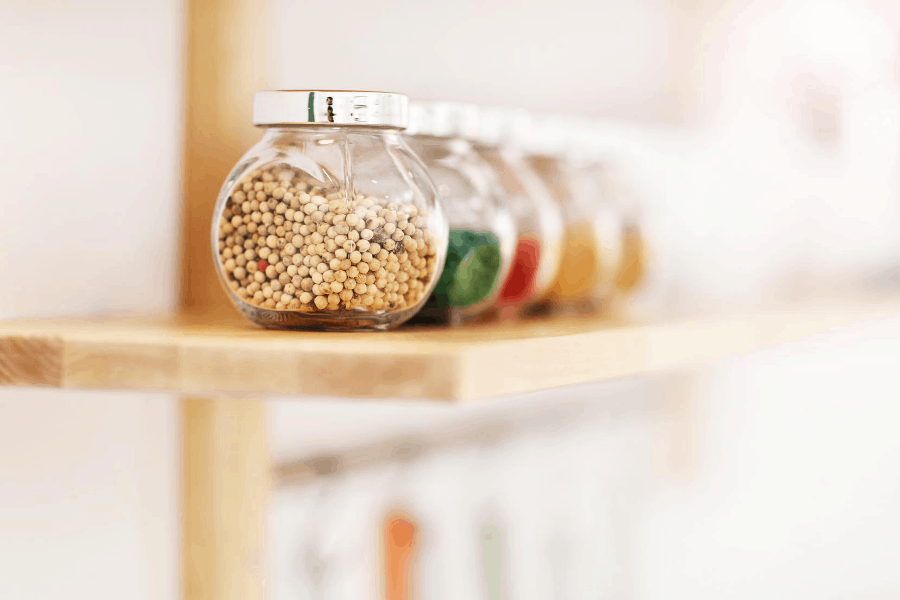 Organizing your pantry is a good thing for a few reasons.
Having a neat and organized pantry means:
You don't have to waste time hunting down ingredients when it's time to make dinner
You're not throwing away expired food that got lost in the pantry black hole
Your kids aren't constantly nagging you to get them a snack because they can easily find things themselves
No more wasting money buying things you already have because you forget you had them
As a busy mom, saving time and saving money are both pretty great. And an organized pantry can help you do both.
Getting your pantry organized can also help with making the most of your space.
If you have a small pantry or a small kitchen, every square inch of it counts. So getting organized in your pantry can help you make the most of it!
Related post: How to Clean a Messy House When You Don't Know Where to Start
How do I organize my food pantry?
That's what you're wondering, right?
There are different ways to organize a kitchen pantry. And if you do a Google image search for "organized pantry" you'll get a bajillion amazing ideas for inspiration.
But since you're a busy mom and I'm a busy mom and you may not have a huge budget for pantry organization, I'm going to give you some simple and low-cost ideas for getting the job done.
Before we dig into the tips, here are a few ways to get ready to organize your pantry:
Pick a day that you can block off a couple of hours to focus on it
Get a trash bag ready to throw away expired items
Figure out what kind of containers are going to work best for keeping your pantry organized
Turn on some music, a podcast or audiobook to help keep you motivated while you work
Last but not least, tell the kids the pantry is off-limits while you're getting it organized!
I've learned from experience that it's pretty much impossible to organize and declutter anything when kids are taking things in and out. 🙂
You might also like:
100 Things to Declutter Right Now to Make Your Home More Livable
Simple ideas for an organized pantry
Okay, ready to get to work? Here are my best tips for organizing a messy kitchen pantry – and keeping it organized!
1. Start with one shelf
Organizing a pantry can be overwhelming, especially if stuff is piled up everywhere.
So do yourself a favor and start with one shelf only.
Pull everything off that shelf and put it on your kitchen counter. Then, separate those items into three groups:
Simple, right?
Anything that's expired or well past its use-by date can probably go in the toss pile.
Items that are still good and that you'll actually use can go in the keep pile.
And anything that's still good but your family won't touch (like those sweet potato chips my kids refused to try) can go in the give away pile.
You can give food away to friends and family but donating to a food bank is also an option. Just check the food bank or pantry's list of accepted items first to make sure they can take what you have to give.
2. Use the first in, first out rule for pantry organization
If you've ever worked in a restaurant you know what first in, first out means.
It just means that you put the older foods to the front and use them first before digging into the newer stuff.
This keeps you from ending up with a pile of expired food that you have to throw away.
A simple way to follow the first in, first out rule when creating an organized pantry is checking expiration dates.
If you can food at home, you can just jot the date you made it down on the jar lid.
First in, first out is a simple pantry organization hack for avoiding food waste. And the less food you have to toss, the more money you can save.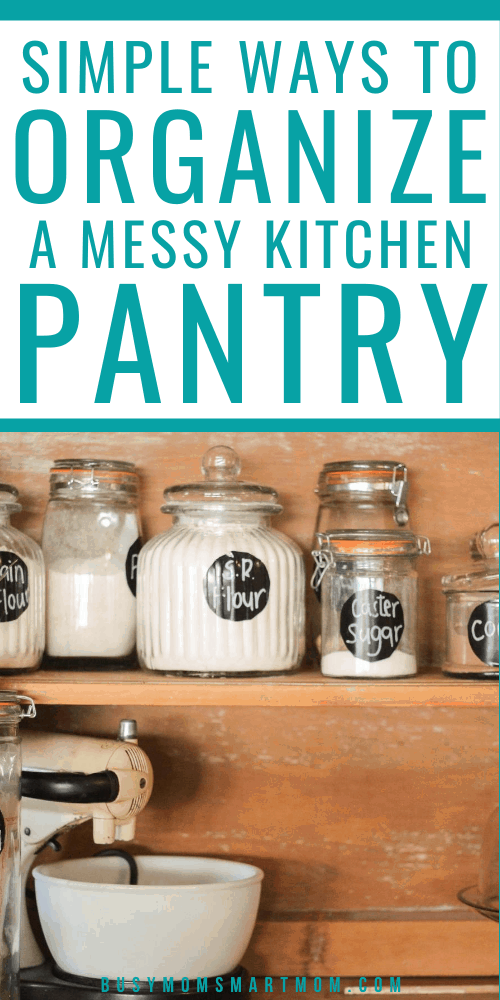 3. Set up pantry zones
If you're not organizing your pantry by zones then you're missing out.
Pantry zones basically mean grouping like items together.
So for example, you might have pantry zones for:
Canned goods
Dry goods, such as pasta and rice
Spices
Baking supplies, like flour and sugar
Snacks
Condiments and sauces
Breakfast items, like cereal and oatmeal
Non-refrigerated produce like potatoes or onions
Non-food items, like plastic utensils or pots and pans
Splitting your pantry up into zones makes things so much easier to find.
When you've got like things grouped together, you don't have to go searching all over the pantry for them.
You can just hit each zone, gathering up the items you need to make whatever it is you're making. This can be a huge time-saver if you're also using meal planning to get dinner on the table.
4. Use the right organization tools
There are so many ways to organize a pantry and I love any kind of tool that makes the job easier.
You can use baskets, boxes, bins or racks for creating an organized pantry. If you need some inspiration, here are some simple pantry organization hacks to try:
Organize spices or oils with a Lazy Susan
If you've got the space for it in your pantry, a Lazy Susan is a genius way to organize spices or other small containers.
You can park it on a shelf, add your spices or oils and whatever you need is right at your fingertips!
It's a huge space-saver and a simple way to keep your pantry organized.
Or hang spices on the wall
Don't have room for a Lazy Susan?
A hanging spice rack is the next best thing for an organized pantry.
We have one of these in our pantry and it's such a life-saver when I'm trying to make dinner or bake something.
Use clear containers to keep tabs on dry goods
Have you ever gone to bake muffins or cookies only to find that you're completely out of sugar or flour?
Annoying, right?
Adding clear containers to your newly organized pantry solves that problem.
Putting flour, sugar, cereal, beans, rice — you name it — in clear containers makes it easy to see when you're running low and need to stock up.
Double your space with pantry racks
I love me some shelf space and when I run out, I just make more with pantry racks.
Adding some stackable racks is like doubling or even tripling your shelf space!
This is a great pantry organization hack for super small pantries where space is at a premium.
Use an over the door hanger to increase pantry storage
If your pantry has a solid door, an over the door hanger is an absolute must.
After all, that's prime real estate for organizing your pantry so why not use it!
There are different types of organizers for over the door. Some have pockets but I prefer the wire kind with shelves for maximizing organization space.
Round up loose vegetables in baskets or bins
You know what's really gross?
Finding a potato that's about 363 years old stinking up the back of your pantry because it escaped from the bag and rolled away into the darkness.
Yeah, it's happened to me more than once.
And if it's happened to you, then baskets and bins are the answer my friend.
I like these cute stackable creates but you can also get hanging produce baskets if you've got the wall space. Either way, these are great organization solutions for keeping produce in place.
All my favorite pantry organization tools in one place!
How to keep your pantry organized for good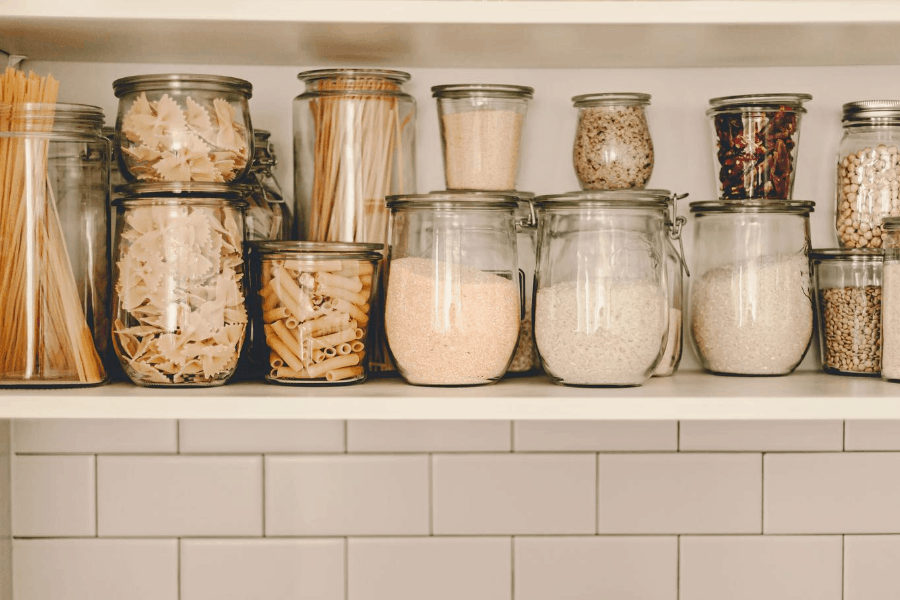 If you've organized your pantry then you want to keep it that way, right?
So here are a few more tips for keeping your kitchen pantry neat and tidy!
1. Create a running pantry inventory
A super easy way to keep your organized pantry in shape is just knowing what you have!
That's where making a running pantry inventory can help.
Your inventory should list out everything you normally keep on hand and in what amount.
This can help you keep track so you don't buy duplicates of things you already have or run out of things unexpectedly.
If you need a simple pantry organization checklist you can grab one in the Busy Mom Vault!
2. Take 10 minutes a day to tidy up
When you're a busy a mom who may be working from home or doing distance learning with your kids, you don't have a lot of time to clean.
Or at least, I don't.
So I use simple daily cleaning tasks that take just a few minutes to keep my house from looking like a scene out of a disaster movie. 🙂
One easy way to keep your organized pantry looking great is to just spend five to 10 minutes a day straightening it up.
If you pulled spices off your spice rack, put them back.
Straighten up your dry goods containers and line up jars or canned goods.
Throw away any empty snack packaging your kids left in there for you. (My kid can't be the only one who does this, right?)
These little tasks can make a big difference in keeping your pantry organized day in and day out.
You might also like:
11 Daily Tasks to Clean House Quickly When You Don't Have Time for the Mess
3. Do a quarterly pantry clean out
It's easy to let stuff pile up in your pantry and that's not a great thing if you're trying to keep it organized
So once a quarter, set aside a day to clean out the clutter.
Remember, start with just one shelf and separate things into keep, give away and toss piles.
Cleaning out the pantry once a quarter can keep it from ending up a junky mess again. And it's also great for planning seasonally.
For example, if you love baking in the fall like me when there's pumpkin spice everything, doing a clean out in September or October means you'll know if you need to stock up.
4. Get the whole family onboard
Having kids means life can be messy and so can your home.
But if you can encourage your kids to help you keep your pantry organized then it can make your life so much easier.
Here's a super easy way to get kids to help with keeping the pantry organized: give them their own shelf.
Pick one shelf or part of a shelf where you'll keep the kids' snacks. Then make them responsible for keeping that area tidy.
This is something even small kids can handle if you haven't introduced chores yet.
It's kind of the same principle as teaching them to put their toys away when they're done playing with them. The less you have to pick up and tidy up, the better.
You might also like:
11 Simple Toy Rotation Tips for Tackling the Mess in Your Kids' Rooms
5. Invest in a home organization system if you need it
If you're still struggling to get your pantry or home organized, you may need more than just shelf organizers or bins.
And I've got something that can help.
It's called The Organized Home and it's a complete course on how to organize your home room by room so you can get out from under the mess for good.
Sounds good, right?
You might want to check out this course if:
You're struggling to figure out which areas of your home you need to focus on most
You wish there was an easier and faster way to get your home clean so you can save time
You'd like to get a system in place for managing clutter so the mess never piles up again
You want to be part of an online community filled with other moms who are going through the same cleaning struggles
The Organized Home is a great course for busy moms who need a little help getting a messy house under control!
How are you keeping your pantry organized?
Having an organized pantry means one less thing for you to worry about as a busy mom.
These tips can help you ditch the mess and bring order back to your pantry.
Do you have an amazing pantry organization tip to share? If so, head to the comments and tell me about it!
And don't forget to pin and share this post!