As a busy mom, you want to find ways to simplify your life, right?. Only, you look around and see….junk and clutter everywhere.
It's not very calming, is it?
Because honestly, who can relax and feel comfortable in a home that's full of "stuff"? (Well, some of those people on "Hoarders" seem to be able to swing it but I definitely can't.)
And you probably can't either otherwise, you wouldn't be here. What you want instead are some ways to declutter your home so you can conquer the mess for good.
Only, it can be overwhelming if you've let stuff pile up. And up. And up.
What you need to declutter your home (and do it painlessly) is a plan. And that's what I want to help you with!
Related post: Easy Kitchen Decluttering Hacks for an Organized Kitchen
Benefits of Decluttering Your Home
The thought of trying to declutter your house could make you feel a little anxious. Or a lot anxious.
So you might be tempted to just put it off. But there are so many benefits to decluttering once you decide to do it.
For example, how does this sound?
You'll have less to clean.
Cleaning is not one of my favorite things at all. It may not be yours either. But when you buckle down and focus on ways to declutter, you end up with less to clean. And that means less stress and more time to focus on things you DO enjoy.
It's easier to enjoy your home.
Having a house packed full of stuff can almost make it feel claustrophobic. When you get rid of things you don't use, don't need or don't love, it makes your home feel so much more open and inviting.
You can save money.
Once you get on a decluttering schedule and start to love the benefits of having a tidy home, you'll realize you don't need to buy so much stuff. And when you cut out the unnecessary spending, you free up money you can save instead.
You're less likely to lose things.
How much of a pain is it to look for something in your home and not be able to find it? When you make a conscious decision to declutter and simplify your home, it's easier to get organized and keep track of things.
It can make you calmer and happier.
Did you know that living in a cluttered house can actually give you anxiety? Finding ways to declutter your home for good could help ease stress so you can be a happier mom.
So, decluttering? It's a good thing. You could even look at it as a form of self-care.
And if you need some help figuring out where to start, I've got just the thing.
Simple Ways to Declutter Your Home
Ready to get control of the mess? Awesome!
I've got my best decluttering tips ready to go. And the best part is, many of these decluttering tasks are things you can knock out in just 10 or 15 minutes.
Here we go!
1. Organize paper clutter
If you're overwhelmed by paper clutter, it's time to get it under control. Round up all of your papers — bills, junk mail, important documents, school papers — and go through it.
Here's how to organize paper clutter quickly:
Sort it into "keep" and "toss" piles
Throw away the toss pile right away so you're not tempted to go through it again
Pick one spot in your house to organize paper clutter (a wall-mounted folder system works great!)
Go paperless as much as possible so paper doesn't pile up again
Once you've got your system down, pick a day once a week to sort through your papers and decide what to toss or keep.
Bonus tip: Streamline your bills with Trim
If you can't go paperless on some of your bills, getting rid of those bills altogether is the next best thing for managing paper clutter.
The Trim Financial Assistant can help with finding expenses you can cut out of your budget. Fewer bills = less paper + more money saved.
2. Organize your entryway
Do bookbags, shoes, coats and other junk just seem to magically congregate around your front door?
If simply leaving the house or walking in makes you feel overwhelmed, that's no good.
One of the best ways to declutter your home is to invest in an entryway organizer to stash bookbags, coats and shoes.
If you can't or don't want to spend money, see what can repurpose around the house to organize your entryway.
For example, you could turn an old bookcase or kids' toy cubby into a shoe rack. Or you could set up a basket for each child so they can toss their stuff in when they walk in the door.
3. Clear off your kitchen counters
If you don't have the energy to tackle decluttering your kitchen cabinets, start with just the counters.
Find a place to store unused appliances. Put away any food items that were left out. Round up anything that doesn't belong in the kitchen and put it back where it goes.
Set a timer and give yourself 15 minutes to get the job done so you can move on to decluttering another part of your home.
4. Do a daily declutter challenge
If the thought of trying to declutter your home all at once just isn't working for you, break it down.
Pick five things a day to toss, donate or keep. And find a place for whatever ends up on the keep list right away.
5. Toss anything that's expired
This is one of Marie Kondo's rules for decluttering your home.
Head to the kitchen or the bathroom. Now go through and toss out anything that's expired, including:
Makeup
Sunscreen and moisturizer
Medications
Contact lens solution
Sample sizes of beauty or cleaning products
Condiments
Canned or frozen foods
I know, throwing food away is wasteful and I hate doing it. If you're on the fence about tossing expired food, read this guide to learn what you can and can't keep beyond its expiration date.
6. Organize books a shelf at a time
At our house, we love our books. But every so often, I go through and purge them because we can only read so many.
If your family has a lot of books, trying to organize them all at once might feel impossible. So don't.
Just pick one shelf to go through at a time, tossing or keeping as you go.
7. Get rid of one thing every day
If you donate or toss one thing each day, you'll have gotten rid of 365 things by the end of the year.
Sounds a lot easier to declutter and simplify your home when you break it down that way, doesn't it?
So make today your Day 1 and find one thing you can declutter for less mess.
8. Start a toy rotation
Does it seem like your kids have way too many toys? I definitely felt that way when my kids were smaller.
If you're overwhelmed by toy clutter, starting a toy rotation is the answer.
Pull out all of your kids' toys, going through and sorting them into toss, donate and keep piles. Then, organize the toys you want to keep in groups.
You can put like with like toys together or mix up different items, depending on how your kids like to play. Decide how often you want to rotate toys (i.e., daily, weekly or monthly) and leave out whatever is in the first group for your kids to play with.
The rest goes in storage until it's time for the next group to rotate in. A toy rotation is one of the best ways to declutter your home because it also keeps kids from getting bored with their toys.
9. Declutter clothes one trash bag at a time
Grab a trash bag from under the sink. Head to your closet (or your kids' closet).
Now go through the clothes and sort out what you want to keep from what you can donate. Once the bag is full, stop.
This is a quick way to declutter your home that doesn't take a lot of time and you'll appreciate having an organized closet afterward.
10. Declutter and organize your car
If you don't have a car organizer, let me tell you, it will change your life.
I use an organizer in my car and it makes it so much easier to keep it clean, especially when you have kids.
Having a place where they can toss trash and store snacks or other items is a simple fix for keeping car clutter at bay.
11. Do a 10-minute clean-up in the morning and at night
Give yourself 10 minutes in the morning and 10 minutes at night before bed to go through your house and tidy up.
Sweep the floors, wipe down the kitchen counter, throw away any trash. It's another quick way to make your home feel a little cleaner and less cluttered.
12. Follow the 80/20 rule
The 80/20 rule basically dictates getting rid of anything you don't use or wear 80% of the time and keeping the rest. It's a really simple way to declutter your home fast.
Pick one area of your home — a closet or even a corner of a room is good — and apply the 80/20 rule to whatever you find, donating or tossing anything you don't use or wear regularly.
13. Dump a drawer
Drawers are sneaky because that's where clutter can pile up fast.
You toss something in, then forget about it. And you don't realize how much junk is crammed in there until you can't get it open. (It's happened to me more than once.)
So pick a drawer, dump it out and sort through whatever is in it. Take anything in your keep pile and put it back in neatly.
And if you want it to stay neat, consider splurging on some pretty drawer organizers so you don't come back to a mess later.
14. Store over the door
Your bedroom, bathroom and laundry room doors are prime real estate for storage when you're trying to declutter and simplify your home.
15. Keep your desk clean
If you're a work at home mom like me and you have a desk, declutter it top to bottom. And limit what you keep on it.
Stick with your laptop, your favorite planner and a pen, then store any non-essentials in drawers, baskets or cubbies.
16. Use overlooked areas for storage
Think about your home right now. Where do you have storage space that you're not using?
Under the bed is a great example. You can use under the bed storage containers to stash linens, winter clothes or anything else you don't need right now.
Get creative and put even the smallest spaces to work in your home to organize and store clutter.
17. Use the rule of 3 for home decor items
I love home decor as much as the next mom but at some point, you have to know where to draw the line.
Too many pictures on the walls, too many knickknacks on shelves, too many throw pillows or blankets — it all becomes too much.
That's where you can put the rule of 3 to work to declutter your home.
If you're decluttering shelves, limit yourself to displaying 3 decorating items at a time.
Decluttering the couch? Stick with 3 throw pillows.
You get the idea. If you absolutely have to have more than 3 of anything, store the others and rotate them the same way you do the kids' toys.
18. One in, one out
The one in, one out rule is simple. If you're bringing one of anything into your home, then one of the same thing needs to go out.
For example, you don't buy a new winter coat unless you're getting rid of your old one. Or you don't buy the latest magazine until you've read and donated or discarded last month's issue.
This little decluttering hack keeps things from piling up in your home. And it forces you to be more intentional when you're buying things.
19. Set up a family command center
A family command center can help you keep your family organized and control clutter.
This is where you keep your family schedule, meal plans, reminders, phone and tablet chargers, keys, our family binder — everything you need to run your household from day to day.
20. Give yourself a cooling-off period before you shop
Impulse spending can test your budget and it can also junk up your house.
So the next time you're tempted to buy more "stuff", impose a 48-waiting period.
That's enough time to think about whether it's something you really need and what you plan to get rid of if you're following the one in, one out rule.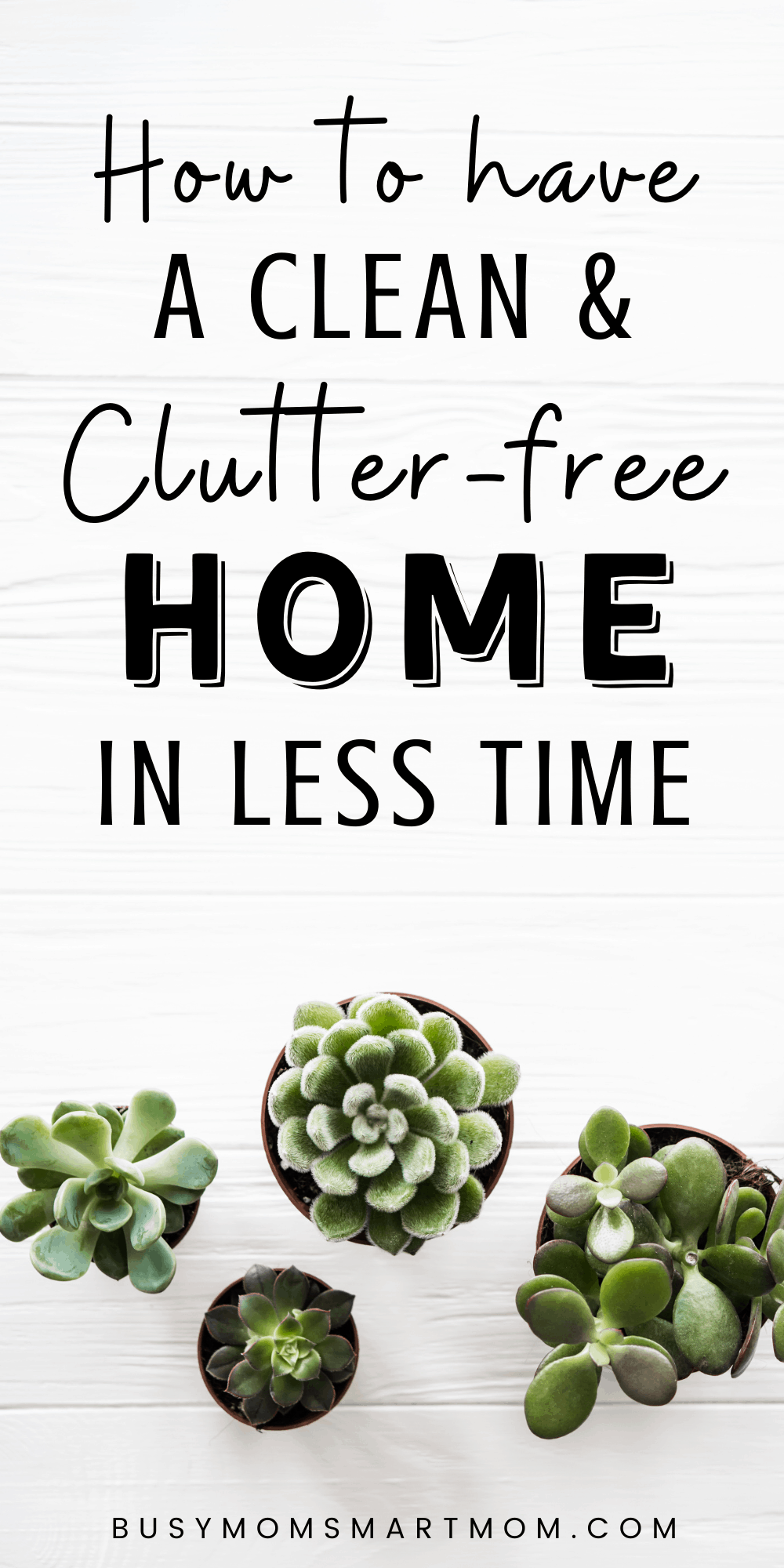 21. Turn your clutter into cash
Being able to make a little extra money is great motivation to declutter your home.
If you've got a bunch of stuff you no longer need, consider selling it through the Decluttr app.
Decluttr makes it easy to turn your unwanted stuff into cash that you can add to savings or use to pay down debt.
Simplify and Declutter Your Home With Fewer Headaches
Decluttering and simplifying are good things and they can make for a happier home. The biggest hurdle might just be getting in the right mindset to do it.
These decluttering hacks are designed to help you get the job done in less time so you can enjoy your home and family instead of feeling overwhelmed by the mess.
If you have an awesome idea for ways to declutter your home fast, I'd love to hear it! Head to the comments and spill the beans.
And don't forget to grab your free decluttering checklist before you go! It's just one of the goodies you'll find inside the Busy Mom Vault.
Read these posts next for more decluttering tips!
Easy Ways to Declutter Your Home