Bedtime Routine Chart for Kids
Is bedtime a major hassle at your house?
Creating a bedtime routine for kids can make it easier for them to settle down at the end of the day. A bedtime routine chart is a perfect way to get kids ready for sleep.
And plenty of sleep is something kids (and parents) need.
But getting kids into a bedtime routine? It's sometimes easier said than done.
Developing sleep routines and bedtime habits for kids from infancy on up to the teenage years can make for smoother evenings all around. And using some bedtime routine charts can help!
If bedtime is a struggle for you and your kids, keep reading to learn:
How much sleep kids really need
Tips for creating a healthy bedtime routine and sleep schedule for kids
How to use a bedtime chart to make nighttimes easier!
Related post: Morning Routine Chart (5 Free Printable Morning Routine Charts for Kids)
How much sleep do kids need?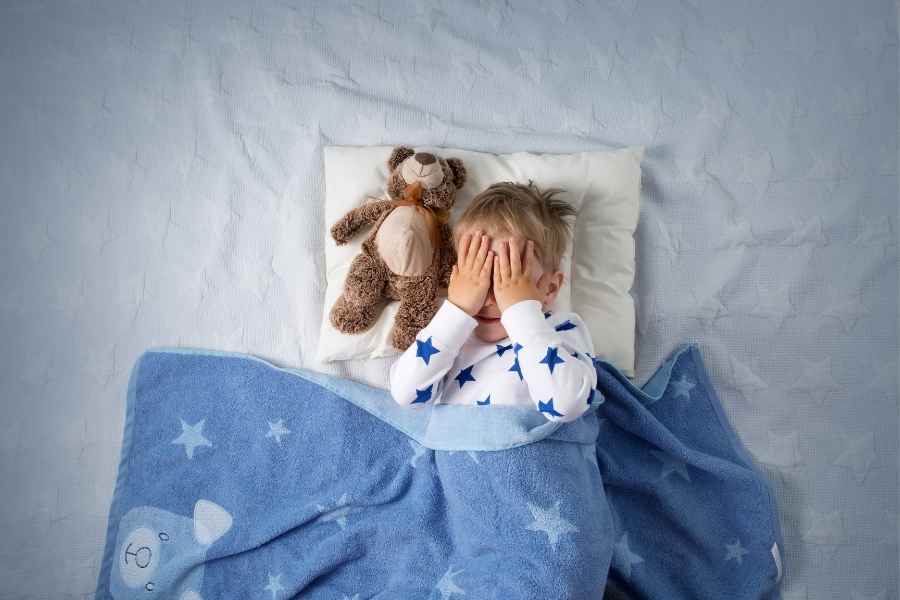 Depending on their age, kids need anywhere from nine to 17 hours of sleep per night. The younger they are, the more children need to sleep.
So how does the average sleep requirement compare to the amount of sleep your child gets?
Here's a bedtime chart by age from the National Sleep Foundation that shows the recommended hours of sleep for kids at different stages.
| | | |
| --- | --- | --- |
| | Age Range | Recommended Hours of Sleep |
| Newborn | 0-3 months old | 14-17 hours |
| Infant | 4-11 months old | 12-15 hours |
| Toddler | 1-2 years old | 11-14 hours |
| Preschool | 3-5 years old | 10-13 hours |
| School-age | 6-13 years old | 9-11 hours |
Source: National Sleep Foundation
So what about teenagers? How much sleep do teens need?
The numbers are similar to the sleep recommendations for school-age kids. On average, middle and high school students should aim for 8 to 10 hours of sleep each night.
And in case you're wondering, the typical adult needs 7 to 9 hours of sleep a night.
Why is sleep important for kids?
Getting the right amount of rest is important for kids' mental, physical and emotional development.
Here are some of the benefits of sleep for kids:
Improved happiness
Increased alertness and attention
Better cognitive performance
Improved mood
Greater resiliency
Better vocabulary
Improved learning and memory
So what happens when kids don't get enough sleep?
Lack of sleep can lead to a host of issues, including:
Increased risk of allergies
Problems with the immune system
Increased risk for anxiety and depression
Potential for future cardiovascular risks (i.e. obesity, high blood pressure, etc.)
Poor academic performance
Increased risk of mental health problems
Bottom line? Getting enough sleep is a good thing for kids (and parents, too). And that's where a bedtime routine can be a huge help.
How to create a healthy bedtime routine for kids
Getting kids into a routine for bedtime isn't always easy. If kids have developed poor bedtime habits, then breaking them can be a real challenge.
Using a bedtime routine chart is just one step in creating a calmer evening routine at home.
These tips can help make bedtime easier for everyone.
Figure out what's not working
First, think about what you hope to accomplish by introducing a bedtime routine. The simplest way to do this is to look at what isn't working for you or your kids right now.
For example, you might have these issues with getting kids to go to bed:
They don't go to bed at the same time each night
Younger kids want to stay up with older kids
There's a lot of whining or arguing when it's time for bed
Your kids suddenly remember last-minute schoolwork they need to do to get out of going to bed
Bedtime makes everyone hungry/thirsty/cranky
You find yourself resorting to threats or punishment just to get your kids to go to bed
They go to bed–but don't stay there
Once you can pinpoint the problem with your kids' bedtime routine, you can start working on solutions.
And think about your own bedtime habits.
Do you stay up into the wee hours? Spend the last few minutes before you go to bed checking emails or social media? Fall asleep to the TV?
Looking at your own bedtime routine can help you figure out what changes you might need to make to set a better example for your kids.
Related post: How to Create a Healthy Night Routine (for Moms)
Talk to your kids about bedtime routines
Whether your kids are toddlers, teens or somewhere in-between, it's important to keep them in the loop when planning bedtime routine changes.
If bedtime constantly feels like a battle of wills, sit down with your kids and ask them what they think the issue or problem is.
The answers you get may vary based on how old they are.
With younger kids, for example, it might be a fear of the dark or just a need to spend quality time with you that's making bedtime an issue.
If you have teens, they may be staying up later to finish schoolwork or chat with friends.
But you won't know if you don't ask.
And keep in mind that younger kids may have a hard time articulating what it is they want to express. So if asking leads to a dead-end you might try having them draw a picture instead so you can get an idea of what's going on.
Agree on what should go into a kids bedtime routine
Giving kids some options or choices about what to include in their bedtime routine can help them feel like they have a say in what happens.
As you're talking to your kids about finding the right bedtime routine to follow, ask them what they need or want.
For example, do they need:
One-on-one time with one or both parents
A special story or book before they can sleep
Help relaxing or falling asleep
Some playtime before bed
A snack or drink of water
A nightlight, music or white noise machine to soothe them to sleep
Ending bedtime routine struggles with kids might be easier than you think if you can figure out exactly what it is your kids need.
And remember that every child is different. If you have a teen, tween and elementary school child, then all three might have very different bedtime routines.
It's important to be flexible so that kids can develop better sleep habits. But at the same time, kids need to know where the boundaries are and which bad habits need to go.
Free printable bedtime routine chart
Need a simple way to keep track of your kids' bedtime routine? I've got some free bedtime routine charts you download and print out!
Here's how to use them:
In the morning you can wipe the slate clean so your kids can use the bedtime routine printables again!
Click the image below to download your free bedtime routine chart printables in the Busy Mom Vault!
Need more help with daily routines?
If bedtime routines aren't the only struggle at your house, then you might need help overhauling your family's schedule and organization.
That's where Family Routines can help.
Family Routines is a comprehensive resource for parents who struggle to get through the days.
You might benefit from the Family Routines course if:
You need help developing rhythms and routines for your family
You're tired of being overwhelmed each day
You're ready to find some real solutions to calm the chaos
The course comes with written lectures and video lectures and you can follow along at a pace that fits your schedule.
Final thoughts on bedtime routine charts for kids
Using a printable bedtime sticker chart or reward chart can make it easier for you and your kids to wind down at the end of the day.
The trick is coming up with a bedtime routine that works–and sticking with it.
These tips can help you do both so that bedtime stress becomes a thing of the past.
Need some helpful resources for saving time, money and stress as a busy mom? Check out my favorite Busy Mom Must-Haves!
And be sure to download your free printable bedtime routine charts in the Busy Mom Vault!
Need more ideas on how to create family routines? Check out this ultimate list of mom routines!
Free Kids Bedtime Routine Chart