Free Morning Routine Chart for Kids
Struggling to get your kids into a morning routine?
Having a morning routine chart to follow can help kids start their day stress-free. The best morning routine for kids is one that's easy to follow and doesn't take a lot of time.
Nearly 60% of parents say mornings are the most difficult part of the school day. The biggest morning struggles include:
Waking kids up on time
Getting kids dressed and teeth brushed
Finding time for a healthy breakfast
Making sure kids get to school on time
Weekends may be more relaxed but having some printable morning routine charts to follow can still help if you're trying to get to Saturday kids' activities or Sunday church on time.
Not sure what to include in a morning routine checklist for kids?
Today, I'll share some tips for helping kids create a healthy morning routine. And I'll give you some free printable morning routine charts for kids you can download now!
What is the best morning routine?
The best morning routine is one that fits your family's lifestyle and needs and helps you to start the day prepared.
You can have a family morning routine that includes things you do together (like eating breakfast). But you can also have a mom morning routine for yourself and separate morning routines for kids.
A good morning routine should help you start your day feeling organized, not frazzled.
So why is that important?
Following a healthy morning routine can set the tone for the day. A morning that starts with calm is likely to go much more smoothly than one that starts with chaos.
And in general, routines are good for kids because they create a sense of structure and direction.
That's where morning routine charts come in. When kids have a way to visualize their morning routine checklist, it's much easier to stick with it!
Related post: Bedtime Routine Chart (5 Cute Printable Bedtime Charts for Kids)
What should my morning school routine be?
A good morning school routine allows parents and kids to get ready for the day and covers some basic tasks.
For instance, here's what a simple morning school routine for kids might look like:
Wake up
Wash face
Get dressed
Comb hair
Eat breakfast
Brush teeth
Make bed
Get lunch and backpack
Catch the bus (or get dropped off at school)
This morning school routine covers all the most important bases for kids.
It ensures that they're clean, dressed, fed and equipped with whatever they need for the school day.
As a mom, your morning school routine might include some things you do before your kids wake up or things you do after they've left for the day. (Like working through your house cleaning schedule.)
And if you homeschool or your kids learn online, then your morning school routine might look a little different.
But the goal is the same: To create a simple system that kids can follow as part of their daily routine.
Related post: Daily Routine for Kids (Summer Edition)
How do I make a morning routine chart?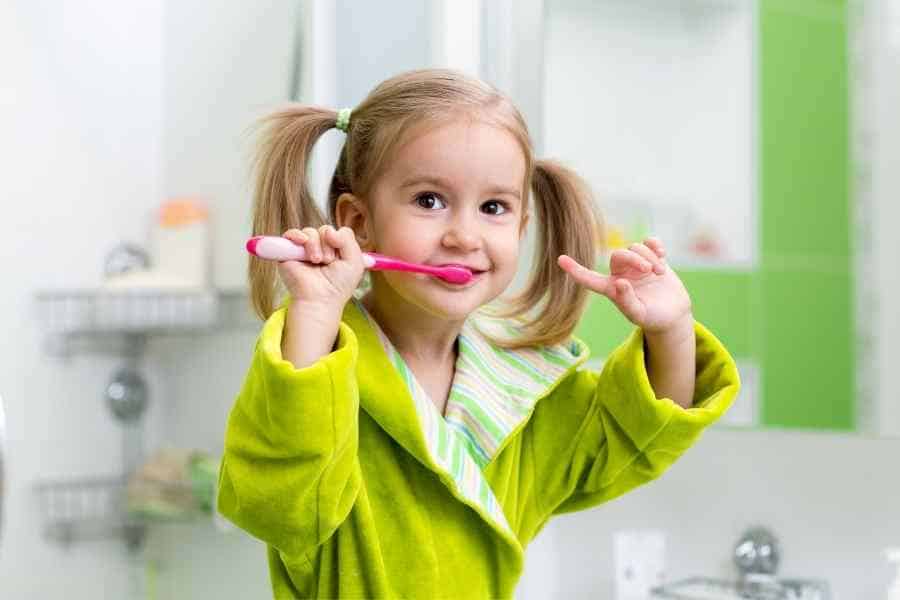 A morning routine chart makes it easy for kids to see what needs to be done each morning and in what order.
If you have younger kids, you might use printable morning routine charts with pictures. For older kids, a simple printable morning routine checklist can work.
A morning routine chart should be simple to follow. Otherwise, kids might get confused or frustrated if they don't know what needs to be done.
And it should be one you can reuse each day. (Tip: Laminating morning routine charts or keeping them inside a clear sleeve makes it easy to write on them with dry-erase markers.)
So how do you make morning routine charts for kids?
Here's a simple way to create a morning chart for getting ready:
Decide what tasks kids need to check off before heading to school
Determine what order they should be done in
That's really all there is to it!
The beauty of using morning routine charts is that once you get in the habit of using them, your days will seem so much simpler.
And you might even be tempted to create an afterschool routine, an evening routine and a bedtime routine so the days are easier from start to finish!
Related post: How to Create a Simple Night Routine (for Moms)
Free printable morning routine charts for kids
Don't have time to make a morning routine chart for your kids?
No worries!
I've created some free printable morning routine charts you can download, print and laminate to reuse again and again!
There are five designs in all. All you have to do is click on the morning routine checklist printable image below to download your freebies!
Tips for following a morning routine with kids
Sticking to your morning routine as a family means getting into the habit of doing the same things each day, ideally in the same order.
If your kids are having trouble remembering what to do each morning, these tips can help:
Use visual reminders (like printable morning routine charts)
Choose the right alarm clock to wake kids up on time
Give kids simple rewards for checking off their morning routine list (stickers work great for this!)
Help them get ready the night before with a bedtime routine (i.e. choosing school clothes, packing backpacks and lunches)
Develop and follow a morning routine of your own so you're not scrambling each morning
Remember that not every day will go as planned. And some days, your morning routine might go right out the window.
But the more you make a morning routine for kids a daily habit, the easier it is to follow through with it.
Related post: How to Create a Realistic Summer Schedule for Kids
Need help getting your morning routine together?
Creating a morning routine can be a lifesaver when you're trying to wrangle kids and start the day without a fuss.
I've given you some tips for creating a simple morning routine here. But if you're still having trouble finding a routine that fits, I've got one more resource that can help!
It's called Family Routines and it's a complete resource for creating simple daily systems that work.
The course was created by Hillary at Pulling Curls, who's mastered the art of keeping herself and her family organized.
Family Routines could be what you need if:
Routines are missing from your daily round
You're tired of feeling overwhelmed or disorganized
You want simple solutions for making every day easier
When you sign up, you get access to written lessons, video lessons and homework assignments. It's a must-have if you're ready to give your family's daily life a much-needed makeover!
Final thoughts on morning routine charts for kids
Morning routines can make everyday life easier for moms and kids alike. If you've struggled with finding your morning groove as a family, a morning routine chart might be just what you need to get on track!
Do you have any tips for creating a productive morning routine? Tell me about it in the comments.
And be sure to take a peek at my favorite Busy Mom Resources for saving time, money and headaches before you go!
Need some ideas for implementing daily routines? Check out this ultimate list of mom routines!
Simple Morning Routine Charts for Kids