Want to keep kids reading over the summer? Downloading a free printable summer reading log for kids is a perfect way for them to keep track of their favorite books!
As a mom who loves to read, nothing makes me happier than seeing my kids with their noses buried in a book.
But I get that some kids just don't love to read.
The summer months provide a great opportunity to help kids find their reading groove and explore all the possibilities that books have to offer. And keeping a summer reading log can be a great motivator to stick with the reading habit!
If you're ready to get your kids reading (and off the video games) this free printable could be just what you need!
Related post: Ultimate Summer Bucket List for Kids to Do at Home (Free Printable Checklist!)
Table of Contents
Free Printable Summer Reading Log for Kids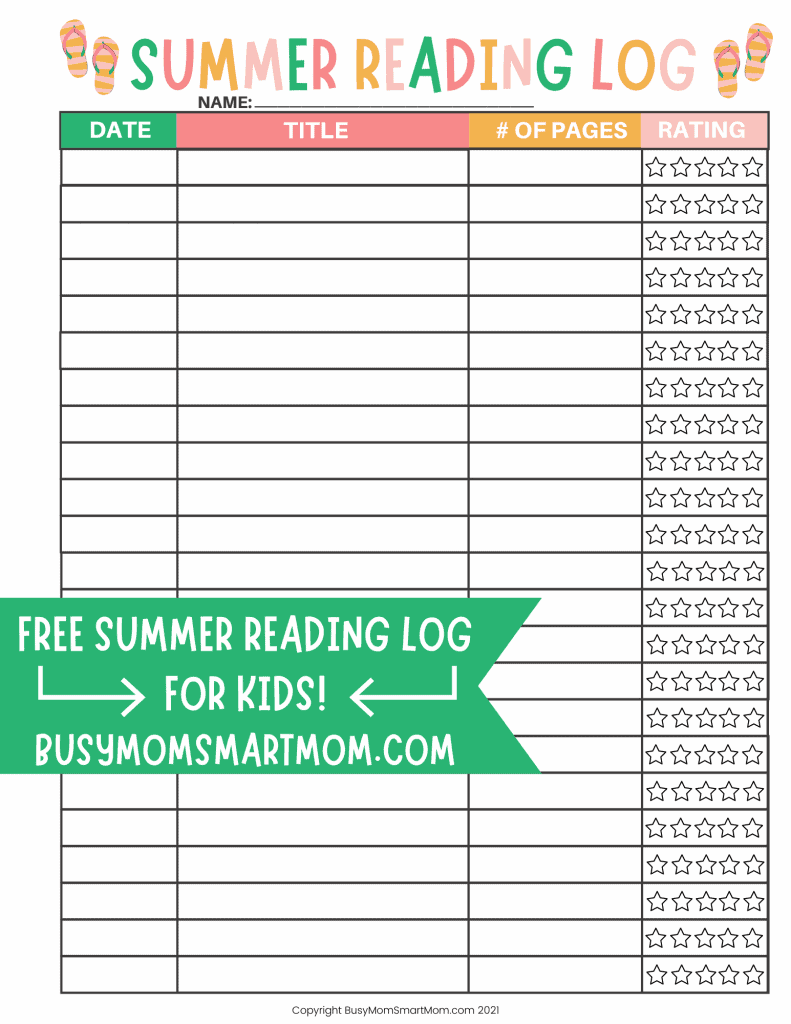 This printable summer reading log is a cute digital download that you can snag for free and print out for each child in your family. You'll just need to head here to sign up for access to the Busy Mom Vault to get the reading log and lots of other goodies!
You could use this free printable summer reading log to track summer reading for younger kids, older kids or even yourself! It's just that cute (or at least I think so 😊 ).
And if your kids fill up their summer reading log, they can always print off another copy. It's totally free so you can use it as many times as you need!
How to use this free printable summer reading log
This free summer reading printable for kids is super easy to use. It's got a space for your child's name, followed by entries for:
Date completed
Book title
# of pages read
How your child rates the book
After reading a book all your child (or you) has to do is fill in each column. The rating column is especially fun because it can help encourage your child to talk to you about what they read and what they did or didn't like about a particular book.
But what if your kids aren't reading yet?
No worries!
You can still use this free printable reading log to keep track of all the books you read to your kids as part of your summer schedule and routine.
Maintaining a reading log each summer can be a fun way to record your child's growth as they move from board books to picture books to early readers on up!
Why Summer Reading Matters for Kids
Studies have shown that kids who develop a love of reading have a higher cognitive function and brain growth.
Beyond that, encouraging kids to read (and being a reader as well) can help with:
Expanding their vocabulary
Problem-solving and reasoning skills
Encouraging creativity and imagination
Developing critical thinking
Aside from all of those benefits, encouraging your kids to become readers can also help expand their worldview and learn about the world around them. And if you want to raise kids who are open-minded and capable of empathy, that's a good thing.
How to Make Summer Reading Fun
If your kids really just dread reading, then this printable summer reading log may only go so far in getting them motivated to love books.
In case you need some ideas on how to make summer reading something your kids enjoy and look forward to, here are some helpful tips:
Create a cozy reading space. Reading can be a lot more enjoyable for kids when they're comfortable. If you don't have a designated reading spot in your house, consider creating an area where kids can relax with a pile of books. Some pillows, blankets or a bean bag chair might be all you need to carve out a kids' reading nook.
Read to them. My kids are teens now but I still read aloud to them, albeit we now read novels and biographies now instead of Pete the Cat. Reading aloud can take the pressure off of kids to read themselves and help to spark an interest in what really matters — enjoying the story itself.
Let your kids choose. A trip to the library, bookstore or even your nearest bookshelf can help get kids excited about reading if they get to choose what you read. Leaving it open-ended and not forcing kids to read this book or that one can help them figure out what they're most interested in learning about.
Share books from your childhood. One of my favorite parts of reading with my kids has been rereading books I loved as a kid. If you have some favorite childhood books sharing them with your kids could help to get them interested in reading.
Use incentives. When all else fails you can always offer incentives to get your kids reading over the summer. For younger kids, something like a simple sticker chart might work. For older kids, you might need to offer something a little more tempting, like an end-of-summer party or even cash.
Set a good example. In my experience, the best way to raise kids who are readers is to be one yourself. So, as you're helping your kids plan out their summer reading challenge, don't forget to add a few books to your personal summer reading list too!
Best Kids' Books to Add to a Printable Summer Reading Log
Looking for some ideas on which books your kids might like to read this summer?
We've read a lot of books over the years. Some good, some bad and some completely amazing ones.
Here are some of our favorite picks by age to consider for your summer reading log:
For younger kids
Fancy Nancy
Pinkalicious
The Day the Crayons Quit and The Day the Crayons Came Back
Don't Let the Pigeon Drive the Bus!
Amelia Bedelia
For elementary and middle-schoolers
Diary of a Wimpy Kid
Captain Underpants
Time Quintet (A Wrinkle In Time is amazing but Many Waters was our hands-down favorite from this series)
Chronicles of Narnia
The Giver
Because of Winn-Dixie
Pax
Wonder
Charlotte's Web
Matilda
Alice's Adventures in Wonderland
For teens and high schoolers
The Count of Monte Cristo
Emma
The Outsiders
The Great Gatsby
Edith Wharton's Mythology
The Fault in Our Stars
That's just a small sample of some of our favorite books to read. If you need more ideas, check out these recommended reading book lists for kids:
And if you're looking for great book ideas for kids, check out these great summer reading lists:
Scholastic.com is another great resource for getting ideas for a kids summer reading challenge!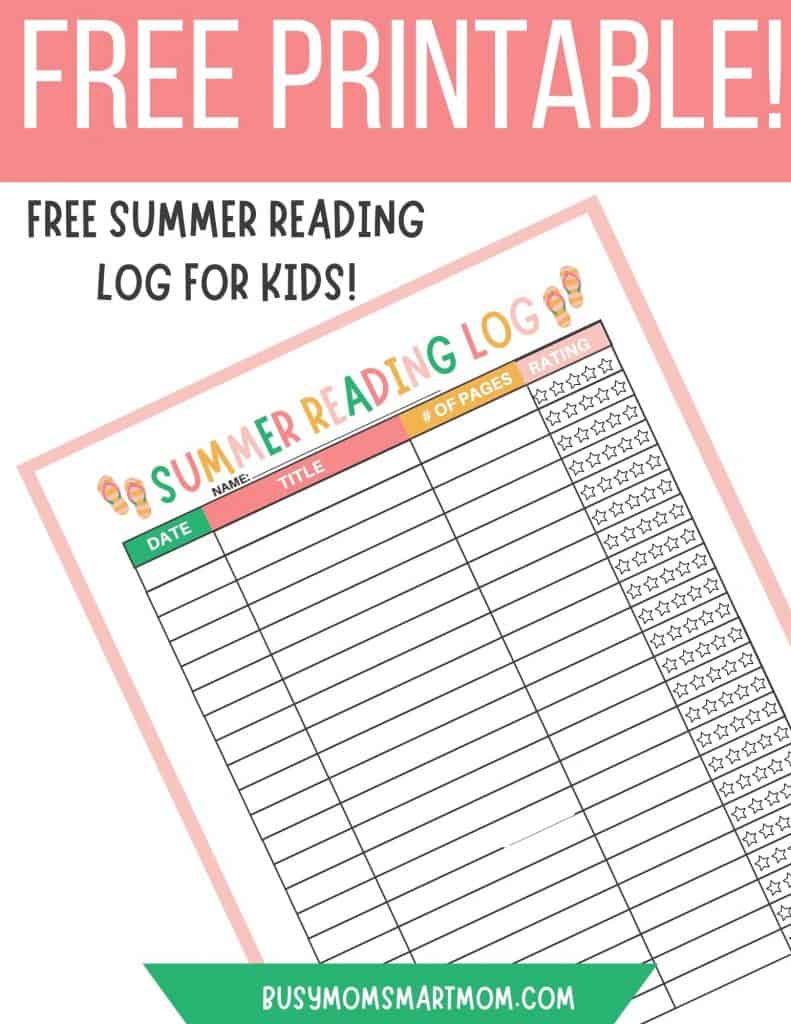 Final thoughts on summer reading for kids
This printable summer reading log is designed to help you get your kids into the reading habit and love, love, love books! And the sooner you can start getting kids interested in reading, the better.
Remember, you can download this free summer reading printable as often as you need to for keeping track of what your kids read.
Do you have a tip to share for encouraging kids to read over the summer or any time of year? Head to the comments and tell me about it!
And don't forget to pin and share this post!
What books are you reading with your kids this summer?