Tired of hearing your kids say they're bored when school is out? Creating a summer reading challenge for kids can be a great way to help them beat the heat.
As a kid, I loved spending the summer days reading. And as a parent, I've spent years nurturing a love of reading in my two kids.
Undertaking a reading summer challenge for kids can be a great way to beat the heat as a family. Not to mention, getting kids to read (or reading to them) can help boost their brainpower.
Ready to launch a kids summer reading challenge at home?
I've got some ideas to help you get kids reading while school is out (and hopefully all year long). Plus, you can snag a free summer reading challenge printable for tracking your kids' progress!
Related post: 101 Fun Things to Do With Kids at Home (Ideas for Spring Break or Summer Vacation)
Table of Contents
Why Try a Summer Reading Challenge for Kids?
If you've been raising school-aged kids for any amount of time, you know that the summer slump is real.
Whether you call it the summer slump, summer slide or brain drain, it all means the same thing:
Kids tend to lose some of what they learned during the school year over the summer.
While recent research hints at a smaller learning loss than previous studies suggested, it's a fact that kids may forget some of what they learned over the summer.
As a homeschooling mom, I've seen it myself. I remember having to do a crash course repeat of 4th-grade math when my daughter started 5th grade because she couldn't remember how to multiply or divide.
Summer reading may not help your child remember what 56 x 24 is. But there are numerous benefits associated with reading, even if it's just 20 minutes a day.
Kids who read 20 minutes a day (or are read to) may:
Develop bigger vocabularies
Perform better on standardized tests
Have improved writing skills
Be more creative
Those are all great reasons to make time for a kids reading challenge and make it part of your regular summer schedule.
How to Create a Simple Summer Reading Challenge for Kids
There are lots of ways to approach a kids summer reading challenge. But since I'm a busy mom, I like to keep things simple.
So if you want an easy (and fun) way to set up a reading challenge for kids over the summer, here's how you do it.
Have your kids set a goal for the number of books they want to read
Create a simple system for keeping track of books as they read them
That's it! It's really nothing fancy.
I like this method for challenging kids to read over the summer because they get to decide how high they want to set their goals. And they also get to keep track of how much progress they're making.
You can tailor this summer reading challenge for kids to their ages and reading abilities, too.
So, for example, say you have a five-year-old, a 10-year-old and a 16-year-old.
The five-year-old may want to read 20 books over the summer (or have you read 20 books to them).
The 10-year-old may decide they want to read 10 chapter books. And the 16-year-old might set a goal of reading 50 books.
Because this reading challenge is flexible, you can fit it to your readers rather than trying to force them to reach an impossible goal.
And that's a good thing for keeping kids interested in reading. Otherwise, they may feel so overwhelmed by the goal that they don't even try and give up right away.
Summer Reading Challenge for Kids Printable Tracker
Using a simple summer reading log to keep track of completed books is a fun way to keep kids motivated.
So to help you out, I've created three FREE summer reading challenge printables!
The printables are designed to work for kids of all ages.
You can choose from:
A summer reading printable tracker for 20 books
A summer reading printable tracker for 50 books
Or a summer reading printable tracker for 100 books
Kids can color in one book at a time as they go. This is a simple way for kids to have a visual representation of all they've read over the summer!
You can download these fun summer reading challenge printables in the Busy Mom Vault. You'll just need to plug in your email, then you'll get a Dropbox link where you can download the summer reading printables (plus lots of other goodies!)
And if you want to record specific details of each book, be sure to grab your free summer reading log!
Other Ideas for a Summer Reading Challenge for Kids
Looking for more ideas on how to create a reading summer challenge for kids?
Here are some other ways to beat the summer reading slide!
Scholastic Summer Reading Promise
Every year, Scholastic launches a summer reading program for kids. This program is free and it's designed to get more kids reading!
Kids can create a free Home Base account. With Home Base, kids can:
Record their reading streak
Attend weekly author events
Play book-based games and activities
Best of all, when kids maintain a reading streak Scholastic donates books to Save the Children.
Books A Million Summer Adventure
Over the summer, BAM offers a free summer reading challenge for kids. This one is super easy too.
This year, kids can read four books and write about their favorite part of the story. Books A Million offers a free printable reading log where kids can jot down their thoughts.
Once they complete the log, kids can turn it in at their local BAM store to receive a prize.
Barnes and Noble Summer Reading
Barnes and Noble offers a free summer reading program for kids in grades 1 to 6.
To complete the challenge, kids have to read 8 books then tell what they liked about them in a printable reading journal.
Once they finish their 8 books they can turn in their journal to get a free book!
Local Summer Reading Programs
When my kids were younger, we were regular participants in our library's summer reading challenge for kids.
It was fun seeing how many books we could read together over the summer, then later, how many they could read on their own.
And the library always made it fun by offering once-a-week meetups with guest speakers. Some of the things my kids got to do through the library summer reading program over the years include meeting wildlife and nature experts, seeing magic shows and building robots.
If you've got a library nearby, chances are they offer some kind of summer reading program for kids. You can also contact your local literacy council to see if they offer any details on summer reading programs.
How to Make a Summer Reading Challenge for Kids Fun
By the time summer rolls around, your kids may be ready to play all day. Or sleep all day if you've got growing teens.
So unless your kids are natural bookworms, getting them on board for a summer reading program might require a little creativity.
Luckily, there are lots of ways to make reading over the summer fun so kids will stay engaged.
For example, creating a cozy reading nook somewhere in your home can make it seem more like fun and less like a chore.
Outfitting a corner of the living room with bean bag chairs, a bookcase to hold all their books and a throw blanket or two could make the idea of settling down with a book more appealing.
You could also challenge your kids to read in different places.
Instead of reading on the couch, you could suggest reading:
Outside in a hammock
In a tent or teepee in the backyard
Under a shady tree
In the car, while you're running errands
At the beach, if you live near one or are planning a beach vacay
This is a win-win because you can get kids outside and into the fresh air, while encouraging them to read at the same time.
Another summer reading challenge for kids idea involves mixing up the types of books they're reading.
This is a great way to keep reading interesting over the summer if your kids are stuck on one type of book or subject.
So, for example, you could challenge them to read:
A book about science
A mystery novel
One or more classic novels
A biography of a famous historical or scientific figure
A book of poetry (my kids loved Shel Silverstein)
A play
And you're not limited to encouraging kids to read just books either.
You could also challenge them to read print newspapers and magazines, online magazines or age-appropriate blogs.
Mixing up what kids are reading can help them get familiar with different writing styles. And it can build vocabulary as they learn more about the world around them.
Here's one more idea to keep kids interested in reading over the summer: Watch the movie or TV show that goes along with the book.
I've done this with my kids (and still do). We like watching the movie or TV adaptations of books we've read, then discussing how they're the same or different.
And seeing a book play out on screen can really help bring the characters and story to life.
Best Books to Include in a Summer Reading Challenge for Kids
Looking for some ideas for books to read with kids over the summer? Or books that kids can enjoy on their own?
Here are a few of my favorite summer reads for kids!
Summer reading list grades 1-2
Any of the Mo Willems books (my favorites were the ones featuring Pigeon)
Ramona the Pest (a childhood favorite of mine)
Where the Wild Things Are
Press Here
All of the Fly Guy books
Dog Man (and Cat Kid)
Charlotte's Web
Mr. Popper's Penguins
Flat Stanley
The Giving Tree
Stink by Megan McDonald
Summer reading list grades 3-4
Charlie and the Chocolate Factory
Where the Mountain Meets the Moon
The Boxcar Children
Matilda
Escape From Mr. Lemoncello's Library
Holes
Flora & Ulysses
Alice's Adventures in Wonderland
Little House in the Big Woods
Summer reading list grades 5-6
Number the Stars
A Wrinkle in Time (really, the entire Time Quintet is amazing)
The Hobbit
Chronicles of Prydain
Howl's Moving Castle
The Penderwicks (this entire series is phenomenal)
Bridge to Terabithia
Wonder
Little Women
Redwall
Because of Winn-Dixie
Summer reading list grades 7-8
Watership Down (and Tales From Watership Down)
The Giver
The Book Thief
The Outsiders
The Maze Runner
Lord of the Rings
A Long Walk to Water
Julie of the Wolves
Summer reading list grades 9-12
Lord of the Flies
The Scarlet Letter
To Kill a Mockingbird
The Color Purple
Of Mice and Men
The Bluest Eye
The Catcher in the Rye
Flowers for Algernon
The Great Gatsby
Things Fall Apart
Bonus: Summer reading list for busy moms
Summer reading challenges aren't just for kids. Moms can also get in on the action, too.
Looking for some books to read over the summer? Here are some of my favorite books for moms!
Pro mom tip: If you don't want to carry a book with you everywhere you go, try audiobooks instead.
You can get two free audiobooks now when you sign up for a free trial with Audible!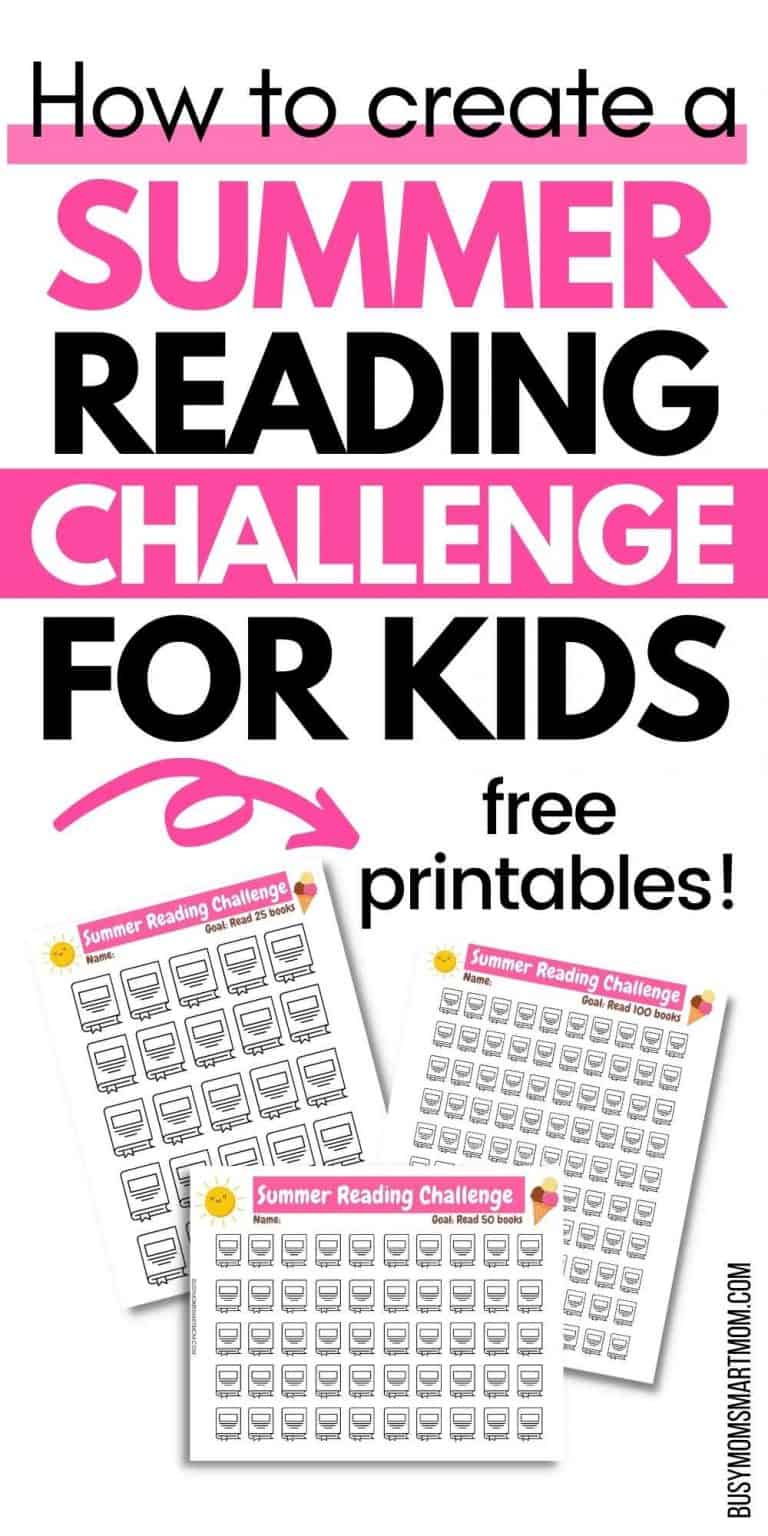 Final thoughts on creating a summer reading challenge for kids
Summertime is all about rest and relaxation but it doesn't mean reading has to go out the window.
Keeping kids reading over the summer can help with their development and beating the summer slide. And if you're reading together as a family, you can build stronger connections.
Do you have a great idea for a summer reading challenge? Head to the comments and tell me about it.
And don't forget to download your free summer reading challenge printables!
Are you doing a summer reading challenge for kids?