Summer means kids get a break from school, but that doesn't mean routine has to go out the window. Having a summer schedule for kids can keep them busy–and you sane.
But what does a good kids summer schedule look like? And how can you create a summer routine for kids that works for the entire family?
I've got some tips for creating a summer schedule for kids at home that's flexible (and fun!) And you can also grab a free printable summer schedule for kids to help you stay organized.
Related post: 101 Fun Things to Do With Kids at Home (Ideas for Spring Break or Summer Vacation)
Why Is Having a Summer Schedule for Kids Important?
There's a very simple reason to create a daily summer schedule or routine when school's out.
Kids thrive on routine.
Research has shown again and again that kids who live by routines have:
Less stress and anxiety
Better emotional and mental health
Improved behavior overall
And having a schedule to follow over the summer (or all-year long) can make your family happier and more organized too.
Creating a daily plan for kids to follow during the summer can help them build better habits. There's no guessing about what their days will look like (and no pestering you with questions about what comes next).
And you can include things that are good for them, like daily reading over the summer or regular exercise.
The best summer schedule for kids is also flexible enough that you can change things up if you need to, without throwing the whole family into chaos.
Related post: 25 Fun Ideas for Keeping Kids Busy So You Can Get Things Done
Summer Routine for Kids vs. Daily Summer Schedule
When planning out your kids' days over the summer, you might be wondering whether to follow a routine or a schedule.
So what's the difference?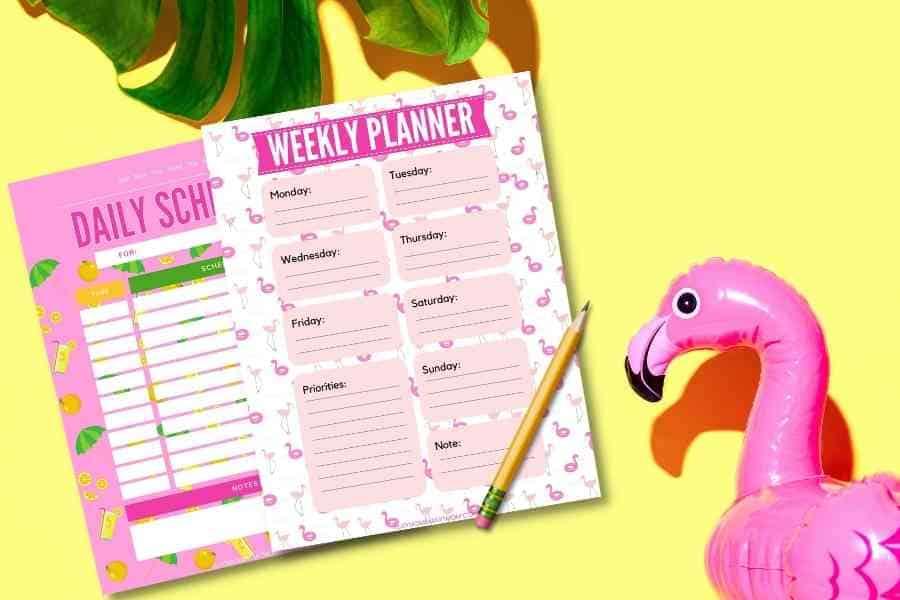 A routine is a round of activities, tasks or chores your kids do every day. So for example, your kids' morning routine might include:
Brushing teeth
Making their beds
Getting dressed
Eating breakfast
A schedule can include things your kids might not do every day. For example, you might schedule a weekly playday or take your kids to art classes on Tuesdays and Thursdays over the summer.
Routines can help build habits; schedules can help kids have fun over the summer.
And a little of both can be a good thing for kids and you, too.
How Do You Make a Summer Schedule for Kids?
Making a daily summer schedule for kids is something that's unique to every family.
So as you're deciding what to include in your kids' summer routine, think about:
Each child's age
What they're interested in
Their habits/personalities/temperaments
What they need as part of a structured day (i.e. naptimes, alone time, etc.)
Normal wake-up times and bedtimes
For example, a daily summer schedule for a toddler might look very different from a teenager's summer routine. And your kids' ages can dictate what type of activities you decide to do or how much time you spend at home vs. going out.
It's also important to keep your regular daily routine in mind when creating a summer schedule for kids. 
For example, serving dinner a little earlier or later to accommodate your schedule might not be a big deal. But skipping your two-year-old's regular naptime for a trip to the library could leave you with a super cranky human on your hands.
Finally, think about cost.
Some activities you can do with kids at home without spending much money at all.
For example, we really love subscription boxes at our house because they're self-contained and don't break the bank.
Other summer activities for kids, like day camps or family field trips, might cost a little more. So consider your budget as well. 
Keeping track of your schedule gets easier when you have it written down. And I've got some free summer schedule printables for kids you can download now!
What to include in a summer schedule for kids
Your kids' summer schedule might include some of the things they do every day. But you can also add in new activities or chores just for the summer.
The list of things your kids might do daily include:
Making their beds
Getting dressed
Having breakfast
Brushing teeth
Brushing their hair
Washing faces
Doing regular chores, such as feeding pets or helping with laundry
Family time
Evening and bedtime routines
But if you're focusing on fun, learning or family time over the summer your kids daily schedule might also include things like:
Family field trips
Playdates
Outdoor time
Exercising or playing sports
Learning activities
Listening to podcasts or audiobooks (get 2 free audiobooks now with an Audible trial!)
Working on projects at home (here's a fun kids summer bucket list of activities you can work your way through!)
One-on-one time with each child
Spending time with extended family members
Life skills practice
Screen time
Journaling (my daughter was a big fan of this HappyMe Journal)
Free time (great for teaching kids to play independently)
Doing acts of service together
Rest time
That last one includes rest time for the kids and rest time for you too, mama. When you're home with the kids every day, it's super important to make time for yourself.
So including some self care for you in your summer routine can keep you from getting burned out.
If you need some prompts on how to do it, this self-love workbook for women is a great place to start!
Daily summer schedule for kids example
There's no right or wrong way to make a kids summer schedule. What matters most is finding a system that works for your family.
For example, you could try a block scheduling approach. This is similar to the way you can use time-blocking to get everything done as a busy mom.
With this type of summer schedule you break up the days into blocks of time, with different activities or tasks assigned to each block.
So a daily summer schedule for kids that uses time-blocking might look like this:
7 am to 8 am – Morning routine
8 am to 10 am – Read-aloud time and play
10 am to 12 am – Learning time (i.e. doing workbooks or watching educational YouTube channels)
12 pm to 1 pm – Lunch and clean-up
1 pm to 3 pm – Outside time and rest time
3 pm to 4 pm – Screen time
4 pm to 6 pm – Meal prep, dinner and clean-up
6 pm to 7 pm – Bath time
7 pm to 9 pm – Family time
9 pm -Bedtime for kids
Time-blocking is great because you can break up the days as needed and see what's up next at a glance.
You can change up the order of activities within each block. Or move some of the blocks around if needed.
This is how we manage our daily routines at home pretty much all year-round. And so far, it's never led us astray. 🙂
If you want to try the time-blocking method be sure to download your free printable summer schedule for kids!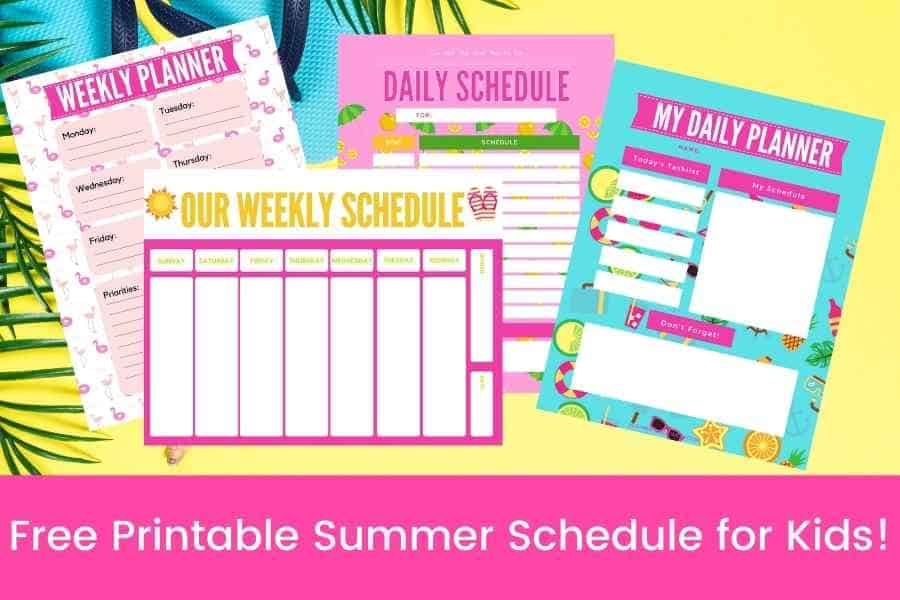 Now, is time-blocking the only way to approach your kids' summer schedule?
Nope!
There are lots of other ways you could structure your schedule over the summer, including:
Having different themes for each day
Including one completely "free" day with no scheduled activities at all
Maintaining a master list of activities or chores to do for the entire week
Breaking the day into chunks (i.e. morning, afternoon, evening)
Working your way through a summer bucket list of activities or fun things to do
Again, it's all about finding a routine that works best for you and your family.
Having a family meeting to discuss summer plans can help with getting everyone on the same page. And you can brainstorm ideas for fun things you'd like to do over the summer.
Related post: 12 Awesome Virtual Vacations That Let Kids See the World From Home
Tips for Managing Your Kids Summer Schedule
Making a daily summer schedule for kids at home might be the easy part. It's the sticking-to-it part that can be tricky.
If you're trying to find your summer groove as a family, these tips can help.
1. Be flexible
Having a schedule for kids to follow over the summer can make daily life at home easier. But it doesn't have to be set in stone.
Being flexible makes it easier to go with the flow when plans change unexpectedly.
For example, your parents might call up on a Wednesday afternoon and offer to take the kids out for ice cream. A summer routine that's flexible instead of rigid means they don't have to miss out on time with grandma and grandpa.
Being flexible also means adjusting things when your schedule just isn't working.
Instead of trying to make an activity or task fit at a particular time, for example, you can save yourself some pain and either move it somewhere else in the day or ditch it altogether.
2. Aim for balance
All work and no play makes Jack a dull boy. And it can get pretty boring and tiring for kids, too.
You might be planning to work on projects around the house over the summer or get the kids doing more chores. Or you might want them to keep up with schoolwork so they don't hit the summer slump.
There's nothing wrong with including those things in your summer schedule.
But don't go overboard and leave out the fun either. As you put your summer plans together, make balance the goal for the kids and yourself, too.
3. Set clear expectations
Summer can end up being a free-for-all if you're not setting boundaries and expectations beforehand.
So as you're working out a realistic summer schedule for your family, be sure to lay down ground rules.
For example, you might have specific rules about what kids need to have some screen time. Or you might have some goals you want to work toward as a family over the summer.
Talking over your expectations and asking your kids what they expect from you can help the summer months pass by smoothly.
4. Keep your family in the loop
Having a summer schedule for kids works best when the entire family knows what's happening.
So here's a simple tip: Laminate your schedule and post it where everyone can see it.
This does two things.
First, if you've printed out your free summer schedule printables you can laminate them and reuse them over and over. You just need some dry erase markers.
Next, keeping your schedule visible to everyone means kids can stay on top of their summer routine themselves.
Older kids can write down their tasks and cross them off. This helps them learn accountability and feel involved in the process of scheduling their days.
5. Don't compare your summer schedule to another family's
Every mom knows that one family that seems to spend their summer doing one amazing thing after another.
One week, they're swimming with dolphins in Florida. The next week, they're hiking through the Grand Canyon. Or their kids are doing theater camp, learning how to build robots or becoming gourmet chefs.
Listen, I'd love for my kids to be doing those kinds of things. But it's just not realistic.
And it might not be for you, either.
If you're tempted to compare your kids' summer routine or schedule to another family's, just don't. Because while you're doing that you could be missing out on chances to make fun memories of your own.
6. Remember what's important
You might plan out a summer schedule for your kids with the best of intentions, only to find that you don't have time for everything.
And that's totally fine.
In fact, you probably don't want to try to do it all over the summer unless you want to end up tired and maybe a little broke while you're at it.
So if you don't get to all of your to-dos or activities for a day or a week, don't beat yourself up.
Instead, focus on enjoying the time you have with your kids over the summer. Because even though the days are long, the years are short.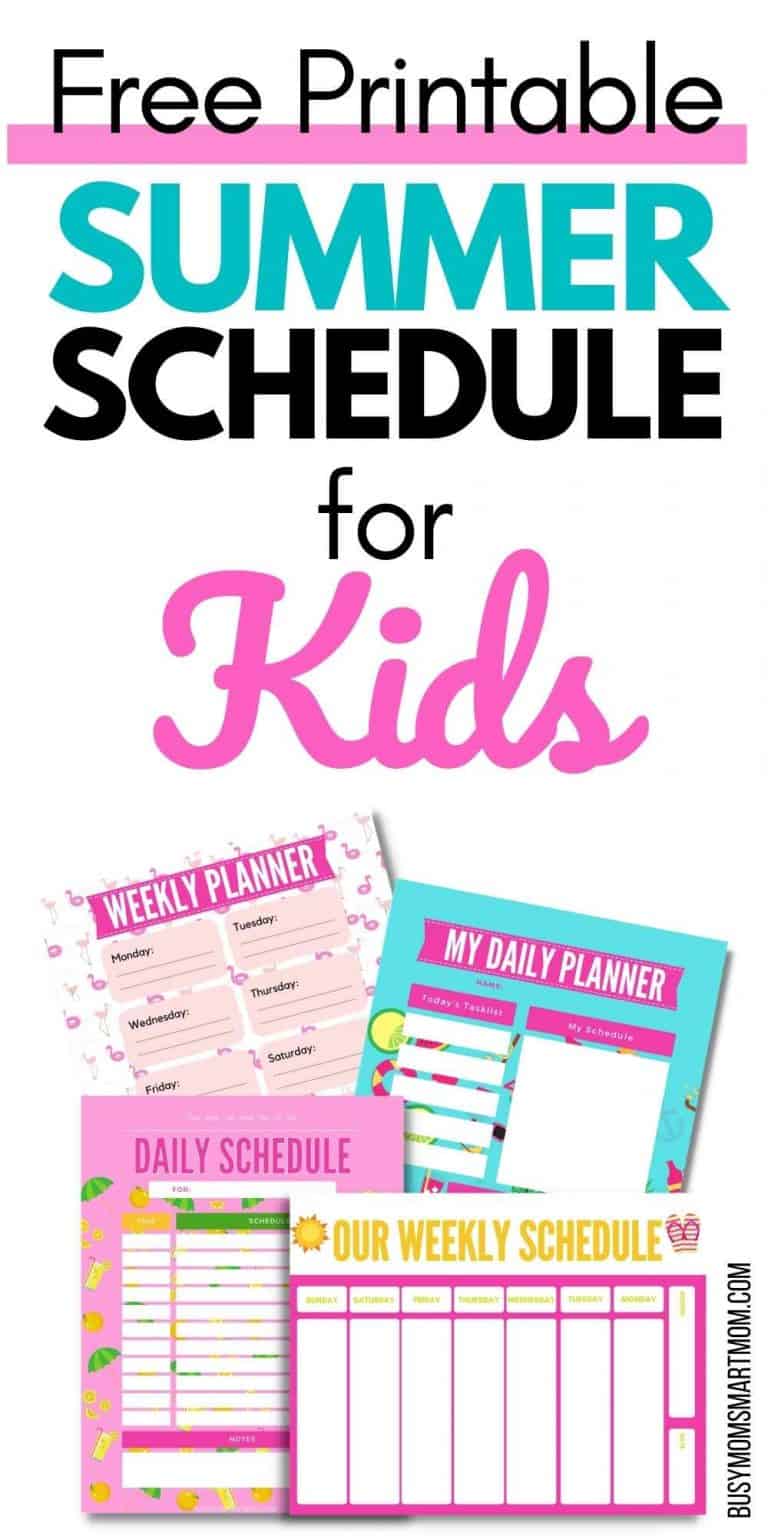 Final thoughts on creating a kids summer schedule
Summer offers a chance to slow down and rethink how you and your kids spend your days. Having a summer routine to follow can help you make the most of your time together.
Do you have any tips for creating a realistic summer schedule plan for kids? Head to the comments and tell me about it!
And don't leave without downloading your free printable summer schedules for kids!
What's on your summer schedule for kids?