Learn how to clean a messy house FAST and stop being overwhelmed!
And if you need even more helpful tips on cleaning a messy house, be sure to check out The Organized Home!
Truth time, how clean is your house right now?
Are you living in a magazine-ready home with everything in its place? Or are you so knee-deep in the mess that it seems like it'd just be easier to move than try to clean it up?
I know that feeling.
I grew up in a home that was always messy and cluttered. So as an adult, a messy house is a real anxiety trigger for me.
And when I say messy, I don't mean a few kids' toys scattered here or some dirty dishes left in the sink.
I mean a there's stuff everywhere, can't see the countertops, total mess overload.
And honestly, it's hard to figure out how to clean a messy house once you get to that point. Then you get into a routine of just letting things pile up even more because you don't know what to do with the mess that's already there.
It's a vicious cycle, right?
But you don't have to resign yourself to drowning in the mess. I've got some tips to help you get the cleaning train moving again when you've got no clue what to do first.
How to Clean a Messy House When You're Overwhelmed
So, these tips aren't some super-secret magic formula for cleaning a messy house. These are just things I've learned over the years trying to keep a house clean as a busy mom.
And they're designed to help you start conquering the mess in your home right now.
Sound good? Then here's how to clean a messy house when you don't know where to start.
1. Round up your supplies
You'll need a few things to get started with cleaning when your house is a disgusting mess.
Trash bags
An apron (for stashing things you need to put away as you move room to room)
A box or bag for things you want to donate
It might also help you to have some music to listen to you if that helps you stay motivated.
I usually turn the TV on when I clean just for background noise.
And one more thing you might want to set aside is a reward for when the cleaning is done.
Having a clean home is a reward in itself but treating yourself to something small, whether it's a piece of chocolate or a soothing facial mask, can give you something to look forward to while you're cleaning up.
You might also like:
11 Time-Saving Laundry Hacks for Moms Who Hate Doing Laundry
2. Give yourself a pep talk
Listen, cleaning up a messy house when the mess is out of control is the exact opposite of a mental health day.
So you've got to get your mindset right before you get started or else you'll get overwhelmed FAST. 
Here are some simple ways to get your head in the right space so you can finally start attacking the mess:
Take a deep breath. Or two. Or ten or however many it takes.
If you've been beating yourself up about letting the cleaning slide for too long, stop it right now.
Visualize what you want your home to realistically look like once you're done cleaning it up.
Tell yourself that no matter how bad the mess is, you CAN do this. 
With me so far?
Great! Now we can get into the nitty-gritty of how to clean a messy house when there's stuff everywhere.
You might also like:
10 Spring Cleaning Tips for Busy Moms Who Hate to Clean
3. Choose one room at a time to work on
When every room in your house is a disaster, it can be hard to decide where to start cleaning.
It might seem obvious to start with the room that's the biggest mess but that can backfire.
You can start off with good intentions but end up buried in stuff and get so overwhelmed, you just give up.
So pick a room that's moderately messy (maybe the living room or kitchen) and start there.
And most importantly, focus on the small wins.
What do I mean by that?
It's simple. When you're trying to clean up a disgusting mess of a house, it's easier to focus on doing small tasks one at a time.
This is a 'slow and steady wins the race kind' of approach but as you complete small tasks, you get a motivational boost to keep going.
And over the course of a day or a week or however long it takes you to get the mess under control, those small tasks can add up to a clean home.
Here are some ideas for how to get started cleaning a messy home in small steps:
In the kitchen: Do the dishes, clear off the countertops, wipe down the fridge, organize one cabinet or shelf in the pantry.
In the living room: Pick up any trash on the floor or tabletops, round up stray magazines or books into a basket, have your kids take any stray toys back to their rooms, take coffee cups or glasses back to the kitchen.
In the bedroom: Pick up dirty clothes off the floor and put them in the laundry basket, clean off the top of your nightstand or dresser, make the bed.
In the closet: Straighten up shoes, put any clothes that have fallen off back on their hangers, put away any clean laundry you've been letting pile up.
In the bathroom: Empty trash baskets, use Clorox wipes to wipe down the sink, counters and toilet, round up any kids' bath toys into a basket you can mount on the shower wall.
In kids' rooms: If you don't have any toy organization in place yet, put toys in piles to sort later. Put books back on the bookshelves, toss dirty clothes in the hamper and stash any trash you find in your apron to throw away later.
Those are all small things that are designed to get you moving so you can work on deeper cleaning later.
You might also like:
11 Daily Tasks to Clean House Quickly When You Don't Have Time for the Mess
Favorite Amazon Picks for Organizing a Messy House

4. Declutter as you go
The older I get, the more I love the idea of having a minimalist home.
Less stuff means less I have to pick up and clean. And buying less stuff also saves me major money.
As you work on cleaning up a messy house, declutter as you go room by room.
If you're overwhelmed by the thought of trying to declutter, here's a simple rule to follow: start with just one thing.
That's it.
When you go into a new room to start cleaning, pick up one thing. And ask yourself, do I need this or can I get rid of it or donate it?
If you can donate it, then do it. If you can throw it away, toss it. 
Then move on to the next thing and repeat the process.
Don't be afraid to be completely ruthless at this point. Decluttering can be so freeing in a way because you realize that you just don't need all the stuff that's junking up your house.
If you're having trouble getting into declutter mode, try setting a goal for yourself.
For example, you could aim to declutter:
One thing every day
10 things a week
30 things a month
100 things a year
Whatever it is, set yourself a decluttering goal and commit to reaching it. I promise you'll be surprised at how much easier decluttering gets once you get into the habit.
And if you need more tips on how to start decluttering, this book can help. I was skeptical about the Konmari method at first but it really does work for sorting out the clutter!
You might also like:
100 Things to Declutter Right Now to Make Your Home More Livable
5. Don't assume you can do it all in one day
If you've let things pile up for a while, then here's a truth you need to accept: this process can take time.
Rome wasn't built in a day and your home may not get clean in a day either. 
What's important is that you commit to the idea of how to clean a messy house when things have reached a tipping point.
An easy way to stay on track is to set realistic cleaning goals and deadlines for reaching them. 
So really look at how bad the mess has gotten. And then ask yourself how long you think it'll take you to clean it up, room by room.
Once you have an idea of how much time each room will take, you can start mapping out a cleaning plan.
For example, you might be able to clean up a messy kitchen and the living room in one day. But cleaning up your kids' bedrooms or your bedroom and closet might take up an entire weekend.
Tackling the garage or your attic might take even longer. One of the best ways to approach this is to prioritize.
Focus on the areas of your home that are the most lived-in first, then work your way out.
And don't get down on yourself if cleaning takes a little longer than you expect.
A good rule of thumb I've learned from running a business is to look at however long I expect something to take and double it.
And you could try that with cleaning up a messy house, too.
The upside is that if something doesn't take as long as you thought, then you've got time to spare for something else.
And if something takes longer, then you don't feel like you're falling behind since you've given yourself plenty of time for that cleaning task.
You might also like:
17 Simple Dusting Hacks That Actually Work to Keep Your Dusty House Clean
How to Clean a Messy House and Keep It Clean for Good
Now that you've figured out how to clean a messy house when you're overwhelmed, you'd like to keep it that way right?
That's a no-brainer. And I've got something that can help.
It's called The Organized Home and it's a complete course on how to organize your home room by room so you can get out from under the mess for good!
This course could be right for you if:
You're struggling to figure out which areas of your home you need to focus on most
You wish there was an easier and faster way to get your home clean so you can save time
You'd like to get a system in place for managing clutter so the mess never piles up again
You want to be part of an online community filled with other moms who are going through the same cleaning struggles
The Organized Home is a great course for busy moms who need a little direction when it comes to getting a messy house under control.
(And really, as busy moms, who couldn't use that? 🙂 )
You might also like:
10 Genius Time-Saving Tips for Busy Stay at Home Moms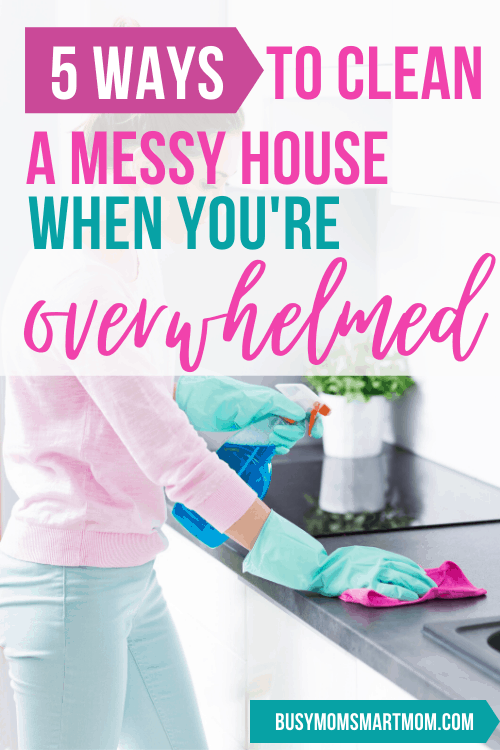 What's your best tip for how to clean a messy house?
Cleaning up a messy house is no easy feat, especially when the mess extends to every room in your home.
But if you can do it, you'll find that your home becomes so much more livable. And if you spend most of your time at home (with kids and a spouse in tow) then you'll appreciate having a neat and tidy space to enjoy as a family!
Have you been able to take charge of the mess in your home and clean it up for good?
If so, I'd love to hear about your best cleaning hacks and tips for making it work!
And of course, don't forget to pin and share this post with another mom who could use some tips on how to clean a messy house!