Acts of Kindness for Kids
Performing acts of kindness as a family is a great way to teach kids compassion and instill a habit of giving back.
Doing simple acts of kindness may seem like a small thing–but it can have a big impact. According to a Parents.com survey, kindness is the #1 value parents want to instill in their children.
After all, parenting is hard enough without having to worry about your kids being bullied (or becoming a bully).
Teaching kids to be kind can help to prevent bullying before it starts. And it can help kids to be more appreciative of the things they have, which is important in this age of instant gratification and too much stuff.
The holiday season is a great time to practice big or small acts of kindness with kids–but you can really do them any time of year. Doing one good deed as part of your daily routine can make kindness a lifelong habit for kids.
If you need some inspiration, I've got 101 acts of kindness for kids you can try now. Plus, you can download a free printable list of acts of kindness to follow!
Related post: 101 Frugal and Fun Things to Do With Kids at Home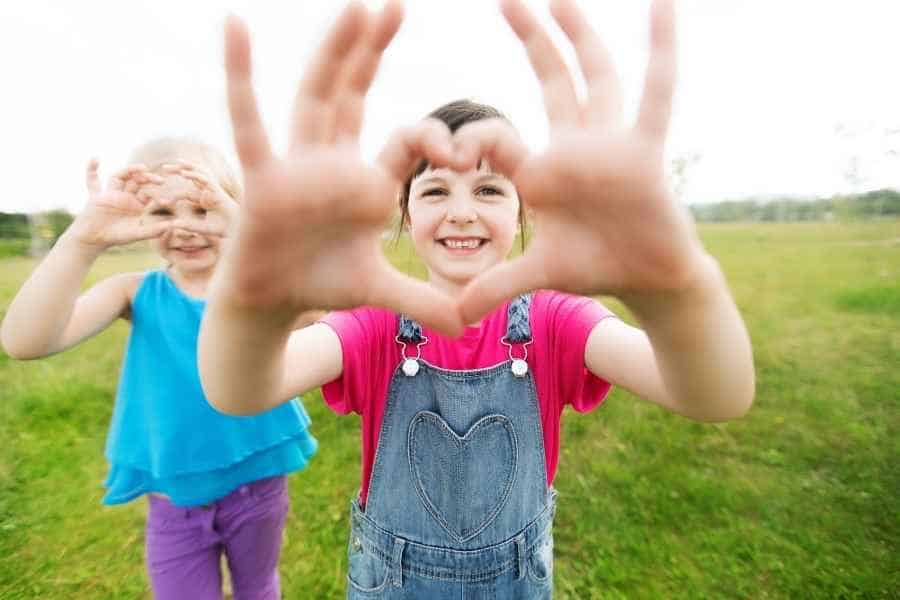 101 Random Acts of Kindness for Kids
Ready to make a kindness practice part of your family's daily routine and spread the love? Here are 101 kindness ideas to try now!
The list includes acts of kindness for kids at home, acts of kindness in school, random acts of kindness kids can do when they're out and about and good deeds for kids to do during the holiday season.
1. Hold a door open for someone.
2. Offer to carry someone's groceries to their car.
3. Donate toys and clothes to kids in need.
4. Bake cookies or bread for the neighbors.
5. Deliver snacks to your local police department.
6. Donate dog food and cat food to your local animal shelter.
7. Give the bank teller candy (instead of getting it!)
8. Do a chore for your sibling.
9. Pick up litter.
10. Make bookmarks for your local librarian.
11. Donate books to your school library.
12. Write a friendly thank-you note to the mail carrier.
13. Send your Halloween candy to servicemembers.
14. Make Christmas cards for kids who are spending the holidays in the hospital.
15. Drop off packs of tissues with homemade cards to your local nursing home.
16. Make bird feeders for the winter so birds don't go hungry.
17. Make simple, no-sew fleece blankets and drop them off at your local homeless shelter.
18. Pack "blessing bags" and hand them out to people in need.
19. Donate food to your local food pantry.
20. Offer to rake a neighbor's lawn.
21. Bake cookies for your school custodian or cafeteria workers.
22. Make a thank-you note for your bus driver.
23. Ask for donations instead of birthday gifts.
24. Pick flowers for an elderly neighbor.
25. Leave a book for someone to find with a thoughtful note.
26. Walk a dog.
27. Invite someone new to play with you during recess.
28. Share your favorite snack at lunch.
29. Pray for someone.
30. Pack a shoebox for needy kids at Christmas.
31. Drop a toy in the Toys for Tots box during the holidays.
32. Say hello to everyone you meet.
33. Send Christmas cards to troops.
34. Bake a pie for your pediatrician.
35. Adopt a child for Operation Santa.
36. Pay it forward at the drive-thru.
37. Give someone a compliment.
38. Adopt an animal.
39. Donate books or school supplies to your local literacy council.
40. Pack a backpack for kids in need.
41. Round up stray carts in the parking lot.
42. Leave change in a vending machine.
43. Write a kind message on the sidewalk in chalk.
44. Hand out bottled water to the people who pick up your garbage or recycling.
45. Put together a snack basket for UPS, USPS or FedEx delivery drivers.
46. Write a letter to an elderly relative.
47. Find a penpal in another country to write to.
48. Tell a joke to make someone laugh.
49. Do your chores without being asked.
50. Make breakfast for your parents.
51. Turn off the water while brushing your teeth.
52. Remember to turn off lights when leaving the room.
53. Clean out your parents' car.
54. Donate to a local food drive.
55. Volunteer with your parents.
56. Make a meal for a neighbor.
57. Make get well cards for someone who's under the weather.
58. Leave anonymous notes of kindness around town.
59. Donate clothes or toys to a women's and children's shelter.
60. Donate coats for the winter to needy families.
61. Paint kindness rocks and leave them in your community for people to find.
62. Let someone go ahead of you in line.
63. Help a classmate with their schoolwork.
64. Stick up for someone if you see them being bullied.
65. Buy some extra school supplies for your teacher.
66. Ask someone new to share your seat on the bus.
67. Take the coins you've been saving in your piggy bank and donate them to charity.
68. Offer to push someone on the swings at the playground.
69. Write down 3 things every day that you're grateful for.
70. Read a book to a younger sibling.
71. Call your grandparents for a video chat.
72. Clean up a mess even if you didn't make it.
73. Help your parents to bring in groceries and put them away.
74. Bring the trash can in from the curb.
75. Check the mail.
76. Sort the recycling.
77. Make a special gift for a friend.
78. Set the table at dinner.
79. Say "please" and "thank you".
80. Shovel snow for a neighbor in winter.
81. Offer to pull weeds or plant flowers for a neighbor.
82. Make holiday ornaments for your neighbors or teacher.
83. Drop your change in the Salvation Army bucket.
84. Tell your family why you're thankful for them.
85. Shop locally to support small businesses.
86. Hold the elevator for someone.
87. Leave quarters at the laundromat.
88. Apologize to someone you got in an argument with.
89. Help someone to decorate for the holidays.
90. Send a nice text message to a friend.
91. Let your sibling choose a show or movie and watch it with them.
92. Deliver lunch to your local fire department.
93. Adopt a family for Christmas.
94. Smile at everyone you meet.
95. Wave to passing cars on the school bus.
96. Give a classmate a high-five when they get a right answer.
97. Offer encouragement to someone who needs it.
98. Hug a family member.
99. Listen when others are talking and don't interrupt.
100. Offer to help someone cross the street.
101. Encourage your friends to be kind.
Acts of Kindness for Kids Free Printable List
Need an easy way to keep track of random acts of kindness you and your kids do as a family?
You can download this free printable list of acts of kindness for kids, run it through a laminator and hang it on the fridge.
That way, if you're struggling to think of a way your kids can show kindness you can glance at the list and choose an idea!
To get the free printable kindness acts for kids list, just click the image to go to the Busy Mom Vault sign-up page. Plug in your email address and your free printables will be on its way to you!
Best Books for Teaching Kids About Kindness
Having kids perform random acts of kindness may be the best way to teach them about it. But there are also plenty of great books you can read together that can help kids learn the importance of compassion, empathy and kindness.
If you're looking for some books to share with your kids, here are some of my favorite picks!
Kids Random Act of Kindness Challenge
Want a fun way to get kids active and involved in giving back?
You could try an act of kindness challenge to motivate them.
For example, you could try to do all 101 acts of kindness for kids included on this list.
Or you could try a 30-day kindness challenge or a 52-week kindness challenge. You can do one act of kindness a day or one a month as a family.
Trying an acts of kindness challenge can help kids stay engaged so that they're always up for spreading a little goodness and cheer.
Related post: 100+ Funny Questions to Ask Kids (to Get to Know Them Better!)
Final thoughts on kindness acts for kids
One kind act can go a long way. And it's never too soon to teach kids the value of kind actions.
This list of random acts of kindness for kids is designed to get you and your family inspired to leave a trail of good deeds behind you wherever you go. So if you're ready to take more kindness actions, you've got some great ideas to get you started!
Before you go, be sure to check out my favorite Busy Mom Resources for saving time, money and stress.
And if you're looking for more ideas on fun things to do with kids around the holidays, check out this ultimate Christmas bucket list!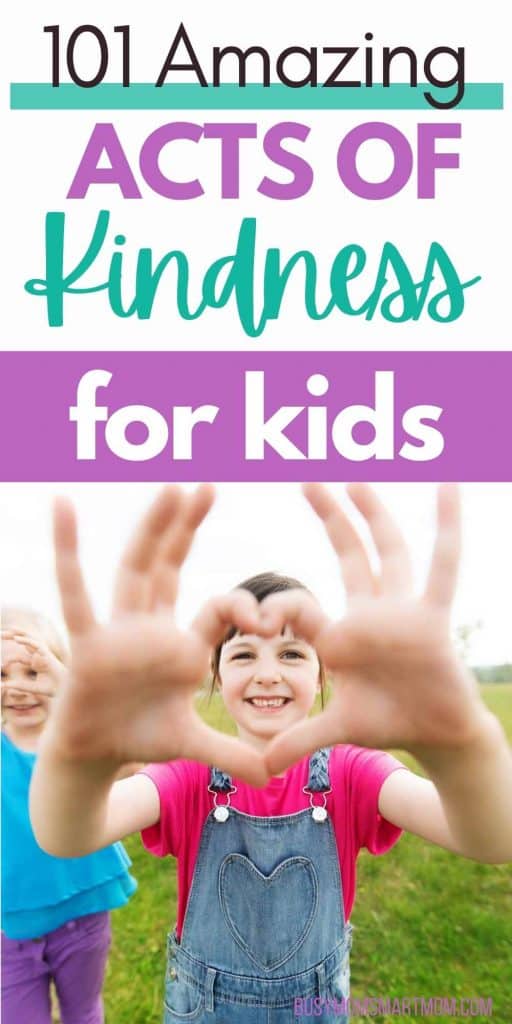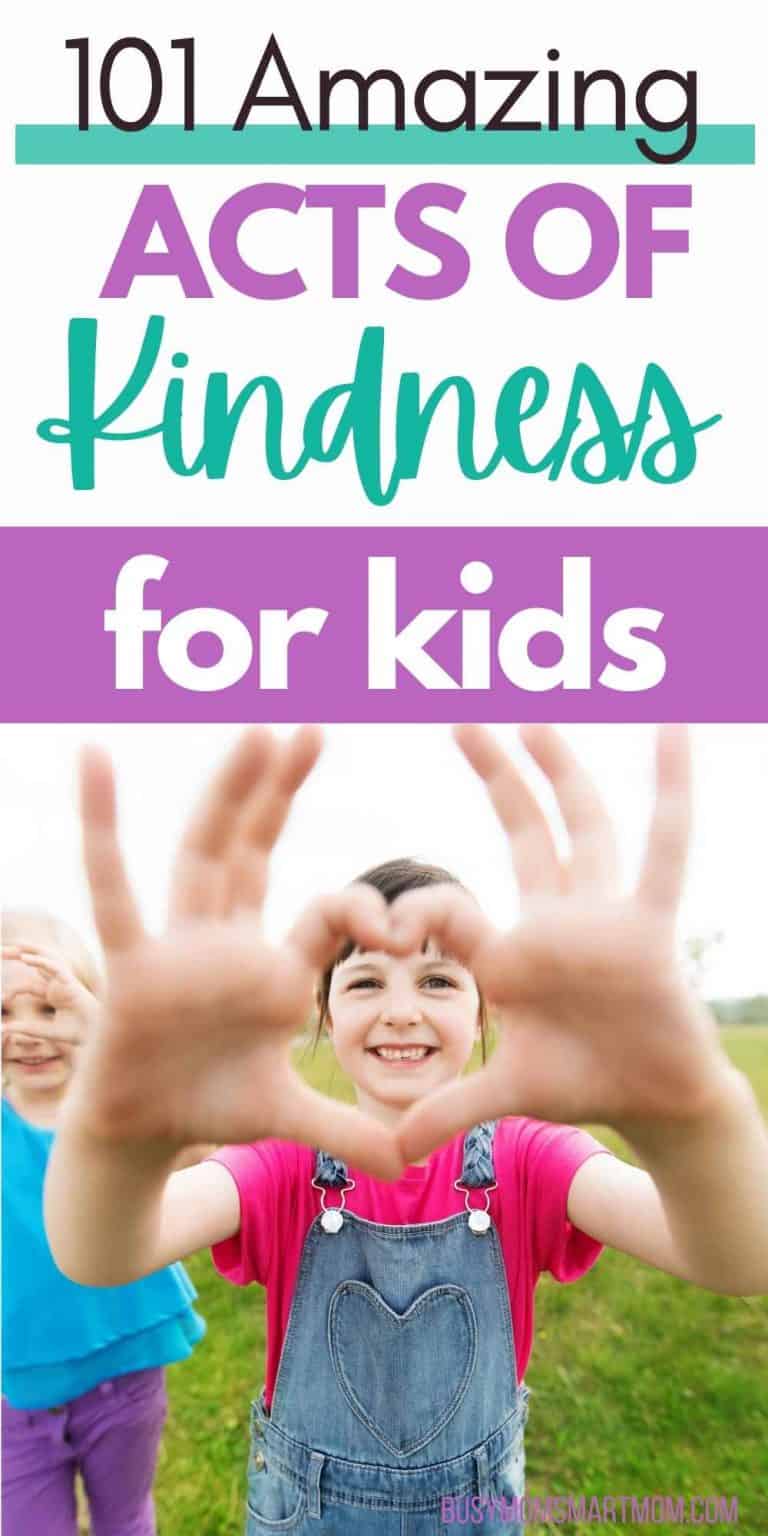 Random Acts of Kindness Kids Will Love