Are you looking for some things to do with kids at home when school is out?
Spending time together as a family at home is a good way to be frugal and save money. Whether you're looking for some fun ideas for spring break or ways to spend a summer vacation, there are plenty of activities you can enjoy with kids that don't cost a lot.
If you need some ideas for keeping kids busy this summer or you're planning a staycation, here are 100+ fun things to do with kids at home!
Related post: Ultimate Summer Bucket List for Kids to Do at Home (Free Printable Checklist!)
Table of Contents
101 Fun Things to Do With Kids at Home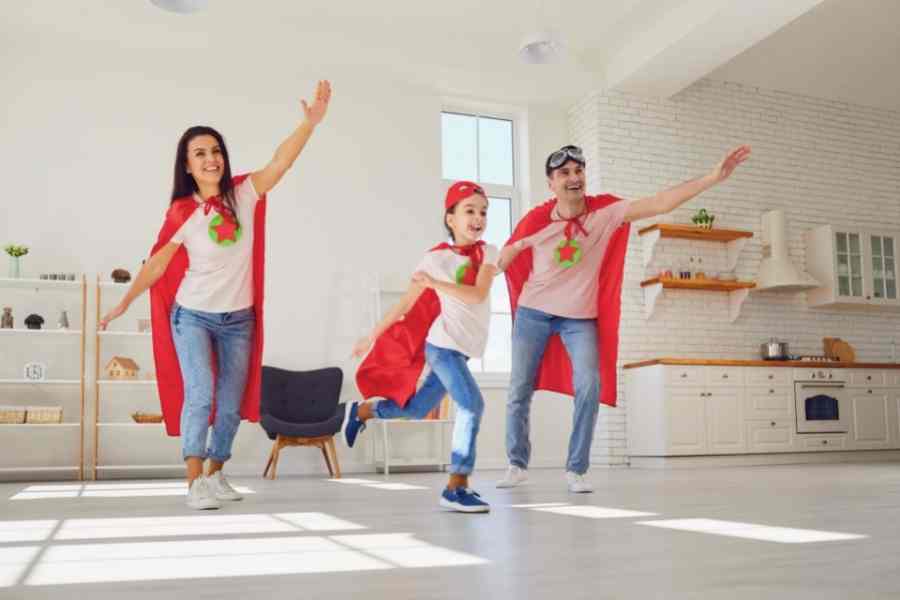 1. Take turns reading books aloud as a family
Reading aloud as a family is a great way to pass the time indoors or out. If you need some ideas for what to read, here are some of the best books to read aloud for kids of all ages:
Check out more books for kids on Amazon!
2. Create a meal plan and make dinner as a family
Meal planning can help you stay organized with kids at home.
Making it a family effort gives kids a chance to be creative in the kitchen and learn basic cooking skills. And there are so many great recipes you can make with kids!
3. Have a family baking day
We love to bake at my house, mostly because I'm not the greatest cook. Baking is one of the best things to do with kids at home on a rainy day when you can't get out and play.
If you want to get kids interested in baking, start with some simple and delicious recipes!
4. Go on a nature scavenger hunt in the backyard
Want to encourage kids to explore the outdoors? Challenge them to complete a nature scavenger hunt!
Make a list of things to find or identify, such as:
Pinecones
Acorns
Big leaves
Small leaves
Bugs
Give kids an old sand pail or egg carton to collect items. This is one of the most fun things to do with kids at home during the spring as you can find all sorts of interesting items!
5. Have a backyard campout and count the stars together
If you've got a backyard where you can pitch a tent, then warmer weather in spring or summer is perfect for camping.
Count the stars, tell spooky stories or just enjoy being outdoors together. and don't forget the hot dogs!
6. Roast s'mores as a family
S'mores are a fun treat and they're easy to make.
Definitely add this to your list of things to do with kids at home if you're in the mood for a sweet treat. And if you need some inspiration, here are 60+ ideas for putting a spin on the classic s'more.
7. Start a container garden on the back porch
Container gardening can teach kids the basics of where food comes from and how to grow it.
Even better, it's something you can do with kids at home when you don't have space for a full-sized vegetable garden. You can get some kid-sized gardening tools so they can help you dig in the dirt!
Related post: Gardening Gifts for Moms: 35 Amazing Gifts for Moms Who Love to Garden
8. Use sidewalk chalk to create driveway art
If you have some sidewalk chalk, why not use it to create some driveway murals?
Or watch this video for some amazing 3-D chalk art inspiration!
9. Have a family game night
Got some board games? Then a family game night is long overdue!
Some of the most fun family games include:
Check out more board games on Amazon!
10. Or try a family movie night instead
Can't get kids to sit still long enough to play a board game? You could have a family movie night and take turns choosing what to watch.
Grab some blankets, make some popcorn and settle in with your favorite family films.
11. Take a virtual museum tour online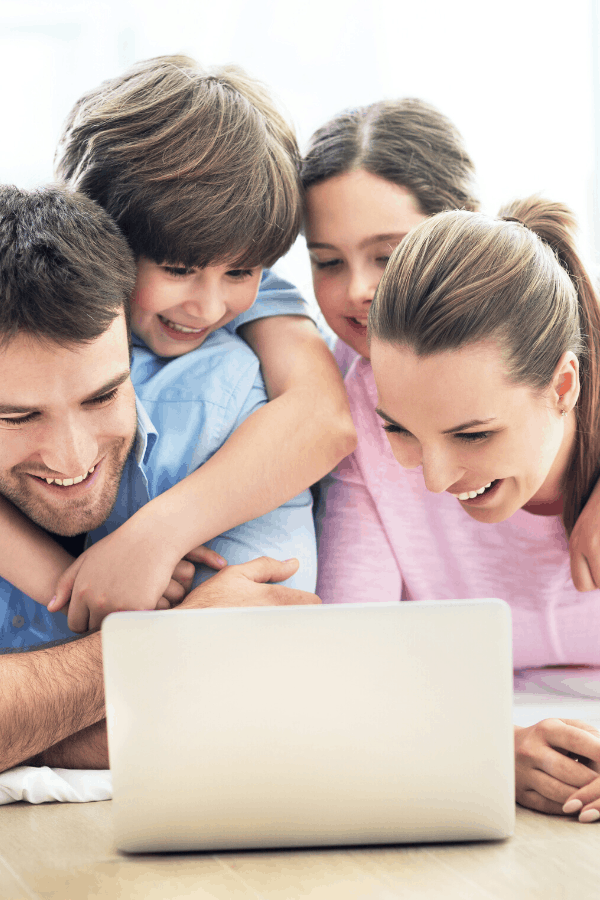 Museums are a great place to spend the day but if you're looking for things to do with kids at home, you can always take a tour online. Here are some of the best museums to check out with kids virtually:
Related post: 12 Awesome Virtual Vacations That Let Kids See the World From Home
12. Check out some fun educational websites and YouTube channels together
If you want to keep kids learning during spring break, winter break or summer vacation, then free educational websites and YouTube channels can be a big help!
I've put together a list of 37 free online learning resources you'll want to bookmark for later.
13. Play charades
Charades is the perfect indoor game to play when looking for things to do with kids at home since all it requires is imagination.
If you need some charade prompts for kids, here's a great list of words to get them started.
14. Have a stuffed animal tea party
Time at home with the kids isn't complete without a stuffed animal tea party.
You can have your kids bring out their favorite stuffed animals and host an impromptu tea party complete with kid-friendly snacks. And remember, pinkies up!
15. Blow bubbles
Bubbles are cheap and kids can have fun blowing them and chasing them around. This is one of the simplest things to do with kids at home that's also one of the most fun.
If you don't want to buy bubbles, you can make them at home instead.
16. Have a family relay race in the backyard
If the weather's nice, you can get the kids outside for a relay race.
Or try a three-legged race and see who's best at keeping their balance. 🙂
17. Paint rocks
Got some rocks in the backyard? Got craft paint and brushes?
Then you've got everything you need to make some fun rock art. This is one of my favorite creative things to do with kids at home when everyone needs a break from screen time.
18. Grab some paper and learn how to make origami creations
Origami is a great way to improve motor skills. And with so many tutorials online, it's easy for you and the kids to learn together.
You'll need some origami paper or other colored paper. Have a contest to see who can make the best origami creations!
19. Practice learning a new language together on Duolingo
Learning a new language is one of the most productive things to do with kids at home–and it's pretty fun, too.
Duolingo is one of my favorite free learning tools for kids and families. If you've always wanted to learn a language and you want to get your kids on board too, you can practice your skills for free!
20. Watch a documentary on CuriosityStream
CuriosityStream is a great resource for homeschooling or just passing an entertaining afternoon at home.
You can find a great selection of documentaries on just about every topic. Just be sure to check the ratings first since some of the options on CuriosityStream are more kid-friendly than others.
21. Play hide and seek
Hide and seek is a classic and it's practically a given that you'll want to include it on a list of things to do with kids at home.
The great thing about hide and seek is that you can play inside or out. Just remember to set some ground rules about where kids can't hide to keep the game fun and safe.
22. Break out the markers, crayons, paints and paper for an arty party
If you've got kids then you've probably got art supplies tucked away somewhere.
Haul them out and spend an afternoon making art together. Pair it up with a baking day for double the fun!
23. Tell knock-knock jokes
Telling jokes can be a stress-reliever, even if you're like me and mostly tell bad ones. Find a kid-friendly joke book and let the laughs begin!
24. Have a dance party
Need to help kids get the wiggles out on a rainy afternoon?
Turn up some music and host an impromptu dance party. And of course, don't forget to show off some of your favorite dance moves. 🙂
25. Sing songs
Do your kids love to sing?
You could host your own version of "The Masked Singer" if you're looking for silly things to do with kids at home. If you need a good soundtrack to follow along to, check out this playlist of Disney songs.
26. Make slime or oobleck
What kid doesn't like slime? Or oobleck for that matter?
You can make either one with stuff you have at home already, or spend a few bucks on a basic slime kit.
27. Play tag
If you haven't played tag since grade school, it's time to break out those skills again. And consider these fun and unique variations on ways to play tag with kids.
28. Toss a frisbee around
Grab a frisbee and head outside for a game of toss. You'll all get some exercise and enjoy the fresh air, which is always a plus.
29. Do some puzzles
Doing puzzles can help kids work on motor skills. And it's something fun to do with kids at home when it's raining or they can't go outside.
You can stick with basic wooden or floor puzzles for younger kids but older kids might like the challenge of 3-D puzzles.
30. Become amateur bird-watchers from your living room
Birds are everywhere in our backyard and if you've got a few flitting around, you can teach kids to identify them.
Cornell University has a great how-to guide to getting started birding with kids. Again, spring is a great time to try this activity since the birds are out and about after winter's end.
31. Make your own bird feeders
Once you're done watching the birds, make some DIY bird feeders and offer them a snack!
32. Hang out in a pillow fort
Want something relaxing to add to your list of things to do with kids at home?
Grab some chairs, pillows and blankets and let the pillow-fort building begin. Add some books and a snack and you've got a great place to spend an afternoon unwinding with the kids.
33. Make a family scrapbook
Want a memorable way to spend spring break or summer vacation with kids?
Pull out the family photos that have been tucked away in boxes and make a scrapbook or memory book. Or make more than one with different themes, like one for vacations, one for silly moments, one for sports, etc.
34. Call up the grandparents for a family chat
FaceTime and Google Duo make it easier than ever to stay connected when you can't get out of the house for a vacation.
Call up the grandparents for a family chat once or twice a week–they'll appreciate it and your kids will, too.
35. Have a Lego building contest
Stepping on Legos is a rite of passage for any parent.
If you haven't played with them in a while, it could be a perfect time to break some out and have a parents vs. kids building contest when you're looking for fun things to do with kids at home.
36. Play Simon Says
Simon Says is a simple game kids almost any age can play. Take turns being Simon and get creative with the directions!
37. Play dress-up and host a fashion show
My kids have always loved dress-up and now that they're older, it's evolved into cosplay. If your kids are into dress-up too, plan a family fashion show at home!
38. Dig in the dirt or sandbox
Digging in the dirt for worms or squishing toes in the sandbox is free. And it's a fun way to spend time as a family away from screens when you need some ideas for things to do with kids at home.
39. Write letters to friends and family members you haven't seen lately
Letter writing is a dying art thanks to this digital age we live in. But you can bring it back as a family by writing to friends or family members to let them know you're thinking of them.
(Tip: Use a sponge to seal envelopes instead of licking them.)
40. Plant flowers in the backyard
If it's spring where you are, it may be a good time to plant some flowers. Pick up some bulbs or order them online and start planting!
41. Play a game of cards
Card games are easy and fun and there are so many you can teach kids, from Old Maid to Solitaire. And of course, there's the old classic, Uno.
42. Teach kids a new skill
Being home with the kids is a perfect opportunity to teach them a new skill. For example, depending on their age you could teach them how to:
Fold laundry
Whistle
Blow a bubble with chewing gum
Run the dishwasher
Slice vegetables or make a very simple meal for themselves
Pay bills online or balance a checkbook
Change a flat tire
Clean their bathrooms so you don't have to do it
Vacuum
Read a map
This book has some more great ideas for life skills to teach kids and teens.
43. Have a pajama day and make breakfast for dinner
If staying in pajamas all day is a rarity at your house, then a pajama day might be just what you need. Switch things up by making pancakes, bacon, eggs and other breakfast favorites for dinner.
44. Wash the car together
Washing the car can be fun for kids if it allows for a little water play while you're at it. Plus, you get a clean car to boot.
45. Watch the clouds go by
When was the last time you laid on a blanket in the back yard and tried to make out shapes in the clouds? If you can't remember, it's time to put this on your list of fun things to do with kids at home.
46. Catch fireflies if it's warm enough
I was sad to read not long ago that fireflies are disappearing. Catching them was a regular part of our summer evenings as a kid.
If your kids have never experienced how fun it is to catch fireflies, you might give this one a try. Just remember to be gentle and let them go afterward.
47. Have a water balloon fight
If it's warm enough and you can get outside, a water balloon fight is something just about any kid will have fun with. Just remember to pick up the pieces so birds and other animals don't eat them.
48. Play with glow-sticks
Glow sticks are fun, not to mention cheap.
Here's one way we use them: crack the glow stick and pop it into an empty water bottle. Tie yarn or string around the top of the bottle. Turn off the lights and swing the bottle (without hitting anyone) to create a laser light show.
It sounds silly but this has gotten us through more than one power outage during hurricane season.
49. Make cootie-catchers
So maybe you called these fortune tellers but where I come from, we call them cootie catchers. During our last hurricane when the power was out, my kids spent hours making these things and predicting each others' futures.
This is one of the silliest things to do with kids at home but it's a great way to spend an afternoon!
50. Write a story together
Writing a story together is a great way to spend time as a family and it can help kids improve their creative thinking skills. Not to mention, they can work on handwriting, spelling and grammar while they're at it.
51. Play soccer or basketball
Got a soccer ball or basketball hoop? Challenge your kids to a shooting contest!
52. Set up a backyard obstacle course
A backyard obstacle course can be a great way to keep kids active and let them soak up some sunshine. Look around the house to see what you can use to make an obstacle course. Pool noodles can be a great building tool!
53. Collect bugs (then let them go)
Catching bugs is something my kids always enjoyed when they were smaller. If you'd rather stay hands-off, check out the Smithsonian's insect learning resources instead.
54. Make your own Play-doh
If you don't want to spend money on Play-doh you can always make it instead. Then have a contest to see who can create the silliest or most unique Play-doh sculpture.
55. Or make cloud dough instead
Cloud dough is a fun and easy to make sensory item for kids. Just be warned: this stuff can get very messy!
56. Use beads or pasta to make jewelry
Got some macaroni noodles you don't need? Paint them and string them on some yarn to make pasta jewelry. Or use pony beads instead.
57. Write a letter to a soldier
Sending a letter or care package to a soldier is a great way to show your appreciation for what they do. Check out Operation Gratitude and Support Our Troops for ideas on how to connect with military members.
Related post: 101 Amazing Acts of Kindness for Kids (Free Random Acts of Kindness Printable List!)
58. Have a jump rope or hula hoop contest
Got a jump rope or hula hoop lying around? Take turns seeing who can jump the most times or keep their hoop going the longest.
59. Try some Mad Libs
Looking for more goofy and silly things to do with kids at home?
Mad Libs are a fun and silly way to spend time with kids, plus they can get them thinking creatively!
60. Line up dominoes
Dominoes are fun because they're so versatile. You can play dominoes, use them to teach kids math or just take turns lining them up in different patterns and knocking them down.
61. Make paper airplanes
Got paper? Then you've got everything you and the kids need to make some paper airplanes and have a flying contest!
62. Make a yarn God's eye
A God's eye is a really simple craft kids can make from yarn and popsicle sticks. If you need an explainer, check out this guide.
63. Have an indoor (or outdoor) picnic
Instead of having lunch at the table like usual, make it a picnic instead. Spread a blanket in the living room, on the back porch or in the yard and eat up!
64. Teach your dog some new tricks
My daughter has taught our dogs several tricks, including how to raise their paw when they want a treat. If you've got some smart doggos at home, you and the kids can teach them a few tricks with a little help from YouTube.
65. Play hangman or tic tac toe
Hangman and tic tac toe are some of the easiest games to play when looking for things to do with kids at home. Grab a pencil and paper and you're all set!
66. Have a thumb war
Did you know there's an actual World Championship for thumb wrestling? I didn't either. But you can get your kids started practicing for it early if you're stuck at home!
67. Play I Spy
I Spy is great because you can play it anywhere from home, inside or out. Scholastic also has some fun I Spy games you can play online.
68. Have a staring contest
The first one to blink loses!
69. Play the quiet game
Ah, the quiet game, beloved by parents everywhere. If the kids are getting too noisy, a quick round of the quiet game can calm things down.
70. Play 20 questions
20 questions is kind of like Guess Who and it's another easy and fun thing to do at home with kids. Kids can put their own spin on it. For example, you might have to try to guess what kind of animal they are or which movie character they're pretending to be.
Related post: 100+ Funny Questions to Ask Kids (to Get to Know Them Better!)
71. Have a food-tasting contest
Some of my son's favorite YouTube videos center on people trying different foods blindfolded. If you've got food or condiments to spare, you could host a blind taste test game of your own with the kids.
This is one of the most interesting things to do with kids at home if you're feeling adventurous!
72. Teach the kids a clapping game
Clapping games like Miss Mary Mack were a huge part of my childhood. If your kids don't know any clapping games, you could start there or try something more advanced, like the cup song.
73. Tell them stories about when you were a kid
Admittedly, this might be more fun for you than for your kids. But sharing some silly or embarrassing stories from your childhood is a fun way to bond.
74. Play red light, green light
Red light, green light is a simple game you can play with kids inside or in the backyard.
75. Or try What Time Is It, Mr. Wolf?
What Time Is It, Mr. Wolf is a really fun game to play with littles who like to run around. If you don't know how it works, here's a quick guide to the rules.
76. Build something out of cardboard boxes
Cardboard boxes are one of the best free tools for encouraging kids to use their imagination. You can build a castle together or a fort or make a spaceship–the sky's the limit.
77. Do some easy science experiments
My kids love science experiments and science videos. If yours do too, check out the free lessons available on Mystery Science.
78. Take something apart and put it back together
Taking things apart to see how they work is a great way to sneak in some learning time. Just make sure that whatever you take apart, you can put back together again.
79. Make homemade dog treats for your pets
If you have dogs, don't forget to show them a little love. Try making some simple homemade dog treats as a family.
80. Learn pig Latin or make up your own language
If your kids don't know pig Latin, now's the time to teach them while you're home. Or you can make up a special family language that only you and your kids can decode.
81. Make shadow puppets
Shadow puppets are one of the best fun things to do with kids at home because it doesn't cost a dime. Just hit the lights and let the shadow puppet show begin!
82. Make some toilet paper roll crafts
So maybe you were planning to be home for a while. And you decided to stock up on toilet paper.
Instead of throwing the rolls away, turn them into crafts. Here are 79 toilet paper craft ideas from Red Ted Art.
83. Visit the zoo virtually
Can't make it to the zoo? Let the zoo come to you! Cincinnati Zoo offers Facebook Lives so you can see the animals up close without leaving home.
84. Or plan a virtual field trip to a national park
If going to a national park is on your family bucket list, you can get a head start from home. The National Park Service offers virtual tours of Yellowstone and other national parks online.
85. Create some simple sensory bins
Sensory bins are fun for younger kids and they also encourage early learning. Here are some simple sensory bin ideas to get you started.
86. Teach kids to play chess
Chess can be a good way to pass the time as a family. If your kids don't know how to play or you're also a total beginner, head to Chess Kid on YouTube for some helpful tutorials on the basics.
87. Make comic strips
If your kids are into comics, why not make some of your own? You can buy premade comic strip pages or draw your own–after that, all you need is a little creativity!
88. Do some yoga
Doing yoga or meditating as a family can help with calming stress and anxiety if being home is giving you cabin fever. Check out Cosmic Kids on YouTube for free yoga videos for families.
89. Play hopscotch
Who doesn't like hopscotch? If you can't create a chalk outline on the driveway, use masking tape to make one on the carpet or floor indoors.
90. Tune in to a podcast
If you have older kids, you can try listening to a podcast or two together. Check out Stuff You Should Know on iHeartRadio.
91. Tour a farm online
Visiting a farm is always fun for kids but if you can't get to one in person you can try a virtual tour instead. FarmFood360 offers online tours of dairy farms, sheep farms, pig farms and more.
92. Make sticker books
Sticker books are an easy craft to make with kids. Staple some construction paper together, grab some stickers and have at it!
93. Try some collage art with things you have around the house
Collage art is one of the most fun things to do with kids at home because there aren't any rules.
Gather up construction paper, old books or magazines, some glue, paint, buttons–anything you have–and work with kids to make some unique collages.
94. Make self-portraits
Pull out the paints, colored pencils or crayons and make self-portraits. Then hang them up to create a family art gallery.
95. Learn basic knitting or crochet together
Knitting and crocheting are fun ways to pass the time. Even younger kids can learn to finger knit, thanks to YouTube.
96. Play chore bingo
If your kids groan about doing chores at home, making it a game can help cut down on the grumbling. Download these free printable chore bingo cards or make your own to get kids excited about helping out around the house.
97. Watch puppies play
Explore.org runs several live streams featuring different animals, including several with puppies. You can also watch the Northern Lights, see honeybees hard at work or check out space from your couch.
98. Have an egg and spoon race
An egg and spoon race is a great way to teach kids balance and improve their motor skills. If you don't want to use real eggs, you can always swap them out for plastic ones leftover from Easter.
99. Swim with the fishes (virtually)
If you can't make it to the beach you can still feel like you're in the ocean. Check out Georgia Aquarium's Ocean Voyager webcam or the Indo-Pacific Barrier Reef webcam and enjoy the calming scenery.
100. Create a secret handshake
Making up a secret handshake is another fun way to pass the time. Get creative and don't forget to make it silly.
101. Play the gratitude game
The gratitude game is a fun way to bond as a family when you're spending time at home together. The rules are simple: everybody in the family takes turns saying one thing they're grateful for.
It's one of the best things to do at home with kids if you need a reminder to count your blessings.
Final thoughts on fun things to do with kids at home
I hope this list has sparked some ideas for ways to have fun at home with your kids. If you have a great idea or tip for passing the time as a family, let's hear it!
Head to the comments and tell me about it, then pin and share this post!
What are your favorite fun things to do with kids at home?