Organized Christmas Hacks
Want to have an organized Christmas this year instead of feeling stressed?
The holidays are meant to be a time to enjoy time with friends and family. But all too often, they end up being a major headache.
Just over 50% of Americans say they expect this year's holiday season to bring twice the stress as usual.
And one in 10 say they plan to skip the holidays altogether to avoid the headaches!
Skipping Christmas might sound good. But if you've got kids, that plan probably won't fly.
Instead, you can work on planning an organized Christmas to cut down on stress!
Related post: How to Get Organized for Christmas Now [FREE Christmas Planner PDF!]
Learn the best tips and tricks for planning an organized Christmas! And if you need more help getting organized, be sure to check out this super helpful course!
How to Have an Organized Christmas and Enjoy the Holidays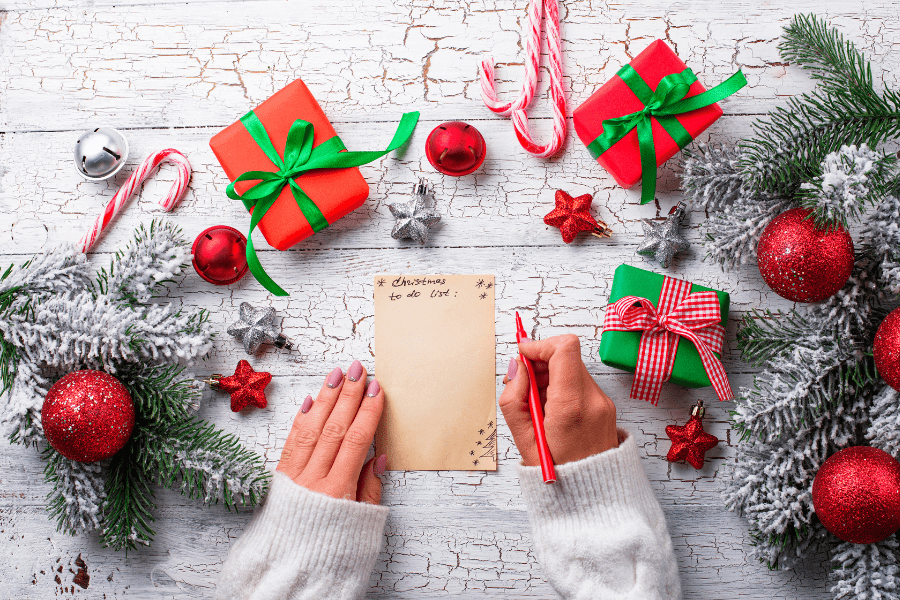 Getting organized and ready for the holidays doesn't have to be a lot of work.
It just takes some simple planning to get the chaos under control. That's where these super simple tips come in!
1. Make lists to keep track of Christmas to-dos
Making lists can be a lifesaver for getting organized at any time of year. But they can be especially helpful during the holidays.
Lists can help you keep track of what's been done and what still needs to be checked off.
So as you work on getting organized for Christmas, here are some of the most important lists you might need to make:
Thanksgiving dinner recipe list
Thanksgiving dinner shopping list
Christmas dinner recipe list
Christmas dinner shopping list
Holiday baking list
Holiday card mailing list
Packages to mail
Phone calls to make
Travel arrangements if you plan to spend the holidays away from home
Christmas bucket list activities you want to plan as a family
Holiday decorating list
Home organization list
Random acts of kindness/charitable giving
A holiday planner is a great way to keep all your different lists organized and together.
This way, you don't have to worry about losing anything. And you can organize your planner in a way that makes it easy to track your lists.
Related post: Free Christmas Wish List Printable for Kids
How to set up a holiday planner
If you decide you want to use a planner to make your organized Christmas a reality, there are a few ways you can do it.
For example, you could:
Purchase holiday binder printables and keep them in a 3-ring binder
Use your everyday planner to get ready for the holidays
Map out your Christmas plans in a bullet journal or notebook
Holiday printables are a cute and fun way to organize for Christmas. And if you're the creative type, you could totally make your own printables with a tool like Canva.
But if you'd rather keep things simple, you could buy a holiday planner to get organized. I like this one because it lets you keep track of everything in one place!
When getting your planner ready for the holidays, make sure you have enough room to include sections for:
Budgeting
Cleaning and organization
Decorating
Travel, if that's in your plans
Holiday activities
Miscellaneous errands, like mailing packages and grocery shopping
Once you've got all your sections outline, you can start divvying up the lists you made. Then, you can start organizing your schedule to make sure you have time to fit all those tasks in.
Read this post for more organization tips:
8 Genius Organized Mom Hacks You Need to Try Now
2. Organize and plan your holiday budget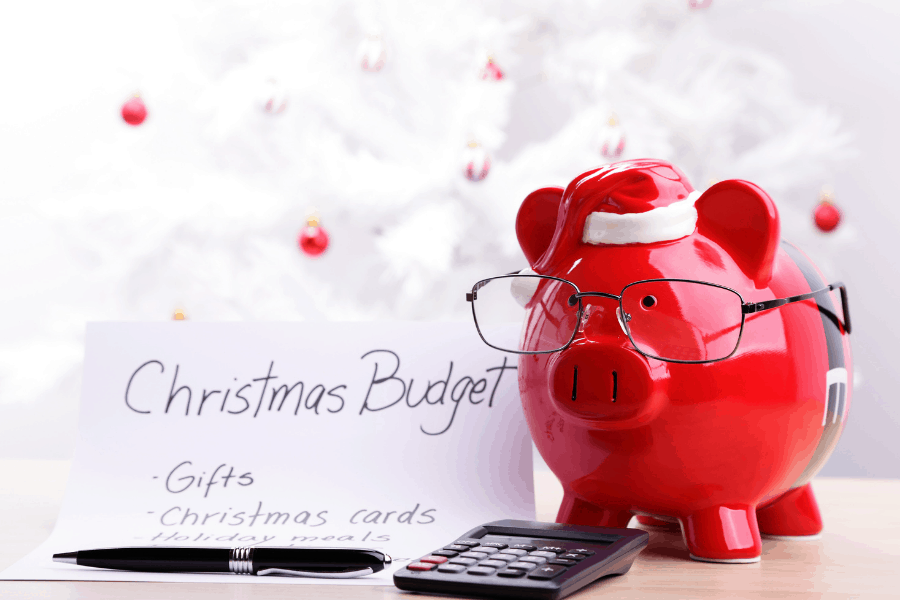 It's so easy to overspend during the holidays but if you're on a tight budget, that's not something you can afford.
Having a holiday spending budget in place can help you avoid wasting money.
Your holiday budget should include all the money you plan to spend on, like:
Gifts
Wrapping paper and gift tags
Postage
Decorations
Food
Travel
Activities
After holiday storage
Ideally, you should know how much you can afford to spend on the holidays altogether. Then you can start breaking that amount down by spending category.
When it comes to gifts, it's especially helpful to make a note of what you plan to buy for each person and how much it will cost.
This can help you see at a glance whether you're going to be able to stay on budget for Christmas. If it looks like you're in danger of overspending, you can revisit your gift list to make adjustments.
And remember, there's nothing wrong with having a frugal Christmas.
Making your own gifts, sticking with the rule of four for kids and checking out as many free holiday activities as possible can help you save money while still enjoying the holidays.
Related post: Free Letter to Santa Template for Kids
How do I organize my Christmas shopping?
Christmas shopping can be a drain on your time. But you can make it easier by shopping online.
Here's a super simple way to organize your Christmas shopping:
Scout out Black Friday, Small Business Saturday and Cyber Monday sales in advance
Pinpoint who has the best prices for the items on your Christmas list
Keep a running list of where you plan to buy each gift
As you buy gifts, cross them off your list
I also find that it's way easier to use one bank account or credit card to pay for all of my holiday purchases.
This way, I can see exactly what I spent and where I spent it without having to sift through non-holiday transactions
3. Take stock of what you already have
Buying things you already have on hand is an easy way to waste time and money during the holidays.
So before you start shopping for gift wrap or buy yet another jar of pumpkin spice, take a look at what you already have on hand.
Specifically:
Check your pantry, fridge and freezer to see what food items you already have on hand for your holiday dinner menu
Go through any leftover wrapping paper, gift tags, bows and ribbons to see what you may need to buy
Sort through holiday decorations and toss out anything that's broken
Look through holiday cards to see if you need to buy any extras for this year
See if you have any craft supplies on hand to make decorations or gifts or just plan fun projects with the kids
Check for any new items you purchased but never used that you could repurpose into holiday gifts
This can take a little bit of time but it can pay off if you're not throwing money away buying things you don't need.
And tackling this step can also help you get prepared for what comes next on your organized Christmas to-do list!
Related post: 121 Easy Holiday Recipes to Save Time in the Kitchen
4. Clean and declutter for the holiday season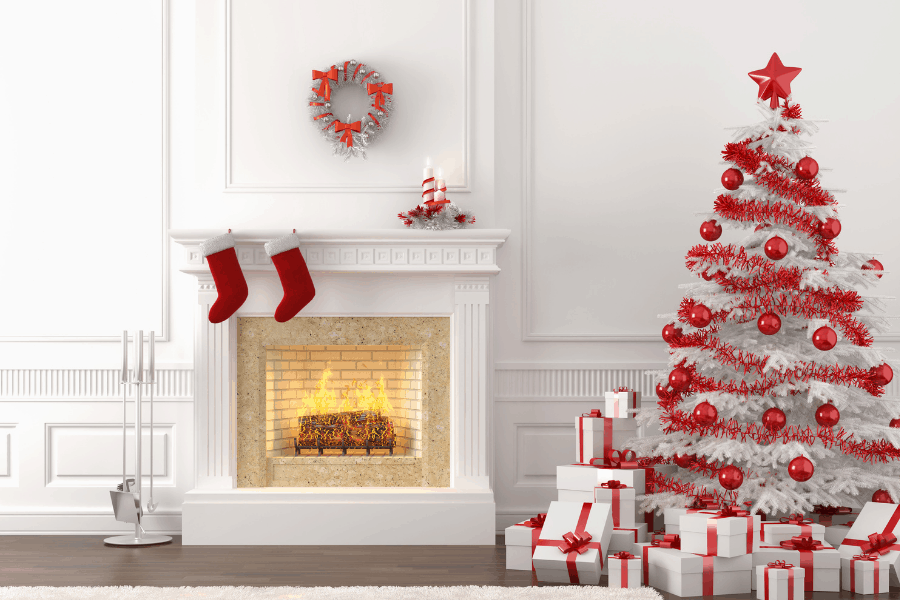 The holidays can be much more relaxing and enjoyable when you're spending them in a home that's clean and clutter-free.
And if you plan to do some holiday decorating, it helps to get your home prepared first before you start stringing lights or putting up the tree.
If you're overwhelmed by the thought of trying to clean and declutter your home for the holidays, there are some simple ways to make it easier:
Declutter and clean one room at a time
Focus on the highest traffic areas of your home first
Clean and dust from top to bottom
Set a timer and aim to complete tasks in 15-minute chunks
Consider starting a toy rotation to keep kids' rooms organized
Creating a cleaning schedule can help you stay on top of the mess so your efforts don't go to waste.
And if you plan to have people visit for the holidays, a schedule and cleaning routine can help you keep your home tidy between guests.
Once you've got the cleaning and decluttering under control, you can focus on the next step: decorating.
Organized Christmas hacks for decorating
I love to decorate for the holidays and I like to do it all in one day if I can.
If you can set aside one day to focus on holiday decorating, great. But if you can't, then try to schedule it over a weekend when you can focus on getting everything in place.
It helps to have a routine for decorating.
For example, you might put up the tree first, then finish decorating the rest of your home's interior room by room.
From there, you can move on to decorating the outside of your home, then the yard.
It also helps to stay organized as you go.
For example, if you bought new ornaments this year but don't plan to use them all you can go ahead and stash the spares in an ornament organizer. And these reels can make it easy to keep Christmas lights from becoming tangled.
Read these posts next for more tips on decluttering and organizing:
21 Painless Ways to Declutter Your Home When You're Tired of the Mess
Fall Cleaning Checklist: 75 Ways to Get Your Home Ready for Fall
5. Get a head start on post-holiday organization
Another key part of planning an organized Christmas means thinking about what comes next once the holidays are over.
Because after all, those beautiful decorations you put up have to come down eventually.
You'll need to find room in your home for any new things that "Santa" brought. And you might need to do some organizing to get your finances back in shape.
Planning ahead can help you stay organized once the holidays start to wind down so you can look forward to a stress-free new year.
Some of the things you can add to your to-do list to get organized after Christmas include:
Organizing and storing ornaments
Organizing and storing gift wrap, bows, etc.
Reviewing your post-holiday budget and organizing bills
Deciding what to do with leftover food
Figuring out how to organize and store new things you bought over the holidays
Deciding what to do with holiday cards you received
The more you plan ahead, the easier it is to wrap up the holidays without letting anything slip through the cracks.
Amazon Favorites for an Organized Christmas
Need more help planning an Organized Christmas?
If you're trying your best to stay on top of everything for the holidays but you're still completely overwhelmed, I hear you.
Being a busy mom can really test your ability to stay organized, get into a routine and manage your time.
So if you're struggling with any of those things during the holidays or any time of year, there's a course that can help.
It's called The Organized Home and it can be a total lifesaver if you're just completely bogged down!
This course is designed for busy moms who need help:
Organizing their household
Establishing and sticking to daily routines
Getting things done
This could be the perfect Christmas gift to give yourself this year if you want to start 2021 feeling like an organized mom instead of a hot mess mom.
⇒Learn more about The Organized Home now!
What are your favorite organized Christmas hacks?
These tips are designed to help you plan for an enjoyable holiday season with minimal headaches.
Do you have a tip or two to share for staying organized during the holidays?
If so, head to the comments and share, then pin and share this post!
Read these posts for more busy mom hacks and tips:
11 Best Planners for Moms to Get Seriously Organized
10 Genius Time-Saving Tips for Busy Stay at Home Moms
How to Create a Simple Stay at Home Mom Schedule for Stress-Free Days
Organized Christmas Hacks for Busy Moms