Learning to meal plan on a budget can be a lifesaver, not to mention it can save you money.
Meal planning simply means creating a set list or rotation of meals you plan to make. You can create a weekly meal plan or a monthly plan, depending on how organized you like to be.
Creating a meal plan on a budget may be a necessity if you're living on one income. Or you just be looking for an easy way to save money as a family.
Whatever your reasons for meal planning on a budget, it helps to know the best secrets and hacks for getting the job done.
So today, I'm sharing my best tips for meal planning on a budget so you that you can save money (and time) while keeping your family fed!
Related post: 93 Best Instant Pot Recipes for Busy Moms (Quick and Easy!)
---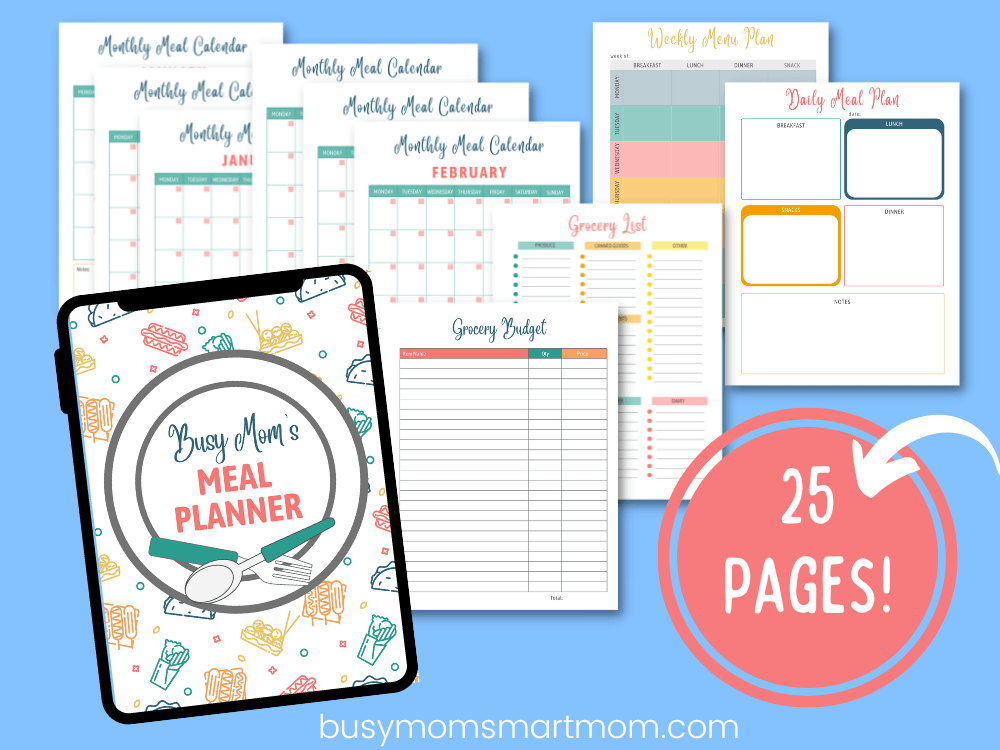 🌟Tired of wondering what's for dinner?🌟
The Busy Mom's Meal Planner takes the guesswork out of planning breakfast, lunch and dinner for your family! It's a must-have tool for any busy mom who wants to save time in the kitchen!
---
How much can you save by meal planning on a budget?
How much does your family spend on groceries each month?
If the answer is, a lot, then you're not alone.
According to the USDA, the typical family of four (including two adults and two kids) spends anywhere from $178 to $318 per week on groceries.
That adds up to anywhere from $9,256 to $16,536 per year that families spend on food.
And that's a great reason to learn how to meal plan on a budget.
According to one survey, the typical family saves 23% on food by meal planning. And they spend 47% less time on grocery shopping.
Less time in the kitchen = more time for other things.
And as a busy mama, more time is probably something you could definitely use. 🙂
Saving money when you meal plan on a budget is even better. Having more cash in your budget means you have more money to use toward your savings or debt repayment goals.
Related post: 10 Genius Time-Saving Tips for Busy Stay at Home Moms
Can you feed a family of 4 on $50 a week?
It might sound like a stretch but it's possible to feed a family of 4 on $50 a week. But the key is knowing how to meal plan on a budget to make the most of every dollar and cent.
If you want to feed a family of 4 on $50 a week, these tips can help:
Start with a budget meal plan
Look for recipes that allow you to recycle leftovers in other meals
Use what you have in your fridge and pantry first before you go shopping
Make what you can at home if it's cheaper (i.e. bread, tortillas, pizza crust, pasta sauce)
Use cash at the grocery store instead of debit or credit cards
Buy in bulk if it's cheaper (based on unit price)
Clip paper or digital coupons
Sign up for your grocery store's loyalty program if it allows you to get discounts or coupons
Here's one more super-easy way to afford to feed a family of 4 on $50 a week:
Ibotta is a money-saving app that pays cash back at grocery stores. You download the app, link your store loyalty cards and shop.
You can earn cash back on purchases and save on groceries with little effort. And it even works when you use Instacart to shop.
Download the Ibotta app now to claim up to $20 in free bonus cash!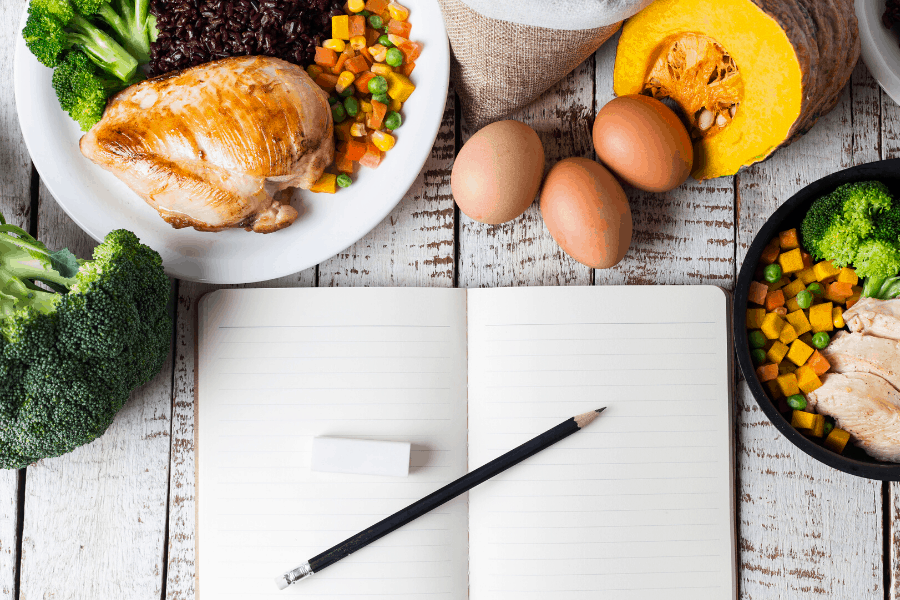 👉Need help with meal planning?
$5 Meal Plan delivers pre-made meal plans right to your inbox! Plan dinner in less time, with less stress!
More benefits of meal planning
Aside from those benefits, meal planning can be healthier for you and your kids.
Grabbing take-out meals is convenient but expensive, not to mention a lot of take-out food is not great for your body.
When you learn how to meal plan, you can introduce healthier options into your family's diet.
And that's a good thing, especially if you've been stuck at home and can't get out as much as you'd like.
You can also cut down on food waste by sticking to a regular meal plan.
Have you ever thought about how much food you throw away? In the U.S. alone, an estimated 30% to 40% of food goes right into the trash.
Which is a waste of food and money.
Finally, meal planning is a chance to try out new meal ideas and recipes.
If your family's gotten stuck in a dinnertime rut, meal planning can be a great way to pull out of it.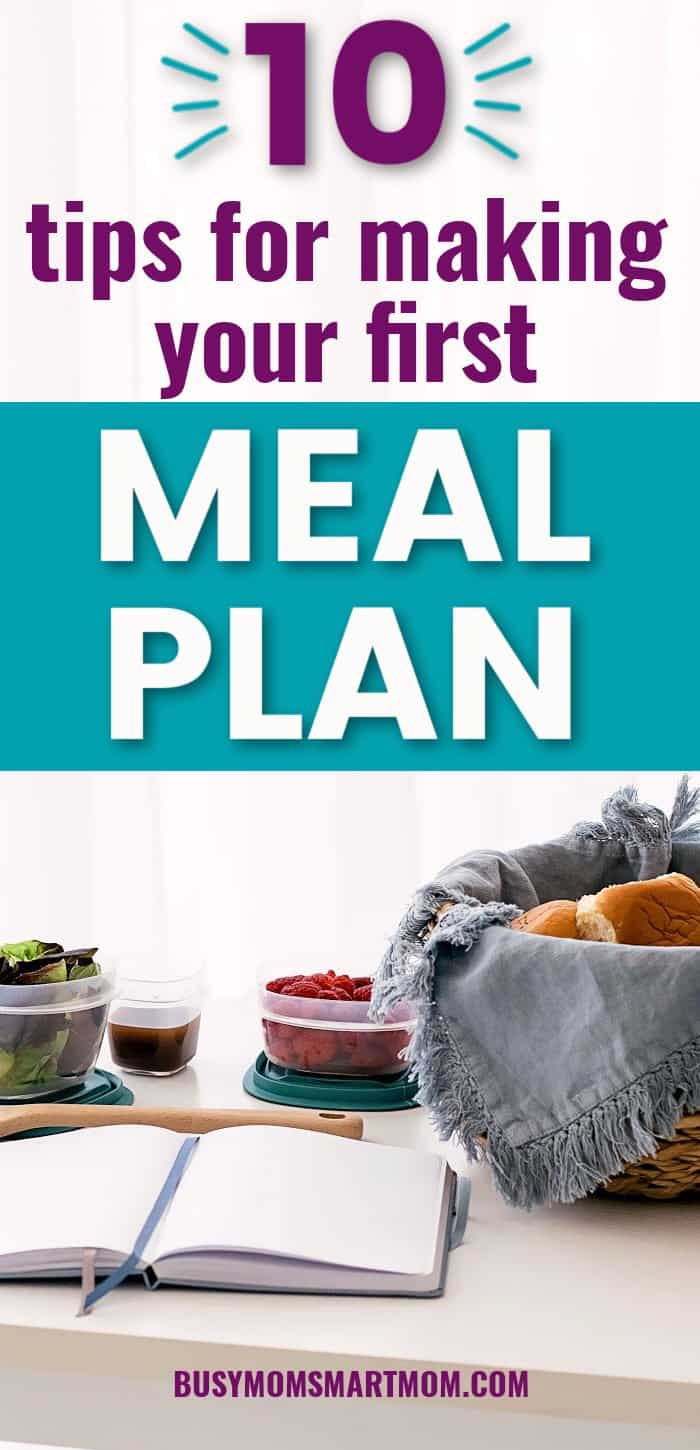 10 Easy Ways to Meal Plan on a Budget
Are you sold on the idea of meal planning yet?
Awesome! These tips can help you meal plan on a budget to save money and time!
1. Keep it simple
Keeping things simple is a good way to start with meal planning, especially when your goal is saving money.
For example, instead of trying to plan out a month's worth of meals, you could start with one week.
You'll need to come up with a daily menu for the week that includes breakfast, lunches, dinners and snacks.
Remember, the key is keeping it simple. So that means things like:
Building your menu plan around the go-to recipes that are your family's staples
Limiting the number of new dishes you try each week (1-2 per week is a good number to aim for)
Incorporating leftovers into your meal planning to cut down on food waste
And here's another tip to know about how to meal plan as a beginner: you don't have to make everything from scratch.
I know, I can hear you gasping. But the reality is that being a busy mom means that sometimes dinner has to be ready in a hurry.
So if you're penciling in a frozen chicken nugget night on your meal plan once in a while, don't sweat it.
Related post: Free Printable Weekly Meal Planner Template (5 PDF Downloads!)
2. Organize your grocery list
I've learned from experience that going to the grocery store without a list will come back to bite you every time.
Either you'll forget something and have to go back or you'll end up buying things you hadn't planned to and blowing your grocery budget.
So having a shopping list is crucial for meal planning on a budget.
It helps to organize your list by category. So for example, you might build your list around these categories:
Meats
Vegetables
Fruits
Breads/grains
Dairy
Spices/condiments
You can then check your meal plan and write down what you need to make each meal from each category.
This is a handy trick for staying organized when meal planning and it can also help you get through the grocery store faster.
And best of all, you can save money on groceries since you're not buying things you don't need.
3. Get to know your grocery store's sale cycles
Did you know that grocery stores have a system for deciding what goes on sale and when?
I didn't for the longest time until I started trying to meal plan on a budget. And once you start paying attention, it's easier to time your purchases around what's on your meal plan for the week.
Most grocery stores follow a six-week sales cycle. So it usually doesn't take long to figure out how your store operates if you're checking the sale ads each week.
Also, get to know when your grocery store does markdowns on meat if that's part of your meal plan.
For example, where we shop, the meat department usually does markdowns on Tuesdays.
Once you get the hang of your store's patterns, you can use that to shape up your meal plan.
4. Shop your pantry first
Shopping grocery store sales is a smart move for saving money when meal planning. But before you head off to the grocery store, check to see what you already have on hand.
I didn't do this for the longest time and guess what? I always ended up buying things I didn't need.
So give your pantry a look first. This can save money since you're not buying things unnecessarily.
And it can cut down on waste if you're using up what you have.
Creating a pantry inventory can be a HUGE help with this part of meal planning.
It takes a little time to do this initially but once you have it, you can keep a running tally each week of what you have and what you're running low on.
And it makes it easier to fill out your grocery list for the week.
Learn how to create an organized pantry step by step.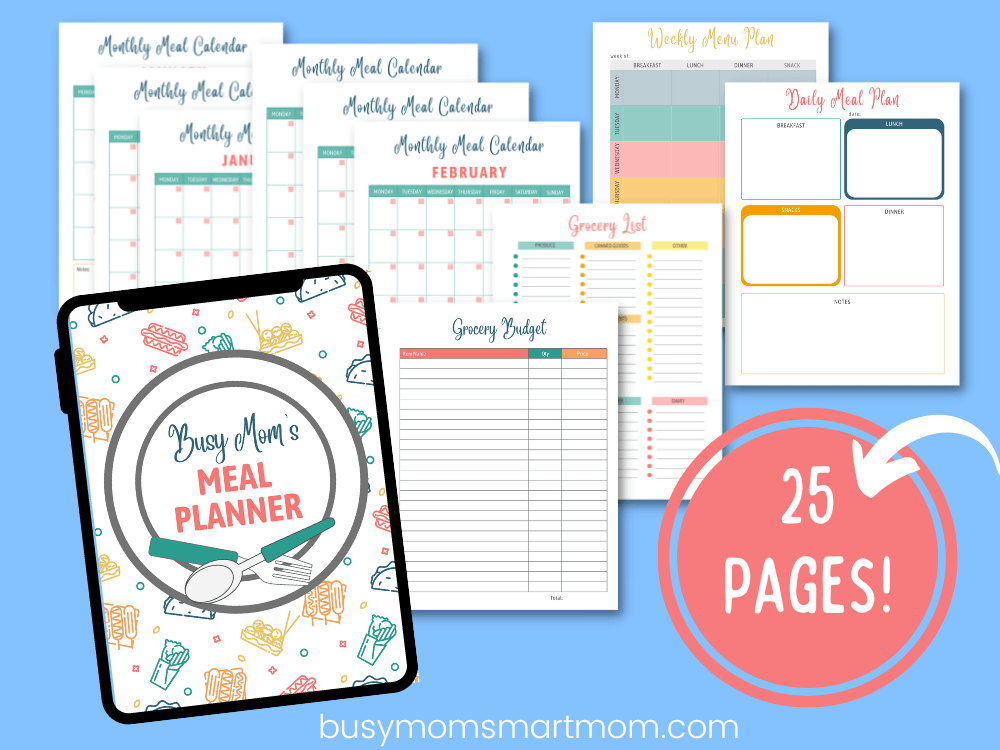 🌟Tired of wondering what's for dinner?🌟
The Busy Mom's Meal Planner takes the guesswork out of planning breakfast, lunch and dinner for your family! It's a must-have tool for any busy mom who wants to save time in the kitchen!
5. Build meals around staple ingredients
If you're sticking with the keep-it-simple rule to meal plan on a budget, then including staple ingredients in your meal plan is a must. Staples are things like:
Rice
Spices
Fresh, canned or frozen produce
Pasta and sauces (homemade or store-bought)
Oil and vinegar
Stocks
Marinades or sweeteners (like honey)
Beans and lentils
These are the core ingredients that you can build your meal plans around.
For example, rice, frozen vegetables, soy sauce and honey can turn into a quick stir fry. Pasta with sauce is a go-to favorite at my house for nights when I need to make dinner fast.
And the best part is that stocking up your pantry inventory with these kinds of staples doesn't have to cost an arm and a leg.
This is where knowing your grocery store's sales cycles can pay off since you can stock up on core ingredients for cheap.
Related post: 23 Simple Three-Ingredient Recipes You Can Make In No Time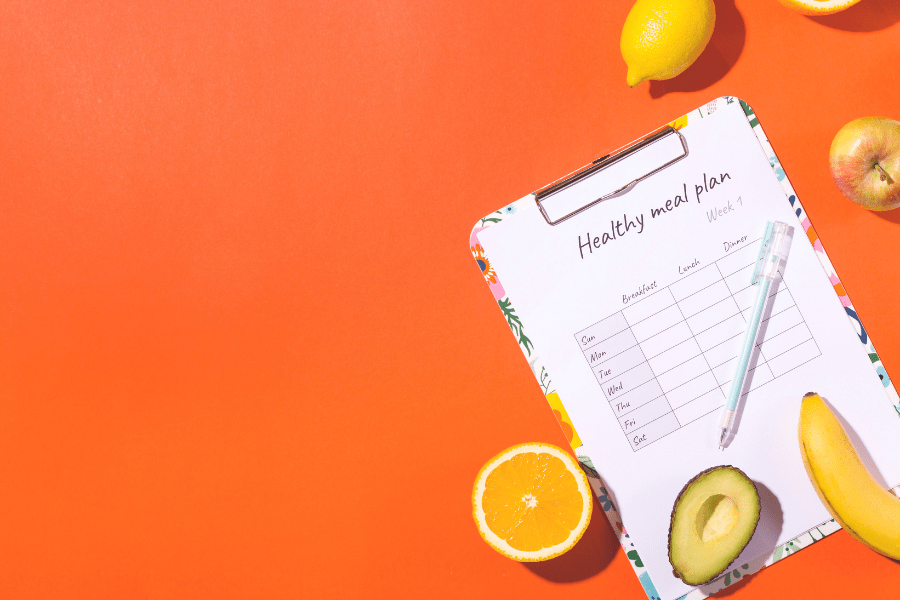 6. Try make-ahead and freezer meals
Make-ahead and freezer meals are one of the best meal planning tips to incorporate if you want to get dinner done quickly while saving money.
The idea is you make meals ahead of time, pop them in the freezer, then pull them out as needed.
You don't have to use complex recipes either; there are plenty of easy make-ahead meals you can try that don't take hours to make.
7. Invest in the right kitchen tools
Having the right gadgets can make meal planning and dinner prep less of a hassle. The key is choosing tools that save you time and don't cost a lot of money.
I have a pantry full of stuff I bought with the best of intentions but then…never used.
So that means not only did I not meal plan on a budget, I wasted money.
But I want you to save money (and frustration). So here are some of my favorite (inexpensive) kitchen tools to speed things along when time is short:
8. Keep side dishes simple
When planning out lunches or dinners, don't feel the need to overdo it with side dishes.
If you're making two or three sides on top of the entree, you're just going to wear yourself out. Not to mention, that adds to your grocery budget and costs you more money.
Stick with simple and filling favorites, like:
Tossed salad
Steamed or grilled veggies
Rolls
Rice
Roasted potatoes
Bonus meal planning tips: Save the fancy side dishes for special family dinners or holidays and choose recipes that let you repurpose sides into main dishes for the next night.
9. Organize your favorite recipes
Meal planning is all about being organized, right?
Otherwise, you might find planning meals on a budget more challenging. So it helps to have a system for keeping track of favorite recipes or recipes you want to try.
The easiest way to do that is Pinterest.
You can set up different boards for different types of budget meal plan recipes, then spend a few minutes each day scrolling the feed and pinning whatever looks good to you.
This way, you have all your meal plan recipes in one place so you can come back to them when you have time.
But if you like doing things the old-school way, you can also jot down meal ideas in a recipe binder.
10. Consider a low-cost meal planning service
If you're still struggling to meal plan on a budget, one of the tried-and-true meal planning tips is getting someone else to do it for you.
That's what $5 Meal Plan does. For $5 a week, you get a complete meal plan that includes:
5 dinner entrees, with sides
One lunch and one breakfast
A surprise treat, such as a snack or dessert
You get your weekly meal plans delivered to your inbox. Each meal plan includes at least one freezer-friendly meal, one slow cooker meal and one 20-minute meal.
The total cost of each meal works out to about $2 per person but some are even less. So making dinner for a family of four would cost $8.
That's about what you'd pay for a single dinner out so the potential to save money while eating healthy as a family is huge.
If you want to try out $5 Meal Plan, sign up now for a free 14-day trial!
How do you meal plan on a budget?
Meal planning should make your life easier, not harder. But even if you're a total beginner you can still get the hang of it.
And you can meal plan on a budget to make your family finances stretch farther.
That's what these meal planning tips and hacks are all about! They can make dinnertime more fun and less stressful while saving you money.
Be sure to check out my favorite Busy Mom Resources for meal planning and saving money. And don't forget to snag your free meal planning template in the Busy Mom Vault!
Do you have any tips to share for budget meal planning? Drop me a line in the comments and tell me about it!
And don't forget to pin and share this post!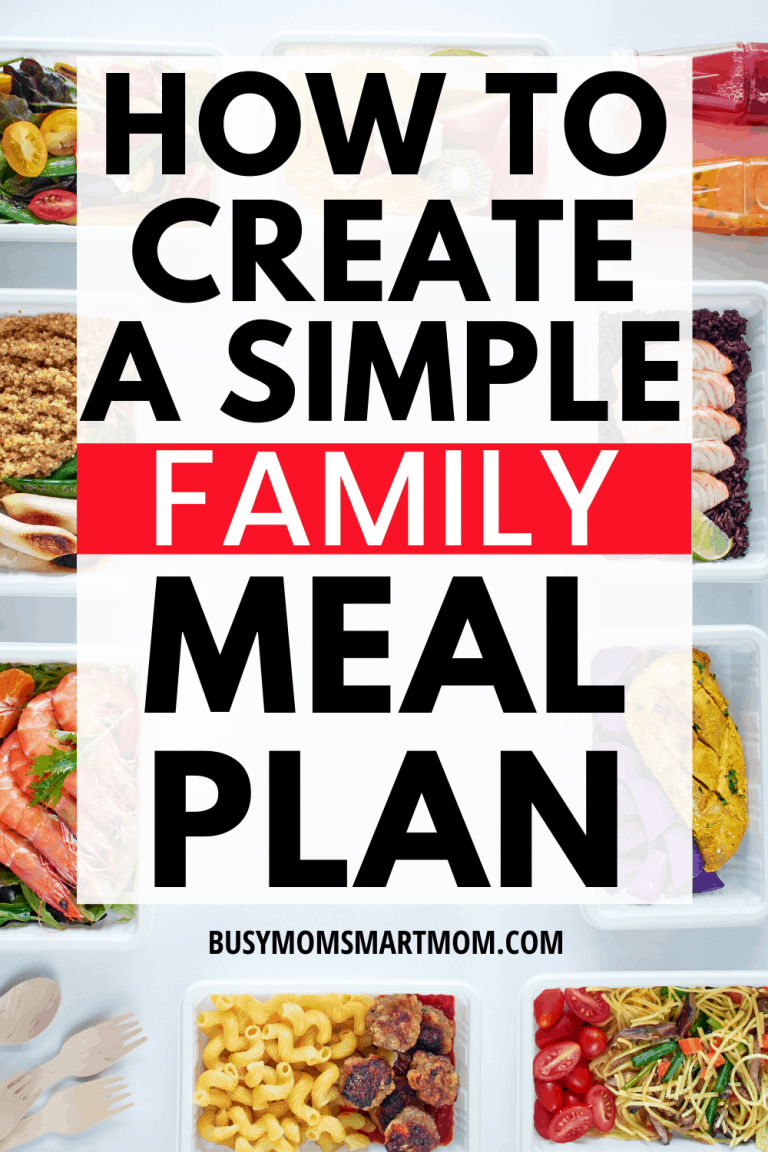 Meal Plan on a Budget