Get Organized for Christmas Now
Want to know the secret to how to get organized for Christmas?
It's really simple.
Having an organized Christmas is all about planning ahead.
Getting a head start on planning for Christmas can help you enjoy the holiday season with less stress.
Some of the things that can bring on the holiday headaches include:
Financial worries
Staying healthy and eating right
Choosing the "right" gifts
Scheduling
It's enough to make you feel downright Grinch-y. But an organized Christmas can make for a merry Christmas for busy moms–and their families.
If you've spent the holidays feeling frazzled in years past, then there's no time like the present to start getting ready for Christmas!
I'll walk you through how to get organized for Christmas, step by step so you can enjoy a stress-free holiday season.
Related post: The Best Organized Christmas Hacks for Busy Moms
Organized Christmas Planner
When you're set on getting organized for Christmas, having a planner to keep track of everything can be a huge help.
A Christmas planner is perfect for keeping track of:
Your holiday budget
Holiday gifts and cards
Shopping lists
Grocery lists and meal plans
Christmas home organization
Holiday errands
When you have all of your planning in one place, getting (and staying) organized for Christmas is a much more achievable goal.
If you're looking for a free printable holiday planner, I've got just the thing!
I created this downloadable Christmas planner PDF to keep myself organized. You can print it out year after year to keep track of the holidays.
Grab your printable Christmas planner, along with lots of other organization printables in the Busy Mom Vault!
Related post: Ultimate Fall Cleaning Checklist
Organized Christmas Budgeting
The first step in organizing for the holidays is working out a Christmas budget.
There's a very good reason for making a holiday budget: without one, you're more likely to overspend.
That can leave you starting off the new year in debt, which is probably not what you want. But these tips can help you plan an organized Christmas budget.
Know what you can afford
The typical family spent just shy of $1,000 on the holidays in 2020.
But what is a good holiday budget for your family?
It could be more than $1,000 or it could be less. Looking at your spending from years past can give you an idea of what you typically spend on Christmas.
Related post: Free Christmas Wish List Printable for Kids
Start a Christmas savings plan
Once you have an idea of what you normally spend on Christmas, ask yourself if that amount is realistic based on:
How much money you have set aside for Christmas
How much time you have to save for the holidays
How much you can afford to save monthly
Starting a Christmas savings plan early in the year means you'll have the cash you need once the holidays roll around.
So look at your monthly budget to figure out how much you can save between now and Christmas.
And if you don't have a lot of time, consider banking "extra" money like refunds, rebates or stimulus checks in your holiday savings account.
Use a holiday budget planner
Setting a Christmas budget and sticking to it are two different things.
Using a holiday budget planner can help. You can record holiday purchases as you make them and subtract the amount from your total budget.
This way, you can see at a glance how much money you have for the holidays at any given time.
If you haven't downloaded the free Christmas planner PDF yet, be sure to grab it. There's a holiday budget planner included!
Related post: 22 Amazing Planners for Moms to Help You Get Organized
How to Organize Christmas Shopping
Christmas shopping is not my favorite thing.
And it might not be yours either. But getting organized for Christmas shopping can make it easier.
Make a holiday shopping list
Lists are your secret weapon for getting organized for Christmas.
Shopping for the holidays with a list means you're less likely to:
Forget about things you need to buy
Lose track of what you've already purchased
Overspend and blow your holiday budget
Make impulse purchases
There's a holiday shopping list printable included in the Christmas planner to make it as easy as possible to track your purchases.
Related post: Free Letter to Santa Template for Kids
Shop online
Shopping online can save time, energy and headaches. And you could save money too if you're using cashback apps to shop.
When you're ready to shop, just pull out your holiday shopping list and head to your favorite stores.
Then at checkout, you can use cashback apps like Rakuten or Ibotta to earn instant cash back on everything you spend.
And you can even get free money to shop when you download Rakuten or Ibotta in the form of a sign-up bonus.
Claim your $30 Rakuten bonus now!
Get up to $20 in bonus money from Ibotta!
Set deadlines and start early
If you want to get organized for Christmas shopping, the early bird definitely gets the worm.
By setting a deadline to get all your holiday shopping done and starting early, you can avoid the possibility of something you want to buy being out of stock.
And if you're shopping early for the holidays online you don't have to worry about shipping delays being an issue.
Create a wrapping station
Wrapping holiday gifts can lead to chaos if you're not organized for Christmas.
You put down the scissors or tape for just a second and they seem to magically disappear into a pile of wrapping paper.
Organizing all of your gift wrapping supplies in one area means you won't be pulling out your hair when it's time to start wrapping.
Make sure your wrapping station is well-stocked with:
Gift wrap (duh, of course)
Tape
Scissors
Gift tags
Pens
Ribbon or bows if you use them
Gift bags and boxes
Tissue paper
Get Organized for Christmas at Home
Whether you plan to have company for Christmas or it's just you and your family for the holidays, having an organized home can make everything cozier.
Declutter and make space
Celebrating the holidays means new things are coming into your home.
That can include decorations, gifts and of course a tree. So doing some pre-holiday decluttering can help you avoid having a mess on your hands once Christmas rolls around.
If you're not sure where to start decluttering so you can be organized for Christmas, these posts can help:
Get on a cleaning schedule
If you're not using a cleaning schedule to keep your home neat and tidy, now's the time to start!
Having a daily cleaning schedule or weekly cleaning schedule to follow can help your organized Christmas goals become a reality. When you establish a regular cleaning pattern, it's so much easier to stay on top of the mess.
Don't know where to start with creating a cleaning schedule? These posts can help:
How to Create a Weekly Cleaning Schedule
Stay at Home Mom Cleaning Schedule Hacks
How to Create a Realistic Working Mom Cleaning Schedule
Clean by zones
Cleaning by zones can help you get organized for Christmas if guests are coming.
When you clean by zones, you target specific areas of your home first. If you're planning to have people over during the holidays, you can focus on high traffic zones like:
Living room/family room
Kitchen
Guest bathroom
Entryways, if they tend to get cluttered
Planning an Organized Christmas Dinner
Christmas dinners can be a great opportunity to come together with family and friends. (And enjoy some amazing holiday recipes!)
But the actual making of said Christmas dinner can be a nightmare if you're not organized.
Plan your holiday menu in advance
While you're planning your holiday budget and holiday shopping list, give some thought to what you'll make for Christmas dinner.
This can make it easier to plan ahead when it comes to what to shop for and how much you'll need to spend. And you can use an organizing app like Cozi to keep track of your shopping list.
Planning your holiday menu also gives you time to test out new recipes if you're planning to include them in your celebrations.
You can make note of which ones worked (and which ones were flops) so your Christmas dinner goes off without a hitch.
Consider a potluck
If the thought of planning and making holiday dinner leaves you overwhelmed, consider the potluck route instead.
Having guests bring something to Christmas dinner is a great option if you're having a lot of people over.
It cuts down on the cooking–and the costs–for you.
Some of the things you could encourage guests to bring include:
Appetizers or snacks
Main dishes
Side dishes
Disposable cutlery or silverware if you don't want to get stuck with a pile of dirty dishes
Wine or spirits
Non-alcoholic beverages
Desserts
And if you do end up having to shop for Christmas dinner, do it early!
Canned, boxed or frozen items will keep until it's time to prep the holiday meal. And you're saving yourself the stress of having to fight the crowds of last-minute shoppers.
Organizing After the Holidays
Once the holidays wind down, you might be ready to breathe a sigh of relief. But the organizing fun isn't over just yet.
Organize holiday decorations
As you take down holiday decorations, use these tips to stay organized:
Toss out any broken decorations
Group like decorations together
Choose the right storage containers for holiday decorations
Use labels so you know what's what
And once you've got all of your Christmas decorations organized and packed up, store them all together in the same spot.
This way, when it's time to break them out next year, you're not scrambling to track things down.
Clear out the clutter (again)
If your kids got a boatload of new toys, books or clothes for Christmas, consider a second round of decluttering.
Go through their things and look for items you can:
And you can do the same with your things, too. Clearing out all the extra stuff can help you start the new year off with an organized, livable home.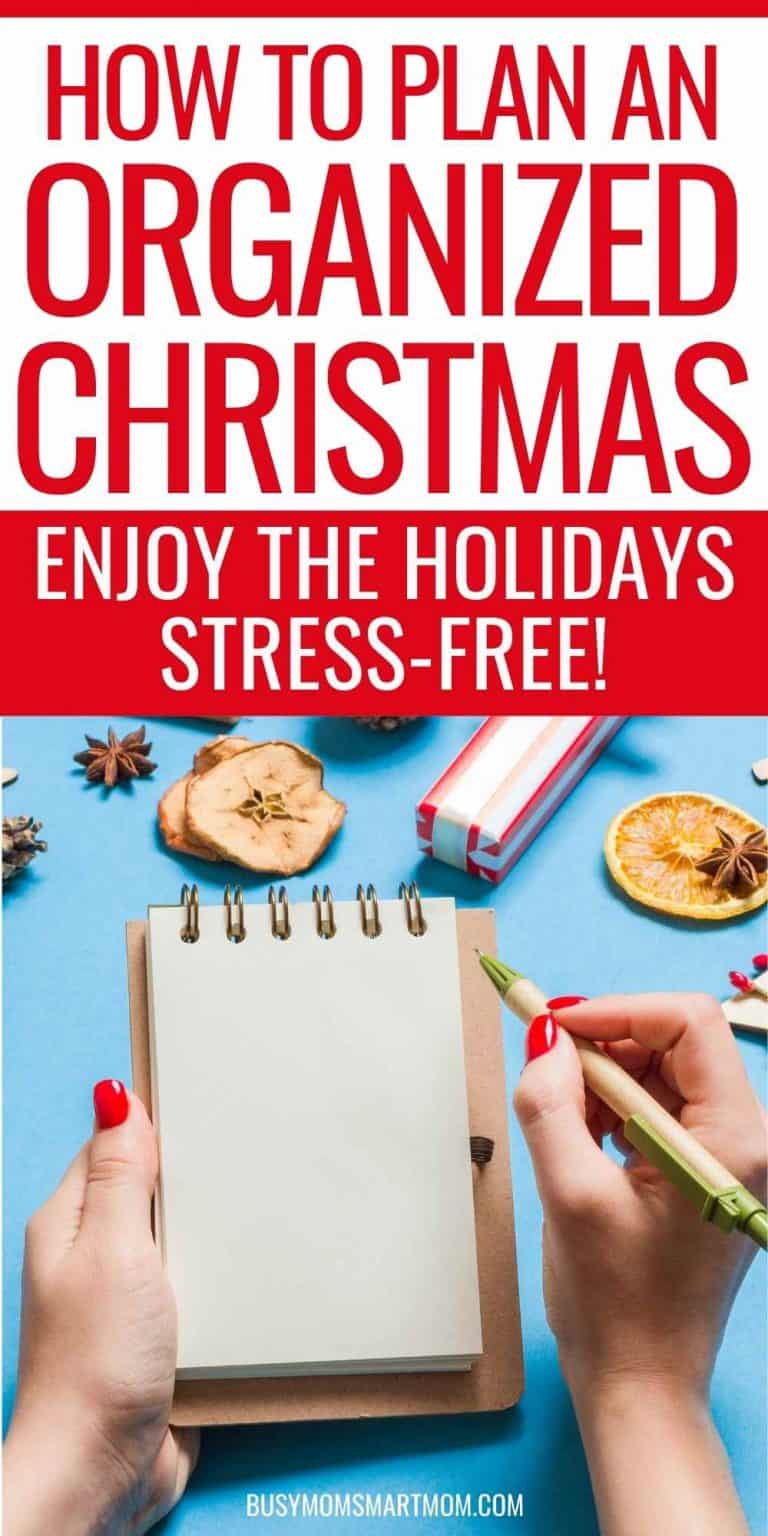 Final thoughts on how to get organized for Christmas
An organized Christmas is always better than a chaotic one if you ask me.
And if you want to be better organized for the holidays, it just takes some planning on your part.
Do you have a holiday organization tip to share? If so, head to the comments and tell me about it.
Then, be sure to check out some of my favorite Busy Mom Resources for saving time, saving money and staying organized.
And of course, don't forget to download your free Christmas planner PDF!
Get Organized for Christmas 2021