A stay at home mom cleaning schedule can make it easier to keep your home neat and tidy every day. If you don't have a SAHM cleaning schedule, you may feel overwhelmed by the mess.
As a stay at home mom and now a work at home mom, I've always relied on a regular cleaning schedule to keep up with household chores.
Because here's the reality. Living with kids (and pets or a spouse) means your house gets dirty.
And sometimes, it gets really dirty.
According to one survey, parents report that the average room in their home only stays clutter-free for 17 minutes. And 72% of moms reported that their homes became messier during the pandemic.
So creating a regular cleaning routine can help you keep the house reasonably clean and stay sane in the process.
Today, I'll walk you through how to start (and stick to) a stay at home mom cleaning schedule and why it's important to have a stay at home mom cleaning routine. Plus, you can download a free printable cleaning schedule checklist!
Related post: Simple Laundry Hacks to Save Serious Time
Why Create a Stay at Home Mom Cleaning Schedule?
Being a stay at home mom means you have to be smart about how you use your time.
We all get the same 24 hours in a day. But our days don't all look the same.
For example, your daily stay at home mom schedule might include:
Chasing after toddlers
Homeschooling
Making snacks and planning meals
Tending to pets
Running errands
Paying bills
Spending quality time with your spouse and kids
And somewhere in there you also have to find time to look after yourself a little and sleep.
So creating a daily SAHM schedule can help you keep a clean home in the midst of all the chaos.
When you have a set plan for cleaning daily, weekly or monthly, it's a lot easier to get into a routine and stick to it. And if you have kids at home with you, starting a regular cleaning schedule is a great way to get them involved in chores!
Perhaps most importantly, a stay at home mom cleaning schedule can help cut down on overwhelm.
If you've ever looked around your house and felt so paralyzed by the mess that you didn't know where to start cleaning, having a routine can give you the motivation you need to dive in.
Related post: 25 Borderline Genius Mom Hacks to Save Time, Money and Stress
Simple Cleaning Schedule for Stay at Home Mom
As a busy single mom who homeschools and runs a business from home, I am all about the benefits of simplicity.
So when it comes to creating a SAHM cleaning schedule, I believe in keeping it as easy as possible.
I've found the easiest way to do that is to divide up cleaning chores by how often you do them.
So the easiest cleaning schedule for a stay at home mom includes:
Daily cleaning chores
Monthly cleaning chores
You might also have some cleaning duties that you handle seasonally or just a few times a year. Those can go into a separate category.
Ready to see what a simple stay at home mom cleaning schedule looks like?
Here's an example cleaning schedule for a stay at home mom that's easy to follow!
Related post: Ultimate Fall Cleaning Checklist
Daily SAHM cleaning schedule
Make beds
Wash dishes
Wipe down kitchen counters
Wipe down bathroom counters
Sweep floors
Pick up and put away
These are all tasks that don't take up a lot of time. For example, it takes me five minutes to wipe down the kitchen counters and maybe 10 to sweep the floor.
Some of these things you can include as part of a morning routine or nighttime routine.
The goal is to find some simple things you can do to clean the house quickly.
Related post: 11 Hacks to Clean House Quickly (in 15 Minutes a Day!)
Weekly stay at home mom cleaning schedule
Monday: Clean the kitchen
Tuesday: Clean the bathrooms
Wednesday: Clean and tidy up bedrooms
Thursday: Do laundry
Friday: Clean the family room or living room
Saturday: Tackle outdoor cleaning/yard work
Sunday: Rest/plan for the week ahead
This weekly cleaning schedule for stay at home moms has you doing one big cleaning chore each day.
These are going to take more than just a few minutes to complete. But if you're just focusing on one a day, you're less likely to feel bogged down by everything you have to do.
And again, you can get your kids involved if they're home with you.
Even toddlers can help with sorting socks or laundry and picking up toys. So if you're looking at your busy mom cleaning schedule and feeling overwhelmed, figure out what you can delegate to share the load.
Related post: How to Create a Single Mom Routine
Monthly cleaning schedule for stay at home moms
Change air filters and dust vents
Dust ceiling fans, molding and baseboards
Sanitize your garbage cans
Declutter and sort things into throw away, give away and keep piles
Clean out your car
Tidy up areas that have become disorganized (i.e. entryways, hall closets, etc.)
Deep clean the kitchen and bathrooms
Monthly cleaning chores usually include bigger projects. So you might want to block off a weekend to get these tasks done.
Things you might do every other month or every few months include:
Cleaning out the attic
Cleaning out the garage
Deep cleaning upholstery or carpets
Washing exterior windows
Pressure washing the outside of your home or walkways
Cleaning up patio/outdoor furniture
If you do any of these things semi-regularly you can add them to your stay at home mom cleaning schedule as well.
Related post: Simple Dusting Hacks That Work (Keep Your Home Dust-Free!)
🌟NEED A SIMPLE WAY TO ORGANIZE CLEANING TASKS?🌟
The Busy Mom's Cleaning Planner includes everything you need to create a realistic cleaning schedule and banish the mess for good!
It's a must-have for any busy mom who's overwhelmed by cleaning tasks!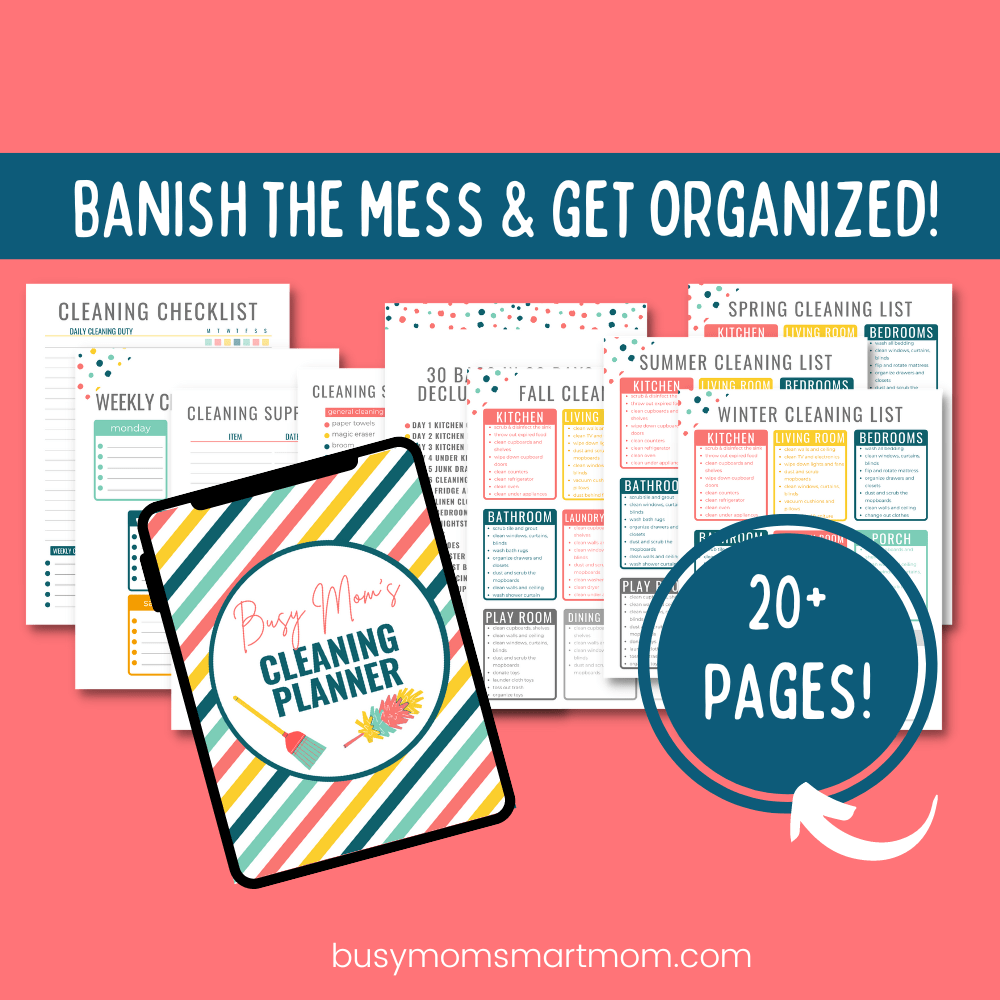 Stay at Home Mom Cleaning Schedule Checklist
Need something to help you keep track of your weekly cleaning chores and to-dos?
I've got a free weekly cleaning schedule checklist printable you can download now to stay on top of cleaning!
Click the image to download your weekly cleaning schedule checklist, plus lots of other freebies in the Busy Mom Vault.
You can laminate your checklist and use it again and again. It's a super simple way to keep track of what needs to be done each day.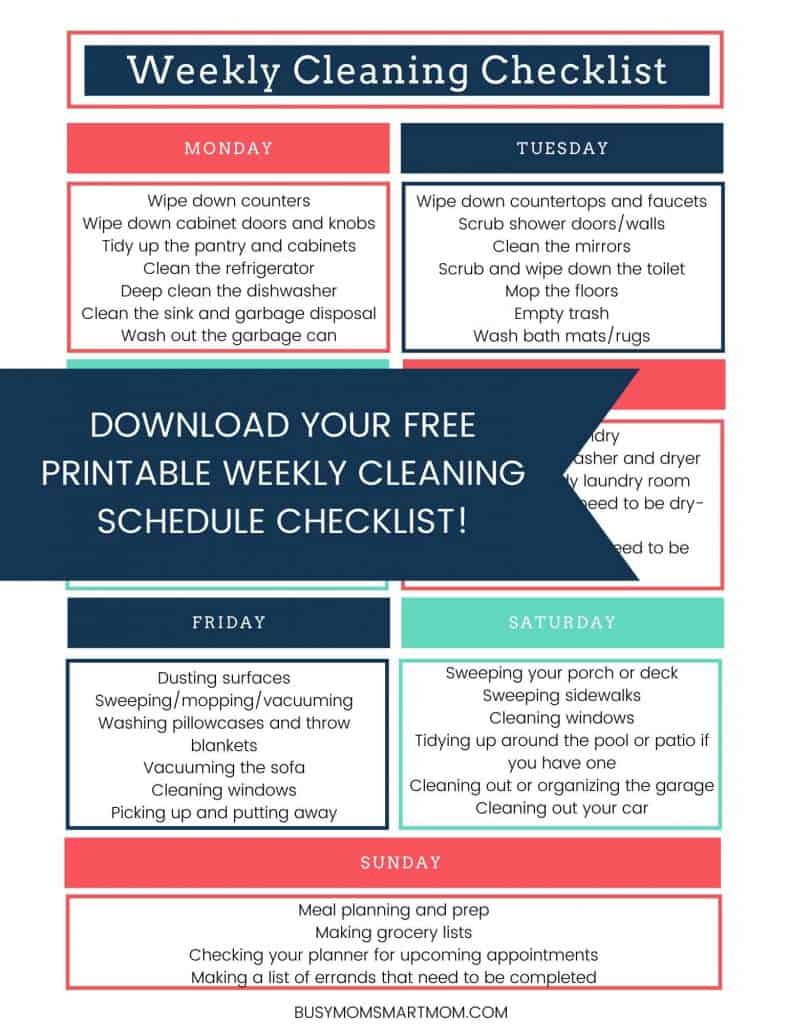 How to Stick to a Stay at Home Mom Cleaning Schedule
Creating a daily, weekly or monthly schedule as a stay at home mom is a big step forward.
If you've struggled to keep the mess under control, then a cleaning routine and schedule can be a huge help.
The catch, of course, is that you have to stick to the plan.
And that's not always easy. So these tips can help you make your efforts to follow a SAHM cleaning schedule a success!
1. Set realistic goals for cleaning
If you're making up a cleaning schedule as a stay at home mom, then obviously your big goal is a clean home.
But ask yourself what that really means.
In other words, how clean does your home need to be for you to feel good about it?
Once upon a time I was a SAHM of a toddler and a newborn. My husband was gone 21 days out of the month working so I was home alone with two kids all day most of the time. I was also trying to start a side hustle to make extra money.
I had a lot on my plate. Yet I still thought my house had to be perfectly spotless all the time.
It was unrealistic and when my house wasn't meeting that ridiculous goal, I felt terrible about it. But eventually I learned to cut myself some slack.
Hopefully, you're not stuck in the same "everything must be perfect" mindset that I had. But if you are, think about how that mindset matches up with what you can actually do.
If you're not able to keep your home white-glove clean 24/7, for example, ask yourself if it's worth stressing out over.
Here's another way to think of it: Is a spotless home worth missing out on time with your kids?
Changing perspective can make it easier to prioritize what's really important when making a cleaning schedule.
2. Make cleaning part of your regular daily routine
If you have a stay at home mom schedule, then making time to clean might not be that difficult.
You just need to find pockets of time in your day to fit in cleaning tasks.
For example, if you get up before your kids then you might have 10 to 15 minutes that you could use to wipe down counters or sweep.
Or if your kids take a nap in the afternoon you could get some cleaning done then.
Getting into a SAHM cleaning schedule doesn't and shouldn't mean that you're adding hours of chores to your daily round.
It's all about being smarter with the time you already have in your day.
So if you don't have a stay at home mom schedule or routine yet, think about making one. And as you plan out your days, include time for cleaning.
3. Share your cleaning schedule duties
Just because it's called a stay at home mom cleaning schedule doesn't mean mom has to be the one doing all the work.
There are plenty of chores kids can do, even starting at young ages.
By assigning kids some of the daily, weekly or cleaning duties, you can lighten your load. And you're teaching them valuable life skills in the process.
Some of the cleaning tasks kids can help with include:
Laundry – Sorting, folding, putting away
Wiping down countertops
Dusting
Sorting recycling
Vacuuming
Cleaning the bathrooms
These are all things my kids do and have done since they were 5 and 6.
As you look at your daily or weekly cleaning schedule list, think about what you can hand off to your kids. And if you're married or partnered up, don't forget them either.
Bottom line? You don't have to do it all yourself.
And remember that it doesn't have to be perfect. Done is better than perfect every time.
Get Help With Stay at Home Cleaning Schedules
If you've gone through these steps to create a stay at home mom cleaning schedule but you still can't find your cleaning groove, there's one more thing you can try.
Taking a course to help you get organized and developed family routines can be a huge help.
The Organized Home is a complete guide to creating routines for your home and family.
Some of the main things the course covers include:
Room by room decluttering
How to clean in "zones"
Ways to develop systems for cleaning, organizing and meal planning
The Organized Home helps you tackle the trouble spots so you can have a clean home with less stress.
If you want to:
Save time
Conquer the mess
Fine-tune your daily schedule
Have more time for your kids
Be a happier mom
…then The Organized Mom can help!
This course is a great investment if you're ready to give your home management skills a complete makeover. So if you haven't checked it out yet, be sure to take a look!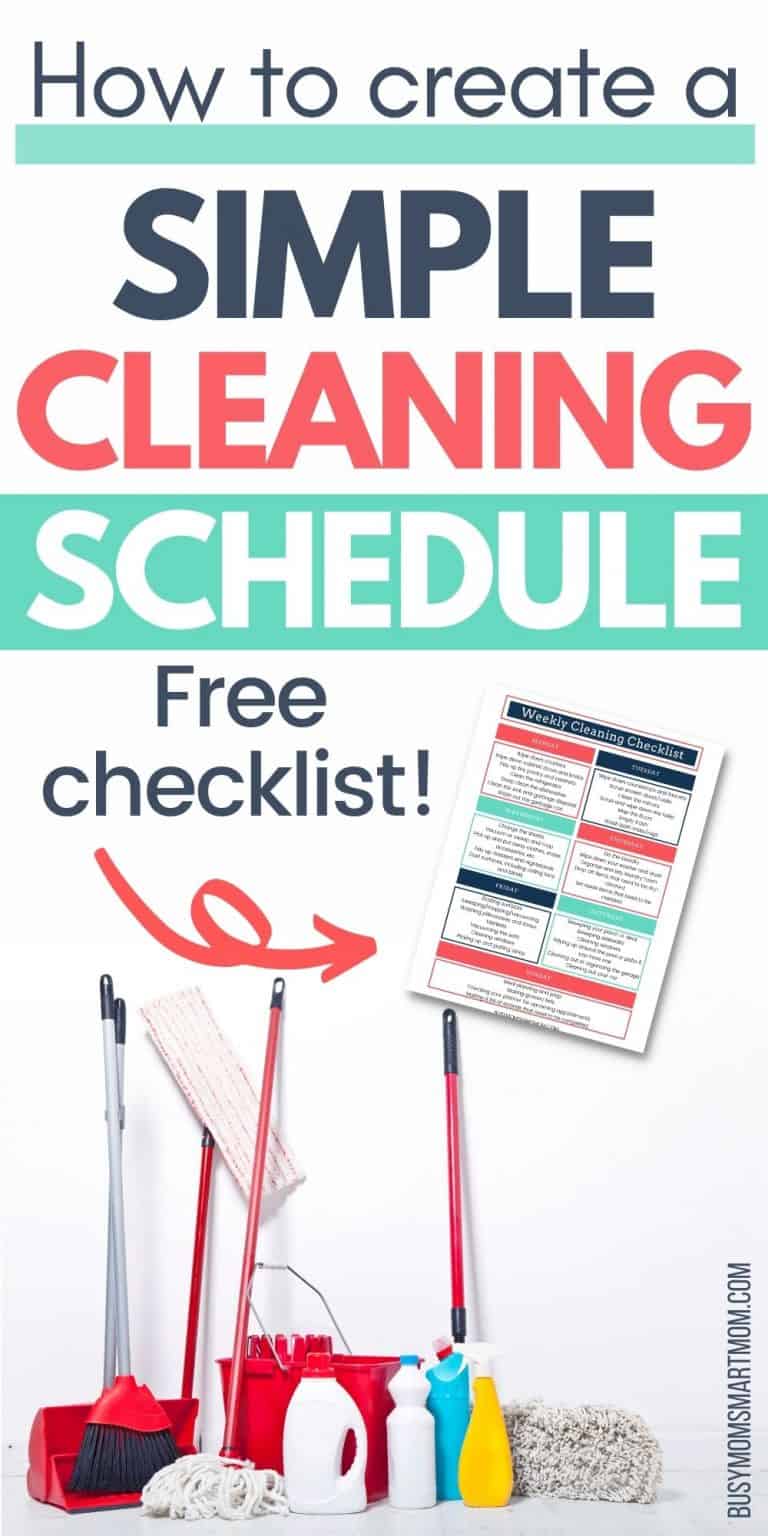 Final thoughts on creating a stay at home mom cleaning schedule
Getting the mess in your home under control can be easier than you might think. And it starts with having a SAHM cleaning routine.
Using routines can make for a happier (and cleaner) home that you and your family can relax in.
And life is so much more enjoyable when you're not stressing about sticky countertops or dirty floors.
So if you don't have a regular cleaning routine in place yet, today is the day to start one. And that's where these stay at home mom cleaning schedule tips can help.
Before you go, be sure to check out The Organized Home to learn how it can help you with family routines.
Also, take a peek at my favorite Busy Mom Resources for more tools that can make mom life easier. And of course, don't forget to download your free weekly cleaning schedule checklist!
Best Cleaning Schedule for a Stay at Home Mom