Looking for a simple printable weekly meal planner template?
Meal planning can save you time and money if you're able to plan your grocery budget and menu more efficiently. A printable weekly meal planner template can make it easier to keep track of meals from day to day.
As a busy mom, meal planning has saved me so many headaches in the kitchen. There's no guessing about what to make for breakfast, lunch or dinner and no throwing things together last-minute.
If you're looking for a way to simplify meals for your family, this printable weekly meal planner is just what you need!
Related post: Meal Plan on a Budget: 10 Easy Ways to Save Money Now
Free Printable Weekly Meal Planner Template
The printable weekly meal planning template included here is included in my free printables library, which is available to my email subscribers.
To get your free printable meal planning template, all you need to do is click on the link or the image below. You'll be taken to the Busy Mom Vault sign-up page. From there, you can subscribe to my list and receive instant access to the weekly meal planner PDF!
In addition to this weekly meal planning template, you'll also get a monthly meal planner template and a three-page pantry organization checklist.
That's a total of 5 PDF meal planning printables altogether. You'll have everything you need to get started with meal planning in one simple free download!
Related post: 23 Easy Three-Ingredient Recipes to Make When You're Short on Time
Why Use a Printable Weekly Meal Planner?
Using a weekly meal planning template printable can help you to stay organized while planning your family's menu. You can list out the items on your weekly shopping list and see at a glance what's on the menu each night.
If you're new to meal planning, there are some definite benefits to know about. The benefits of meal planning include:
Saving time. Planning out your meals can keep you from wasting time in the kitchen and in the grocery store because you'll know exactly what you're shopping for and what you plan to make.
Saving money. Meal planning can save you money if you're making out a shopping list and only buying the items on that list each week.
Reduce food waste. Americans throw out 40 million tons–or 80 billion pounds–of food each year. Food waste is not only bad for the environment, as it can contribute to greenhouse gases when compressed in a landfill, but it also means you're throwing money in the trash. Meal planning can help you avoid both of those issues.
Reduce stress. Scrambling to make dinner on the fly is stressful and as a busy mom, you probably have enough to deal with. Meal planning can take the stress out of mealtimes because you don't have to worry about what to make.
Eat healthier. Planning meals could also lead to healthier eating habits if you're consciously choosing your foods each week. And as an added plus, you could even lose some weight by eating healthier!
Bottom line, meal planning puts you in control of your time, your money and what's going into your family's bodies. And using a printable weekly meal planner template is the easiest and best way to keep track of it all!
Related post: Healthy Breakfast Ideas for School Quick and Easy (30 Kid-Friendly Recipes!)
Tips for Creating a Weekly Meal Plan Schedule
If you're trying out weekly meal planning for the first time, it might seem a little overwhelming at first. But creating a weekly meal plan schedule or routine can make the task easier.
Here are some of my best tips for creating a weekly meal planning schedule:
Pick one day of the week to meal plan. Choose one day each week to write out your meal plan, like Saturday morning or Sunday afternoon. Print out a copy of your weekly meal planner template, grab your favorite pen and block off an hour or so to create your menu.
Choose simple meals for your busiest days. You might want to make something ambitious for dinner but a busy weekday when your kids have sports, music lessons and after school tutoring isn't the right time. As you create your weekly meal plan, pencil in some easy, healthy meals for those nights when you don't have time for a complicated recipe.
Incorporate leftovers into your weekly meal plan. Chances are you'll have some leftovers that pile up in the fridge over the course of the week. If so, you can add a "leftover night" into your meal plan to use up things you'd otherwise have to toss.
Double up on ingredients. One of my favorite meal planning tricks is to repurpose ingredients from one meal to the next. For example, say one night you plan to make a big batch of homemade sloppy joes. If there's sloppy joe mix left over, you can use that to make spaghetti with meat sauce the next night. (I've done this plenty of times and it tastes great, plus you don't let anything go to waste!)
As you make your weekly meal plan, ask your family if there are any special meals they'd like to have for breakfast, lunch or dinner. I find that asking for input from my kids means I avoid making anything they're not going to like which might end up wasted food in the trash.
Related post: 93 Best Instant Pot Recipes for Busy Moms (Quick and Easy!)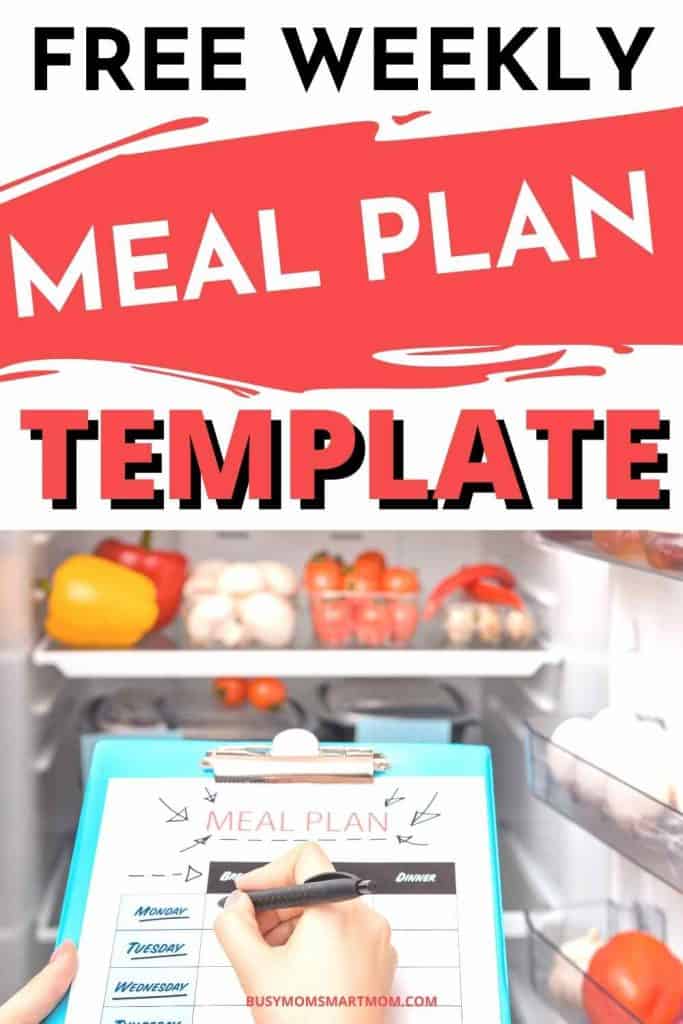 Don't forget your free weekly meal planner template!
Meal planning can be a godsend for a busy mom, especially if you have picky kids. This weekly meal planner template can help you get your menu plan together
If you're still struggling with meal planning, then I have one more thing that might help. It's called $5 Meal Plan and it's a low-cost meal planning tool.
With $5 Meal Plan, you can get weekly meal plans delivered to your inbox. Over 35,000 families use $5 Meal Plan to plan their weekly menus with less hassle!
It's just $5 per month to get your meal plans (hence the name $5 Meal Plan). And when you sign up using this link you can get a FREE 14-day trial!
Do you have any weekly meal planning tips to share? Head to the comments and tell me about it!
Before you go, be sure to check out my favorite Busy Mom Resources for saving time, money and stress!
Printable Weekly Meal Planner