Are food prices killing your grocery budget?
When inflation kicks into overdrive, a trip to the grocery store can be nerve-wracking. Building your family's menu around super cheap meals can be a great way to keep food spending under control.
With the right cheap dinner ideas, it's possible to feed the whole family without spending a lot of money. Even large families can still enjoy a delicious meal on a budget if you're strategic about grocery shopping and menu planning.
If you're looking for ideas for dirt cheap family meals to keep your food budget in check, you're in the right place. Today, I'm sharing some of my favorite super cheap meals that the entire family is sure to love.
Benefits of Choosing Budget-Friendly Meals
Feeding a large family (or even a small one) can get expensive, especially when food prices seem to only go up, up and up. According to the U.S. Department of Agriculture (USDA), a typical family of four spends $959.90 on food each month, assuming they follow a thrifty food plan.
If you're on a tight budget, spending $1000 a month on food might not be realistic or even possible. Finding some easy cheap dinner ideas, lunch ideas and breakfast ideas can make saving money on food easier.
Choosing super cheap meals doesn't mean you have to eat unhealthy, processed foods either. Some of the best (and cheapest) meals incorporate simple ingredients that are also good for you.
Related post: How to Afford to Be a Stay-at-Home Mom When It Seems Impossible
Best Ways to Save Money With Cheap Meals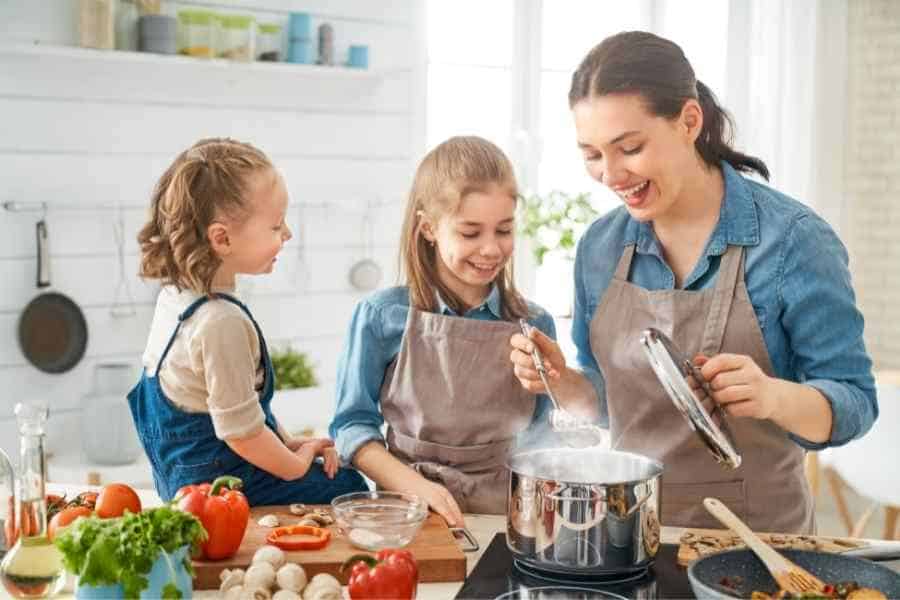 If you're researching ideas for super cheap meals, you've already got a head start on saving money. But there are a few additional money-saving tips that can help you make even the cheapest meals less expensive.
Use coupons. Clipping paper coupons or digital coupons can be a little time-consuming. But it's one of the easiest ways to save money if you're trying to curb your food budget.
Plan meals. Meal planning is the ultimate secret weapon for any busy mom (or dad or student or retiree) who wants to create simple meals that are healthy and don't cost a lot of money. Using a printable meal planner or a low-cost meal planning service like $5 Meal Plan can ensure that you never run out of good ideas for super cheap meals.
Grow your own. Gardening can be a fun hobby and it can also be a way to save money on food costs if you're able to grow fruits, vegetables and herbs at home. Some of the cheapest and easiest things to grow at home include tomatoes, red pepper and green pepper, squash and potatoes.
Shop sales. Buying groceries on a budget can be a challenge but it gets easier if you're taking the time to do some comparison shopping first. Familiarizing yourself with sales flyers from your local grocery stores can help you figure out each store's sales cycle so you can time purchases for maximum savings.
Make what you can. There are certain things you can make at home cheaper than you can buy them. For example, bread, oatmeal, pasta sauce or pizza sauce, pasta and corn tortillas are all things you can make from scratch using fairly cheap ingredients.
Buy generic. When you're on a tight budget name-brand items don't have a place on your grocery list. If you're struggling to go cold turkey on name brands, try swapping out one or two family favorites for generic ones at a time. That can be a good way to get used to generics and you might find you don't miss the more expensive brands.
Batch cook. Batch cooking is ideal if you don't have much time to spend in the kitchen and it can be an easy way to prepare meals for large families. For example, you could cook up a batch of bean burritos for lunch or egg wraps for breakfast, stash them in the freezer and heat them up as needed through the week. You can also batch cook casseroles or pre-make batches of tomato sauce and pasta for easy weeknight meals.
Keep it simple. A well-rounded meal doesn't necessarily have to include a main dish and three vegetables. Some of the best dirt cheap meals include meatless Monday options, crock pot dump meals or one-pan meals you make on the stove or in your Instant Pot.
---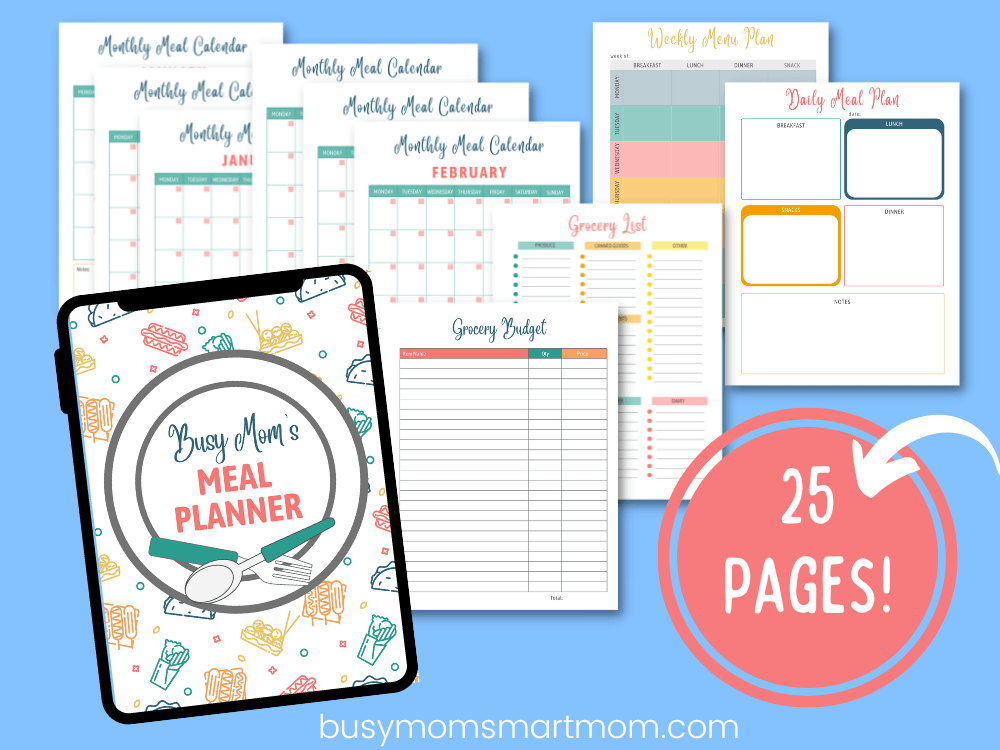 🌟Tired of wondering what's for dinner?🌟
The Busy Mom's Meal Planner takes the guesswork out of planning breakfast, lunch and dinner for your family! It's a must-have tool for any busy mom who wants to save time in the kitchen!
---
What Are the Cheapest Foods to Buy?
When you're trying to prepare healthy meals on the cheap, it helps to know which foods cost the least at the grocery store. Some of the cheapest foods to buy include:
Chicken thighs (much less expensive than chicken breasts or wings)
Pasta
Red beans, black beans and refried beans
Bell peppers (green usually cost less than red, yellow or orange)
Spices, like chili powder, garlic powder or onion powder
Lentils
Potatoes (sweet potatoes are versatile and you can usually find them on sale)
Eggs (even better if you can barter for them with someone you know who raises chickens!)
Rice
Canned or frozen vegetables (like broccoli, green beans, corn, etc.)
Pantry staples like flour, sugar, yeast and salt
Olive oil
You can incorporate these kinds of ingredients into plenty of easy dinner ideas without spending a lot of money per meal, per person. And if you're buying things like pasta, rice or dry beans in bulk, that could be a budget-friendly way to serve up large portions for less money.
Related post: Free Printable Weekly Meal Planner Template (5 PDF Downloads!)
Super Cheap Meals for Breakfast
If mornings are hectic at your house, you might not have much time to whip up a healthy breakfast. So these cheap meal ideas are perfect for getting the whole family fed and ready for the day in less time.
Oatmeal. Oatmeal is simple and easy to make and it's a perfect comfort food for cold fall or winter mornings. You can jazz up plain oatmeal by adding fruit, yogurt, brown sugar or honey.
Eggs. Eggs are packed with protein and depending on where you shop for them, usually pretty cheap. If your kids are tired of the usual fried-or-scrambled options, you can try whipping up these tasty egg muffins with tater tots instead.
Toast. A loaf of bread is a cheap grocery store item (and you could save even more by making your own.) You can top toast with an egg, peanut butter, jelly, cinnamon sugar, butter, honey–anything you have on hand to add some extra flavor.
Muffins. Muffins are a great cheap meal idea for breakfast if you need to feed your family on the go. Kids can grab a muffin or two to snack on in the car or while waiting at the bus stop. You can try incorporating different cheap ingredients, like applesauce, fresh berries, cinnamon, brown sugar, bananas or even zucchini for a quick and easy breakfast.
Waffles or pancakes. Frozen pancakes or frozen waffles are convenience foods but they're not great for you, nor are they cheap. You're better off buying an inexpensive box of pancake and waffle mix or better yet, making them from scratch using flour, baking powder and egg. (Here's my favorite recipe for simple and delicious pancakes.)
Cereal. Cereal is a staple item for many families and while a lot of it is sugary and not that healthy, there are some healthy options. Corn flakes are usually cheap if you buy generic brands and you can spice them up with sliced bananas, fresh berries or a little honey drizzled over the top.
Biscuits. Biscuits are surprisingly easy to make using pantry staples you probably have on hand. I like this original recipe for layered biscuits and they taste amazing with honey, jelly, jam, a little bacon and egg or just a slice of cheese.
Bagels and cream cheese. Bagels are a great option for super cheap meals if you can find them on sale. You just need a little cream cheese or jelly on top to add some flavor. Or you can make bagel breakfast sandwiches with scrambled egg and bacon or sausage.
Breakfast bakes. Breakfast casseroles are perfect for large families who want a hearty meal to start the day. You can make french toast casseroles, hashbrowns casserole or my personal favorite, sausage biscuit casserole.
Super Cheap Lunch Ideas
Taking your lunch can be a great way to save money if you don't want to get into the trap of eating out for lunch at work every day. And if you work from home, you can make some easy super cheap meals to save money.
Leftovers. A delicious dinner can turn into an equally tasty lunch if you're using the leftovers. Making the most of leftovers cuts down on food waste and it saves you time as well since all you have to do is heat them up.
Sandwiches. Sandwiches are a cheap and easy grab-and-go lunch option and the best thing about them is that you can make almost anything into a sammie. Deli meat, peanut butter and jelly, tuna salad, egg salad and chicken salad are some of the best cheap lunch ideas that take minimal time to make. And nothing beats a classic grilled cheese sandwich when you're looking for an ultimate comfort food.
Wraps. You can easily transform plain tortillas into a delicious wrap by adding fresh veggies, deli meat, a slice of bacon, some leftover rotisserie chicken–you can get as creative as you like.
Quesadillas. Quesadillas are another great way to put tortillas to use and you can stuff them with just about anything you like. I prefer a simple quesadilla with a little cheese and sauteed peppers and onions. But you might build your quesadillas with pepperoni and pasta sauce, ground beef and taco sauce or chicken, black beans and corn.
Pasta salad. Pasta salad is a great super cheap meal idea and it's a nice light lunch during the summer months. Here's an easy recipe for pasta salad that incorporates pantry staples you probably have on hand.
Soup. Buying a can of soup can save time but canned soups usually have a ton of salt and you might be able to make fresh soup for less money. For example, you can whip up a batch of vegetable soup or chicken noodle soup for pennies. And making it in your slow cooker overnight can save you time on lunch prep in the morning.
Related post: Meal Plan on a Budget: 10 Easy Ways to Save Money Now
Super Cheap Meals for Dinner
The best dirt cheap meals for dinner are ones that don't cost a lot to make, are easy to make and can feed large families if necessary. Here are some of the best super frugal dinner ideas for families broken down by different categories.
Soups and salads
Soup and salad is a perfect combo if you're trying to eat well on a budget. You can prepare any of these soups and salads together or on their own for a complete healthy meal.
Broccoli and cheese soup. If you've got some fresh (or frozen broccoli), carrots, chicken broth or stock, a little bit of milk or heavy cream, cheese, salt and pepper you've got everything you need to make this creamy broccoli soup.
Tomato soup. Tomato soup and grilled cheese sandwiches are a staple cheap dinner at our house. You can make your sandwiches with mozzarella cheese, American, provolone–whatever you have on hand. Just pop them in the frying pan with a little butter or mayo slathered on the outside and you're set!
Potato soup. Potato soup is the perfect comfort food for cold days. You can upgrade plain potato soup by topping it with small pieces of bacon, shredded cheese and a little green onion.
Corn chowder. Corn chowder is easy to make and it requires just a few simple ingredients. You can make it with or without bacon, depending on what your budget allows.
Pinto beans and cornbread. As a kid, we were poor with a capital 'P' and were no strangers to eating pinto beans and cornbread for dinner. If you've never tried it, you'll definitely want to add a little onion and some chow-chow (homemade is the best!).
Hamburger soup. Hamburger soup might be a splurge cheap meal idea if you're trying to cut back on your meat intake. You can add some ground beef, a few veggies, canned tomatoes and broth for a yummy weeknight supper.
Taco salad. Taco salad is quick, easy and best of all, super cheap to make. You can use ground beef or shredded chicken, a little shredded iceberg lettuce, some tortilla chips and refried beans to whip up your salad. Sour cream and salsa are cheap additions that can add lots of flavor.
Couscous salad. Couscous salad is a healthy meal ingredient and it can be an affordable way to feed a large family. If you've never tried couscous before, this Mediterranean version tastes amazing and it's made with plenty of low-cost ingredients.
Three-bean salad. If you've got a variety of beans on hand, you can whip up a light and flavorful three-bean salad in no time. You can have three-bean salad as a side dish or for lunch, but this traditional version is perfect for dinner too!
Casseroles
Casseroles are perfect super cheap meals for large families because you can make them with just a few ingredients and they can usually yield up several large portions for hungry mouths.
Pasta casserole. Pasta, sauce and a little cheese is all you need to make a filling casserole for dinner. You can add in ground beef, fresh veggies or top it with pepperoni for even more mouth-watering goodness.
Macaroni and cheese bake. Macaroni and cheese is almost always a favorite with kids and you might find that you love it too. I like this version from Tasty but you can try experimenting to create your own original recipe.
Tater tot casserole. Tater tot casserole is a simple weeknight dinner for families, especially if you have kids who love tots and lots of cheddar cheese.
Chicken stuffing casserole. Shredded leftover chicken, sour cream, cream of mushroom soup (or cream of chicken), boxed stuffing and veggies all add up to an easy, cheap (and best of all, delicious) weeknight meal.
Sloppy joe casserole. Tired of regular old sloppy joes? Try this casserole version that takes just minutes to prep and is crazy good.
Spaghetti pie. Spaghetti pie is a variation on pasta casserole and it's another easy meal you can make with ingredients you probably have in the pantry already.
Cheap chicken dinners
Chicken pot pie bake. This is another casserole-type dish that you can make using chicken cut into pieces, biscuits (homemade or store-bought), cream of chicken soup and any veggies you've got in the fridge.
Chicken fried rice. You can never go wrong with chicken fried rice. It's easy to make–you just need rice, a little soy sauce, some veggies, chicken and a scrambled egg to go on top. We add a dash of sugar and gochujang to our fried rice to make it spicy and sweet.
Chicken and yellow rice casserole. To make this casserole, you'll just mix together shredded chicken, cream of chicken soup, some yellow rice, corn or broccoli and shredded cheese. Bake until bubbly and enjoy!
Chicken quesadillas. If you've got tortillas and chicken, plus some cheese and veggies, you've got the makings for easy chicken quesadillas.
Sweet and sour chicken. Sweet and sour chicken is easy to make and it tastes better than takeout when you use this recipe that includes cider vinegar and brown sugar.
Copycat Chick Fil A. I love Chick Fil A but it can be very expensive, especially if you're buying dinner for multiple kids. You can make your own cheaper (and just as yummy) version at home with this copycat recipe.
Roast chicken and veggies. Chicken breasts, thighs or drums plus a little balsamic honey drizzle and fresh asparagus or other veggies make a simple, healthy meal.
Cheap ground beef meals
A pound of ground beef can go a long way if you're on a tight budget. Some of the best super cheap meals that incorporate ground beef include:
Sloppy joes
Easy cheeseburger sliders (bonus if you make the copycat Big Mac sauce!)
Cheeseburger or hamburger soup
Simple meatball subs
Spaghetti and meatballs (don't forget the parmesan cheese)
Stuffed bell peppers
Ground beef goulash
Other cheap dinner ideas
Looking for some more ideas on how to feed a large family for less? Check out these outside-the-box super cheap meals:
Kimchi fried rice (the Spam is optional but a nice cheap addition!)
Tuna noodle casserole
Ketchup spaghetti (yes, ketchup and yes, it's amazing!)
Breakfast for dinner
Hot dogs and baked beans
Spaghetti tacos (combine leftovers from two dirt cheap meals into one fun, frugal dinner!)
Baked potatoes
Easy enchiladas
Homemade pizza
Related post: 23 Easy Three-Ingredient Recipes to Make When You're Short on Time
What to serve on the side with cheap dinners?
If you're looking for something to serve on the side with your favorite super cheap meals, try these low-cost suggestions:
White rice or brown rice
Potatoes
Grilled or baked vegetables
Garlic bread or biscuits
Pasta
Salad
Final thoughts on super cheap meals
Finding ways to save money on food might be a priority if you're trying to feed a large family without going broke. The good news is that you have plenty of options for creating healthy meals without spending a lot of money at the grocery store. And you can boost your savings by clipping coupons and using Ibotta to shop for groceries.
Looking for a simple way to plan meals? Get the Busy Mom's Meal Planner and take the stress out of putting dinner on the table!
---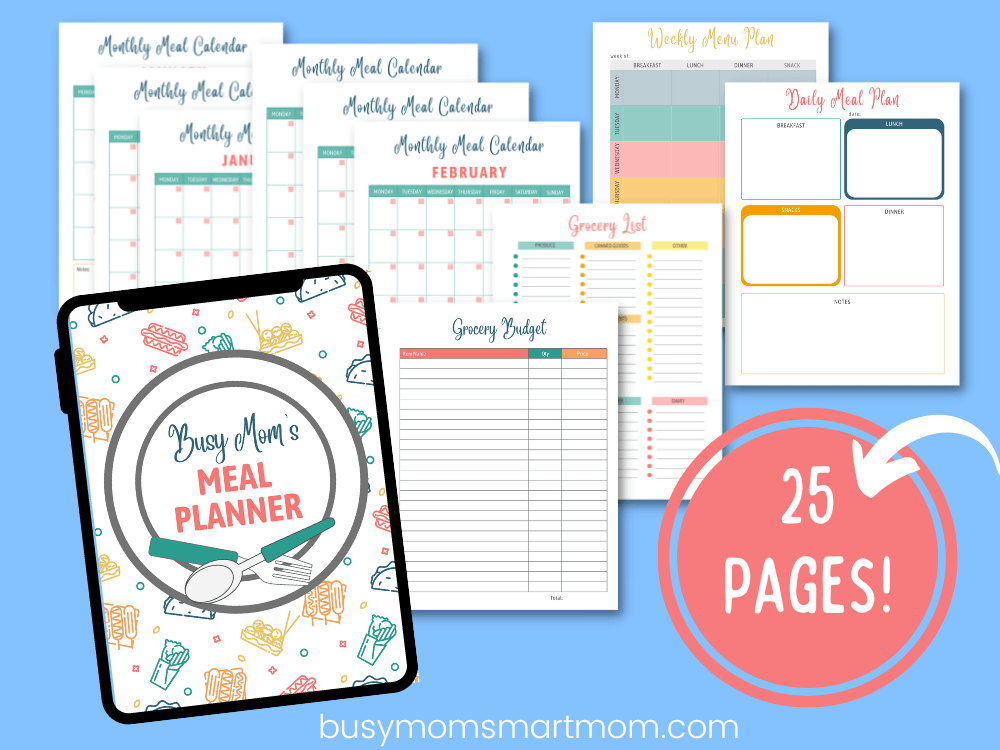 🌟Tired of wondering what's for dinner?🌟
The Busy Mom's Meal Planner takes the guesswork out of planning breakfast, lunch and dinner for your family! It's a must-have tool for any busy mom who wants to save time in the kitchen!
---
Best Super Cheap Meals for Families