Best Busy Mom Hacks
Mom hacks can be a lifesaver when you're trying to do it all while raising kids. The best busy mom hacks are the ones that help you save time, get organized and be more productive every day.
As a single parent raising two kids with no support system, I've become a master of the mom hack.
And I can't tell you what a difference that's made. Finding ways to hack mom life can make taking care of kids, running a home and managing family finances so much easier.
If you're ready to try some mom hacks yourself, this post is for you. I've rounded up some of the best hacks for moms from top mom bloggers to help you:
Feel more organized
Save time and money
Get more done
Stress less
Ready to be a happier mom? If you said yes, these mom hacks can help!
Related post: 9 Secrets for Beating Mom Burnout
What Is a Mom Hack?
If you're wondering, what is a mom hack? here's a really simple definition.
A mom hack is anything that makes your life as a busy mom easier.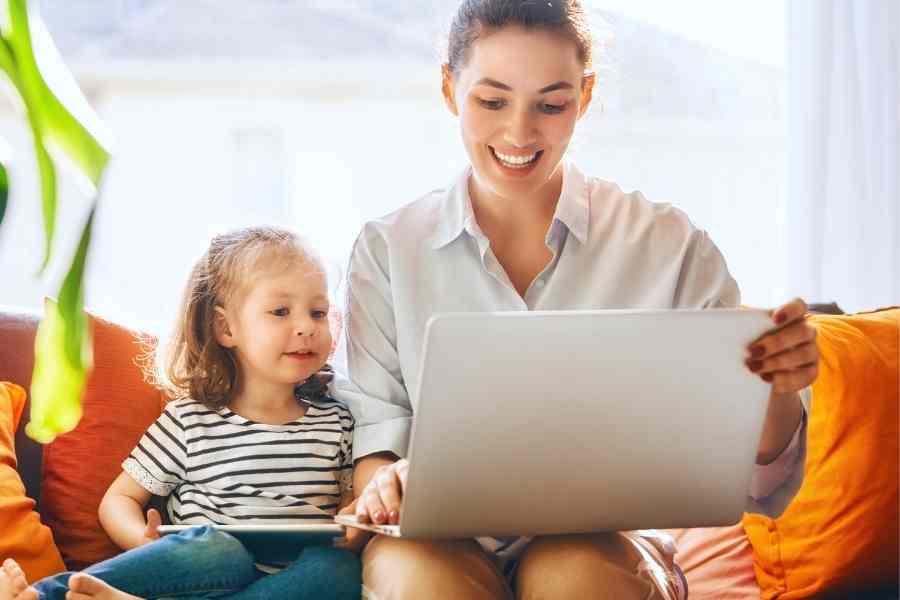 Having a few mom hacks in your repertoire can mean the difference between chaos and calm every day. And they can help you feel more accomplished as a busy mom.
That's really important. When you're managing a home and taking care of kids, anything you can do to make it less stressful matters, no matter how big or small.
Fortunately, there are mom hacks for almost everything these days. Ready to try some mom life hacks that actually work?
Here's a look at the best ways to hack mom life now!
Related post: 10 Simple Home Management Tips for Incredibly Busy Moms
Time Saving Hacks for Moms
Want to save time as a busy mom?
Who doesn't, right? These mom hacks can help you get things done and save precious hours each week.
1. Order groceries online
Spending hours at the grocery store with cranky kids is not my idea of a good time.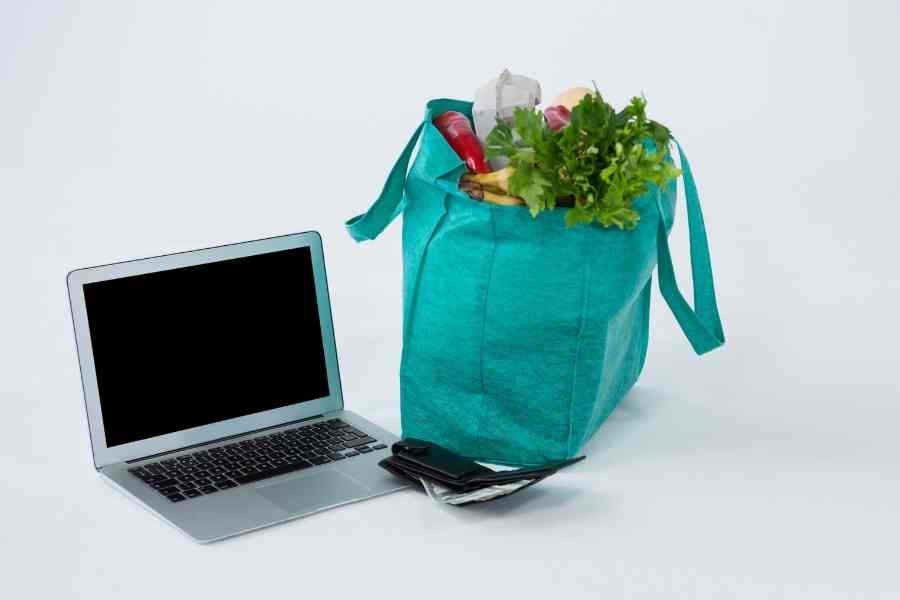 Ordering groceries online is a mom hack that can save you time (and headaches), says Audrey Wood at Two Pink Peonies.
"It saves time and I'm much less likely to forget something," Wood says. "I also find that I spend less because I don't add impulse items to my cart like I would in the store."
You can order groceries online through Instacart or Walmart Grocery, then pick them up when it's convenient for you.
And if you haven't tried Instacart yet, sign up now to get $10 off your first order.
2. Get everything delivered
You can shop for almost anything online these days. If you're looking for time-saving hacks for moms, getting food, groceries or anything else delivered is a no-brainer.
Some of my favorite delivery services include:
If you're getting things delivered, check the fees first. With Amazon Prime, shipping is free for most items but if you're getting food or groceries delivered, you may have to cover a delivery charge.
3. Use small pockets of time wisely
Making the most of your time as a busy mom is all about using every spare minute.
"Make a list of things you can accomplish in 2 minutes," says Anne Wahlgren of Printable Parents. "For example, I can fold and put away a small basket of dish towels in that time."
If you're not sure where the extra time is in your day, consider doing a time audit.
Grab a notebook, journal or mom planner and write down everything you do in a day. Try keeping a time log for at least a week.
Then go back over your day to see where you can squeeze out a few extra minutes to get things done.
4. Try time blocking to plan your daily routine
One of the ways I stay productive as a work-at-home mom who also homeschools is time blocking.
Time blocking means breaking your days down into chunks.
It's a smart mom hack that can help you make the most of your busy days, stop distractions and get more done, says Donna Shenk of Hey Donna.
Related post: Ultimate List of Mom Routines to Stay Sane and Productive
5. Simplify your to-do list
I love making to-do lists. Without them, I'd be completely lost.
But your to-do list doesn't need to include everything but the kitchen sink.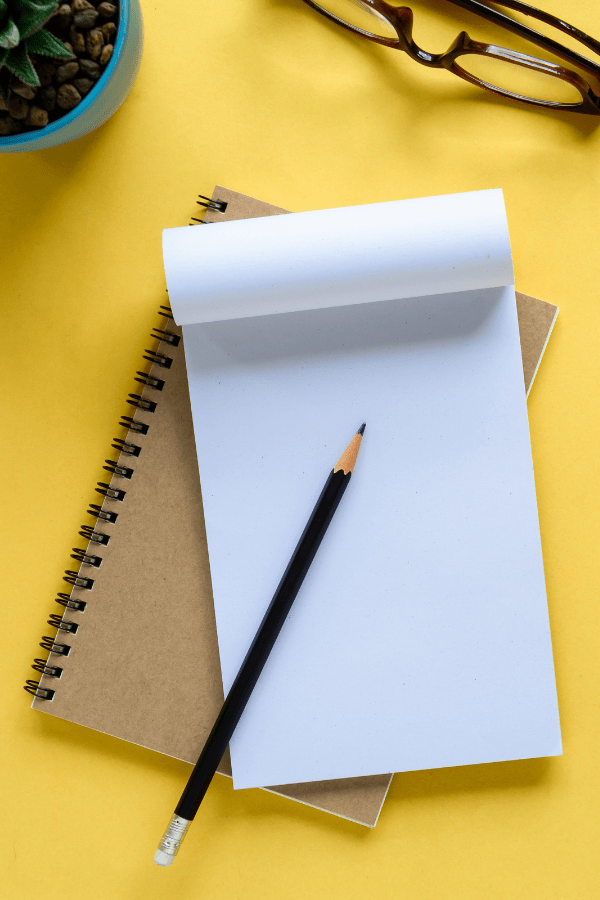 "Rethink your to-do list and create one that's small (maximum 2-3 tasks) and realistic," says Jacqueline Gilchrist at Mom Money Map. "If a task is too big, break it down into smaller and more manageable tasks."
Here are some of the best lists to make to organize your busy mom life and save time.
Cleaning Hacks for Busy Moms
Keeping a clean house as a busy mom with messy kids can feel impossible. But these mom life hacks can help.
6. Start a weekly cleaning schedule
Keeping a clean house with messy kids gets easier when you have a cleaning routine you can stick to.
By spreading out cleaning tasks over the week, you're not scrambling to clean the entire house in a single afternoon.
And when you clean daily, it's a lot easier to maintain a basic level of tidiness.
Not sure where to start with a cleaning routine? These posts can help: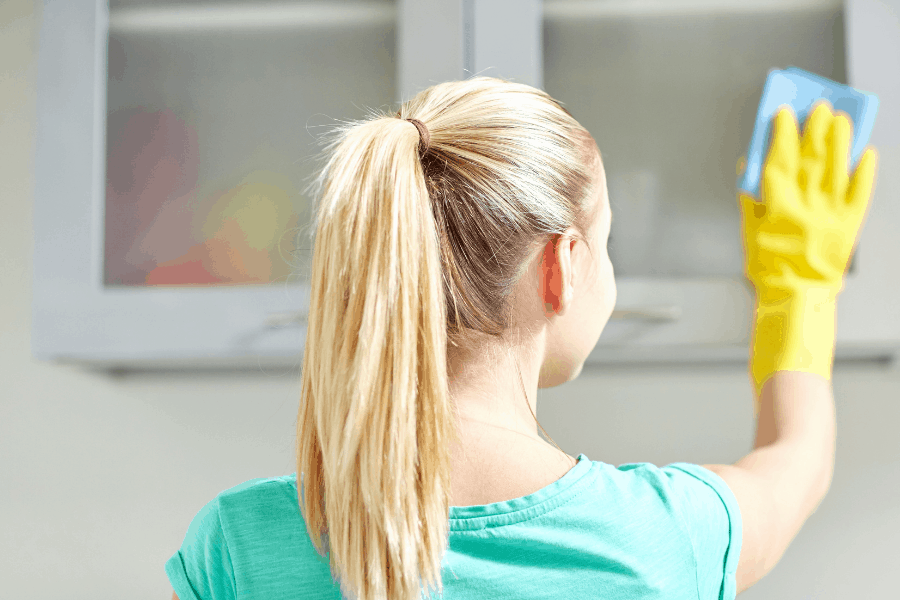 7. Clean as you go
Here's a mom hack from Robyn Saves at A Dime Saved for keeping a messy house clean:
Take advantage of empty time.
"For example, while food is cooking I rinse the dishes or do other quick cleaning tasks in the kitchen," she says. "While chatting on the phone, I put away laundry and when walking from one room to another, I try to grab one or two things to bring with me."
I've found that it's easy to keep things picked up by having a catch-all place to keep items that need to be put away.
Keeping a plastic bin or bucket in the kitchen or at the foot of the stairs, for example, gives you a place to toss stray items into. Then you can sort and put them away as you have time (or have your kids do it).
8. Save time on toy clean-up
When you have kids it seems like toys can end up everywhere.
So here's an easy hack for cleaning up toys from Crystal Shriver-Garman at Simply Full of Delight.
"When your children are playing with blocks like Duplos or wooden building blocks, things can get messy quickly," she says. "Place a large blanket on the ground and pour the blocks in the middle and have the kids play on the blanket. When playtime is over, simply gather the ends of the blanket and put the blocks back into the container!"
You can also make cleanup easier by keeping toy storage close to hand. Here are some of my favorite picks for organizing kids' toys.
9. Make your own cleaning supplies
Store-bought cleaning supplies can be pricey, not to mention full of harsh chemicals.
Learning how to make your own cleaning supplies from natural ingredients can save you time and money. Plus, you have the reassurance of knowing that your kiddos or pets aren't being overly exposed to chemicals.
For example, Shelley Brewer Semple at Forging Magic uses a genius mom hack to save on cleaning supplies.
"With the kids always out playing and exploring I go through so much soap," she says. "Then I discovered how quick, easy and inexpensive it is to make foaming soap at home."
Making your own cleaning supplies might require some trial and error. But you might be surprised at how many things you already have on hand you can use to clean.
10. Clean kids toys in the dishwasher
The more kids play with their toys, the dirtier they can get.
So here's an easy mom hack for cleaning them up: run them through the dishwasher.
This is a favorite cleaning hack for moms from Claire Roach at Money Saving Central.
"Cleaning products can be costly, but there are plenty of ways to get your home pristine without a hefty price tag each month," Roach says. "Little things can make a huge saving over the course of a year such as filling up a half-empty dishwasher with toys that would need cleaning anyway."
11. Create a simple laundry system
Laundry is the bane of many a busy mom's existence. But having a system for laundry can make doing it less of a hassle.
Here are some of my best mom hacks for managing laundry:
Need more hacks for getting laundry? Try these laundry hacks for busy moms next.
Mom Hacks to Get Organized
Are you tired of feeling like a hot mess mom?
Then these life-changing organized mom hacks are just what you need!
12. Start–and stick–to a morning routine
How you start your day can determine how you end it. And that's where having a mom morning routine becomes essential.
Creating a routine can help you get your day started on the right foot. If you want a mom hack that helps you feel more energized and motivated, this is it.
One of the secrets to making a morning routine work? Planning ahead.
That's how Shannon Cairns at Making Frugal Fun shapes her working mom morning routine.
Making time for mindfulness is also important. That can mean reading a few devotions for moms, meditating for 10 minutes writing in a gratitude journal.
And keep your morning routine realistic and simple. That's a mom hack Stephanie Helie Eddy at Dresses and Dinosaurs lives by.
Related post: How to Create a Single Mom Routine
13. Organize kids rooms using a toy rotation
If you're not using a toy rotation yet to keep your kids' rooms organized, this is a must-try mom hack.
A toy rotation means keeping some of your kids' toys out to play with while storing others away. You then rotate toys in and out.
This can keep kids from getting bored. And it can help you keep your home organized.
Another amazing mom hack to organize kids' toys?
"Use a shoe organizer and dust bins to store smaller toys," says Farwa Shoaib at The Homemaker Mama.
Related post: How to Create a Simple Toy Rotation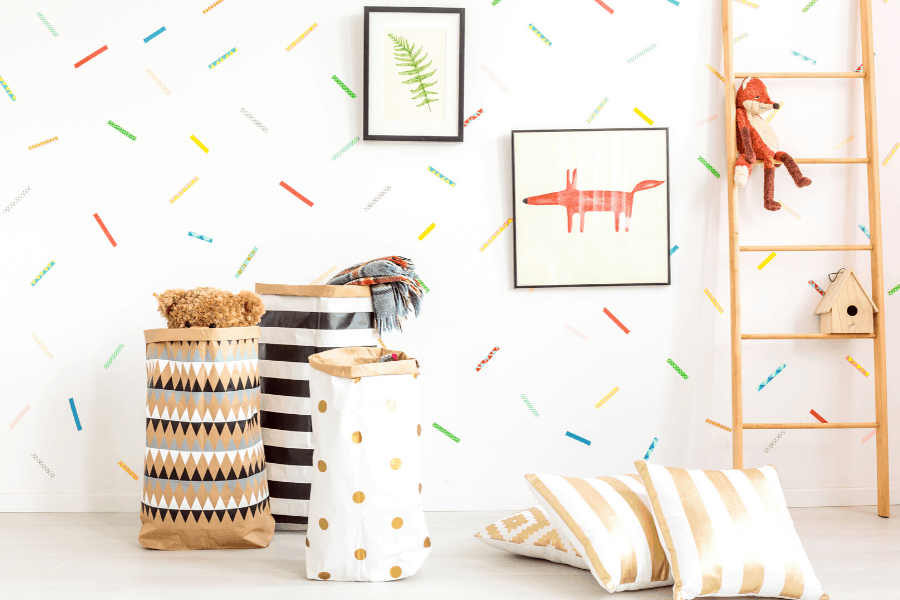 14. Make the most of small spaces
When you live with kids, a spouse and pets, it's easy to feel squeezed in. And you might dream of moving to a larger home, with your very own private mom wing.
Unless you're rich that's probably not realistic But you can stay organized by making the most of the space you do have.
For example, Nicole Weatherford at Everyday Thrifty uses a hall closet for homeschool organization.
Command hooks, clothespins and twine help Chelsea Foy at Lovely Indeed keep her coat closet from becoming an organizational nightmare.
Investing in multi-use furniture helped Stacey Rodriguez at The Soccer Mom Blog make the most of her small nursery.
And regular decluttering is the key to avoiding pack rack syndrome, according to Dawn at Craftidly.
If you're ready to clear out the clutter but don't know where to start, give these posts a read next:
15. Use cupcake liners for everything
Cupcake liners are good for more than just holding delicious treats.
You can also use them to:
Keep popsicle drips to a minimum
Keep your vehicle's cupholders clean (thanks to Ottawa Mommy Club for this mom hack)
Hold small snacks
Collect loose items, like buttons or paperclips
Prevent sticky jars from making a mess in the fridge
Compartmentalize kids' lunch boxes
Keep bugs out of cups when spending time outdoors
That's a really short list of creative mom hacks for cupcake liners. And the best part is, you can pick them up super cheap on Amazon!
16. Create a family command center
Do you spend time chasing down bills, looking for keys or phone chargers or searching for that recipe you planned to make for dinner?
If you said yes, then you NEED a family command center in your life.
A family command center is a one-stop-shop for staying organized as a family. This is where you can keep:
Mail that needs to be sorted
Bills that need to be paid
Doctor's appointment reminders
School schedules
Activity schedules
Device chargers
Keys
Calendar
Home management binder
And anything else you need to run your household. Having a family command center can help you go from feeling frazzled to completely organized and it's easy to set one up in an afternoon.
17. Use a family organization app
If you have kids in different activities, doctor or vet appointments to tend to and errands to run, it's super easy to get overwhelmed with it all.
And when that happens, something could slip through the cracks.
Using a mom planner can help you stay organized. But apps can make the job even easier.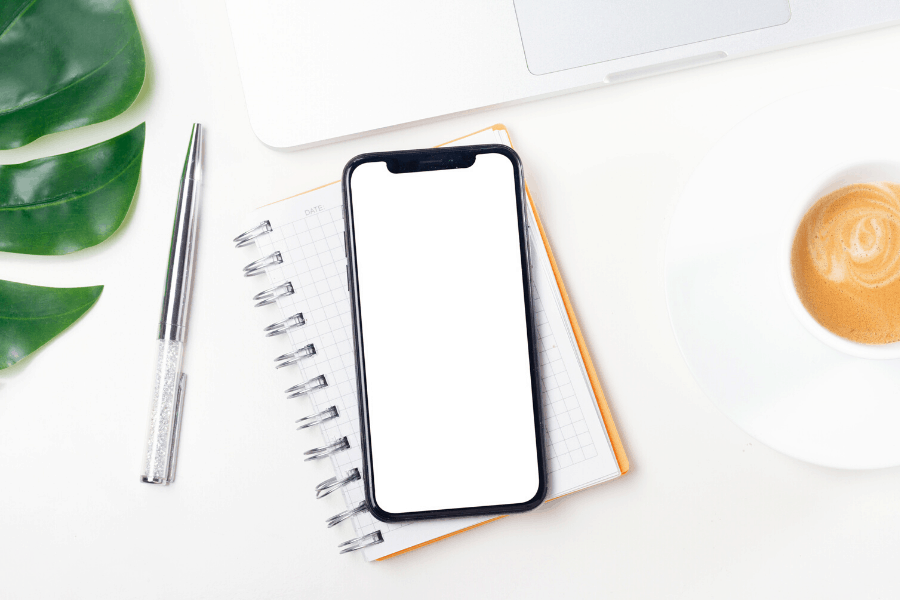 With the Cozi App, for example, your whole family can stay connected so everyone knows what's on the schedule.
You can easily see at a glance what's coming up, what errands need to be done and who has to be where. You can even save your grocery lists in the app!
Cozi is free to download. So if you're not using it to be a more organized mom yet, give it a try!
Related post: 8 Organized Mom Hacks You'll Wish You'd Known Sooner
Meal and Food Mom Hacks
Is making dinner a source of stress? Try these insanely useful mom life hacks to make mealtimes less of a pain.
18. Plan your meals
If you're not planning meals yet, you're missing out on one of the best mom hacks ever.
"Meal planning is a mom lifesaver," says Jenny Grove at Wholesome Family Living.
Here are her best meal planning tips:
Create a list of meals your family loves
Decide how many servings to make
Go to the store and only buy what you need
"This not only keeps you on budget but also helps prevent impulse buying and keeps food from spoiling because you bought an ingredient you don't have a plan for," Grove says.
Meal planning doesn't have to be complicated. For example, Kim Schob uses these easy meal prep ideas to keep her family fed.
If you've never tried meal planning, here's another mom hack to make it easier: invest in pre-made meal plans.
With $5 Meal Plan, for example, you can get custom meal plans for pennies.
I absolutely love this service because as a busy mom, trying to decide what to make for dinner every night feels like a form of torture sometimes.
If you're ready to give meal planning a try, head here to learn more about $5 Meal Plan!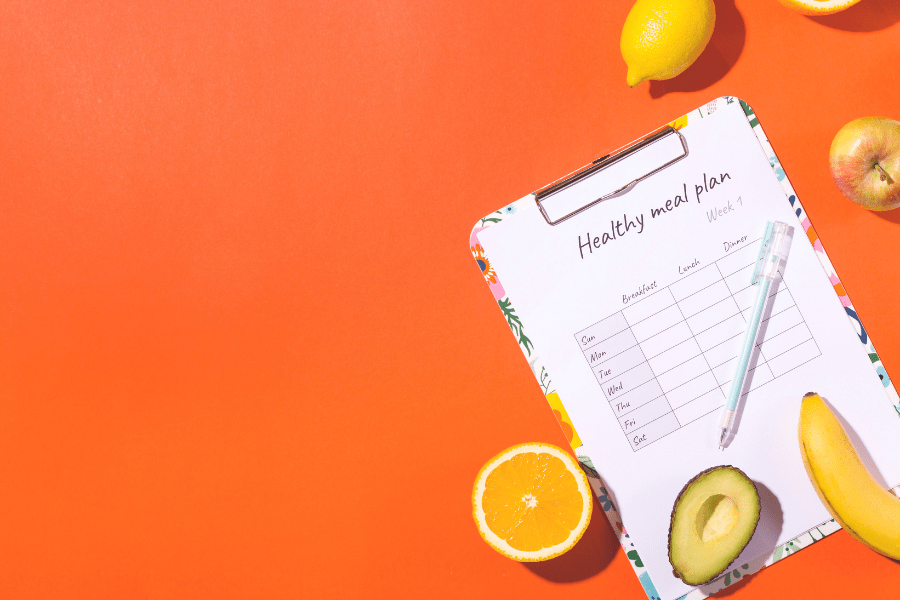 19. Use kitchen gadgets to simplify meal prep
Don't want to spend hours in the kitchen? Having the right tools can help.
"Cooking with kitchen gadgets is my life-changer as a working mum of three," says Samantha Miller from Recipe This.
Using gadgets saves Miller time because it turns cooking dinner into a set-it-and-forget-it task. She can get dinner going and tidy up the house while it's cooking.
Need some ideas for which kitchen gadgets to try? Here are my best picks for gadgets that save time and effort while still helping you put healthy meals on the table.
20. Grocery shop on a schedule
How often do you go to the grocery store?
Sometimes I'll go two weeks without a visit then other times I'm hitting the grocery store twice a week. It doesn't exactly save time or money.
A simple mom hack solution? Grocery shop once a month instead.
That's what Shelley Fulton at Two Healthy Kitchens does. Check out her time and money-saving once-a-month grocery shopping plan.
21. Cook ahead
Cooking things ahead is a useful mom hack for saving time in the kitchen.
For example, Lisa Mitchell at Fluxing Well likes to cook a batch of ground beef that she can store to use later in soups, casseroles or pasta dishes.
Making things ahead and freezing them is also a mom hack Sarah Brooks at Aussie Home Cook uses.
"Not just dinner but snacks and other meals," Brooks says. "It will save time and money on busy days."
If you're meal planning, look at what you've got planned for the week. Then consider spending some time on Sunday afternoon prepping and precooking so dinner takes less time to make during the week.
Money Saving Hacks for Moms
Want to save more money as a busy mom?
Try these hacks to save more money and stick to your family budget!
22. Use Ibotta to shop for groceries
The average family of four spends anywhere from $7,188 to $16,440 on groceries each year.
If you're a busy mom with growing kids, you know just how important saving money on groceries is.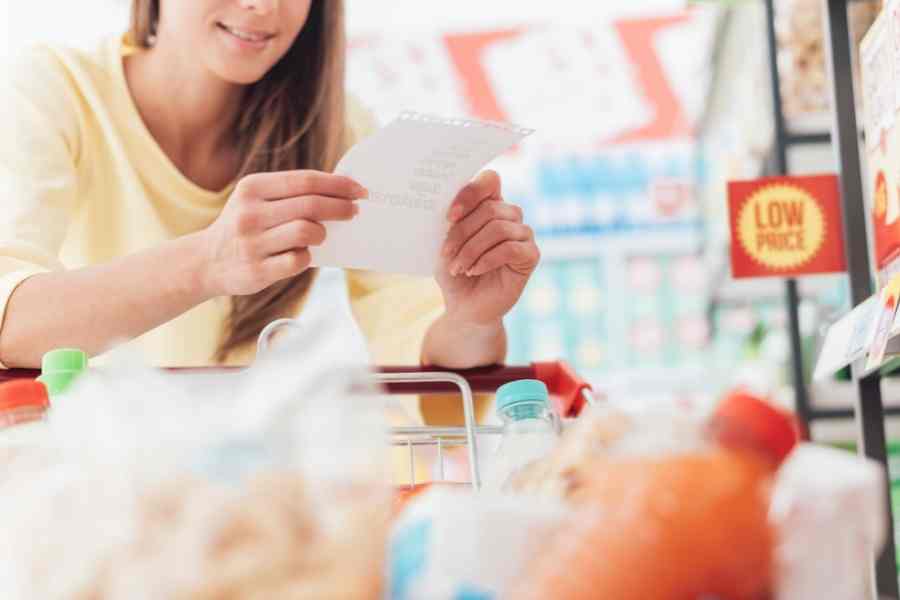 Using Ibotta to shop for groceries is one of my favorite money-saving mom hacks.
With Ibotta, you can earn cashback when you shop for groceries online or in stores. Ibotta even works with Instacart and Walmart Grocery to save you money.
Here's how it works:
Link your store loyalty cards
Shop for deals through the Ibotta app
Make an eligible purchase
Earn cash back
It's that easy! And you can get up to $20 in bonus cash when you sign up for Ibotta now.
23. Earn cash back with Rakuten
Ibotta can save you money on groceries. And Rakuten is the best app for saving money on everything else.
With Rakuten, you can earn as much as 40% cashback on things like:
Clothes
Shoes
Accessories
Toys
Health and beauty products
Electronics
School supplies
Travel
Pet care items
Those are all things you might spend money on as a family. So why not earn some of what you spend back with Rakuten?
You can shop for deals through the Rakuten portal or download the Rakuten browser extension. And you can even score added bonuses, like a chance to get free gifts or free gift cards with your purchase.
Not using Rakuten yet?
Sign up now to get $30 in bonus cash when you make your first purchase!
24. Scan your receipts for added savings
Before you toss out your receipts, consider whether you could be throwing money in the trash.
Trinity Danielle, at The Pay at Home Parent has a clever mom hack for saving money on the things you buy for your family.
"There are sites and apps that will pay you to upload your receipts," Danielle says. "Some require preplanning, but others are automatic and fit in with my busy schedule!"
Some of the best apps to use to earn money back from scanning receipts include:
25. Save money on bills automatically
Having kids can put a strain on your finances, especially if you're a one-income family.
Luckily, there's an app that can help you save money on bills effortlessly.
The Trim Financial Manager analyzes your spending and finds ways to save you money.
Trim can help you cut spending by:
Getting rid of subscription services you don't need
Negotiating your bills down
Cutting bank fees
It's a super easy mom hack for saving money when every penny counts.
Sign up for Trim now to start saving!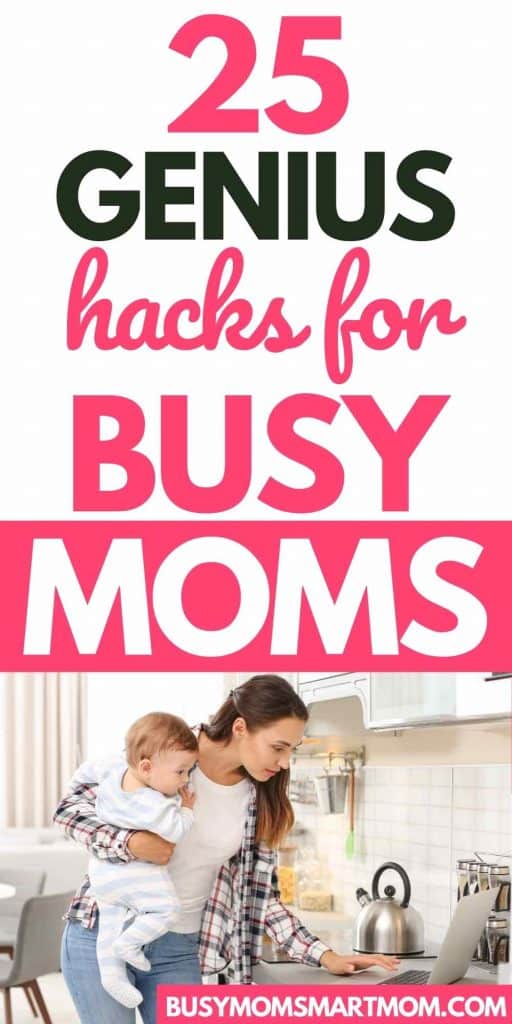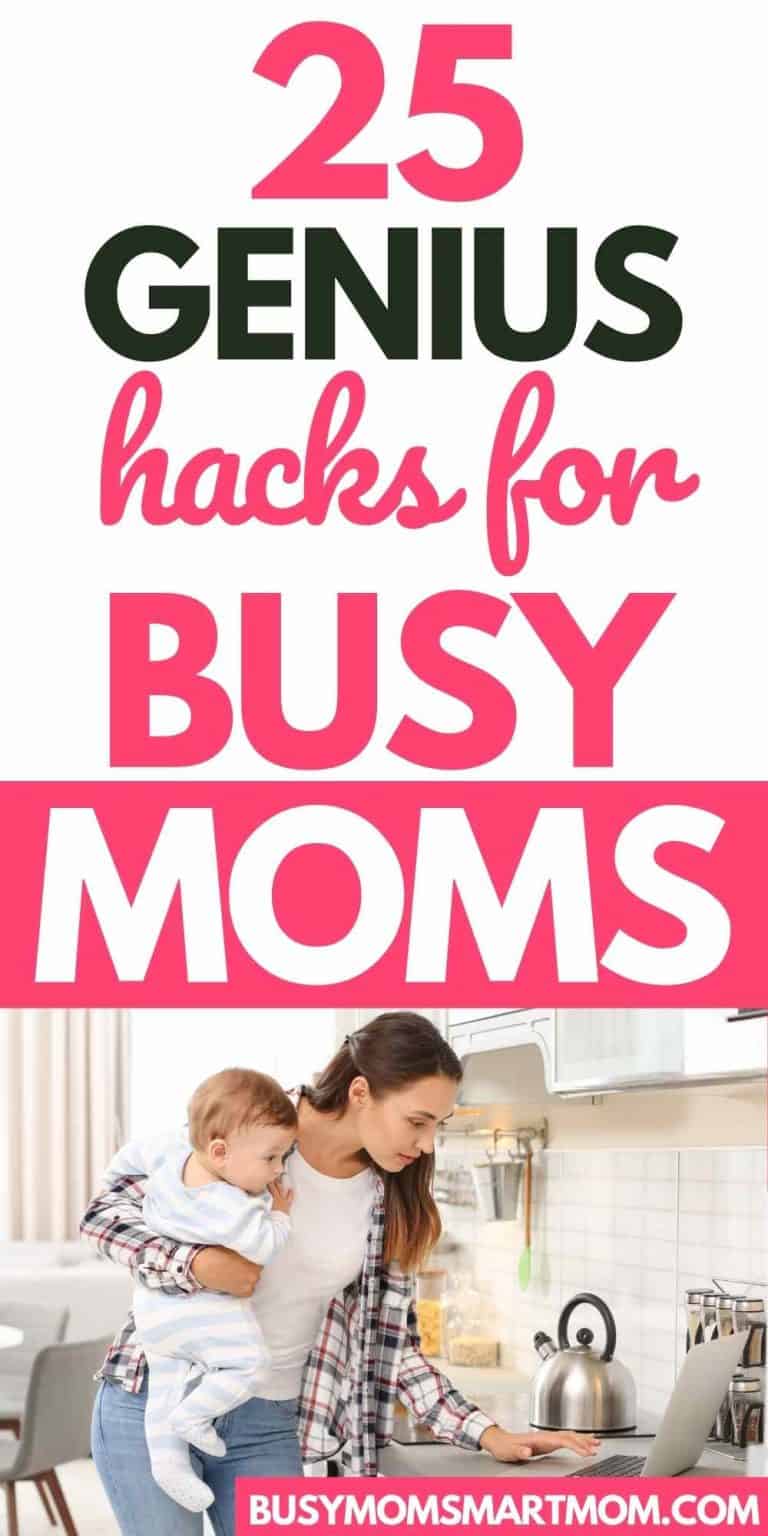 Final thoughts on the best busy mom hacks
The more you can do to make mom life easier, the better.
Whether you're looking for stay-at-home mom hacks, working mom hacks or single mom hacks, these tips can help you get organized and stay that way.
I hope you've found at least one mom hack or two here that you can use to makeover your days. And if you have a killer mom life hack to share I'd love to hear it!
Head to the comments and tell me about it.
And don't forget to snag your free meal planning template, weekly cleaning schedule template and other printables in the Busy Mom Vault!
Genius Mom Hacks to Make Life Easier