Looking for a simple declutter your home checklist to help clean up the mess?
Regularly decluttering can help you keep your home clean, organized and more livable. A printable declutter your home checklist gives you a plan to follow for organizing room by room.
A decluttering checklist is a visual to-do list that can help you create a more comfortable home. It can also help you to take action if you're overwhelmed by the mess and don't know where to start decluttering.
Related post: 100 Things to Declutter Right Now to Make Your Home More Livable
Declutter Your Home Checklist
Decluttering can be an overwhelming task and it's tempting to just ignore the piles of stuff around your home. But allowing clutter to stick around can also be a source of stress and anxiety.
That's where a declutter your home checklist can be helpful for overcoming the mental blocks that might be keeping you from digging into the mess.
So what does decluttering mean?
In simple terms, decluttering means removing unnecessary or unwanted items from your home.
Some research suggests that decluttering your home and space can improve your mental, emotional and physical wellness. And that's a good thing if you want to be a happier, more organized mom.
Where Do I Start Decluttering My House?
The best way to approach decluttering your home is to come up with a room-by-room plan for sorting, organizing and throwing away. Again, a declutter your home checklist can make this task easier.
These tips can help you start the decluttering process:
Download your FREE declutter your home checklist. Keep this list with you as work through each room in your home so you can refer back to it as needed. (It's available in the Busy Mom Vault!)
Make a list of the most to least cluttered areas in your home. Some rooms naturally tend to collect more clutter than others and depending on your mindset, you may want to start with the least (or most) cluttered area first. So take stock of the clutter situation in each room to decide where you're going to begin.
Create a sorting system. As you declutter your home you'll have to decide what to do with your "stuff". Creating four piles–things to keep, things to throw away, things to donate and things to sell–can help you keep things organized as you sort.
Organize your decluttering materials. Round up garbage bags, cardboard boxes, storage containers–anything you think you might need to sort items. And don't forget to dress the part in comfortable clothes that you don't mind getting a little dirty.
Get the right mindset. Decluttering your home can be physically and mentally draining. So remind yourself of what your end goals are for doing it. And if you need a little more help getting in the groove, listening to an audiobook from Audible or streaming your favorite music can help keep you moving.
Once you're ready to declutter, all you really have to do is follow the declutter your home checklist. This checklist will show you the exact things you need to declutter to get your home in order.
You can print it out as many times as you need or laminate it so you can reuse it again and again. The declutter your home checklist comes with blank pages so you can create your own list. There's also a weekly and monthly decluttering calendar you can use to jot down decluttering tasks.
Related post: Kitchen Decluttering Hacks (Easy Ways to Declutter Your Kitchen!)
What to Include on a Declutter Your Home Checklist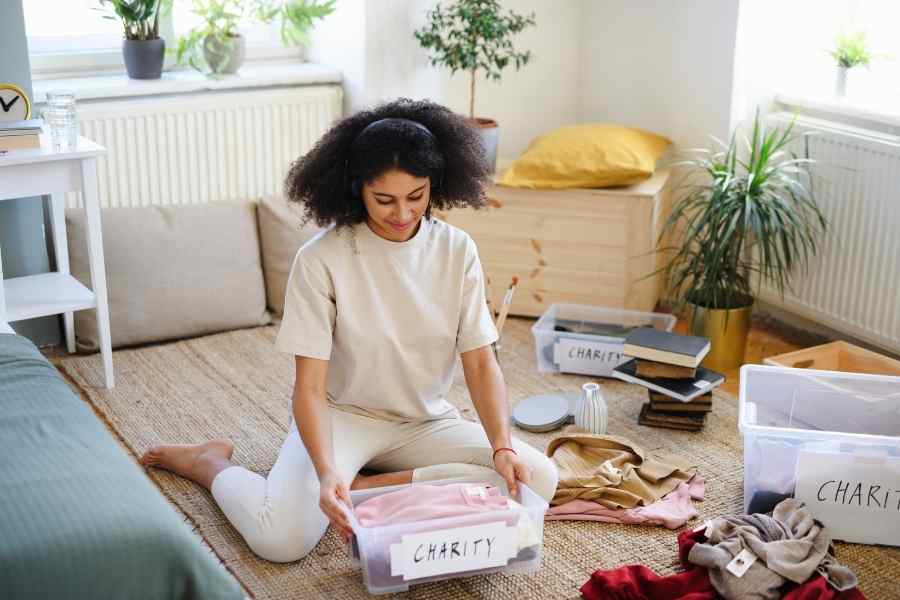 The hardest part about decluttering is figuring out what actually needs to be decluttered in your home. So it's important to consider what belongs on a decluttering checklist.
First, you'll want to decide which areas of your home to declutter. The key areas to hit include:
Kitchen
Living room/family room
Bedrooms
Bathrooms
Bedroom closets
Hall closets
Pantry
Laundry room
Garage
In terms of priority, you might want to go in that order since the kitchen and living room are often the highest-traffic areas of a home. You can save the spaces where you spend less time–or have less clutter–for last.
Now, what do you actually need to declutter? Some of the best things to declutter include:
Trash
Expired food and spices
Expired personal hygiene items
Old makeup and beauty products
Junk mail
Old newspapers or magazines (check to see if these can be recycled)
Small appliances you no longer use
Old or broken dishes
Worn-out pots and pans
Expired medications (check with local law enforcement to see if they offer a medication disposal program)
Outgrown or overly worn clothing
Movies you're not watching
Books and toys your kids have outgrown
Board games and puzzles that are collecting dust
Home decor items you've banished to a closet
Old bedding, blankets and curtains
Old electronics you no longer use
Craft supplies you don't use
Holiday decorations you no longer use
Anything that's broken or has outlived its usefulness
This isn't an exhaustive list by any means. But it can be a helpful starting point for figuring out what to add to your decluttering list.
Related post: 21 Painless Ways to Declutter Your Home When You're Tired of the Mess
Tips to Declutter Your Home Fast
Need to declutter your house but don't have a lot of time? These tips can help you clear out clutter in just a few minutes at a time.
Set a timer
Setting a time can help create a sense of urgency as you declutter and it keeps you from getting bogged down in the mess. Challenge yourself to declutter one room or even one small area of your home in 15 minutes or less.
Clean off a countertop
Too much stuff lying around on countertops can make your home feel messy. Clearing off a countertop is something you can do in just a few minutes and it can instantly make your home feel tidier.
Pick up and put away
A simple 10-minute picking up and putting away session can help keep clutter from taking over. You can handle the main living areas and have your kids pick up and put away in their rooms so that decluttering is a family effort.
Sort paper clutter
Junk mail, bills, flyers, school papers–all of that paper can pile up fast. If you don't have an organized command center or area in your home for catching mail and paper clutter, consider setting one up. And if you do, then spend 5 minutes a day sorting through the papers and weeding out the junk.
Set up a donation station
Some clutter you'll keep, some you'll toss but some you can donate to another family in need. Set up a large cardboard box or plastic tub in an out-of-the-way spot in your home and each time you have a mini decluttering session, challenge yourself to add an item or two to the box.
Final thoughts on decluttering your home fast
Decluttering shouldn't be a headache and having a checklist to follow can take the stress out of the process. Once you get your home decluttered, you can create simple routines to keep the clutter from piling up again. (And if you're not sure how to do that, don't forget to check out The Organized Home.)
Download your printable decluttering checklist in the Busy Mom Vault!
Still need help with decluttering and organizing? Be sure to read these posts next:
Printable Declutter Your Home Checklist