Stressed about the upcoming school year? Having a back to school checklist to follow can make the ramp up to a new school season easier to manage.
Getting kids ready to go back to school can be overwhelming if you're not fully prepared. But the good news is that the start of a new school year doesn't have to be a headache.
Whether you're sending kids off to school the first time or you're a back-to-school season pro, having a list of different tasks to complete can help you to stay organized.
Ultimate Back to School Checklist for Parents
There's so much that goes into getting ready for a new school year. From setting a back to school routine to planning out healthy breakfast ideas and lunches, the end of summer can come all too quickly.
That's where having a back to school checklist comes in handy.
When you have a detailed list of things to do to get kids ready for school to follow, prepping for a new school season is a breeze.
Not sure what to include in a back to school checklist? Today, I'm sharing all the most important tasks to handle before school starts.
💡One thing that can really help you get organized for back to school is using a planner. Check out this beautiful back to school planner that's designed with busy moms in mind! It has everything you need to get the school year off to a great start! 
What to include in a back to school checklist?
Ready to get your back-to-school planning underway? If you're not sure what to include in your school checklist, here are 20 ideas to get you started.
Schedule any necessary doctor visits
Plan your back-to-school shopping list and budget
Enroll in fall extracurricular activities and sports
Inventory the pantry and freezer to determine what's needed for meal prep
Take note of important dates (i.e., registration, open house, the first day of school, etc.)
Sync your calendar with the school's calendar
Start planning school breakfast, lunch and dinner menus
Schedule haircuts for kids, if needed
Start your back-to-school shopping for clothes, backpacks, lunch boxes, etc.
Make childcare arrangements for after school if needed
Plan your back-to-school routine
Begin implementing earlier bedtimes and wake-up times
Establish a homework zone
Set up a station for keeping backpacks and school supplies organized
Make carpool arrangements or confirm your child's bus route
Finish school shopping and double-check your child's supply list
Stock the pantry with supplies for breakfast, lunch and after-school snacks
Update your contact information with the school
Confirm your child's schedule, including extracurricular activities
Plan a fun end-of-summer activity as a family!
Free printable back to school checklist for parents
Having a visual reminder can make it easier to keep up with back-to-school plans and deadlines for getting things done. You can download this free printable back to school checklist when you join the Busy Mom Smart Mom email list!
To claim your printable school planning checklist, click on the image below to sign up for the Busy Mom Vault. Once you confirm your email, you'll be able to download the checklist, along with 20+ other free printables!
Back to School Shopping Tips
School shopping is something you probably don't look forward to as a parent. After all, it can be time-consuming, not to mention expensive. The average family is expected to spend $864 on back-to-school shopping for the upcoming school year, according to the National Retail Federation (NRF).
If you need some help with back-to-school shopping, I've got some tips that can help you to get it done with less stress (and potentially save some money!)
Start with a supply inventory
Before you start stocking up on pencils or notebook paper, take a look around your home to see what you might have on hand already. It's possible you might have some of the items on your back-to-school supply list already left over from the previous school year.
Here's a sample list of items you might need to include in a back to school checklist:
Backpack
Lunch box
Pencils
Pens
Markers
Colored Pencils
Scissors and glue sticks (for younger kids)
Notebook paper
Binders
Notebooks
Folders
Ruler
Highlighters
Hand sanitizer
Tissues
Face masks, if required by the school
You might encounter a few oddball items as well.
For example, teachers may ask for tennis balls to put on the bottoms of chairs. And if you have a middle or high school student, you may need to invest in a graphing calculator or a new laptop.
Review the teacher's supply list
Your child's teacher should provide a supply list. You might get the list at the open house or the school might publish a general list by grade that's available online.
It can be tempting to skip out on buying all of the items on the list. I personally know parents who scoff at the idea of helping to stock a teacher's classroom and only purchase the bare necessities.
But more often than not, teachers end up making up supply gaps out of their own pockets. So consider what you can afford to help contribute to making the school year an easier one.
Shop back-to-school sales carefully
Back-to-school sales usually start in July and if you're trying to save money, you'll definitely want to check out the different promotions going on.
Stocking up on basics while they're on sale can save you money if you don't have to buy any more of those items during the school year. Some of the things you might be able to get for super cheap include:
Pencils
Crayons
Markers and colored pencils
Notebooks
Index cards
Buying school supplies in bulk could make sense if you have multiple kids and they need some of the same items. You can take the extras and use them to stock a homework station in a nook of your home so you never have to worry about your kids complaining that they can't find a pencil.
Inventory kids' clothes
Kids grow so quickly and it's likely you'll need to pick up some new clothing items and shoes for the upcoming school year. But don't start shopping without first looking at what your kids already have.
Building a basic minimalist wardrobe for kids can save money if you're not buying pricey or trendy clothing items all the time.
You can start with essentials–shorts or pants, shirts, socks, underwear and good shoes. Once you've got the basics down, you can check your back-to-school budget to see if you can afford to splurge on a few "want" items.
And don't rush into buying a wardrobe for the entire school year just yet.
You don't want to buy things in August that your kid will have outgrown by October. Likewise, if you're paying attention to the timing you can take advantage of sales on winter and spring items, once the time comes.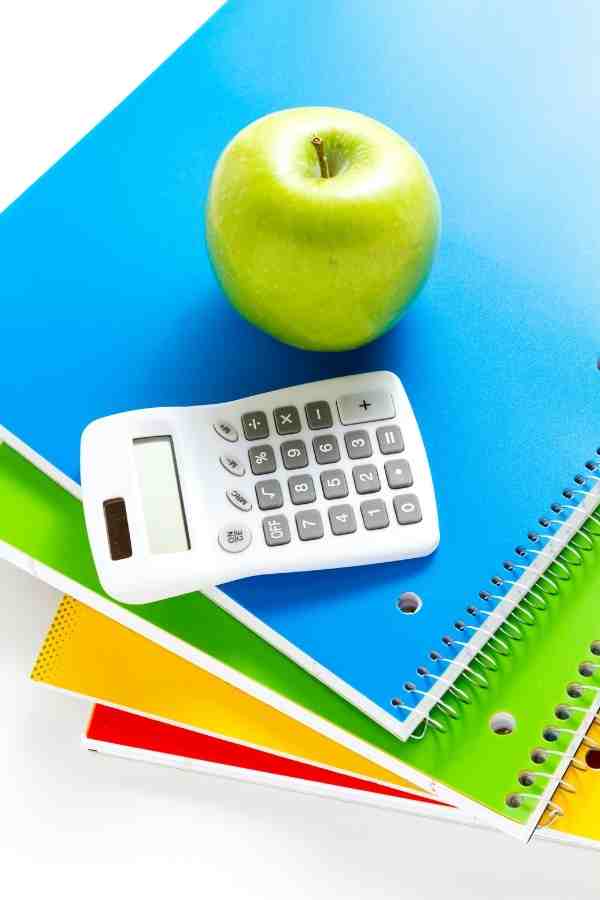 Buy items that are made to last
Kids can be rough on their clothes, shoes, backpacks, water bottles and lunch boxes. So it's important to buy quality items that can withstand all the rigors of a regular school day.
You might spend a little more but it can be worth it if you're not having to replace a backpack or lunchbox three months into the school year. And you can save money with online shopping by using a cashback app like Rakuten.
Rakuten pays you cashback when you shop online (or in stores) at partner retailers. You can get up to 15% cashback and sometimes more with different offers.
You can also get promo codes and coupons to save even more money. Plus, when you join Rakuten now, you can get up to $30 in welcome bonuses!
Stock your school lunch supplies
Packing kids' lunches can be a healthier option than school lunches. And if you're a savvy grocery shopper, it could be cheaper too.
Having everything you need to prep and pack school lunches is a time-saver for those busy school mornings. Depending on what kind of lunches you plan to make you might need to stock up on:
You'll also need some food to go into the lunch box. If you haven't completed a pantry inventory as part of your back to school checklist, you'll want to do that ASAP to see what you have on hand.
From there, you can shop for the food items you'll need to make kids' lunches and after-school snacks.
Buying non-perishable items is a smart idea since they're less likely to spoil or go bad. And you can save money on groceries by using Ibotta when you shop.
Ibotta is a cashback app that pays you back a percentage of what you spend at partner grocery stores and retailers. You can connect the Ibotta app to your store loyalty cards as an easy hack to rack up savings.
And when you download the Ibotta app now, you can get up to $20 in free welcome bonuses!
Menu plan and meal prep
Menu planning can save you time and money as a busy mom. When you plan menus and meal prep ahead of time, there's no scrambling to decide what to make for dinner. And you can plan menus around what's on sale at the grocery store for easy savings.
If you're struggling with menu planning, a tool like $5 Meal Plan can help.
$5 Meal Plan is a weekly meal planning service that delivers meal plans and grocery shopping lists to your inbox every Friday. You'll get at least one 20-minute meal, a freezer-friendly meal and a slow cooker meal, plus one lunch, one breakfast and one random goodie!Try $5 Meal Plan
Instant Pot recipes and slow cooker recipes are ideal for busy moms who don't want to spend a lot of time in the kitchen.
If you don't have a slow cooker or Instant Pot yet, check out Amazon. You can find great deals on these time-saving kitchen gadgets to get dinner on the table faster!
What do people need for back to school?
A basic back to school checklist should include school supplies, clothes and lunch supplies if you plan to pack kids' lunches. When buying items for back to school, stick to the basics and essentials first. Then you can add in "extras" later as your budget allows.
How can parents prepare for back to school?
Creating a back-to-school routine can be a good way for parents and kids to prepare for a new school season. Implementing a back-to-school morning routine, after-school routine and evening routine can make the transition from summer to fall easier. You can also get prepared by using lists to keep track of your most important back-to-school tasks.
How do I prepare my child for the first day of school?
Rolling back bedtimes and wake-up times, purchasing all the needed items on your back-to-school shopping list and starting a back to school routine can help kids prepare for the first day of school. You can also ask kids what questions they might have about school if they're going for the first time. And asking some first day of school interview questions can be a fun icebreaker for new and returning students.
Final thoughts
The start of a new school year can be a frenzy of activity as you try to get your kids and yourself ready. Having a back to school checklist can help you get everything done and ensure that you don't overlook anything as the first day of school approaches.
And if you're struggling to get kids into a routine for school, there's a tool that can help. It's called "Family Routines" and it's a must-have course for any family who needs to find their daily rhythm and get organized.
What's on your back to school checklist? Share in the comments.
And don't forget your free printable back to school checklist in the Busy Mom Vault!
Back to School Checklist for Parents